Low Carb Indian Seekh Kababs are a fantastic way to make something entirely different with ground beef. No more ho-hum Keto meatballs. These kababs sizzle with flavor!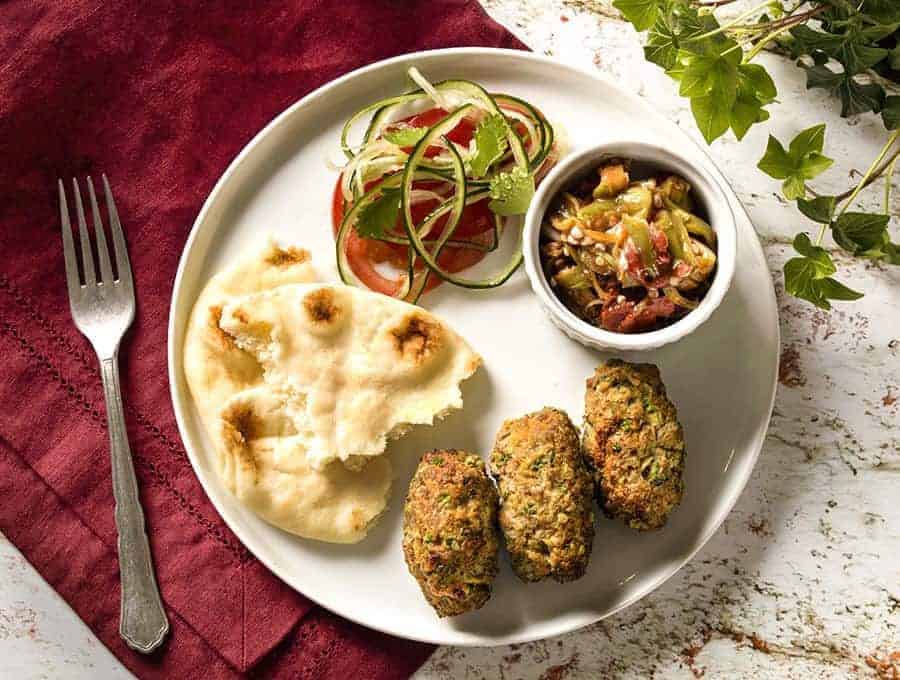 Jump to:
My favorite ground beef recipes are Texas Chili, Indian Kheema, and these Indian seekh kababs. The first two are a slam dunk for me, but good kababs have eluded me for a very simple reason: cook factor.
How to Make Good Seekh Kababs
To make good kababs you have to grind the meat well and as I found out when I made the delicious but messy Homemade Gyros, I do not enjoy grinding meat. It's messy, it's sticky, it's a pain to clean up.
So I've stayed away from making kababs at home, but every time we go to Indian or Pakistani restaurants, I want kababs. The problem is, they give you 3-4 small little pieces, and charge you $10 for that quarter pound of ground meat.
Not only is that expensive, but I also want more than 2 little kababs. But the grinding meat thing…
So then one day I posted my gyros recipe on a Reddit Keto forum and complained about the grinding. A few people came on and told me that there was an easier way to do this—using a stand mixer. You don't need to grind the mixture and get it all up in the blender blades.
For the best meatball recipe, all you have to do is whack the heck out of that meat. You want to beat it until it's pasty and sticky. Mmm, sounds appetizing right? Sticky meat?
Actually yes. Yes, it does. Wait until you make this recipe for meatballs, which will rival the kebabs you've had in good kabab restaurants, and you'll agree with me that it's worth making a whole pound of Indian Seekh Kababs at home for about $10.
So here's where I cheat. I'm always searching for easy Keto meals. I don't smooth the meat around the skewers and cook it that way. I just basically make these little low carb meatballs and baked and broiled them. Tell you what, less effort, same taste. What's not to love about this easy Keto dinner?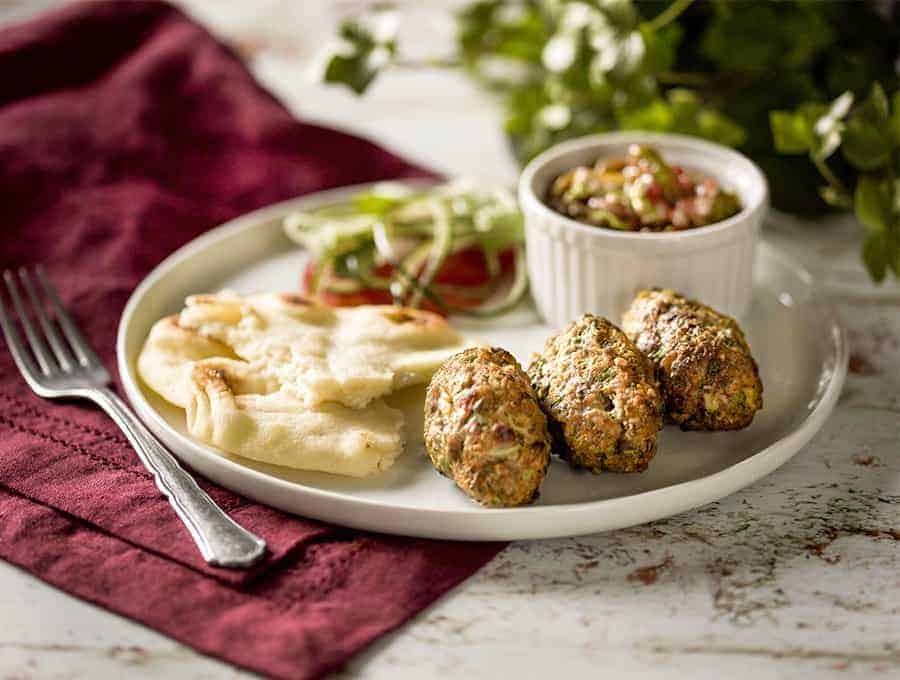 So the recipe is simple.
Mix up the meat, onions, herbs, and spices in a stand mixer bowl until it's all sticky.
Wet your hands and form the meat into little kabab shapes.
Bake at 350F for 10-15 minutes, finish by broiling.
What's the Difference Between Kabab and Kabob?
As far as recipes and definitions go, absolutely nothing. It's one of those words that have different spelling depending on what part of the world you live (or are eating) in. So go ahead and call them whatever you'd like. They'll taste just as delicious.
What Should I Serve With These Keto Meatballs?
Serve something with them? After you try these, you'll wonder why you even bothered to make anything else. But if you absolutely must have a side dish or a vegetable to round out your Simple Keto meal, let me suggest these.
Looking for more great Indian street food recipes? Check out my list of 35+ Tantalizing Indian Street Food Recipes!
? Did you make this recipe? Don't forget to give it a star rating below! Just click on the stars in the recipe card to rate.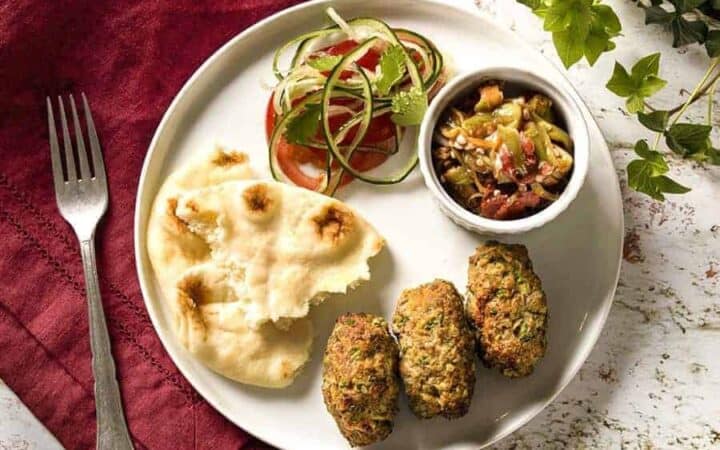 Click on highlighted ingredients or Equipment to see exactly what I use to make this recipe
Instructions
Heat your oven to 350F. Line an oven-safe pan with foil. Choose a pan with a lip as this will hold the grease from the kababs as they cook. Find a trivet or grill large enough to hold the kababs that fill fit into this pan.

Mix all ingredients in the bowl of a stand mixer. Using a paddle attachment, blend well until the meat appears somewhat sticky, about 5 minutes.

Form the kababs into small sausage shapes and place on the grill/trivet. You're doing this so the kababs are elevated and getting grilled, not fried in fat. Lovely though that sounds, they won't brown if they sit in the fat.

Cook for 10-15 minutes until almost cooked, using a meat thermometer to guide you if needed, and then broil them to finish.
Get support & connect with our community on Facebook!
Nutrition
Calories:
172
kcal
|
Carbohydrates:
3
g
|
Protein:
24
g
|
Fat:
5
g
Tried this recipe?
Follow @twosleevers and Pin it!
Want More Easy Meatball Recipes?