Spicy, sweet, tangy, hot, cold, and everything in between--nothing beats street food. This collection of Indian Street Food Recipes will bring the vibrant tastes of India into your kitchen for some delightful meals.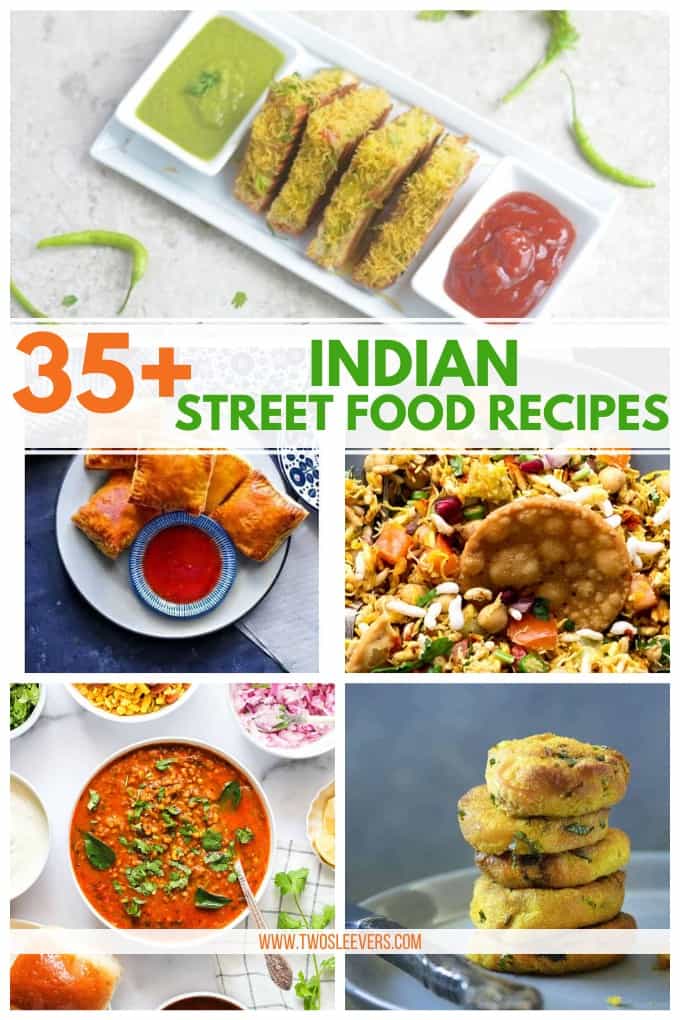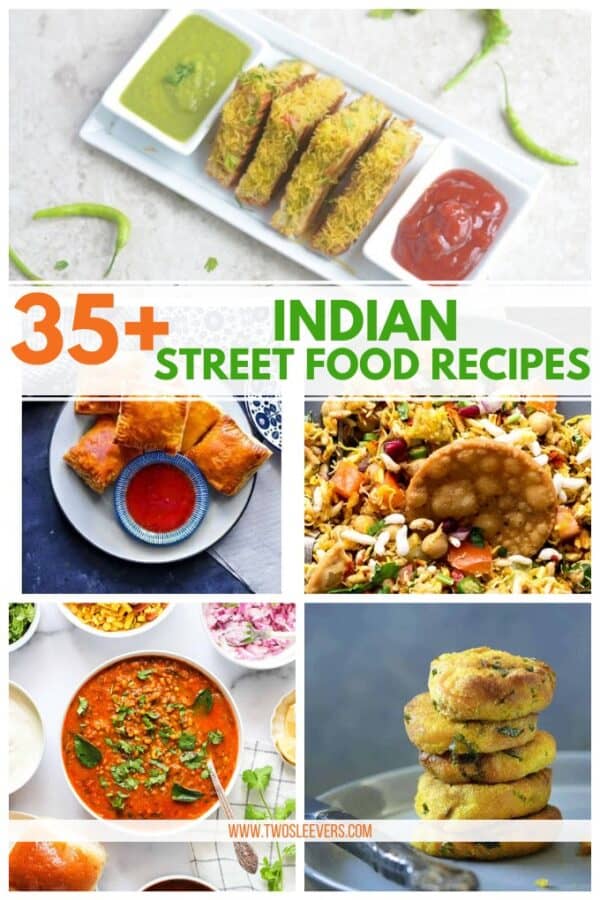 What's So Great About Indian Street Food?
Indian street foods are a mix of spicy, sweet, tangy, hearty, hot, cold, and everything in between. Short of going to India, you rarely get to sample these delights in other countries.
Unless you learn how to make some of these yourself.
You may have experienced a few different things like dosas, or samosas, but you haven't even begun to taste all the best Indian Street food at that point.
With 29 different states, a variety of customs, climates, and cooking traditions, any Indian street food recipes roundup is by definition, going to be limited in scope.
South Indian street food (e.g., vadas, dosas, etc.) is not the same as North Indian Street food (e.g., chana bhatura, aloo Tikki, etc.) is not the same as Bengali Street food (ghugni, Jhal muri etc.)
What's more, even if they're called vaguely the same thing, ("Indian Breads" anyone?) they're vastly different.
Speaking of Indian breads--naan, chapati, phulka, roti, paratha, bhakri, puri, bhatura, missi roti, luchi, appam, sheerma, kulcha, rumali roti--those are the correct terms. Not Indian Breads 🙂 Just a little cultural tip from your neighborhood Indian lady here.
But an incomplete list of recipes is no reason not to start, right?
Here's another reason you want this roundup. You may be familiar with some of the more common, popular Indian recipes like vindaloo, butter chicken, and biryani. You may feel confident ordering these in restaurants.
But..what the heck is a frankie? Is a medu vada different from a batata wada and does it matter that they all look like bondas but taste different?
Familiarising yourself with these Indian Fast Food favorites will help you branch out at your local Indian restaurant.
What Is Typical Indian Street Food?
35+ TANTALIZING INDIAN STREET FOOD RECIPES
Some of these Indian Street Foods are super easy to make at home. Others are--shall we say, a labor of love? Either way, they're lip-smackingly delicious.
So there's your list of foods that you may never have had---but really need to have to experience just a taste of the diversity inherent in Indian Street Food Recipes.
Be sure to pin this post so you can refer back to it!