Chana Salad or Chickpea Salad is made in no-cook vegan salad made in 30 minutes and is combined with freshly chopped vegetables for a delightful bite.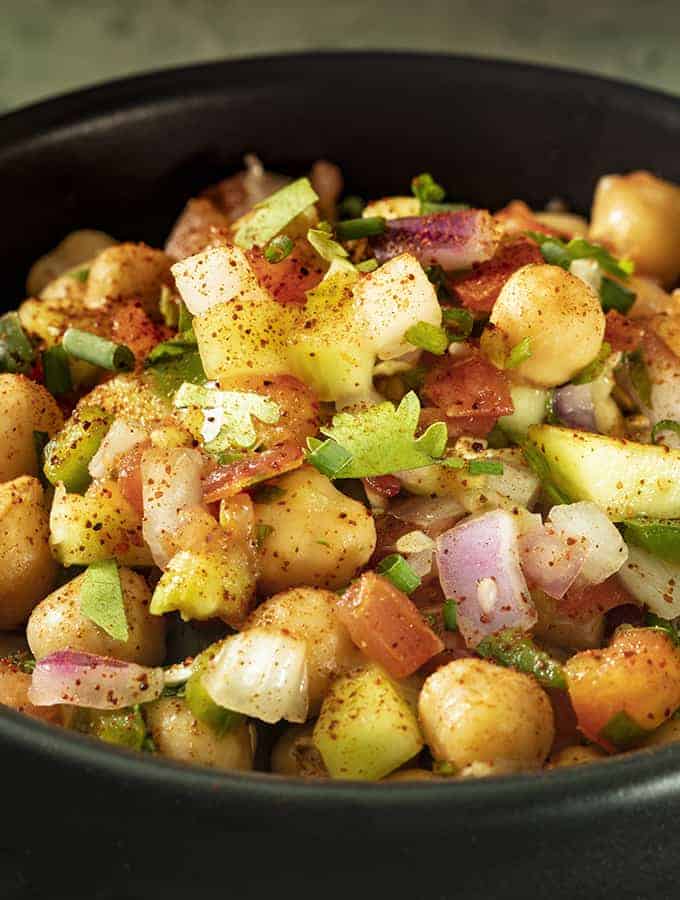 The main reason I eat chick peas? Simply because they are delicious. Chickpeas are soft, creamy, substantial, and just so great.
I think my mom lied to me about this Indian Chickpea Salad. She said this was junk food so I would eat it, but now that I'm older I'm not sure how it's junk food? It's chickpeas and vegetables.
But I'm glad she did because I love this salad. I have no idea why I don't eat it more often. This was the first time in years I've made it. I only made a little and it was gone in one sitting. I'm actually looking forward to making more.
Healthy Chickpea Salad | Chana Salad
The thing to know about Chana or chickpeas is that while they aren't low carb, they do have a lower glycemic index than many other beans.
If you're trying to control blood sugar surges, chickpeas, when eaten in small quanties, won't give you an immediate sugar spike. Since they have high fiber content, they also tend to be very filling.
Making it from dried beans not only gives you better, less mushy texture, but it's much less expensive.
I love chickpeas and have recipes for chana masala and pressure cooker hummus. I love making dishes that are easy and healthy. If you check out my chana dal fry recipe or the chana dal and rice recipe, you will see that when these beans are split, they look entirely different. They also taste different—but are actually one of my favorite dals to eat.
How To Make Chickpea Salad | Chana Salad
It's so easy to make. You cook the chana or chickpeas in the Instant Pot for 30 minutes.
While the Instant Pot is working, chop the veggies.
Mix it with onions, tomatoes, cilantro, salt, cayenne, and lemon juice. You eat it.
Does it get easier? Probably not.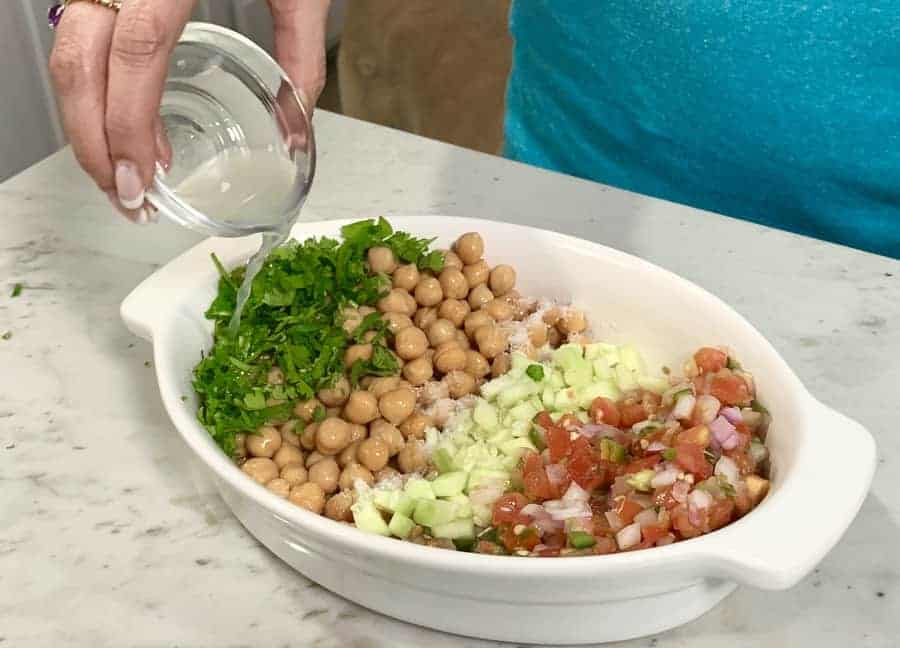 I will say that my Kuhn Rikon pull chopper makes this thing a breeze. It cuts through those veggies with just a few small pulls and I do like that.
Spices for Chickpea Salad | Chana Salad
Normally I'd ask you to make your own spice mixes, but chaat masala has so many different little things in it, it doesn't hurt to just buy it.
It has some spices that you may not keep in your pantry, so this combination is great for Indian cooking. It has dried mango powder, black salt, cumin, coriander, mint, ginger, and chili powder just to name a few.
Another of my favorites is amchoor. A simple mango powder gives chickpeas a bright and fruity bite that allows you to switch up the flavors of this easy chickpea recipe.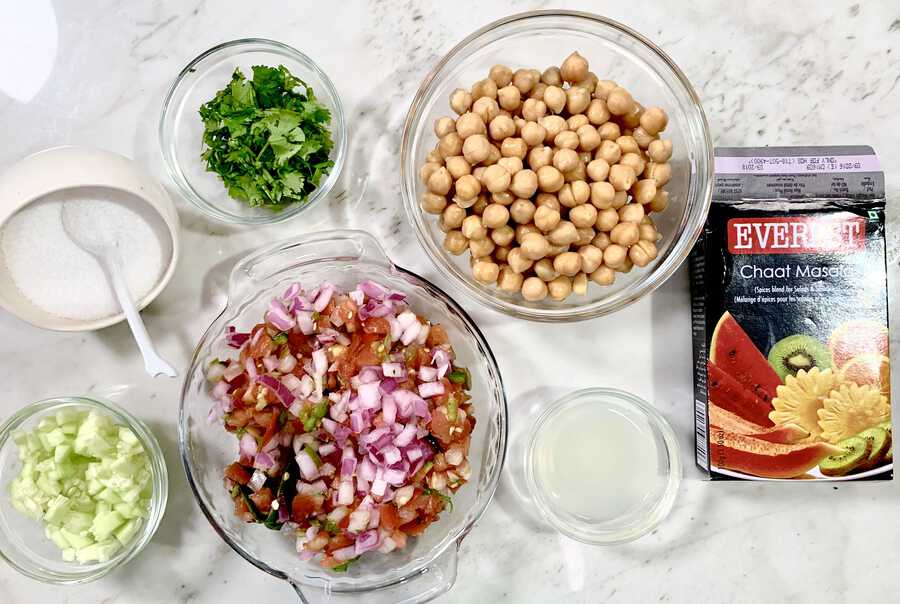 Roasted Chana Salad
Although I haven't tried this recipe with roasted chickpeas, I think that would make a great addition to this salad. I would not recommend using ALL roasted chickpeas. Part of the beauty of this salad is the softness and chewiness of the chick peas.
To roast chickpeas, it really helps to have an air fryer. Place the chickpeas straight into the air fryer basket. Set the air fryer to 400F, and cook for 8-10 minutes until they are crunchy.
Once the chickpeas are cooked, you can allow them to dry for a little bit. Drizzle with salt, and then add any other spices you choose.
Looking for more great chickpea recipes? Check out my Slow Cooker Chana Masala!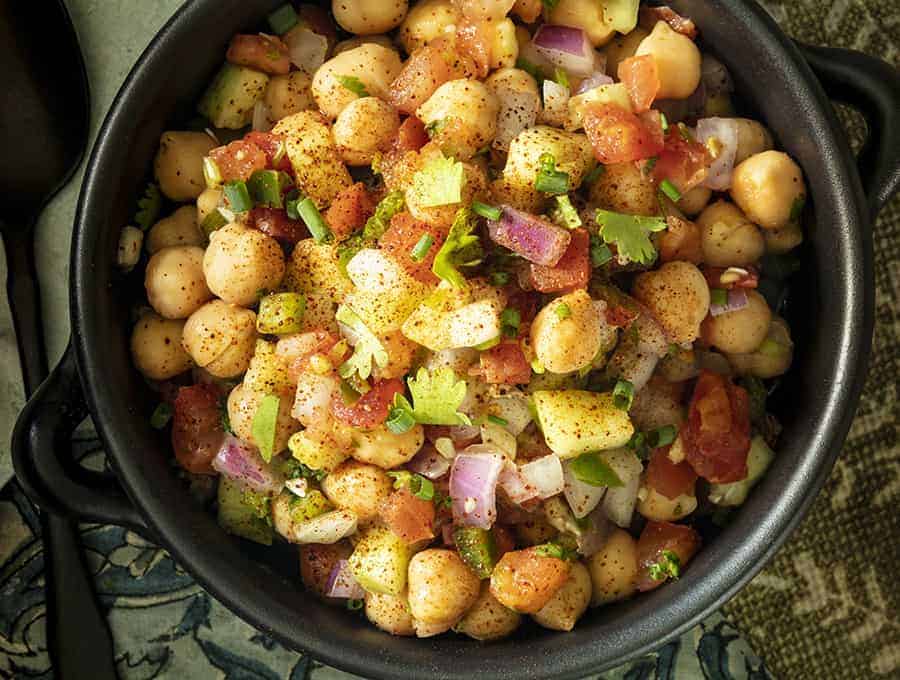 I would love for you to pair this with my Lemongrass Tea! If you make either the Chana Salad or the Tea, tag me on IG so I can see! #TrustUrvashi.
Tips and Tricks to Make Chana Salad
I used about 1/2 cup of cucumber when I made this. Use more or leave it out all together if you are not a cucumber fan.
If you really want to make this Chana Recipe fast, buy store bought pico de gallo and canned chickpeas and mix it all up.
If you use roasted chick peas, consider to use only as much as you would croutons in a salad, for a great crunchy addition.
*DID YOU MAKE THIS RECIPE? DON'T FORGET TO LEAVE A STAR RATING!
Ingredients
Optional Ingredients to vary the flavors
Instructions
Put the chana in your Instant Pot along with 3 cups of water.

Add the bay leaves and cook at high pressure for 20 minutes on the BEAN setting.

Allow it to release pressure naturally for 10 minutes, and then release all remaining pressure.

Meanwhile chop onions, tomatoes, and cilantro finely.

Drain the chickpeas and mix chopped vegetables and all other ingredients. Mix well and taste, adjusting as needed. You want a good mix of tangy, salty, and spicy.

Serve as a side salad or as a main dish for a vegan meal.
Notes
Tips and Tricks to Make Chana Salad
Add or leave out the cucumber. I love the freshness it adds combined with the chickpeas. 
If you really want to make this Chana Recipe fast, buy store bought pico de gallo and canned chickpeas and mix it all up. 
If you use roasted chick peas, consider to use only as  much as you would croutons in a salad, for a  great crunchy addition.
Nutrition
Calories:
129
kcal
|
Carbohydrates:
22
g
|
Protein:
6
g
|
Fat:
2
g
|
Sodium:
403
mg
|
Potassium:
338
mg
|
Fiber:
5
g
|
Sugar:
4
g
|
Vitamin A:
285
IU
|
Vitamin C:
7.5
mg
|
Calcium:
39
mg
|
Iron:
2.1
mg