Not sure when to use Instant Pot NPR or QPR when pressure cooking? This article breaks down the difference between NPR (natural pressure release) and QPR (quick pressure release) and when you should use them. Oh, and QPR alone will not make meat tough.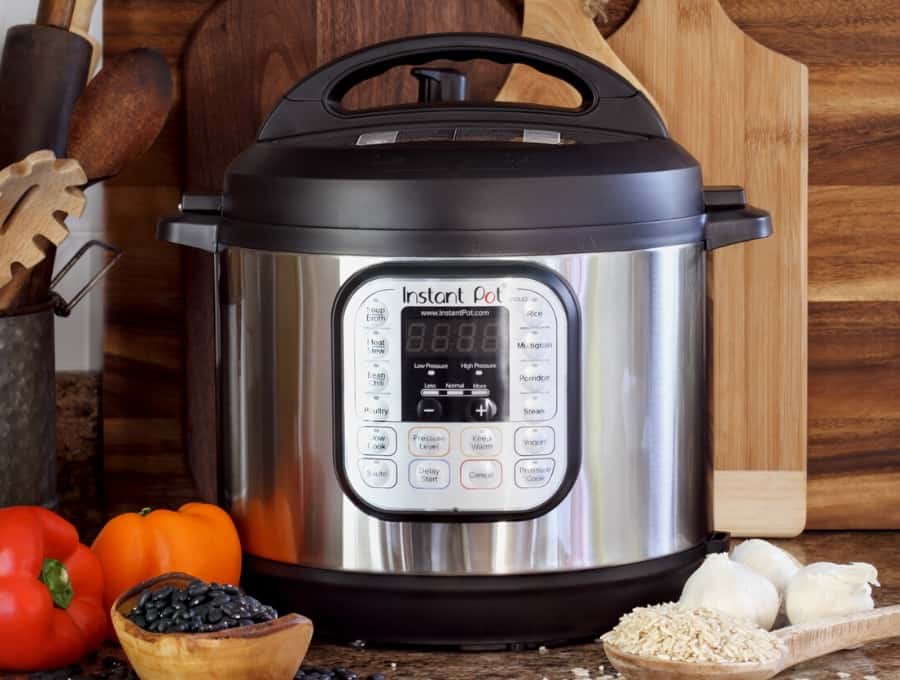 All Electric pressure cookers such as the Instant Pot, the Ninja Foodi, the Fagor, the Crockpot Express, the Mueller UltraPot, the Cuisinart CPC-600, etc. have the ability to release steam manually.
What do NPR and QPR Mean?
NPR stands for Natural Pressure release. QPR stands for Quick Pressure Release.
But there's a simpler way to remember all this. NPR means leave it the heck alone. QPR means to terrify the dogs and cats in your house by turning the valve to venting and having that huge hissing sound take over your kitchen.
When a recipe asks you to NPR, it's basically saying let the pot sit undisturbed. In this case, you will do nothing except exercise patience, and wait until the float valve drops. At that point, you can open the lid safely and eat.
When a recipe asks you to QPR, you are expected to safely and carefully move the valve from SEALING to VENTING, forcing all the pressure out of the pot quickly. I find a long-handled wooden spurtle to be quite handy during this operation.
You definitely want your hands and face away from the steam valve. This is NOT a good time to try to get a facial.
It is also important to keep the steam away from cabinets. One thing that I find quite handy is a steam diverter.
MYTH: Will using QPR (Quick Release) make my Meat Tough?
I see this posted all the time in groups--don't use QPR because it will make the meat tough.
So the real culprit here isn't QPR per se. It's that Natural Pressure Release time counts as cooking time. Those 10 minutes that you let a pot rest without releasing pressure? It is cooking time.
The liquid in the pot is still hot. There's ambient heat. The food continues to cook during that time.
If you QPR your meat, you're shortcutting the cooking time. That is what is making the meat tough, not the process of QPR'ing.
I will say this. When you pressure cook, you aren't boiling the meat as you would in cooking on the stove. You are using super-heated water so to speak.
The video in this post explains this in some detail. I also address this in my Instant Pot Iced Tea post.
So yes, when you suddenly release pressure, the water does come to a boil and your meat may be under a boil for a few minutes.
#trustUrvashi this will not harm the final product.
REALITY: When do I use QPR (Quick Pressure Release) for my Instant Pot or Pressure Cooker?
Here's when you use Quick Pressure release:
When you are cooking delicate foods such as seafood or vegetables that will cook very quickly anyway. Allowing the pot to continue to cook the food will make mush out of your veggies and seafood.
When you are cooking in multiple cycles, as for this beef stew. So you will cook the meat once. Then, you will QPR and add vegetables and cook the meat a second time. Allowing the meat to NRP the first time will lead to--you guessed it--overcooked meat.
When you would like some of the water to evaporate. You need a certain amount of liquid in the pot for it to come to pressure. But meat and vegetables also release water. Sometimes you want a slightly drier dish. For these recipes, I use quick pressure release to get rid of some of the liquid as steam. I find this a lot better than having to sauté afterward, and also less likely to overcook food.
Reality: When do I use Natural Pressure Release for the Pressure Cooker?
Use NPR for larger cuts of meat. It takes a little time for the inside of a large roast to get hot. This happens via conduction heat--a layer of meat gives off heat and warmth to the next layer of meat closest to it, until the inside of the roast is hot. If you keep cooking until the inside is hot under pressure, you are likely to overcook the meat. So allowing the pot to rest undisturbed lets conduction occur, without applying additional heat to the outside layer of meat.
Use NRP when I don't want the water to boil vigorously when I'm making something like Instant Pot tea. You can read the post I linked to in order to see why I do this.
Some people believe that allowing your soup to boil vigorously toward the end makes for a cloudy broth. In that case, you will want to avoid QPR.
NPR is best for foods that foam such as beans, split peas, etc. These tend to spit foam and you're better off letting the pot rest before trying to release pressure.
If you have overfilled your pot (naughty naughty! also dangerous, so don't), or you have a lot of liquid in the pot, it might spit, sputter, and foam as you release pressure. So in that case, NPR is safest for an overfilled pot, or one that has a lot of liquid in it.
How Long does NPR Take?
It depends.
I know, I know, not the answer you want! But it does depend on a variety of things. The primary determinant is how full the pot is, and how much of that fullness is from a liquid.
The more the liquid and/or the fuller the pot, the longer it will take for NPR.
This is why I often ask you to use very little water upfront, even for soups. You can always add water later, but it's difficult to remove water without overcooking your ingredients on Sauté.
I know I will sound judgmental, but I think recipes that ask you to remove excess water by sautéeing afterward are typically (not always) just not well written. I rarely ask you to do that. It seems so inefficient!
If you've been waiting for what seems like forever, you may have something stuck under the valve that is keeping it from dropping.
After 15-20 minutes, use a spoon to gently tap on the float valve. If it drops right away, you will need to thoroughly clean under the valve before using it the next time.
Do I have to turn the pot off when doing a Natural Pressure Release?
Remember when I said above, NPR means leave it the heck alone? Yeah so leave it alone. You don't need to do anything. Typically once cooking is over, the KEEP WARM setting kicks in.
Pressure is achieved at 240F+ temperatures. Keep Warm is a lot lower than that. So even at the KEEP WARM setting, the temperature will drop enough to let the pressure dissipate.
So what's the best way to release pressure for most dishes?
Hybrid or Shortened Pressure release
I tend to use this a lot. I usually allow the pot to rest undisturbed for 10 minutes. Then I release all remaining pressure. You will see this method used most often in my pressure cooker recipes.
Many of my recipes ask you to NPR for 10 minutes and then release all remaining pressure. So you leave the pot alone for 10 minutes, and then you turn the valve from sealing to venting and allow the rest of the pressure to be released quickly.
So now that you know how to use Natural pressure release and quick pressure release, it's time for you to cook! Check out my 250+ Pressure cooker recipes here.
Don't forget to share this article! Friends don't let friends get confused about NPR and QPR 😀