I love cooking different things with a flank steak, and this air fryer Flank Steak with Zhoug is on the top of the list of things I like to make with it.
I used to struggle with cooking flank steak because it's not one of the best cuts of steak to work with. It can be easy to turn a flank steak into a flat, lifeless, tasteless piece of meat.
However, if cooked correctly, flank steak can be fast, and tender.
If you follow this recipe for Flank Steak with Zhoug, you will see flank steak in a whole new light.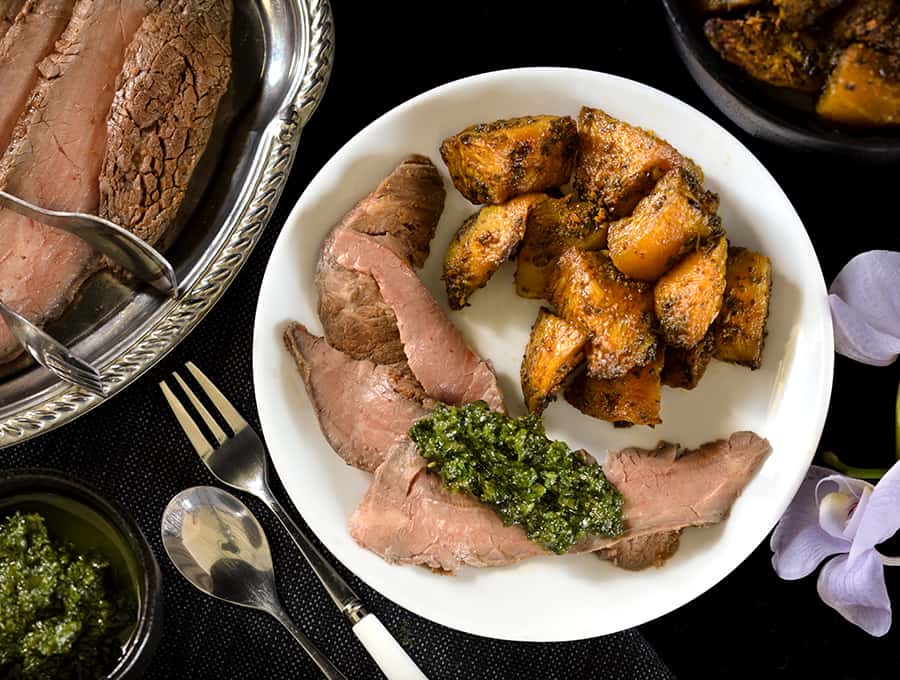 Air Fryer Flank Steak with Zhoug
You might be thinking, "Steak in the air fryer???" Yes, you read that right, steak in the air fryer. You may be concerned with the dryness of the steak or if it will get done on the outside before the middle has barely had time to heat up. If you follow my directions, you will make a delicious Flank Steak with Zhoug for dinner with little effort involved.
The reason I love this recipe so much is that it's so easy to pair it with side dishes. You know how there are some meals that really only allow for one or two side dishes to go with them because the flavors are so specific? Not this dish; Flank Steak with Zhoug goes well with just about any side dish you can think of.
I just love my air fryer because of how much easier it makes so many recipes! For example, my Air Fryer Kibbe recipe takes an otherwise difficult to make dish and makes it vastly easier! Not to mention it's far less greasy in the air fryer!
What is Zhoug?
If you've never heard of Zhoug before, you're not alone. It's not common, especially in the States It's a delicious Middle Eastern sauce that's spicy and made with herbs. There are a few ways to make it but, cilantro us usually the main ingredient or herb. It's super easy to make and has a very delicious, bold taste.
I find this endlessly versatile, ultra keto friendly, easy to make, and tasty. It also keeps well for at least a week in the refrigerator.
It's actually one of the main ways in which I use up cilantro that's languishing in my vegetable drawer.
How To Cook Flank Steak Well?
Three things to remember with flank steak.
Marinate the steak in an acidic mixture (vinegar, juice, etc.) to tenderize it. You're going to cook it fast, so the more tender the meat before you start, the better off you are.
Cook it fast, and do not overcook. Flank steak can get dry and stringy if overcooked. So err on the side of undercooking. Instead, let it rest so that it continues to cook with residual heat. This also gives the meat a chance to pick up all the juices.
Slice against the grain. This is surprisingly important with flank steam. I like to cut it on the bias to get a lot of "middle" meat on each slice rather than just top and bottom browned pieces, if that makes sense.
If you're looking for a super easy and quick dinner that makes you feel like a fancy chef, this Flank Steak with Zhoug recipe will definitely take you there.
The zhoug gives the steak a perfect burst of flavor and spice which is the perfect kick. One of my favorite things to do is pair it with potatoes because steak and potatoes are the perfect match if you ask me.
Plus, it makes for a hearty dinner and full bellies which results in a happy family.
Other Recipes To Check Out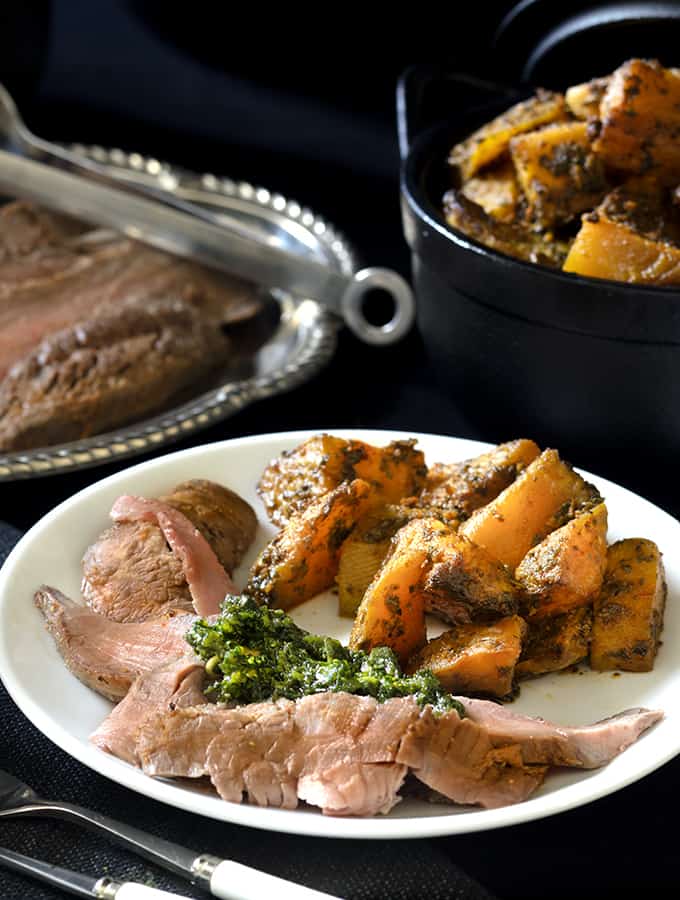 ? DID YOU MAKE THIS RECIPE? DON'T FORGET TO GIVE IT A STAR RATING BELOW! JUST CLICK ON THE STARS IN THE RECIPE CARD TO RATE.
Click on highlighted ingredients or Equipment to see exactly what I use to make this recipe
Instructions
For the Marinade
In a small bowl, whisk together the beer, lemon juice, oil, sriracha, brown sugar, cumin, smoked paprika, salt, black pepper, and garlic.


Place the steak in a large resealable plastic bag. Pour the marinade over the steak and seal the bag. Turn the steak to coat both sides.


Marinate in the refrigerator for 1 hour or up to 24 hours, turning the bag occasionally.

Meanwhile, for the zhoug
In a food processor, combine the cilantro, garlic, jalapenos, cumin, coriander, and salt. Process until finely chopped.


Add 2 tablespoons oil and pulse to form a loose paste, adding up to 2 tablespoons more oil if needed.


Transfer the zhoug to a glass container. Cover and store in the refrigerator until 30 minutes before serving if marinating more than 1 hour.

Cooking the Steak
Remove the steak from the marinade and place in the air-fryer; discarding the marinade. Set the air-fryer to 400°F for 8-10 minutes for medium, 145°F when tested with a meat thermometer.


Transfer the steak to a cutting board and let rest for 5 minutes. Slice the steak across the grain. Serve with zhoug.

Since much of the caloric marinade isn't consumed, actual calorie and macros are probably lower than what is listed here.
If you're in a rush, you could also just salt and pepper the steak and make it plain, since the zhoug has a lot of flavor.
By the same token, you could have the steak without much of a dipping sauce if you wanted to cut out a step. They go well together, but each is flavorful enough to stand on its own..
Get support & connect with our community on Facebook!
Nutrition
Calories:
410
kcal
|
Carbohydrates:
10
g
|
Protein:
37
g
|
Fat:
23
g
|
Sugar:
6
g
Tried this recipe?
Follow @twosleevers and Pin it!