This Spicy Corn Chicken Soup is based on my Indian-Chinese sweet corn chicken soup is a fast, comforting meal that is spicy, easily put together with what you have in the pantry, and guaranteed to wake up your taste buds. This is also the perfect recipe for those of us who have auto-immune or other diseases when we can't stand for long periods and cook.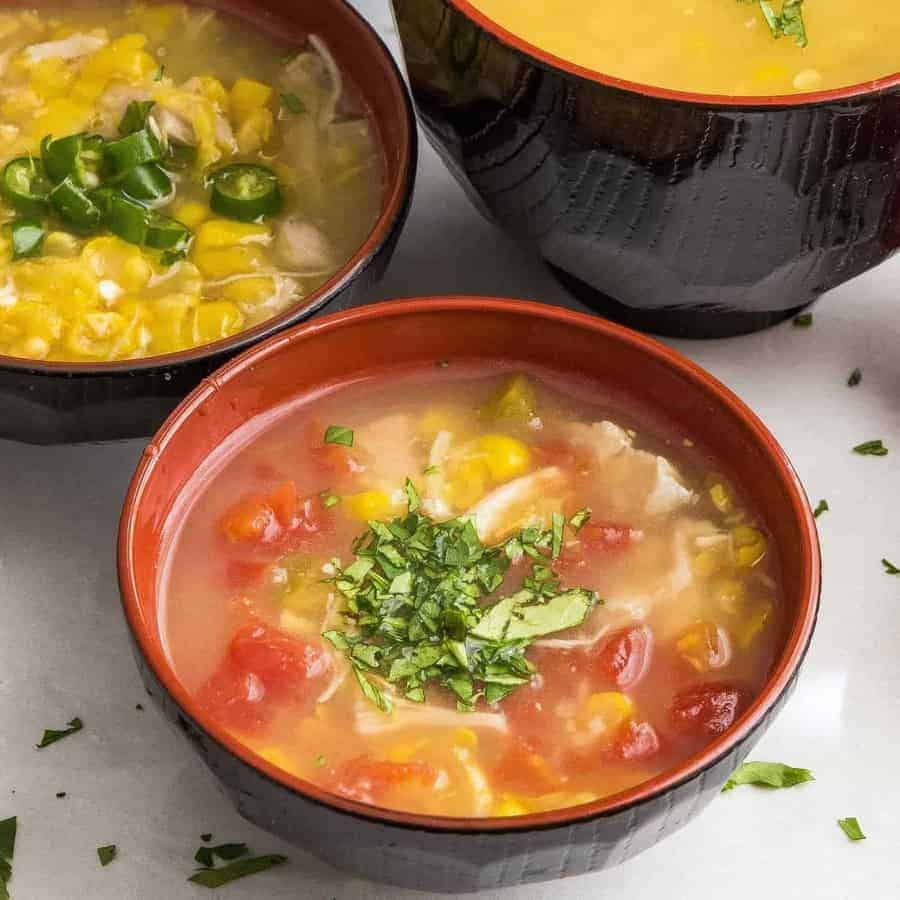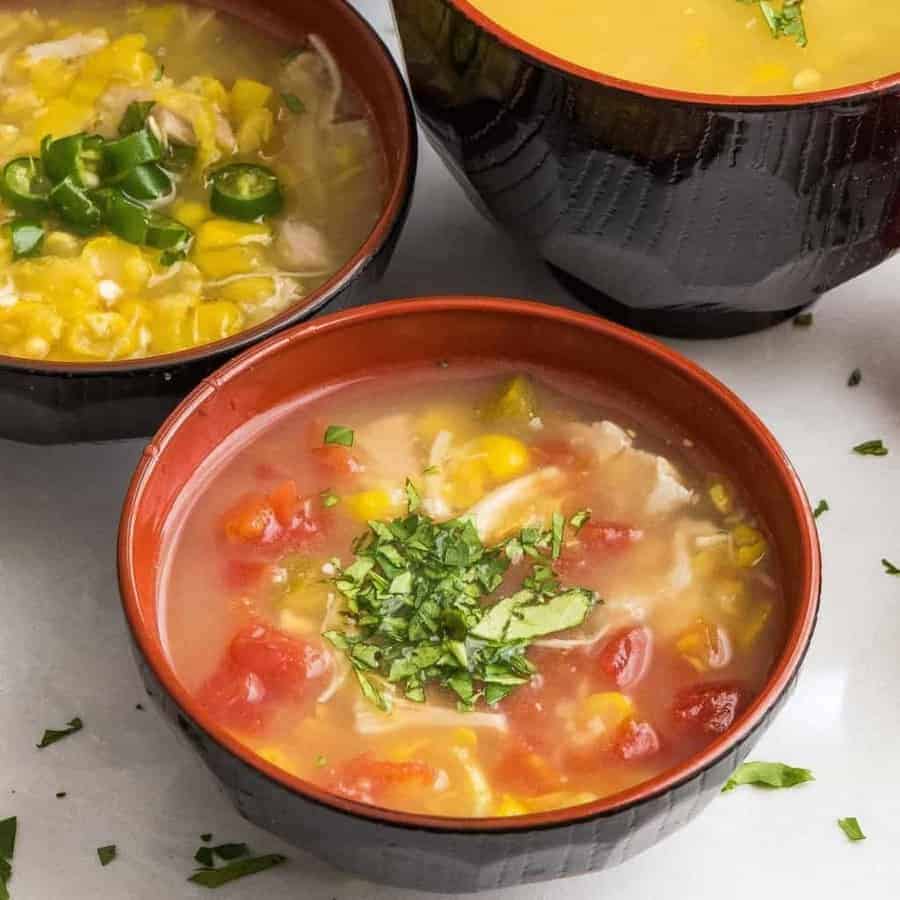 This is my third in the series of "How to make Chinese food that not even the Chinese have ever tasted". The first one was my healthier baked version of Gobi Manchurian, the second was my Sweet Corn and Chicken Soup.
Could veg Hakka Noodles be that far behind? I think not.
So I basically made up this version when I was sick, which speaks to cultural differences. In the United States when we have a cold, we get plain chicken noodle soup and we find that so soothing.
In India, our mothers know we can't taste anything when we have a cold, so what we really need is something flavorful and spicy! I'm not making this up. We get spicy soups when we are sick.
Now if you have an upset stomach, that's a whole different story. Then you get something soothing like Khichadi.
So what I do is, I make the sweet corn chicken soup for the kids, and then I add Rotel or tomatoes and chiles to mine for a little kick. It's the perfect two-in-one meal.
In India the soup is usually thickened with a corn starch slurry but I tend to not do that. I've written the recipe so you can add in cornstarch, eggs, or both to get a thicker broth if you like.
Also let me tell you a secret. I used to make this with CANNED CHICKEN when I was not feeling great. Honestly it's the only way I can eat canned chicken, but I'd basically open a can of chicken, a can of creamed corn, a can/package of broth, a can of Rotel, and heat through, add sesame oil and corn starch, and voila! Dinner.
So if you want to do that, have at it, and know that others before you have fed their children that way when they were tired.
WHAT IS INDIAN-CHINESE FOOD?
Indian-Chinese food is like nothing you've ever had before. Not in India and definitely not in China. I can say this from having eaten extensively in both countries.
Really if Indian Food and Chinese Food had a baby who was determined to be as different from its parents as possible–while still carrying their genes–you'd have Indian-Chinese Food.
It is really a selection of dishes that takes into account Chinese seasoning and cooking techniques–but adapting them to Indian tastes, and the availability of Chinese cooking ingredients in India. It is said to have been developed by a small Hakka community that migrated to India over a century ago.
What this means is that there are several vegetarian dishes, and a lot of use of cumin, coriander, turmeric, hot chilis, and sometimes even yogurt. So Chicken Chili, Chicken Manchurian, Chicken Szechuan, Sweet and Sour Chicken–when made in the Indian Chinese fashion, won't taste like anything else you've ever had before.
This soup is very popular in Indian Chinese restaurants and I've been making it for 30+ years so I thought I'd share it with you.
IMPORTANT EQUIPMENT TIP
You don't need anything but an Instant Pot Mini Duo or Instant Pot 6 quart or Instant Pot 8 Quart and some measuring spoons for this recipe--but also a good can opener.
Many of you know I have Rheumatoid Arthritis and so I often have inflammation and my hands don't grip as well as they used to. I have tried three different can openers that all got rave reviews on Amazon. I finally bought this one and it is the best one I've ever had. It opens easily and seamlessly, it requires little to no effort, it works every time, and I just love the independence it gives me.
So if you know someone who has limited mobility or strength in their hands, do try this can opener which is the best can opener for someone with arthritis that I have found.
THE RECIPE STEPS FOR THIS INDIAN CHINESE PRESSURE COOKER SPICY CORN CHICKEN SOUP ARE:
Cook together chicken, broth, creamed corn, Rotel for 10 mins HP, 10mins NPR
Mash chicken to shred, add corn starch or eggs if using
Add sesame oil and green onions for a fresh flavor, and go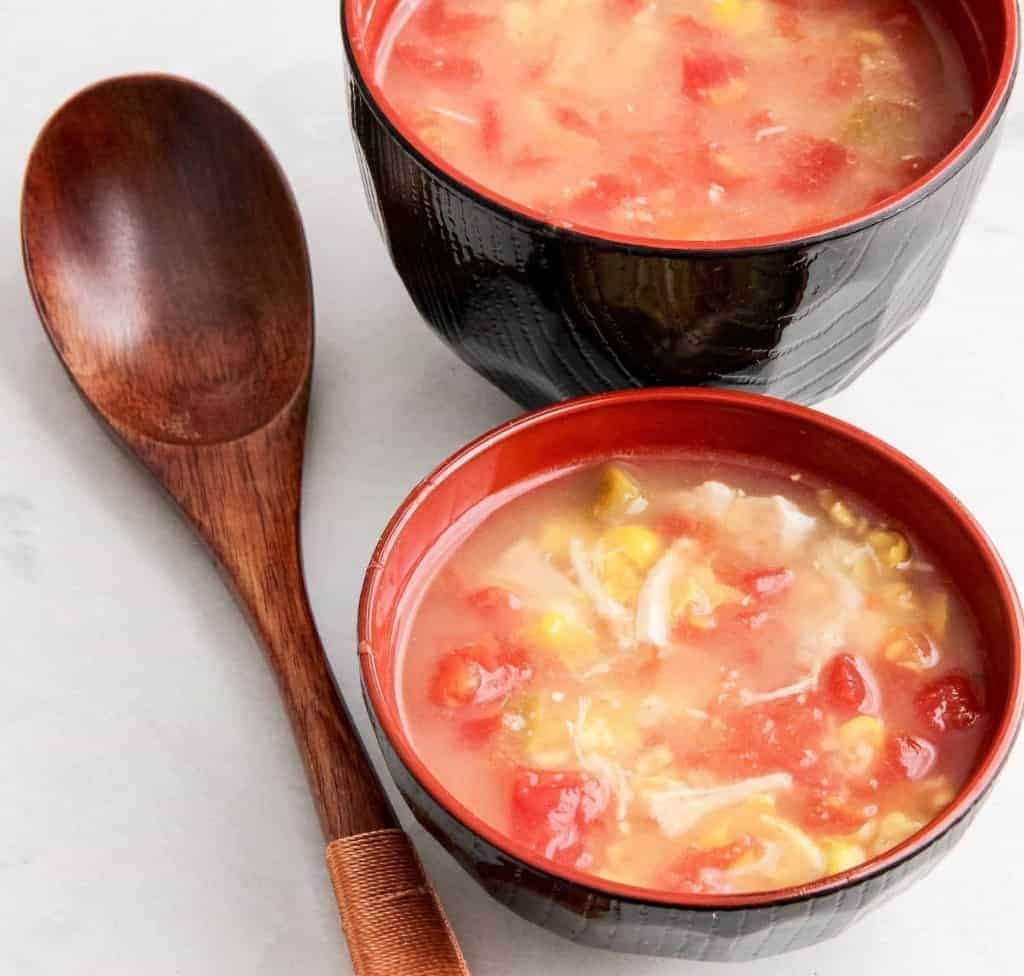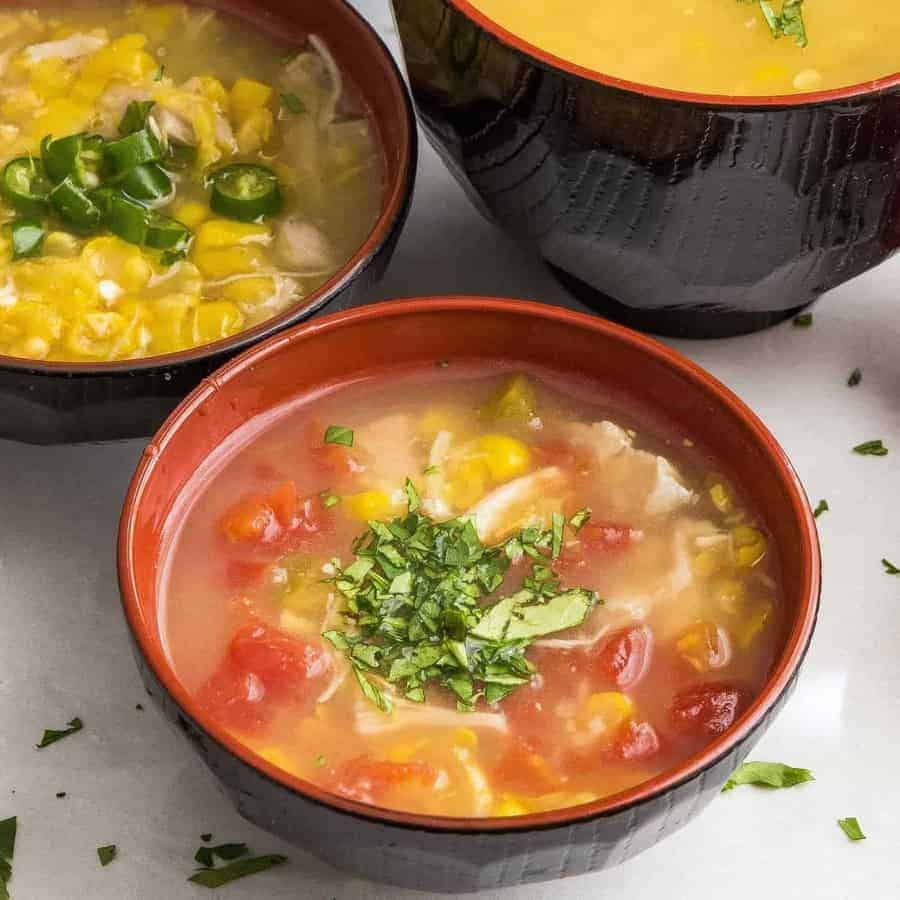 Click on highlighted ingredients or Equipment to see exactly what I use to make this recipe
Ingredients
For Finishing
1-2

tablespoons

(

1

tablespoons

) Sesame Oil

1/4

cup

(

25

g

)

Chopped Green Scallions

,

green part only

Cornstarch Slurry to thicken

,

optional

14

oz can

Rotel,

tomatoes and green chiles
Instructions
For Pressure cooker or Instant Pot
Place all ingredients for the soup in your pressure cooker.

Cook on high pressure for 10 minutes, and allow it to release pressure naturally for 10 minutes. Release all remaining pressure.

Use the back of a wooden spoon to mash up the chicken so it shreds.

If you're using the corn starch slurry, turn your pressure cooker on to Sauté.

Once the soup boils, add in the slurry and stir until the soup is thickened.

Add in sesame oil and stir.

Garnish with the chopped green onions and serve.
For Stovetop
Place all ingredients for the soup in heavy bottomed pan.

Cook for 30-35 minutes on a low simmer until the chicken is cooked through. Stir from time to time to ensure the corn doesn't stick to the bottom of the pan.

Use the back of a wooden spoon to mash up the chicken so it shreds.

If you're using the corn starch slurry, add in the slurry and stir until the soup is thickened.

Add in sesame oil and stir.

Garnish with the chopped green onions and serve.
You can also add in two lightly beaten raw eggs into the soup in a thin stream instead of the cornstarch slurry. Or add both, if you're feeling wild and adventurous. 
Reduce corn in half and add eggs to increase protein content and reduce carbs. 
Get support & connect with our community on Facebook!
Nutrition
Calories:
286
kcal
|
Carbohydrates:
24
g
|
Protein:
15
g
|
Fat:
15
g
|
Fiber:
1
g
Tried this recipe?
Follow @twosleevers and Pin it!