As an Amazon Associate, I earn from qualifying purchases. We may also earn money from the companies mentioned in this post.
Have you ever wanted to make Chicken korma at home, but didn't even really know where to start? If you're looking for an authentic Instant Pot Chicken Korma recipe, this very simple pressure cooker authentic chicken korma recipe that is so easy, you can make it on a weeknight in less than an hour, start to finish.
Trust me, once you see how simple it is to make chicken korma at home using your Instant Pot, you'll be enjoying it a lot more often. You can of course, also adapt for beef korma, lamb korma, or vegetable korma. In fact, I have an egg korma recipe that will show you how to make egg korma with the leftover chicken korma sauce.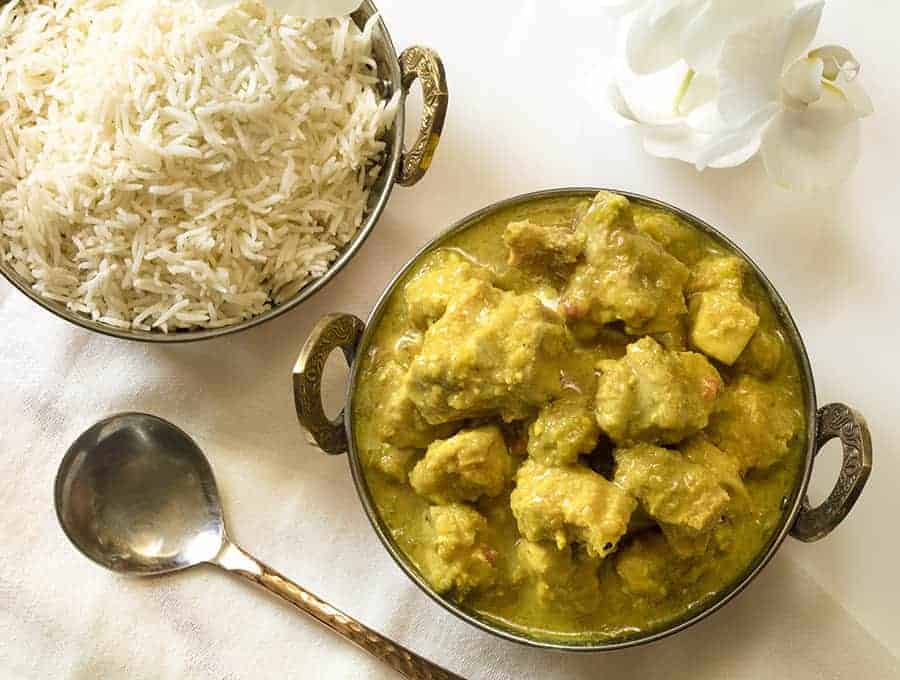 The problem is that most people in the States have had chicken korma in a restaurant and I was concerned my homemade Instant Pot chicken korma wouldn't be like what they were used to.
I've read 4-5 books on how Indian restaurants fix their meals and it's not for me. Precooked meat, over-reliance on pastes, and just not how I want to cook.
So I decided to stop worrying and just make what I thought was a good chicken korma, and then not worry about whether it matched what you'd get in a restaurant.
But it had to be easy, and use widely available ingredients, and I wanted to try my Instant Pot for this because it needed to be hands-off cooking today.
This very simple chicken korma recipe worked for us. It was rich, creamy, flavorful but not overly spicy and the sauce was thick enough to pour over rice or eat with naan for those who can have carbs (not me, sadly).
So that's the other thing about this chicken korma recipe. It's low carb, keto, and gluten-free. Which means I for one, can have LOTS of it! Which, sadly, I do tend to do.
I also have a secret to confess. There are days when I like this better than the Butter Chicken recipe. I know, I know. Heresy!
But actually I'm not the only one. I often hear from people who feel exactly as I do. The good news is, you can have both, and at half the price of what you'd pay in a restaurant, and probably faster than you could make it to the restaurant too.
How to make this very simple Instant Pot Chicken Korma Recipe:
So the method that I use is not at all traditional. But the taste is very traditional. I made this chicken korma by blending together all the ingredients for the sauce. I then placed the chicken in it and cooked it in thes Instant Pot.
Once that was done, I added some coconut milk for creaminess. You can also add heavy whipping cream to thicken it, and some people add a little sugar to it.
Variations on this Instant Pot Chicken Korma Recipe:
It would be traditional to add pan-fried cashews or raisins for a sweeter variation. Add these after the dish is cooked, otherwise, the nuts lose their crunch and get a bit mealy-tasting. Not the best texture.
To make this a vegetable korma, I'd actually cook the sauce and the veggies separately. Add 1/4 cup water to the sauce and cook as directed. Meanwhile, steam vegetables in the microwave or stovetop. I'd use a combination of cauliflower, green beans and green peas to make an Instant Pot vegetable Korma.
You're going to laugh when you see how simple this Instant Pot Chicken Korma recipe is, and you'll be skeptical, and you'll tell me it's not how your Mama made korma.
Well, mine neither, but make it anyway. It's worth it.
Oh, and since I only made it with 1 pound of chicken, once again I had sauce left over, just like with the butter chicken (this is getting to be a habit) so I can use the extra sauce for veggie korma or maybe even lamb korma tomorrow.
If you're looking for other great Instant Pot chicken recipes, check out my French Garlic Chicken. It's a delicious french recipe that's super easy to make in your pressure cooker!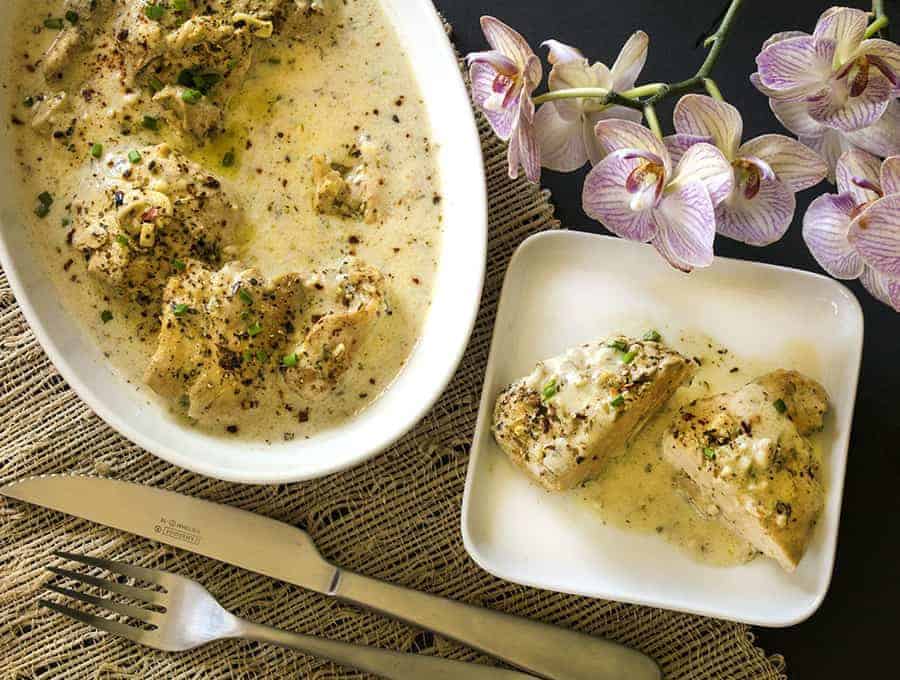 Another fantastic Instant Pot chicken recipe is my Indian Butter Chicken! This is easily one of my favorite recipes and you can make it in under 30 minutes!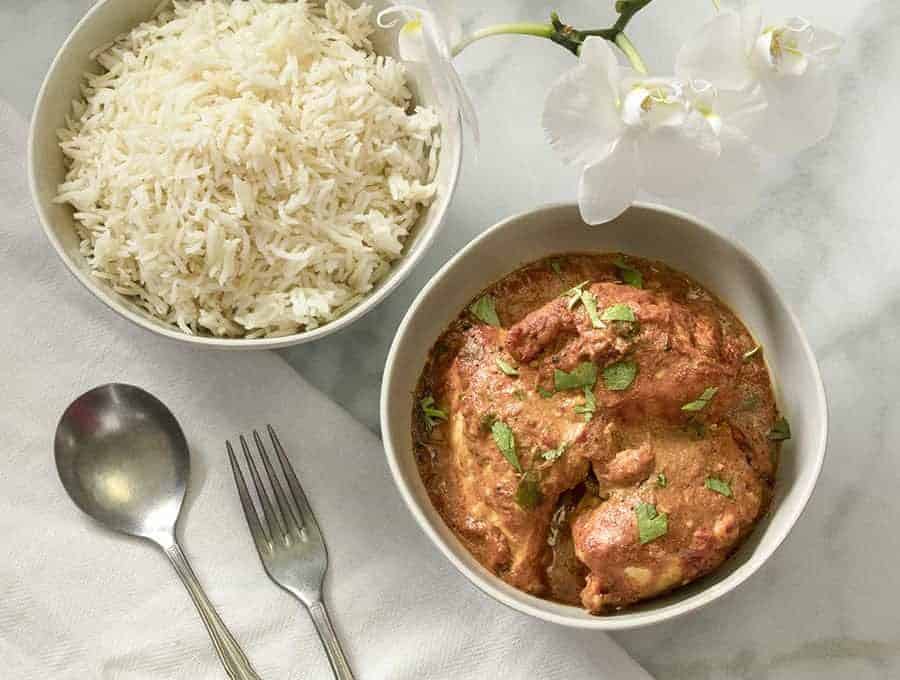 Equipment & Ingredients You May Need to Make Chicken Korma

★ Did you make this recipe? Don't forget to give it a star rating below! Just click on the stars in the recipe card to rate.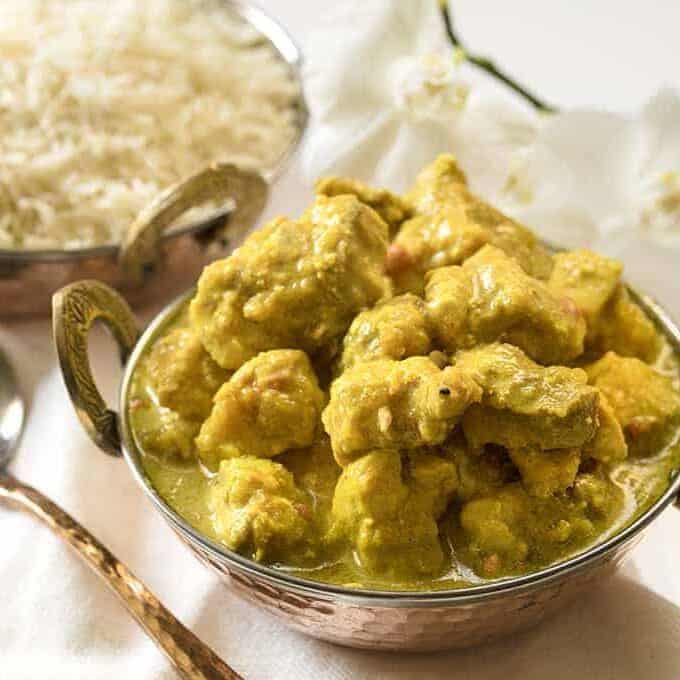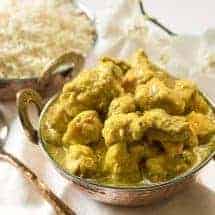 Instant Pot Chicken Korma Recipe
Once you see how simple it is to make this Chicken Korma Recipe at home using your Instant Pot, you'll be enjoying it a lot more often!
Keyword:
chicken korma, chicken korma recipe, indian instant pot, indian keto recipe, instant pot chicken recipe, instant pot keto recipe, low carb chicken recipe
Dietary Consideration:
Dairy-Free, Egg-Free, Gluten-Free, Grain-Free, High Fat, High Protein, Keto, Low Carb, Low Sugar, Paleo, Soy-Free
Cooking Style:
Instant Pot/Pressure Cooker
Ease of Cooking:
Pour and Cook
Recipe Type:
Chicken, Keto Low Carb, Pressure Cooker
Instructions
Blend together the vegetables and spices listed in the "blend together" section. Basically blend everything except chicken, coconut milk, cilantro, and set aside one teaspoons of garam masala for the end.

Pour the sauce into the inner liner of your Instant Pot.

Place the chicken on top and push it down into the sauce just a little.

Set it at High Pressure for 10 minutes and let it release pressure naturally.

Carefully take out the chicken and cut into bite size pieces.

Add coconut milk and garam masala, put the chicken back in, and eat.

Garnish with cilantro if you'd like.
Nutrition facts per serving
256kcal | Fat: 19g | Saturated fat: 8g | Cholesterol: 74mg | Sodium: 453mg | Potassium: 313mg | Carbohydrates: 6g | Fiber: 1g | Sugar: 2g | Protein: 14g | Vitamin A: 5.5% | Vitamin C: 5.8% | Calcium: 2% | Iron: 8.4%
I am not a registered dietician or nutritionist. Nutritional information is provided a courtesy, and can vary depending on the exact ingredients you use.