Have you ever wanted to make authentic Indian Chicken Korma at home, but didn't really know where to start? If you're looking for an Instant Pot Chicken Korma Recipe, this one is so easy that you can make it on a weeknight in less than an hour, start to finish.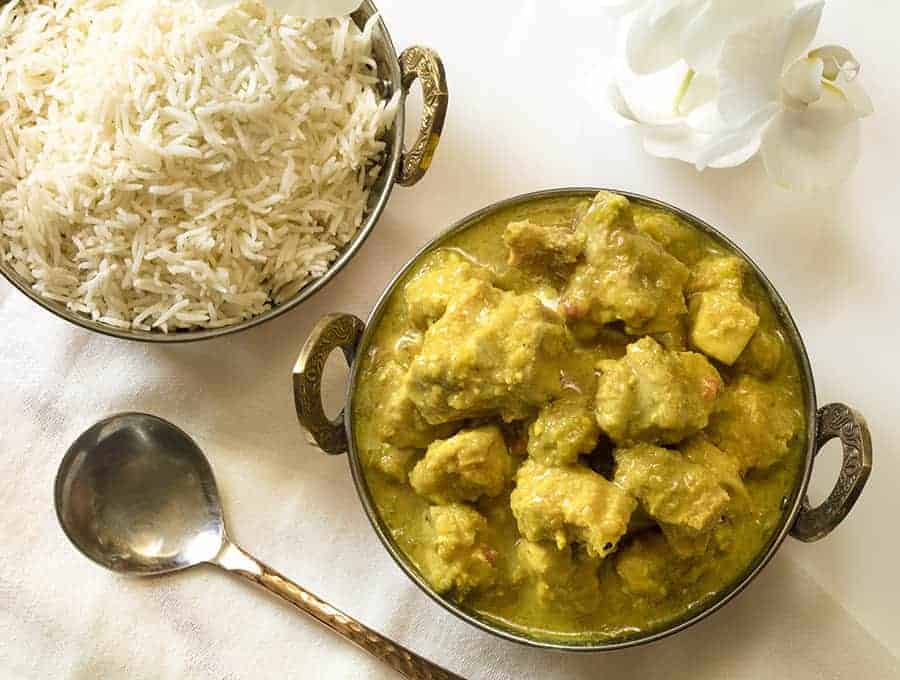 Jump to:
Trust me, once you see how simple it is to make chicken korma at home using your Instant Pot, you'll be enjoying it a lot more often. You can, of course, also adapt for beef korma, lamb korma, or vegetable korma. In fact, I have an egg korma recipe that will show you how to make egg korma with the leftover chicken korma sauce.
The problem is that most people in the States have had chicken korma in a restaurant, and I was concerned my homemade Instant Pot Chicken Korma wouldn't be like what they were used to.
I decided to just make what I thought was a good chicken korma, and not worry about whether it matched what you'd get in a restaurant. I often hear from people who feel exactly as I do. The good news is, you can have a delicious dinner at half the price, and probably faster than you could make it to the restaurant too.
My recipe had to be easy, and use widely available ingredients. I also wanted to try my Instant Pot for this because it needed to be hands-off cooking today.
WHAT IS CHICKEN KORMA?
A korma sauce has come to mean a sauce that is creamy, slightly sweet and mild. I'm all for the creamy and mild, but I don't love the sweet that restaurant chicken korma can sometimes have.
I mean, there is zero need to add sugar to a curry!
SO Kormas typically get their creamy goodness in one of two ways. You can use nuts such as cashews and almonds for a creamy taste. Or you can use canned coconut milk for that signature creamy korma sauce.
But because I am so extra, I use BOTH. Because.
CAN CHICKEN KORMA BE FROZEN?
Yes! You can absolutely freeze and reheat chicken korma. Just make sure you're packing in an airtight bag or container to prevent freezer burn.
IS CHICKEN KORMA GLUTEN-FREE?
Absolutely. Since chicken korma is low carb, you know there's a great chance of it being gluten-free as well! Don't skip this recipe just because your family has a gluten allergy.
DOES CHICKEN KORMA HAVE DAIRY?
My recipe for Chicken Korma uses Coconut milk, so you don't have to worry about dairy intolerances when you make this dish.
WHAT DOES CHICKEN KORMA TASTE LIKE?
My chicken korma recipe is made with tomatoes, coconut milk, and plenty of my favorite traditional Indian spices. You can expect something truly authentic to Indian cuisine with plenty of spice and a slight coconut undertone from the dairy-free milk included.
Slow Cooker Chicken Korma
Making Chicken Korma in a slow cooker or Crock-Pot is just as easy as making it in the Instant Pot. However, as the name suggests, it's MUCH slower. When I'm craving Chicken Korma, I want it ASAP.
If you have more patience than I do or want a make-ahead meal, I've included the instructions for making it in the slow cooker below.
Chicken Korma Sauce
This easy chicken korma recipe worked for us. It was rich, creamy, and flavorful. The sauce was thick enough to pour over rice or eat with naan for those who can have carbs (not me, sadly) but not overly spicy.
That's the other thing about this chicken korma recipe. It's low-carb, keto, and gluten-free. Which means I for one, can have LOTS of it! Which, sadly, I do tend to do.
I also have a secret to confess. There are days when I like this better than the Butter Chicken recipe. I know, I know. Heresy! I only made this dish with 1 pound of chicken, so once again, I had sauce leftover. The same thing happened with the butter chicken (this is getting to be a habit) so I can use the extra sauce for vegetable korma or lamb korma tomorrow.
How to Make Easy Instant Pot Chicken Korma Recipe:
The method that I use is not at all traditional. But the taste is very traditional. I made this Indian Korma Chicken recipe by blending together all the ingredients for the sauce. Next, I placed the chicken in the sauce and cooked it in the Instant Pot.
Once that was done cooking, I added coconut milk for creaminess. You can also add heavy whipping cream to thicken it, and some people add a little sugar to it.
Tips and Tricks for Making the Best Chicken Korma Ever
Step by Step Pressure Cooker Chicken Korma
Step 1: Start by placing onions, tomatoes, serrano peppers, ginger, garlic, cashews, and all the spices in a blender. This is the blender I use.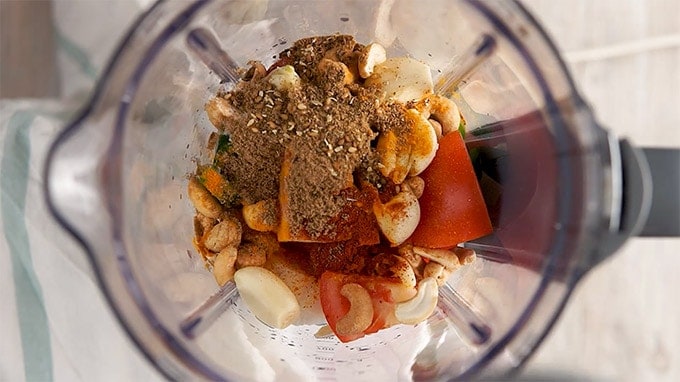 Step 2: Pour the sauce into your Instant Pot or another electric pressure cooker. Add water to the blender and wash out that blender to get the last bit of goodness out of there. Pour that water into the sauce.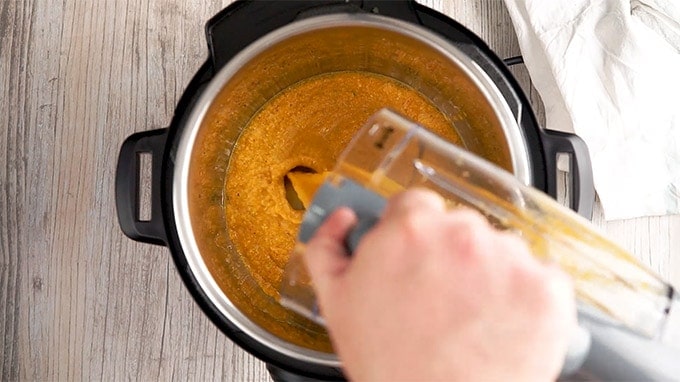 Step 3: Put the chicken into the sauce, and push it down a little so it is mostly covered with the sauce.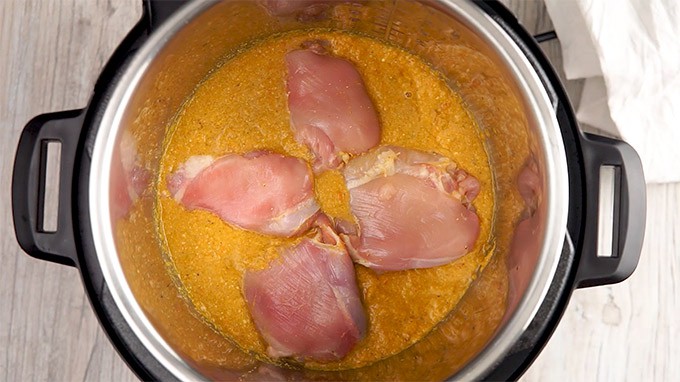 Step 4: Cook the chicken at 10 minutes on high presure. Allow the pot to release pressure naturally, and then release all remaining pressure.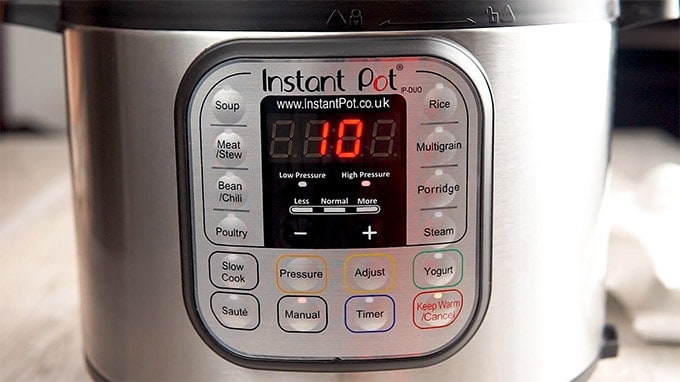 Step 5: Remove the chicken, and cut into bite sized pieces. Do not shred! We aren't making tacos here!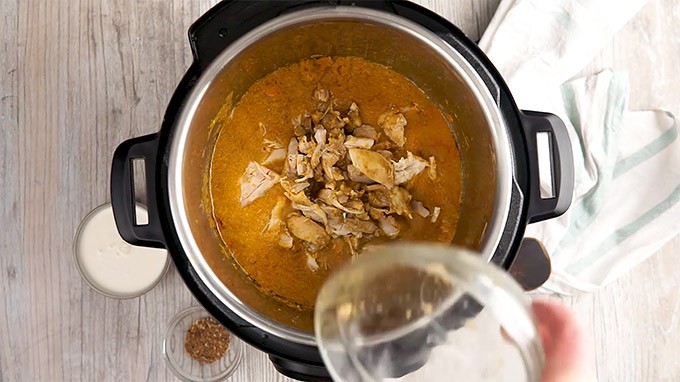 Step 6: Add in coconut milk and additional garam masala here. You don't want to cook coconut milk under pressure as it can sometimes seperate leaving a greasy slick on the food. Not attractive.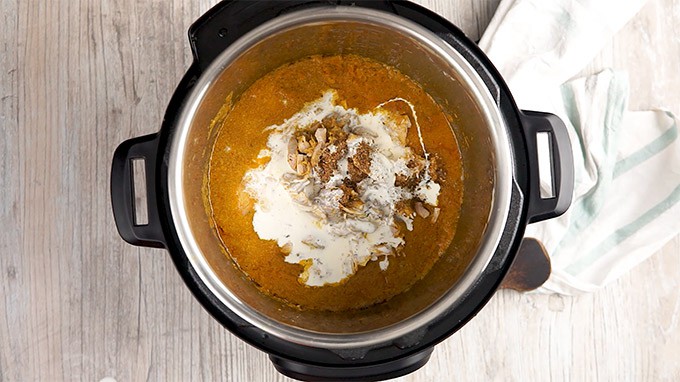 Step 7: Check out the creamy goodness of that homemade Chicken Korma!
Variations on this Instant Pot Chicken Korma Recipe:
It would be traditional to add pan-fried cashews or raisins for a sweeter variation. Add these after the dish is cooked, otherwise, the nuts lose their crunch and get a bit mealy-tasting. Not the best texture.
To make this a vegetable korma, I'd actually cook the sauce and the veggies separately. Add 1/4 cup water to the sauce and cook as directed. Meanwhile, steam vegetables in the microwave or stovetop. I'd use a combination of cauliflower, green beans, and green peas to make an Instant Pot Vegetable Korma.
You're going to laugh when you see how simple this Instant Pot Chicken Korma recipe is, and you'll be skeptical, and you'll tell me it's not how your Mama made korma.
Well, mine neither, but make it anyway. It's worth it.
Video on How to Make an Authentic Korma
LOOKING FOR MORE WAYS TO USE YOUR INSTANT POT?
Try these recipes. They're some of the most popular on my blog.

? Did you make this recipe? Don't forget to give it a star rating below! Just click on the stars in the recipe card to rate.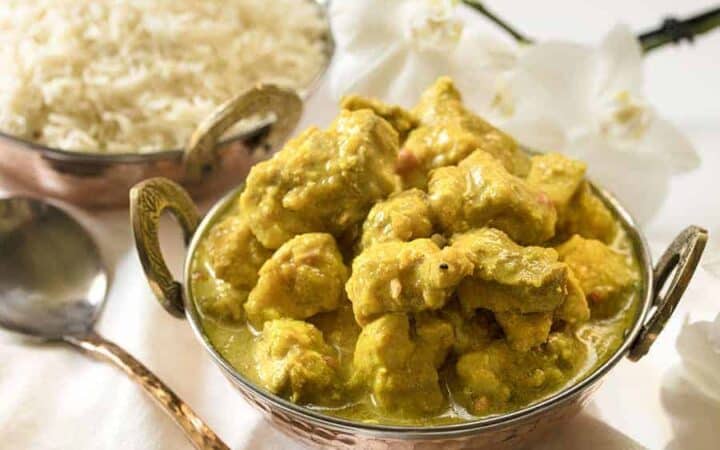 Click on highlighted ingredients or Equipment to see exactly what I use to make this recipe
Ingredients
Blend together
1

(

1

) Onion,

chopped

1/2

cup

(

74.5

g

)

Tomatoes

,

diced

1/2

(

0.5

)

Serrano peppers

,

Jalapeño, or Thai chile pepper

5

cloves

(

5

cloves

)

Garlic

1

teaspoon

(

1

teaspoon

) Minced Ginger,

minced

1

ounce

(

28.35

g

) cashews,

(or sub with almonds if you prefer)

1

teaspoon

(

1

teaspoon

) Turmeric

1

teaspoon

(

1

teaspoon

) Kosher Salt

1

teaspoon

(

1

teaspoon

) Garam Masala

1/2

teaspoon

(

0.5

teaspoon

) Ground Cumin

1/2

teaspoon

(

0.5

teaspoon

) Ground Coriander

1/2

teaspoon

(

0.5

teaspoon

) Cayenne Pepper,

(adjust to your preference)

1/2

cup

(

125

g

)

Water

,

( I used this to slosh about in the blender jar and then poured it into the Instant Pot)
Instructions
Blend together onion, tomatoes, serrano, ginger, garlic, cashews, turmeric, salt, cayenne, 1 teaspoon of garam masala, cumin, and coriander.

Pour the sauce into the inner liner of your Instant Pot. Rinse out the blender container using the water, and pour water into the pressure cooker liner as well.

Place the chicken on top and push it down into the sauce.

Set it at High Pressure for 10 minutes, and let it release pressure naturally.

Carefully take out the chicken and cut into bite size pieces.

Add coconut milk and the additional 1 teaspoon garam masala. Put the chicken back in to combine.

Garnish with cilantro if you'd like.
Substitute heavy cream or half and half for coconut milk if you prefer.
I ask you to add the coconut milk at the end, since sometimes it can separate under pressure, leaving a greasy slick on top of the food.
For a slow cooker version, cook on low for 7-8 hours, or high 3-4 hours
Vegetarian Options - Paneer, Mixed Veggies, or Cooked Chickpeas. In this case, add 1/4 cup of water to the sauce. To the cooked sauce, add your paneer, or chick peas and heat through. 
You could use chicken breasts instead, just butterfly them sideways so you have thinner pieces of chicken and cook for 6 mins
If having trouble with your IP burning, try the PIP method and increase time to 15 mins.
That last spoon of garam masala is getting added at the end for fragrance.
You can hard cook some eggs and add them to any leftover korma sauce you may have. 
Get support & connect with our community on Facebook!
Nutrition
Calories:
256
kcal
|
Carbohydrates:
6
g
|
Protein:
14
g
|
Fat:
19
g
|
Fiber:
1
g
|
Sugar:
2
g
Tried this recipe?
Follow @twosleevers and Pin it!
Post originally published on April 5, 2017, at 8:36 PM.