Hard-boiled eggs and leftover korma sauce make a fast, easy, cheap and delicious Egg Korma recipe that uses your Instant Pot or Pressure cooker for maximum flavor and minimum effort.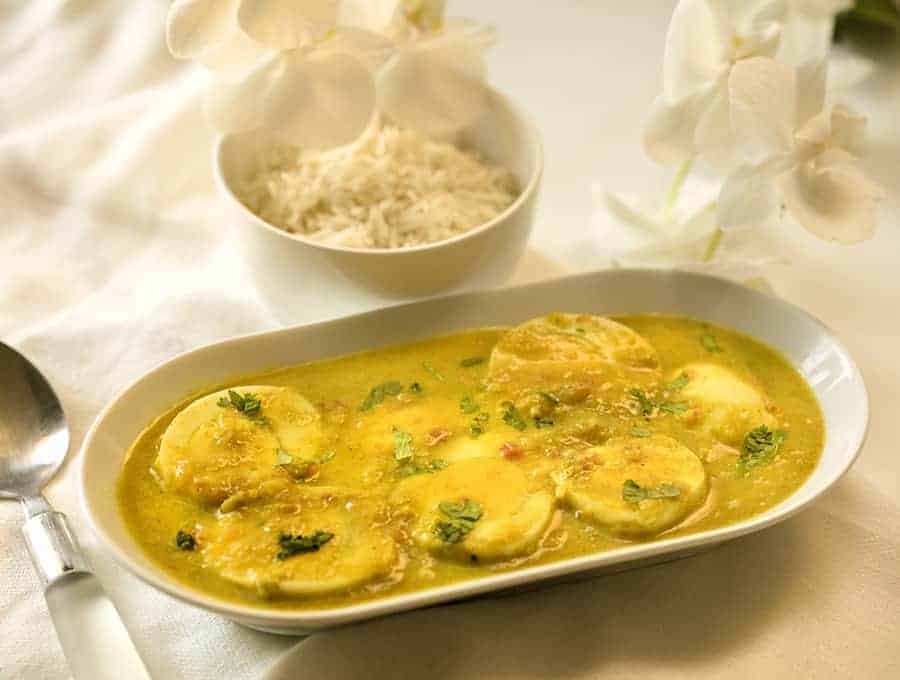 Jump to:
Why You'll Love This Korma Recipe
Every Instant Pot owner raves about how easy it is to make hard-boiled eggs in the Instant Pot, and in fact, it's super easy, and they peel like a dream. But what if you keep making eggs compulsively and now you have all these eggs and you don't know what exactly to do with them besides eat them plain, or make egg salad?
What Is The Difference Between Korma and Curry?
There is no difference between the two. Korma is simply one of the many types of curry recipes. It is traditionally made with either a yogurt sauce or nuts.
Is Korma Spicy?
Korma is a spiced dish, but it is not spicy. It is packed with flavor from some of the most commonly used Indian spices while still being a family-friendly meal.
What Is Korma Sauce Made Of?
The leftover Korma sauce used for this Egg Korma recipe is a very simple and delicious blend of ingredients. Here's what you'll need:
For The Korma Sauce Body
Onion, chopped
Tomatoes, diced
Serrano peppers, Jalapeño, or Thai chile pepper
Garlic
Minced Ginger, minced
cashews, (or sub with almonds if you prefer)
For Finishing
How To Make Egg Korma
Well, how about if you take some of the extra sauce from making Chicken Korma and use it to make egg korma? SO easy, very delicious and totally nutritious.
As to making the eggs themselves, there are many ways to do it, and everyone has their favorite, but for this recipe, I make them at high pressure for 4 mins, Quick Pressure Release, and ice bath. Worked perfectly as you see below.
Tips And Tricks For Making Perfect Korma
So here's the very simple recipe for Egg Korma. Now the thing is, it does require leftover sauce from the Chicken Korma recipe but that recipe is so easy and delicious that you should make it anyway.
If you don't have any leftover sauce, you can put the ingredients for the chicken korma sauce (minus the chicken) in the Instant pot, add 1/4 cup of water, and then cook as directed. You can then proceed as directed below.
More Instant Pot Recipes You'll Love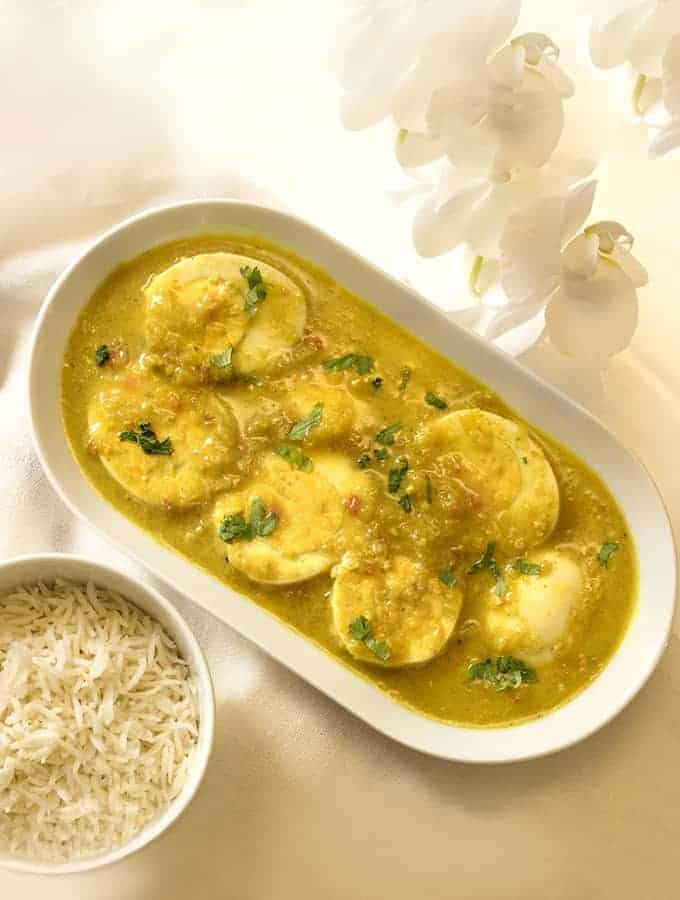 If you love this Egg Korma recipe as much as we do, make sure you share it on Facebook and Pinterest so your friends can try it too!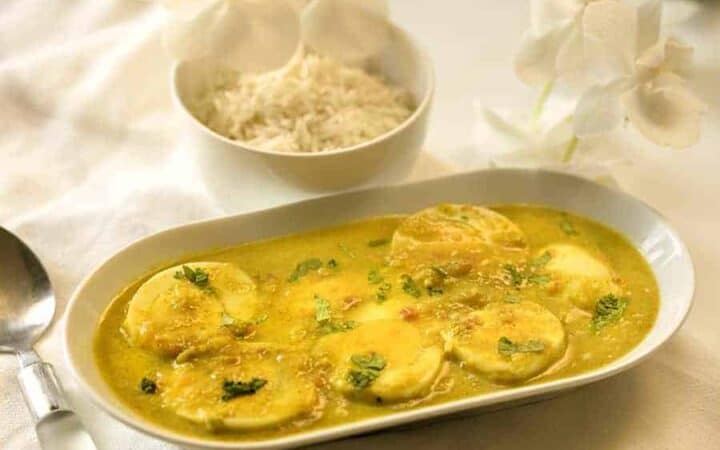 Click on highlighted ingredients or Equipment to see exactly what I use to make this recipe
Ingredients
Instructions
Cut the boiled eggs in half.

Heat a pain or turn your pot onto Sauté and press MORE to get it hot.

Melt the ghee in the pot or pan, and once melted, carefully put your eggs in cut side down. You do this so that the egg yolks don't fall out when you put them into the sauce. This mildly and gently seals them into the white a little bit.

Flip them over carefully and let the whites brown a little bit if you want. Frankly, I got bored at this point and decided they didn't need to be browned, but you may be more patient than I am. I honestly don't think it affects the taste, they just might look nicer.

Pour in the korma sauce and the water. Now, what you want to do is heat the sauce, but don't stir it too frequently. You want the sides of the pan to start to brown the sauce, to caramelize it slightly and you want to stir this lovely caramelized sauce back into the main dish.

Once the sauce is well heated, spoon some of the sauce on top of the eggs to heat the whites or flip the eggs over.

Garnish with cilantro and serve.
Get support & connect with our community on Facebook!
Nutrition
Calories:
146
kcal
|
Carbohydrates:
4
g
|
Protein:
8
g
|
Fat:
10
g
Tried this recipe?
Follow @twosleevers and Pin it!
Originally Published April 7, 2017
Indian Instant Pot, Keto Instant Pot, Instant Pot Fast and Easy, Healthy Instant Pot & Vegetarian Instant Pot.