People always ask me what the best kind of air fryer is. There's no simple answer because it depends on a variety of things when you're trying to choose an air fryer. Here are the different types of air fryers and things to consider before choosing the right air fryer for you.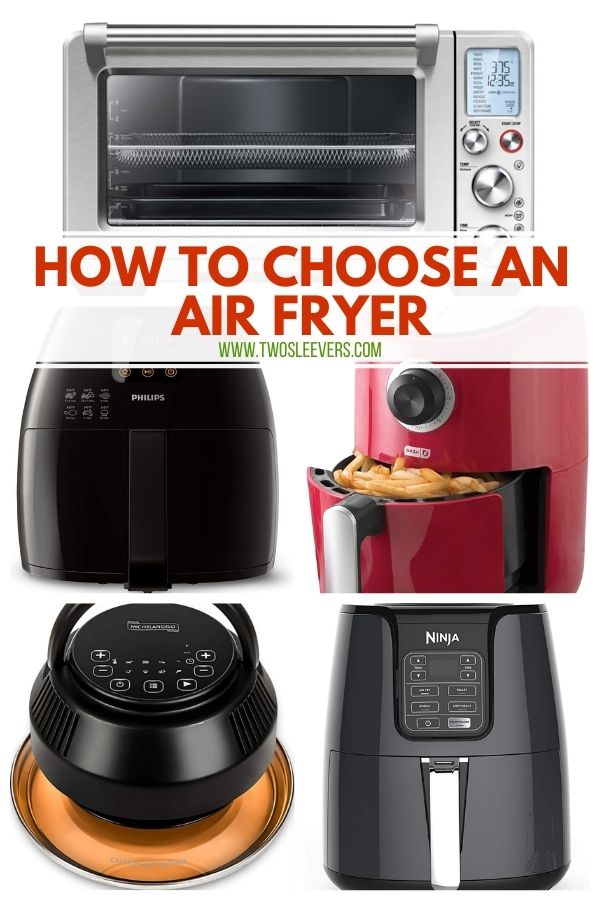 Jump to:
Why You Should Trust My Tips On How To Choose An Air Fryer
Air Fryer Cookbooks: I have two best-selling air fryer cookbooks, Every Day Easy Air Fryer and Air Fryer Revolution, so you can feel confident in knowing that I use air fryers on a regular basis, I'm quite familiar with how they work and I know what makes a good air fryer.
Experienced Reviewer: I've done various air fryer reviews in the past, so I have a wealth of knowledge about air fryers and what makes one better than another.
Gadget geek!: I'm a self-proclaimed food tech enthusiast and have been known to purchase (and review) just about any kitchen appliance I can get my hands on.
Imporant Factors In Choosing An Air Fryer:
Air Fryer Shape
Capacity
Functions
Footprint
Ease Of Cleaning
Price
1. Air Fryer Shape
There are a variety of different shapes of air fryers. This is often directly tied to how much the air fryer can hold and how large of a footprint they have on your kitchen counter. Here are a few examples of different shaped air fryers and brands you can purchase:
Egg Shaped Varieties
Square Shaped Varieties
Small Toaster Oven Varieties
Large Multicapacity Ovens
Crisp Lid
2. Capacity
Capacity can be a little misleading because, with an air fryer, you will not want to fill the entire basket with food and get good results.
In order for your food to cook evenly or crisp on the outside, you will need it to be mostly in one single layer. Here are a few of the different capacities offered:
2.4 quart - Great for making side dishes and desserts.
3.5 quart - Great for cooking for smaller families or for side items.
5.8 quart - Great for larger families or if you like leftovers.
What is truly important to consider with capacity is how wide the basket is. The wider the basket, the more food you can cook at once with good results.
3. Functions
Something that people will need to consider when they're purchasing an air fryer is the presets it may or may not come with. Here are a few different kinds:
Presets - When the air fryer comes with buttons that have a predetermined time and temperature attached to them.
No Presets - The air fryer simply has time and temperature buttons that can be adjusted up and down depending on the recipe.
Customizable presets - When you can adjust which time and temperatures that are tied to the preset buttons so you can reuse the settings for commonly used foods.
Another thing to consider is the cooking functions they claim to offer. Here are some of the different cooking functions some air fryers offer:
Bake
Broil
Grill
Air Fry
Dehydrate
While they may boast that they can do all of these things, some of these functions should be taken with a grain of salt, as they don't perform these functions in a traditional manner.
If you're wanting an air fryer that can also bake, broil, and grill well, you will want to purchase a toaster oven-type air fryer because they have two heating elements. The other styles of air fryers only offer one heating element so your food is only cooking from the top and not from multiple heat sources.
4. Footprint
A selling point for some people in how to choose an air fryer is how much space an air fryer takes up and how portable it is. Here are the different types of air fryers listed in order from how little of a footprint they have to how large of a footprint they have:
CrispLid or other air fryer lid.
Egg Shaped air fryer
Square Shaped air fryer
Small toaster oven air fryer
Multi capacity toaster oven air fryer
If you have a large kitchen, aren't worried about tucking it away when not in use, or use your air fryer every day for cooking, you would likely be happy with a larger toaster oven style air fryer. However, if you are short on space, need it to be portable, or don't use your air fryer that often, you would likely prefer an air fryer lid or a smaller freestanding air fryer.
5. How To Clean Your Air Fryer
How difficult an air fryer is to clean can be a breaking point for a lot of people when they're trying to decide how to choose an air fryer. If it's hard to clean, you simply won't use it. This is where footprint also comes into play. If the footprint is smaller, the amount of air fryer you have to clean is also smaller.
To Scrub Or Not To Scrub
A lot of people tell me that their air fryers are so hard to clean and they have to scrub and scrub to get the food off of them. Want to know my secret?
Stop scrubbing. Seriously. You're working way too hard, and you're scrubbing away the nonstick coating on the inside of your air fryer.
What I like to do with my air fryers with baskets is:
Fill with water.
Add a little dish soap.
Let it soak.
Wipe it out.
Rinse clean or pop the whole air fryer basket in the dishwasher.
It's that easy. With a little help from dish soap and a little patience, your air fryer will be a breeze to clean.
I must admit, I rarely clean the heating element of my air fryers. I think the heat does a good job of keeping it clean. If you notice yours needs cleaned, this is what you should do:
Unplug your air fryer.
Turn it upside down.
While the heating element is still warm (not hot) you will take a damp rag and wipe down the heating element.
If you're cleaning a toaster oven style air fryer, it's a little more complicated. But to reduce the amount of space you need to wipe out after use, you can always cover the bottom of the air fryer with aluminum foil, a silicone mold, or use a pan that covers a large portion of the base of the air fryer.
6. Price
Price honestly isn't a good indicator for which air fryer you should purchase. You can get a reputable air fryer that costs anywhere between $80 and $400.
The most important thing to remember is that if you're using it to air fry only, a cheaper model is probably satisfactory.
However, if you're wanting to use it for a wider variety of functions, you'll want to splurge on one of the larger toaster oven air fryers or square-shaped air fryers. The functionality, the amount you'll use it, and the energy costs are worth the extra money spent on a larger model.
Still Not Sure How To Choose An Air Fryer?
Still not sure which air fryer to choose? Let me break it down for you:
Choose An Egg Shaped Air Fryer If:
If you cook small amounts of food at one time.
Have limited space in your kitchen.
Want something easy to clean.
Are on a budget.
Choose A Square Shaped Air Fryer If:
You want to cook for a larger family of 4 or more.
Want something portable with a medium-sized footprint.
Want something easy to clean.
Are looking for an affordable option.
Chose An Air Fryer Lid If:
You have a pressure cooker that you can attach your lid to.
Are short on space or want something portable.
Need something very easy to clean.
Want something cheaper than a full air frying appliance.
Choose A Small Toaster Oven Air Fryer If:
You're cooking larger items or for a larger family.
Have countertop space but still want something that can be easily moved.
Aren't bothered by a little difficulty cleaning it.
Can afford a slightly more expensive air fryer model.
Choose A Multi Capacity Toaster Air Fryer If:
You want something that can replace most of your oven functions.
Aren't limited on space.
Are comfortable with a little extra effort to clean it.
Have a higher budget, as these are generally the most expensive.
Air Fryer Reviews I've Done
If you want to know how well I like specific air fryers I mentioned in this post, check out some of the reviews I've done.
If you found this article on how to choose the right air fryer helpful, please share it with your friends on Facebook so they can choose the right air fryer too.