So you've been hearing about how convenient air fryers are, how quickly they cook food and how you can get the same end result of a deep fryer without all that unhealthy, excess oil. All those air fryer recipes on Pinterest have finally peaked your interest, and now you're in the market for an Air Fryer yourself. There are plenty of air fryer reviews out there to help you narrow down which one to buy, but how do you know that they're not being biased in their suggestions? Here is a collection of some of the Best Air Fryer Reviews out there, completely bias free!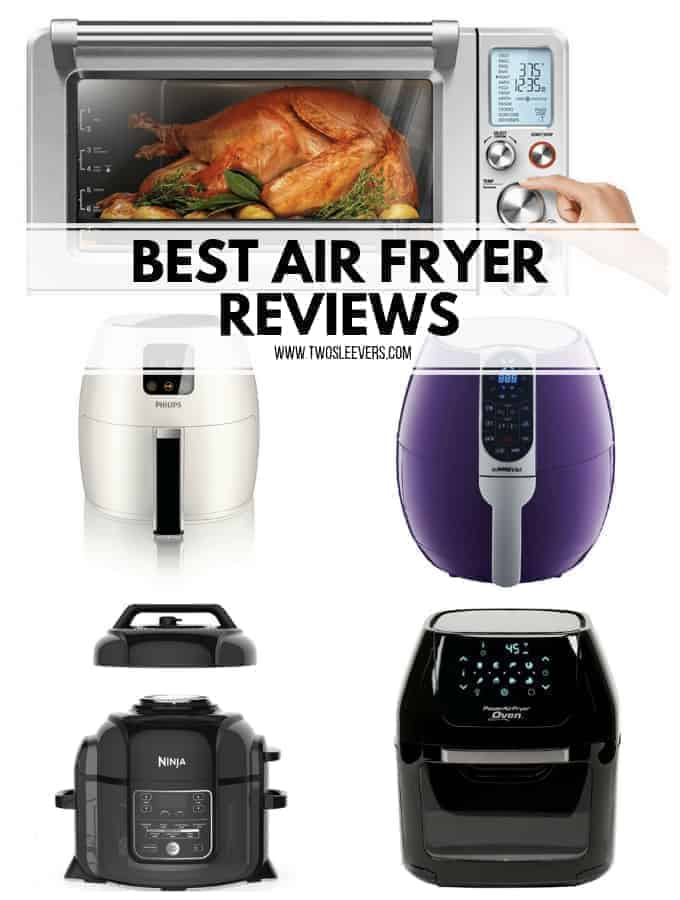 Best Air Fryer Reviews | The Best Unbiased Air Fryer Reviews
With the rising popularity of air fryers, you're sure to come across quite a few sites cashing in on the trend by posting a biased air fryer review. But there's absolutely no need to worry about that happening here at TwoSleevers. All of my reviews are completely unbiased, mostly because I don't think I could possibly review something any other way. You'll just get the facts and my personal experiences with each air fryer.
But before we jump into the air fryer review section, I thought I'd tackle a few of the most commonly asked air fryer questions.
IS AIR FRIED FOOD HEALTHY?
As I'm sure you're aware, deep fried foods are typically pretty fatty and full of calories due to the fact that the food is actually submerged in oil in order to cook it. This results in the food absorbing much of the oil, and lots of calories and fat along with it.
Cooking food in an air fryer, however, only typically requires one to two tablespoons of oil to cook. In some cases it requires no oil at all! This results in the same end product of deep frying without all the unnecessary fat and oil. This means you can enjoy the benefits of deep frying more often without ruining your diet!
WHAT CAN YOU COOK IN AN AIR FRYER?
What you cook in the air fryer is only really limited to the size of the air fryer you own and your imagination. You can cook appetizers, side dishes, main courses, and even desserts! You can cook most any form of meat in an air fryer, such as steaks, fish, chicken, pork or lamb. You can air fry most any vegetable or fruit as well!
But that doesn't mean you can start air frying Oreos and funnel cakes without gaining any weight. The healthiness of the food you cook in the air fryer is also largely based on what food you're cooking. And if you're looking for some delicious yet healthy air fryer recipes, you can check out all my air fryer recipes HERE.
So without further ado, here are the best unbiased air fryer reviews out there.
Best Air Fryer Reviews
Looking for some honest, straight forward air fryer reviews before pulling the trigger on one? Here are the Best Unbiased Air Fryer Reviews out their!
Are you curious about the Ninja Foodi, a pressure cooker, and air fryer combination device? Recently I did a Ninja Foodi Review and wanted to share my results with you. It's an air fryer/pressure cooker combo so it peaked my curiosity and I knew I just had to see how it worked. This is my unbiased, non-compensated review of the Ninja Foodi.
Continue Reading
Looking to buy an Air Fryer, but unsure of which one to buy? I've done an unbiased Air Fryer Review just for you!
Continue Reading
Ninja sent me an air fryer to review, so I wanted to share what I liked and didn't like about it. I will show you all the features and then cook a recipe in it so you can see how much food fits in there.
Continue Reading
If you're curious about a Gowise Air fryer, check out my unbiased review. I paid for this air fryer myself.
Continue Reading
Here's an unbiased Ninja Foodi review. Curious about how the new Ninja Foodi works? How can a device be both a pressure cooker as well as an air fryer, all in one? Very cleverly, as it turns out. This review of the Ninja Foodi Pressure Cooker Air Fryer Combo will show you the different features of this nifty device.
Continue Reading
This is a Facebook live show where I reviewed the Gourmia air fryer available at Costco. I also show you how to make an air fryer fennel chicken that cooks in no time at all.
Continue Reading
Do you have questions about how air fryers work? Wondering if they are right for you? Watch this video to learn about the benefits of air frying, some of the myths and realities of air frying, and a little bit about different types of air fryers.
Continue Reading
IS AN AIR FRYER WORTH IT?
If you enjoy the crispness and deliciousness associated with fried foods, but would like a healthier alternative to deep frying, then it should most certainly be worth the investment. Not only does the food come out fantastic every time, but it cooks food in a fraction of the time that it would take to cook it in the oven. And did I mention that it doesn't fill your house with an obnoxious odor like a deep fryer does? It truly is a wonderful addition to your kitchen that is well worth it's weight in gold!
Don't forget to check out my Air Fryer Cookbook!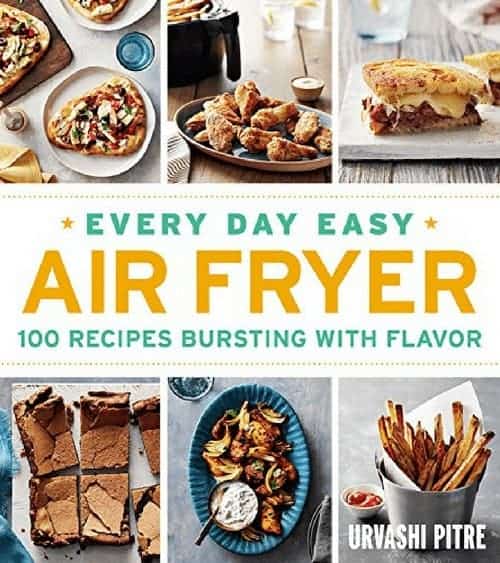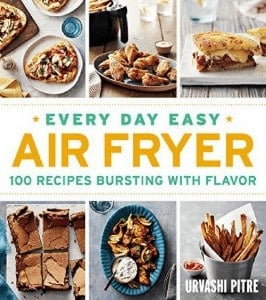 Every one of the recipes in this book can be made in an hour or less, and many are on the table in as little as 30 minutes. You won't find "cream of anything" cans in the ingredient list: instead, you'll start with fresh ingredients—healthful meats and vegetables—and let the air fryer do the hard work. Unleash the full potential of your Air Fryer and eat healthfully every night.