Have you been hearing about how convenient air fryers are, how quickly they cook food, and how you can get the same end result of a deep fryer without all that unhealthy, excess oil? All those air fryer recipes on Pinterest have finally piqued your interest, and now you're in the market for an Air Fryer yourself? Here is a collection of some of the Best Air Fryer Reviews out there, completely bias-free!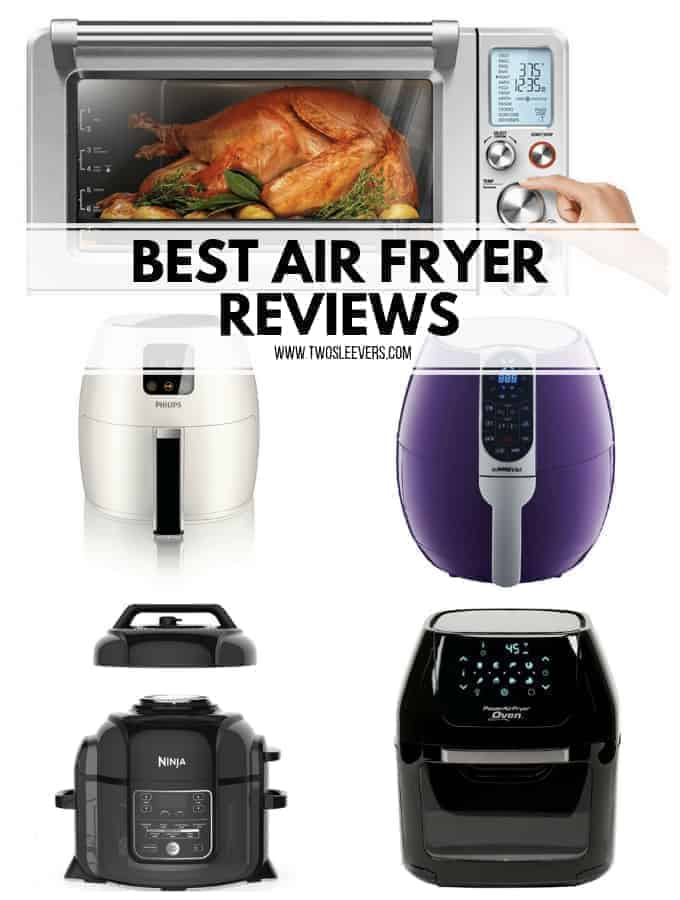 Jump to:
How to Choose the Best Air Fryer
As the popularity of air frying grows, so has the number of air fryers on the market and sometimes it can be confusing choosing the right one. In this article, I will break down the key components of air fryers, and the pros and cons for the different ones on the market. This way you can make an educated decision with my air fryer reviews.
What Makes Air Frying SO Appealing
First, let's start with a primer on air frying in order to understand what makes it so appealing.
An air fryer uses conduction to heat and a fan rather than convection heat like a traditional oven. This makes the air circulate and heat the outside surface of the food, which is why air-fried food has such a nice crunchy crust on it.
IS AIR FRIED FOOD HEALTHY?
As I'm sure you're aware, deep-fried foods are typically pretty fatty and full of calories due to the fact that the food is actually submerged in oil in order to cook it. This results in the food absorbing much of the oil, and lots of calories and fat along with it.
Cooking food in an air fryer, however, only typically requires one to two tablespoons of oil to cook. In some cases, it requires no oil at all! This results in the same end product of deep frying without all the unnecessary fat and oil. That means you can enjoy the benefits of deep-frying without adding unnecessary calories.
WHAT CAN YOU COOK IN ONE?
What you cook in the air fryer is only limited to the size of the air fryer you own and your imagination. You can cook appetizers, side dishes, main courses, and even desserts. You can cook most any form of meat in an air fryer. Can you believe you can air fry almost any vegetable or fruit as well?
That doesn't mean you can start air frying Oreos and funnel cakes without gaining any weight. The healthiness of the food you cook in the air fryer is also largely based on what food you're cooking. And if you're looking for some delicious yet healthy air fryer recipes, you can check out all my air fryer recipes HERE.
So without further ado, here are the best-unbiased air fryer reviews out there.
WHICH AIR FRYER IS THE BEST?
People often ask me this question and let me tell you that's the WRONG question to ask.
Because the answer is, for what? For a large family? For two people? For easier cleaning?
Best air fryer for what?
Note that almost all of them air fry relatively well, so that's not the issue. The issue is really more about capacity and ease of cleaning.
See the chart below to see some pros and cons of differently shaped air fryers.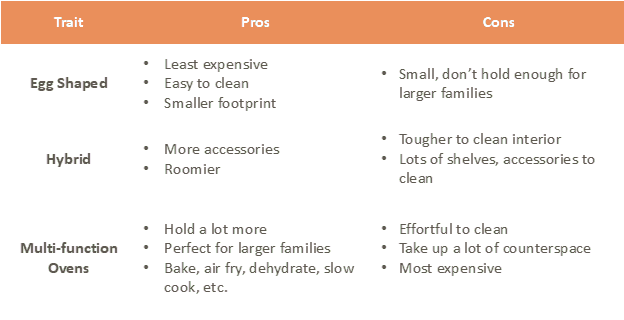 So as you can see from the chart above, if you don't have a large family or a lot of storage space, or if you want to make sure you like air frying before making a big investment, a small egg-shaped unit is the way to go.
In terms of the air frying itself, you aren't sacrificing technique or taste if you choose an air fryer in this category. Use my air fryer reviews to help you make your decision.
Below I have pros and cons of some of the most popular egg-shaped air fryers:
Pros:
It is inexpensive but works very well.
It's designed in a way to maximize the cooking space by using only 1 basket(versus 2 for most fryers) and a small raised element on the bottom to keep things from sticking.
Cons:
The only thing I'm not crazy about on this model is that because of the way the basket designed if you tip it when you're handling it the oil will come out of the vents at the bottom. Of course, this is preventable, you just need to be aware.
Pros:
The Ninja has a decent cooking capacity and will fit about 2 chicken breasts or 3-4 thighs. The footprint size is good and easily fits on my counter under the cabinets.
This is another efficient design with no outside vents (so no chance of oil spilling) and non-stick so it can go into the dishwasher.
It's a good all-around air fryer and a great entry into this kitchen tool.
I am particularly fond of this one as it was my first one ever, and I used it extensively for years. It's a fantastic machine really.
Pros:
I really like the easy-to-use digital panel.
The Gowise will stop when you pull the basket out so if you need to marinate or shake the food, the unit stops and then picks back up where you left off when the basket is replaced.
It's also is nicely designed with very small holes on the bottom of the inside basket so nothing but oil can fall inside
Cons:
A downside of this model is that you can only set the temperature in 10-degree increments so if you usually cook something at 375 you have to go up to 380 or down to 370.
If you want a good sturdy air fryer, and will be using it often, then buy the Philips. This is the one I use the most.
Pros:
It's sturdy.
It has some nice bells and whistles, such as a sliding rack to hold the basket, a preheat feature etc.
The bottom basket cleans easily, and the larger grid and higher wattage means even cooking and less need to flip.
Smart pre-set button that memorizes settings for your favorite foods.
Most parts are dishwasher safe.
Cons:
The cooking temperature only goes up in 30-degree increments.
The larger grid does mean small things fall down.
It's more expensive than other models.
Full disclosure, I returned the Power Air Fryer Oven because it was difficult for me to clean. It cooked well, but the grids, oven etc. took a lot of time to clean and I am lazy, as you guys know. Based on that, it's not worth it for me to use or add to my gadget collection. I want my appliances to save me time and make for less work in the kitchen, not more.
Pros:
6 qt cooking capacity.
Touchscreen display.
8 presets for common food.
Doubles as a dehydrator.
Cons:
Shelves are tougher to clean than other baskets
The whole oven needs cleaning after making things like chicken wings.
I'm not convinced you need a rotisserie function in an air fryer, since the air itself is being circulated.
Pros:
Large 30L Capacity
Easy to set up and use
12 functions for common food
Very quiet in comparison to other air fryers
Doubles as a dehydrator
Cons:
The oven doesn't automatically begin the cooking cycle when it is done preheating
The cook timer doesn't pause when you open the door during a cooking cycle
Preheat appears to be time-based instead of temperature based
See The Complete COSORI Oven Air Fryer Combo Review HERE.
Cosori Air Fryer
Pros:
Square basket allowing you to cook more food without stacking.
Easy to clean.
Stops cooking timer when you open the tray.
Outside stays cool during cooking.
Cons:
Lots of presets that can be confusing.
Not super quiet.
Instant Vortex Air Fryer
Pros:
Square basket for large holding capacity. Perfect for families.
Easy to clean.
Remembers the time and temperature of the last thing you cooked under each preset.
Space-saving tray instead of an additional basket to clean.
Cons:
There is no cooking difference in the presets other than a specific time and temperature.
Not quiet. Hard to talk over unless you're loud like me.
Outside of the machine can get hot if used for long periods of time.
Air Fryer Pressure Cooker Combination Reviews
If you're looking for a larger unit, you might consider a hybrid model. These models have more features and more cooking capacity, but you will have to dedicate some space in your kitchen as they are larger than the egg-shaped
So you're curious how Ninja could design an air fryer and pressure cooker in one? The answer is that it has two lids. One lid is separate and for the pressure cooker portion of the device. The air fryer has its own lid that is attached to the device by a hinge so when it's not in use it's out of the way.
Pros:
Combines two often used devices in one.
You won't have to move hot food around. Having an air fryer and pressure cooker in one means that you don't have to move hot food from a pressure cooker to an air fryer, so it's safer.
One less thing to clean. One less device you have to clean at the end of the night, which is a big plus for me. Efficiency is key.
Bake/Roast function. In addition to serving as a pressure cooker, an air fryer, a steamer, AND a slow cooker, this device is also a small portable oven. This could make the device quite a kitchen powerhouse device if you used all the features of the Ninja Foodi.
It's designed very well and if you've used an air fryer or pressure cooker before you will have no issue learning this one.
This unit is really quiet.
Cons:
Everything in one. I think the downsides of combination devices are that if one function breaks, you may be looking at having to replace the entire device, which is not fun.
Secondly, you can only use one device at a time. I often have one thing going in the air fryer, and another thing cooking in the pressure cooker. With the Foodi, you would have to cook such items sequentially.
Two lids to store.The fact that the lids are big, and that you're storing two separate lids may be a deterrent for some people. Luckily one of the lids is permanently attached, but the pressure cooking lid still needs a home.
Storage space. This is a big machine. It's bigger than an Instant Pot for example. It takes up a lot of space. It's really one thing that I don't love about it. Honestly, this one sits on the shelf more than any of my other air fryers.
Multi-function Ovens
If you have a lot of space in your kitchen and you want one gadget to do almost everything, consider a multi-function. These units combine air fryers with convection ovens, dehydrator, toaster oven, etc
Consider Breville if money is not a consideration and/or you want to replace your toaster oven and/or you don't want to turn on your big oven and/or you want to use the dehydrate feature.
Pros:
1 cubic foot cooking room–cooks up to a 14 lb turkey.
Acts as a dehydrator or convection oven.
13 pre-programmed settings.
Includes multiple accessories.
Cons:
It is much more work to clean that than it is to clean the egg-shaped air fryers. A lot more work.
It takes up a lot of space.
Expensive, although it does cover a lot of functions.
Others may disagree with me, but I don't think it airfrys as well as a dedicated, egg-shaped air fryer. I find I have to flip items halfway, and it takes a few minutes longer to cook.
If you've done any research, you know there are A LOT of air fryers on the market now. I hoped to give you a little bit of information on the different types available and an unbiased review of some of the ones I've tried. If you purchase one, you can find lots of air fryer recipes on my blog or try my new book, Air Fryer Revolution: https://www.amazon.com/Air-Fryer-Revolution-Healthy-Recipes/
So this is an interesting product. It is basically an air fryer lid that can fit on top of your Instant Pot. Despite the cons listed here, I do think it's a viable alternative for many people, especially if space is at a premium.
You can use coupon code TWOSLEEVERS if you buy it from the Mealthy website here. It is also available on Amazon.
Pros:
Very useful if you want to brown things that have been pressure cooked before
Minimal/easy clean up since you're basically just washing the Instant Pot liner which is stainless steel
Since the pan is stainless, you essentially are creating an air fryer without nonstick coating.
Takes up very little space
Cons:
Less powerful than other air fryers
Requires you to flip food halfway through
May have to add time to standard recipes due to the lower wattage.
Individual Air Fryer Reviews
Air Fryer Shrimp Fried Rice - easily made in the Air Fryer in about 30 minutes! It's a healthy shrimp dinner with simple ingredients that pack so much flavor from the soy sauce and sesame oil and a nice fresh bite from the green onions.
Bang Bang Shrimp - Sweet, spicy, tangy Air Fryer Bang Bang shrimp recipe is fast, delicious and serves as either a main course or an appetizer.
Keto Lasagna - not only is it better for you, but this is actually delicious!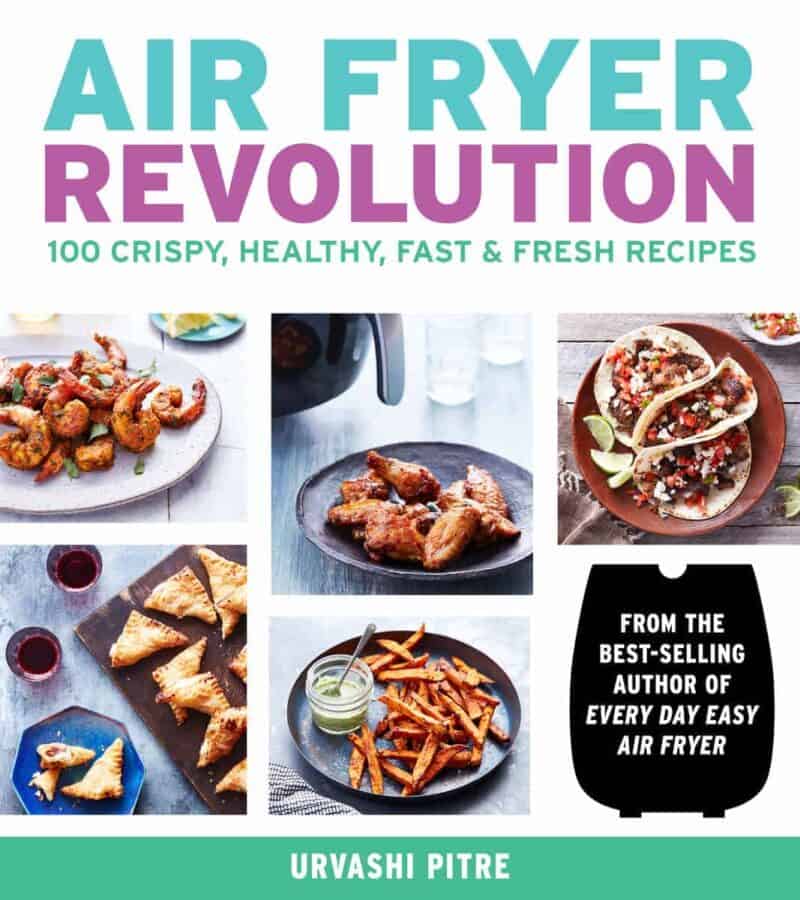 Every one of the recipes in these books can be made in an hour or less, and many are on the table in as little as 30 minutes. You won't find "cream of anything" cans in the ingredient list: instead, you'll start with fresh ingredients—healthful meats and vegetables—and let the air fryer do the hard work. Unleash the full potential of your Air Fryer and eat healthfully every night.
Need More Recipes?
Best Air Fryer Reviews
Looking for some honest, straight forward air fryer reviews before pulling the trigger on one? Here are the Best Unbiased Air Fryer Reviews out their!
Are you curious about the Ninja Foodi, a pressure cooker, and air fryer combination device? Recently I did a Ninja Foodi Review and wanted to share my results with you. It's an air fryer/pressure cooker combo so it peaked my curiosity and I knew I just had to see how it worked. This is my unbiased, non-compensated review of the Ninja Foodi.
Looking to buy an Air Fryer, but unsure of which one to buy? I've done an unbiased Air Fryer Review just for you!
Photo Credit: www.youtube.com
Ninja sent me an air fryer to review, so I wanted to share what I liked and didn't like about it. I will show you all the features and then cook a recipe in it so you can see how much food fits in there.
Photo Credit: www.youtube.com
If you're curious about a Gowise Air fryer, check out my unbiased review. I paid for this air fryer myself.
Photo Credit: www.youtube.com
Here's an unbiased Ninja Foodi review. Curious about how the new Ninja Foodi works? How can a device be both a pressure cooker as well as an air fryer, all in one? Very cleverly, as it turns out. This review of the Ninja Foodi Pressure Cooker Air Fryer Combo will show you the different features of this nifty device.
Photo Credit: www.youtube.com
This is a Facebook live show where I reviewed the Gourmia air fryer available at Costco. I also show you how to make an air fryer fennel chicken that cooks in no time at all.
Photo Credit: www.youtube.com
Do you have questions about how air fryers work? Wondering if they are right for you? Watch this video to learn about the benefits of air frying, some of the myths and realities of air frying, and a little bit about different types of air fryers.