Ground beef is a pretty staple ingredient in most households. Did you know that ground beef is a keto-friendly ingredient? Are you looking for some inspiration for your keto dishes using ground beef? This list of over 36 Keto Ground beef recipes will definitely get the ball rolling. Your family will absolutely love the Hamburger Stew.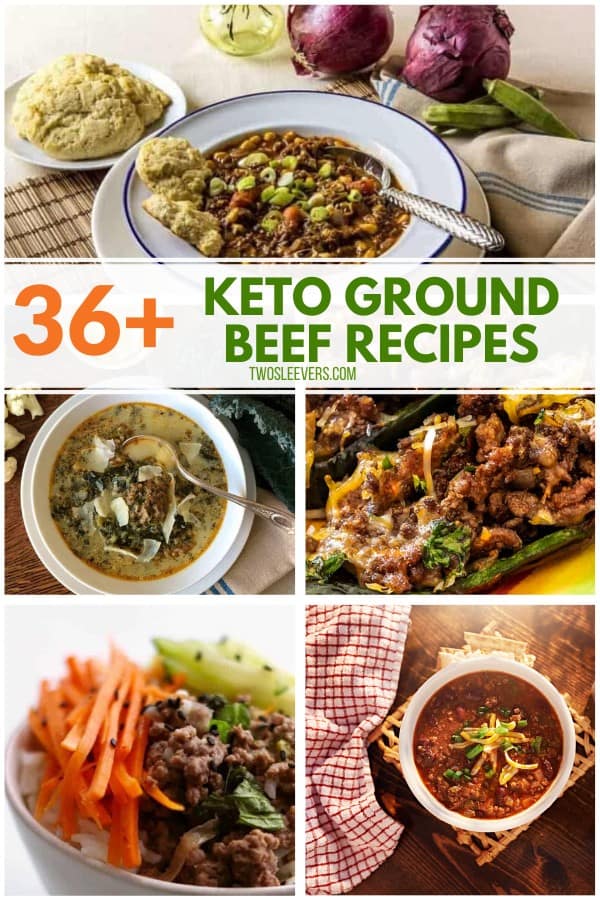 Jump to:
Can I Eat Ground Beef On A Keto Diet?
Absolutely. Not only can you have ground beef recipes when you're living a ketogenic lifestyle, it can be something you reach for frequently.
With the high fat content coupled with the low cab content, ground beef is great for meeting your daily macros.
36+ Keto Ground Beef Recipes | Low Carb Ground Beef Recipes
Ground beef is a popular ingredient when following the keto lifestyle. If you're needing a bit of inspiration on how to utilize that ground beef you have chilling in the fridge, this roundup is for you. This list of Keto Ground Beef Recipes will give you a wide array of unique and delicious recipes to try for the whole family or just yourself.
I don't use ground beef as often as I could. I really should consider how great it is to work into my macros. However, making this list of over 36 Low Carb Ground Beef Recipes really showed me, again, how versatile ground beef can be.
Beef dishes
I was excited to find I can make some pretty delicious recipes without becoming unhealthy! If you're into the keto lifestyle like I am, you know how awesome it feels to try out a new recipe and add it to your dinner menu for the week.
healthy hamburger recipes
You will, without a doubt, find inspiration within this list of recipes just like I did.
Don't forget to check out my other Keto cookbooks.
Keto Instant Pot, Keto Fat Bombs, Sweets, & Treats, and Easy keto in 30 minutes.