Easy, flavorful fantastic keto spicy ground pork stir fry recipe will please the whole family and can be made in under 20 minutes.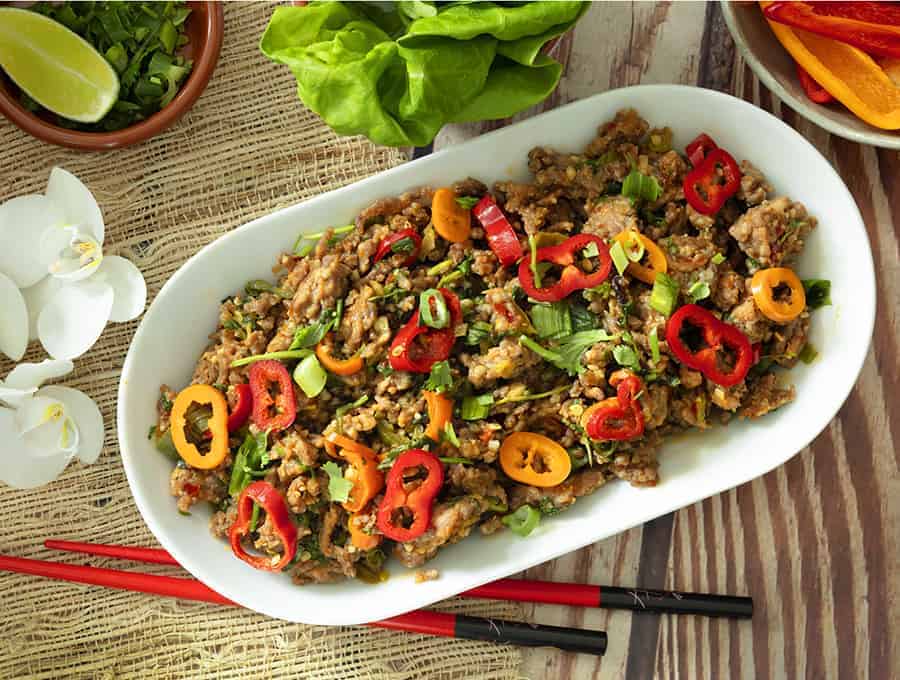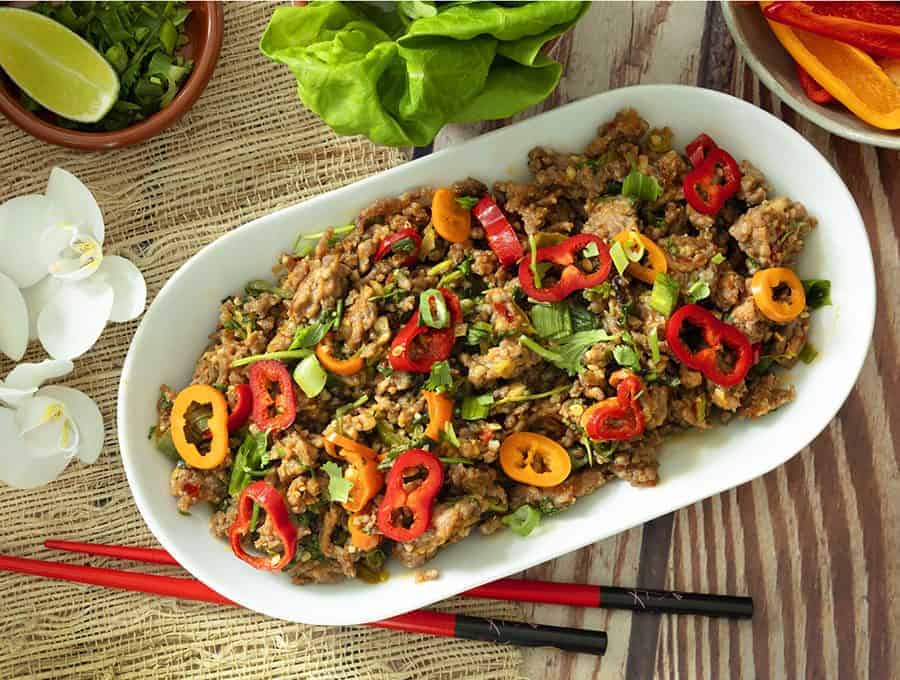 What Makes This Ground Pork Stir Fry So Great?
Fast. A Keto dinner is done in less than 30 minutes.
Easy. A simple one-skillet meal done on your stovetop.
Low Carb. Only 3 net carbs per serving.
Gluten Free. Unlike some other stir fry recipes, this one doesn't use rice or noodles (just make sure you use gluten-free soy sauce).
High Protein. Packs 20 grams of protein per serving.
Delicious. Flavored with incredible aromatics.
Can You Make A Keto Stir Fry?
The main issue with stir fry recipes is that they use hoisin and oyster sauces all of which have sugar in them.
That makes it really hard to make a keto stir fry. In fact, this is part of why people find it so difficult to get good low carb Chinese recipes at all.

Well, we are about to fix that. In this ground pork recipe I've stayed away from bottled sauces. Instead, all of the flavor in this keto stir fry is going to come from the aromatics, and from the pork and chilis.

Another issue with stir fries is that they serve over rice or noodles. We are going to use butter lettuce cups instead.
What Is In Keto Stir Fry?
Chilis
Onions
Cilantro
Ground Pork
You'll be sitting down to a fantastic low carb pork stir fry with vegetables before you know it.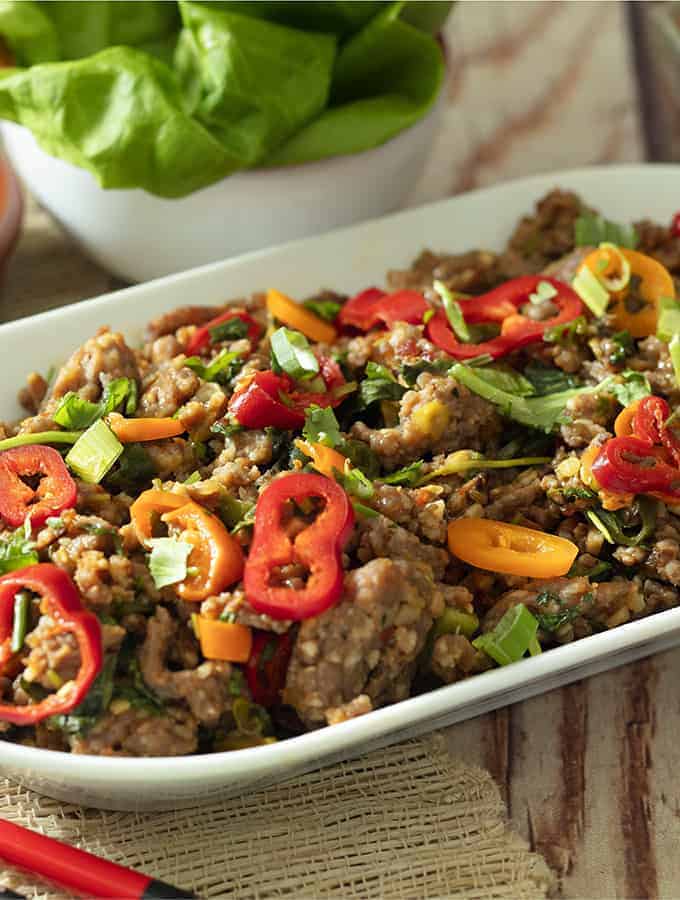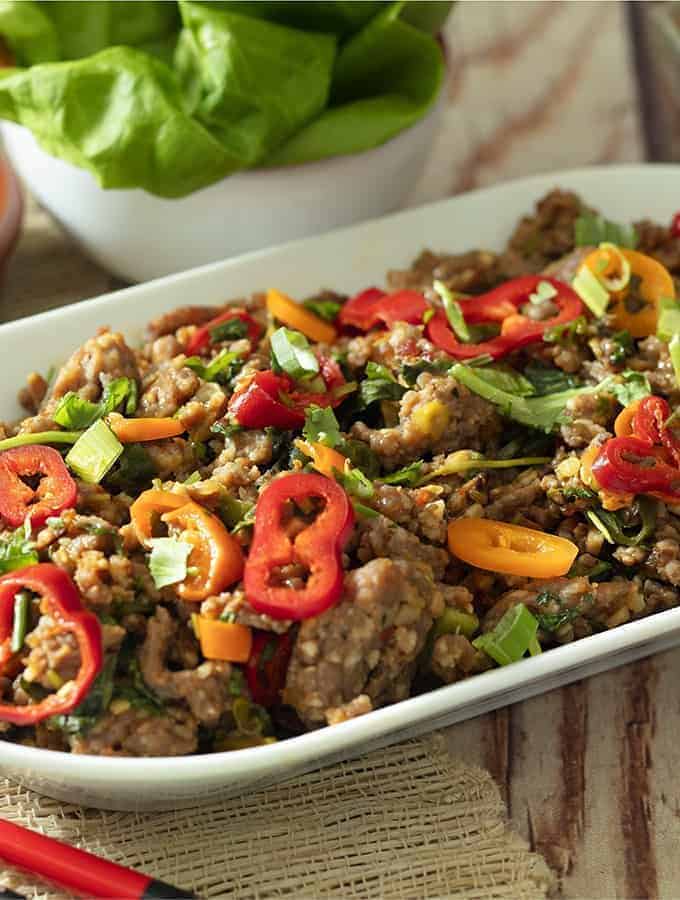 What To Serve With Keto Stir Fry
There are many creative ways to serve this stir fry.
You can serve it with lettuce cups as I call for, but you can also top a salad with it.
Make a fried egg and serve on top of it
For the non-keto members, make sticky rice and serve on that
Can I Freeze This Ground Pork Recipe?
Yes, you can! It actually does very well the next day as the flavors develop.
I suggest you freeze it in one-cup portions so that it defrosts quickly, and you can use as much or as little as needed.
Variations On This Keto Pork Stir Fry
Adjust chilis to suit everyone's taste buds
Add some chopped bok choy into the pork as it is cooking
Use shredded napa cabbage and forgo the butter lettuce cups
This is really a great keto stir fry recipe to make with some fresh herbs and frozen pork or beef, or chicken, that you can quickly defrost.
This simple keto stir fry with chilis is just a great way to use some very simple ingredients to get a fantastic keto dinner on the table in under 30 minutes.
How to Make Pork Stir Fry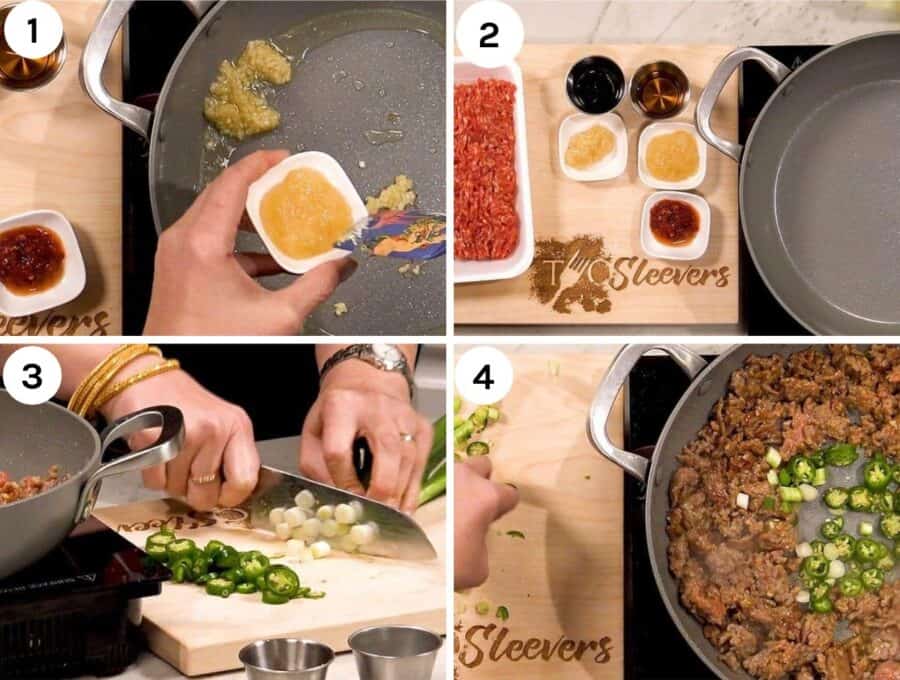 1. Gather ingredients for pork stir fry.
2. To the hot oil, add ginger, garlic, and ground meat.
3. Chop green chilis and onions.
4. Make a well in the center, and add green chilis.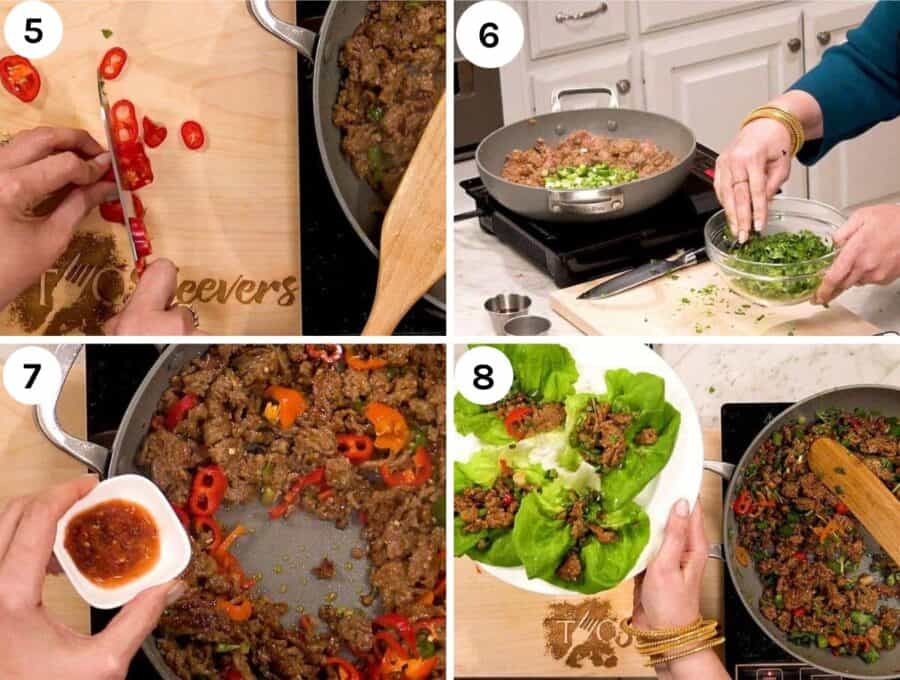 5. Mix Cilantro and green onions.
6. Add sweet red pepper.
7. Add sambal olek, soy sauce, and sesame oil.
8. Serve in butter lettuce cups.
Want More Keto Pork Recipes?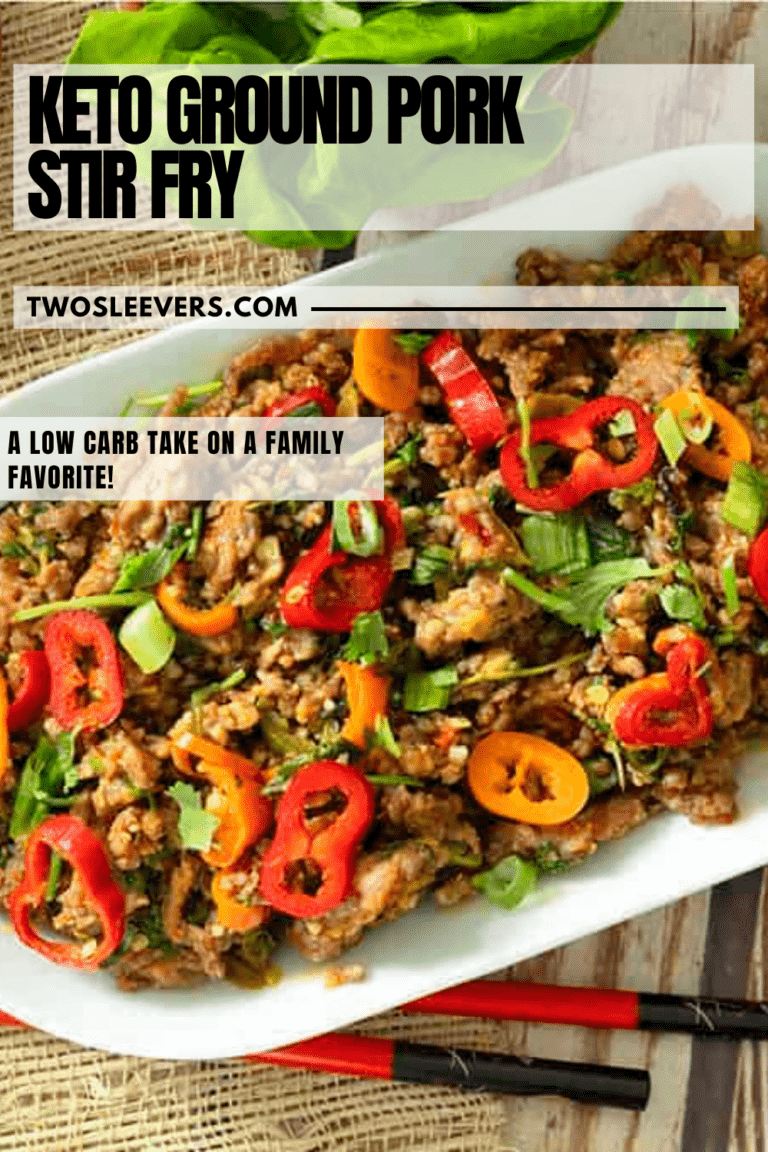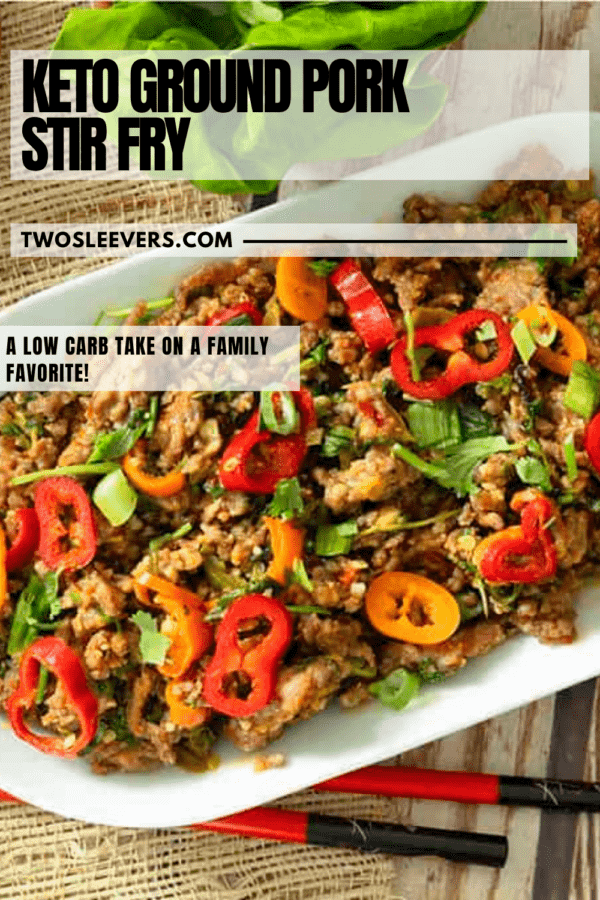 So the next time you get a craving for some stir fryer, cook up some of this deliciously Keto Stir Fry! Let me know if you enjoyed it in the comments!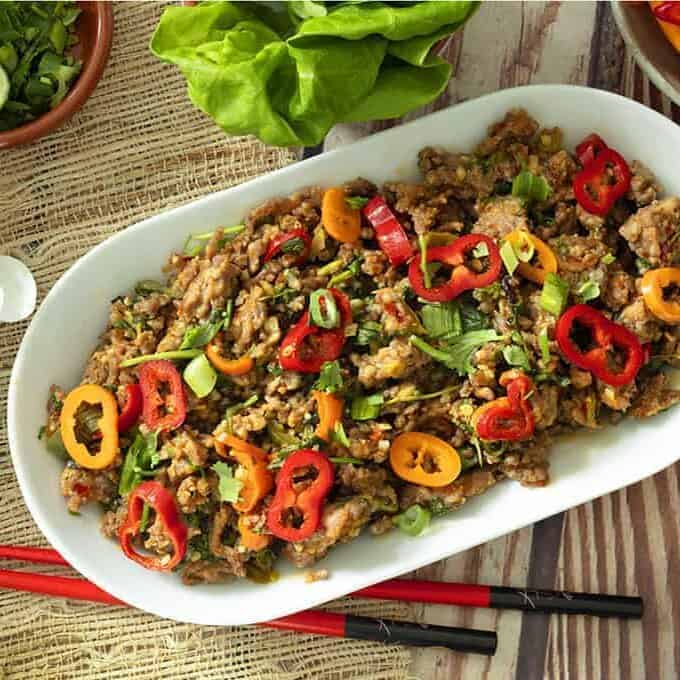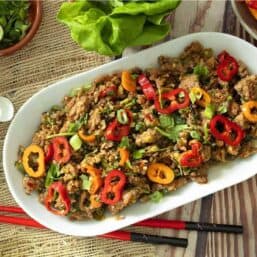 Keto Stir Fry | Ground Pork Stir Fry Recipe
Easy, flavorful fantastic keto spicy ground pork stir fry recipe will please the whole family and can be made in under 20 minutes. Start with ground pork, add some chilis, onions, and cilantro and you'll be sitting down to a fantastic low carb pork stir fry with vegetables before you know it.
Ingredients
1

pound

ground pork

1

tablespoon

olive oil

2

tablespoons

Sesame Oil

1

tablespoon

Minced Ginger

1

tablespoon

Minced Garlic

1

tablespoon

Soy Sauce

2

teaspoons

Sambal Olek

or other spicy red chili sauce

1

tablespoon

Lemon Juice

2-3

Green Chili's sliced

jalapenos, serranos, or bird's eye chilis, depending on how hot you want your dish

1/2

cup

Chopped Green Scallions

1/2

cup

chopped cilantro

1

head butter lettuce
Instructions
In a 10-inch pan over medium high heat, add oil. To the hot oil, add minced ginger and garlic and let them sizzle for 2-3 seconds. Add the ground pork. Mix well and brown the meat, breaking up all the clumps. You want some crispy parts, but mainly you want to cook the pork well.

While the meat cooks, chop up the green onions and cilantro. Mix them in a bowl and set aside.

After about 8 minutes when the meat is almost done, push the meat to the sides to create a small space in the middle. Add the sliced green and red chilis.

Pour in soy sauce, sesame oil, the sambal olek if using and stir well.

Turn off the stove and let the pork rest uncovered for 3-4 minutes to cool a little.

Stir in the chopped green onions and cilantro. Sprinkle the lemon juice and stir well.

Separate the butter lettuce leaves and allow your diners to serve themselves some of the spicy pork mixture into each butter lettuce, leaf. Or skip the lettuce and just eat the meat—good either way.
Notes
You can substitute any kind of ground meat for this recipe.
If you use leaner meat like ground chicken or turkey, you may need to add a little bit of oil.
If you plan to meal prep this, make the sauce and ground meat with seasonings ahead of time, but don't mix in the cilantro and onions until the last minute.
For the carb eaters, serve with rice. For low carb, serve in lettuce cups or even over a mixed green salad.
Don't forget to check out my other Keto cookbooks.
Keto Instant Pot, Keto Fat Bombs, Sweets, & Treats, and Easy keto in 30 minutes.