Looking for the perfect air fryer to add to your kitchen? Confused by all of the different brands and styles of air fryers on the market? Read my complete Ninja Air Fryer review to see if it's the right air fryer for you.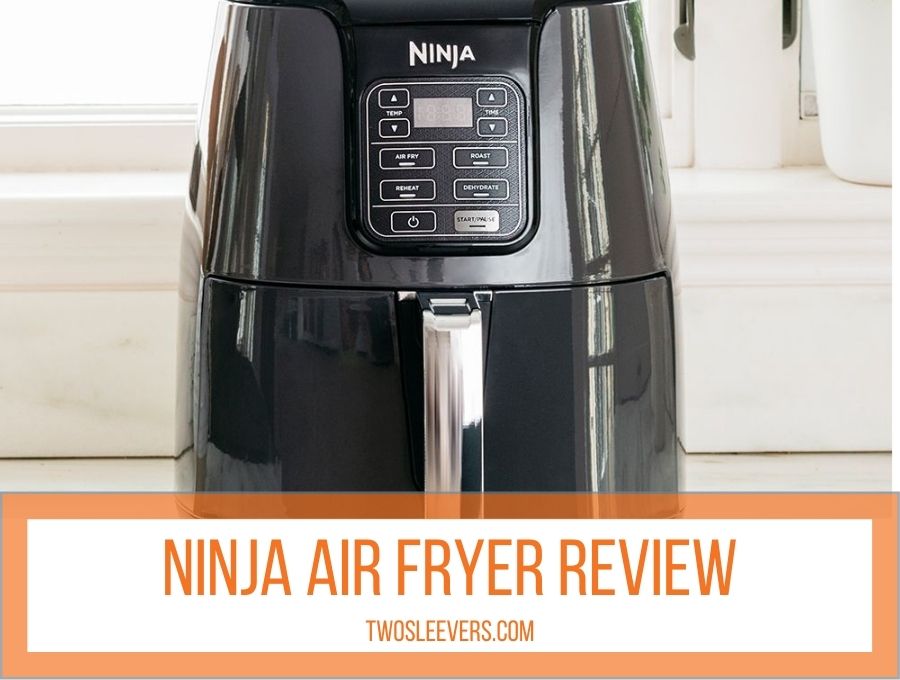 Jump to:
Buy One
Ninja Air Fryer Review | Unbiased Review Of The Ninja Air Fryer + Video
Watch The Ninja Air Fryer Review Video
Why You Should Trust My Ninja Air Fryer Review
Air Fryer Cookbooks: I have two best-selling air fryer cookbooks, Every Day Easy Air Fryer and Air Fryer Revolution, so you can feel confident in knowing that I use air fryers on a regular basis, I'm quite familiar with how they work and I know what makes a good air fryer.
Experienced Reviewer: I've done various air fryer reviews in the past, so I have a wealth of knowledge about air fryers and what makes one better than another.
Gadget geek!: I'm a self-proclaimed food tech enthusiast and have been known to purchase (and review) just about any kitchen appliance I can get my hands on.
1. Footprint
In the case of footprint for this Ninja Air Fryer, it isn't actually just the amount of space the air fryer takes up on your kitchen counter. I'm also taking into consideration how tall it is and if it will fit under your kitchen counters.
The Ninja Air Fryer has a significant footprint, but does fit nicely under your counter tops so you can easily tuck it away when it's not in use.
If you're wondering the exact dimensions of the Ninja Air Fryer, it is:
13.6 x 11 x 13.3 inches
2. Capacity
Capacity is, in my opinion, the most important factor you should consider when you're buying an air fryer. This Ninja Air Fryer has a 4 quart capacity.
While it says it can hold up to 4 quarts of food inside of the basket, this is deceiving. You will never want to stack food on top of each other to fill the basket completely. Here's why:
Food will not crisp.
Food will not cook evenly.
It will take a tremendous amount of time for the food to cook.
Since you will ideally only place a single layer of food in the Ninja Air Fryer, the square shape of the basket allows you to cook a large quantity of food at once without overlapping.
This Ninja Air Fryer has many useful features. Here are some of the most noteworthy ones:
Presets
This Ninja Air Fryer comes with 4 cooking presets to make cooking even more simple. The presets it offers are:
Air Fry
Roast
Reheat
Dehydrate
Unlike a lot of other air fryers with presets, the fan speed actually changes with the presets. The fan speed increases and decreases depending on which setting you select.
What Can You Make In A Ninja Air Fryer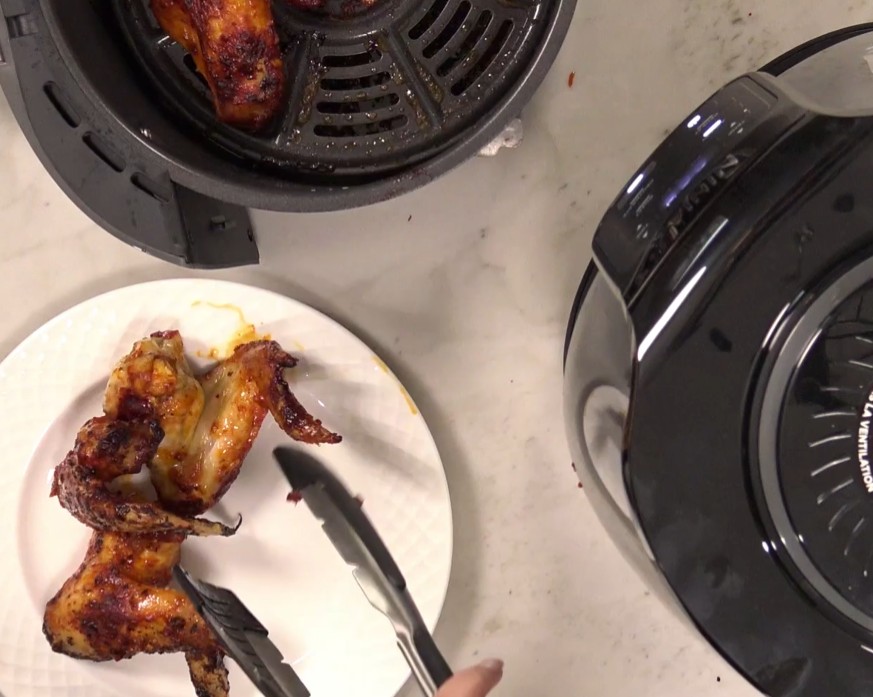 4. Ease Of Use
This Ninja Air fryer is a breeze to use. You can choose between two different cooking methods:
Manual time and temperature
Presets
With this amount of freedom, you can cook anything from your go-to meals to anything you can find in your favorite cookbook.
And don't forget to check out my air fryer cookbooks! Every day easy air fryer, and Air Fryer Revolution.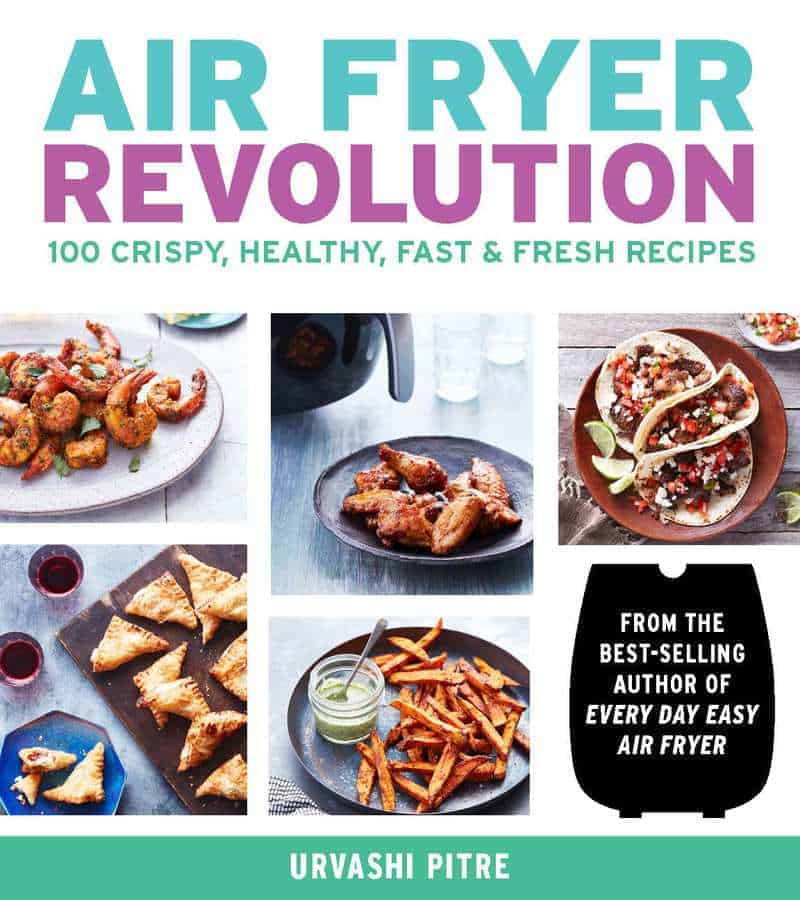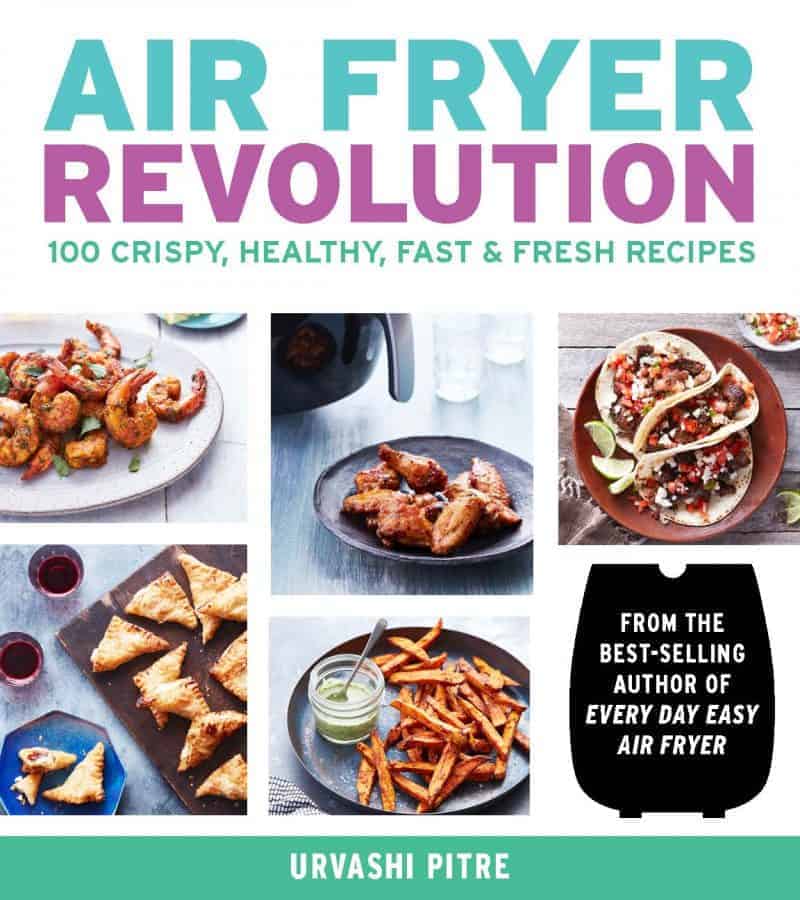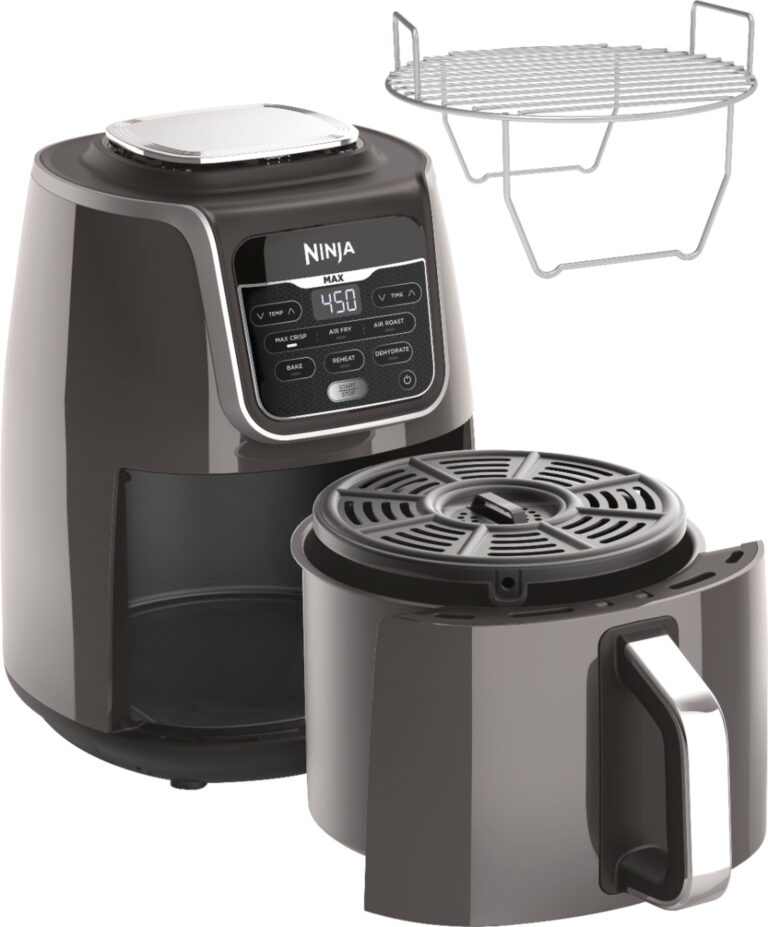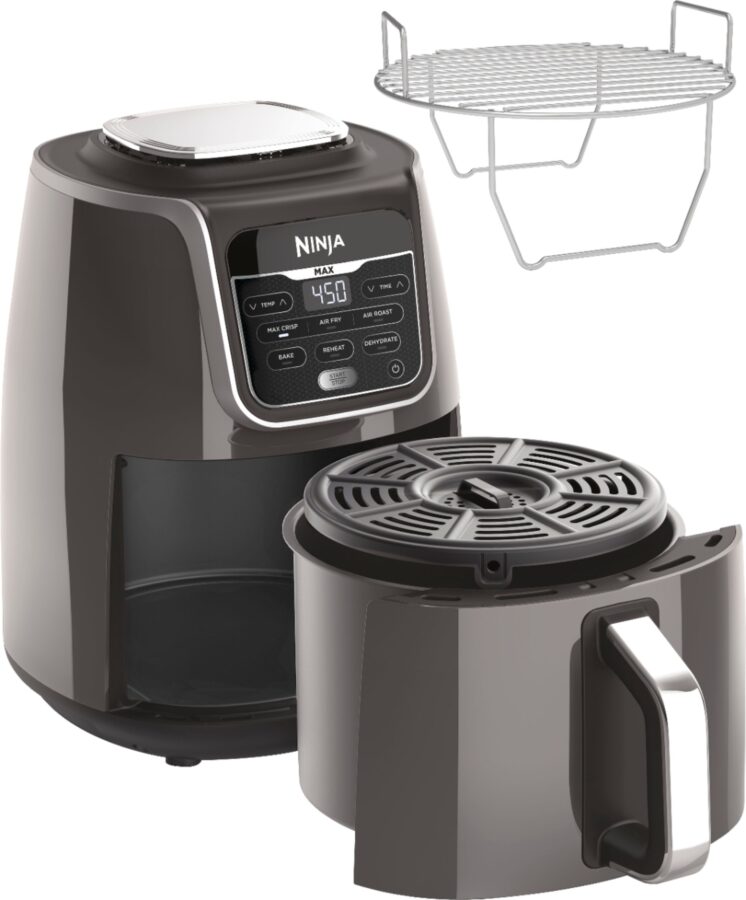 5. Ease Of Cleaning
Depending on your air fryer, it can be a bit tricky to clean. But if you use my simple cleaning tricks, you'll never dread cleaning your Ninja Air Fryer again.
When I know I'm going to cook something especially messy or greasy, I prefer to add a layer of aluminum foil or 1/4 cup of water to the bottom of the air fryer basket to help make clean up easier.
6. Price
The Ninja Air Fryer is a little bit more on the expensive side for free standing air fryers, but it is well worth the investment. If you are lucky, you can catch it on sale on Amazon.
DON'T SCRUB. Seriously. Don't scrub the basket or the inside of your Gourmia Air Fryer basket. This will remove the nonstick coating and make your food stick even worse in the future. Here's how I clean mine:
Fill the basket and inner basket with warm water and dish soap.
Let sit for 15-20 minutes.
Take a soft rag and wipe out any residue.
Wipe down the outside of the air fryer.
Would I Buy This Ninja Air Fryer?
Buy This If
You're cooking for a smaller family or are using it primarily for side dishes.
You want the freedom of adjusting the cooking time and temperature manually.
You want a quality air fryer that will last.
Pass On This If
You have a larger family or like to have leftovers.
You're on a budget.
You prefer a larger assortment of presets.
Ninja Air Fryer Pros and Cons
I've used this Ninja air fryer more than any of the other air fryers I've reviewed. Since I have so much experience cooking with it, let me give you some of the pros and cons to this amazing kitchen gadget.
Pros
Presets that actually change the fan speed, not just the time and temperature.
The ability to customize cooking time and temperature without only using presets.
Smaller footprint for an air fryer with that large of capacity.
Durable. I've used this more times than I can count and it works just as good as the day I bought it.
Easy to clean.
Cons
If you are used to an air fryer with multiple presets, you may feel underwhelmed by the variety this Ninja Air Fryer offers.
The smaller footprint makes it harder to cook a whole meal for a family larger than 2-3 people.
Expensive. While it is still affordable, there are several air fryers on the market that are less expensive than this if you are on a budget.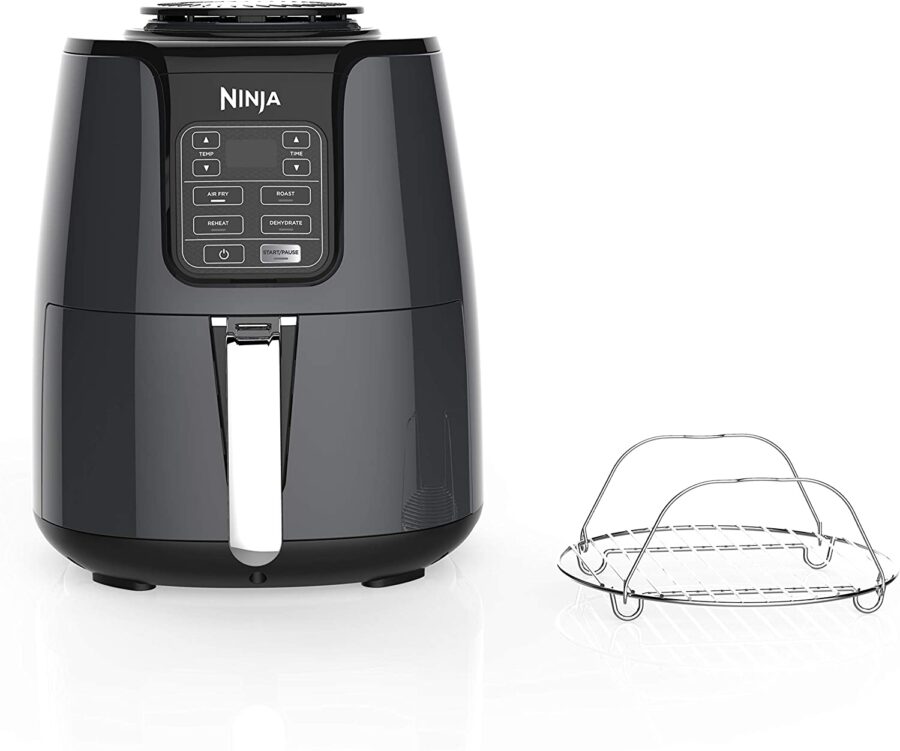 If you found this Ninja Air Fryer review helpful, please share with your friends on Facebook and Pinterest so they can see if this air fryer is right for them too.
Ninja Air Fryer Review | Unbiased Review Of The Ninja Air Fryer + Video
Originally Published August 21, 2020