Tangy, sweet, spicy Air Fryer Korean Chicken Wings with Gochujang make a delightful easy appetizer or meal. Make these in your air fryer or oven and enjoy the finger-licking goodness.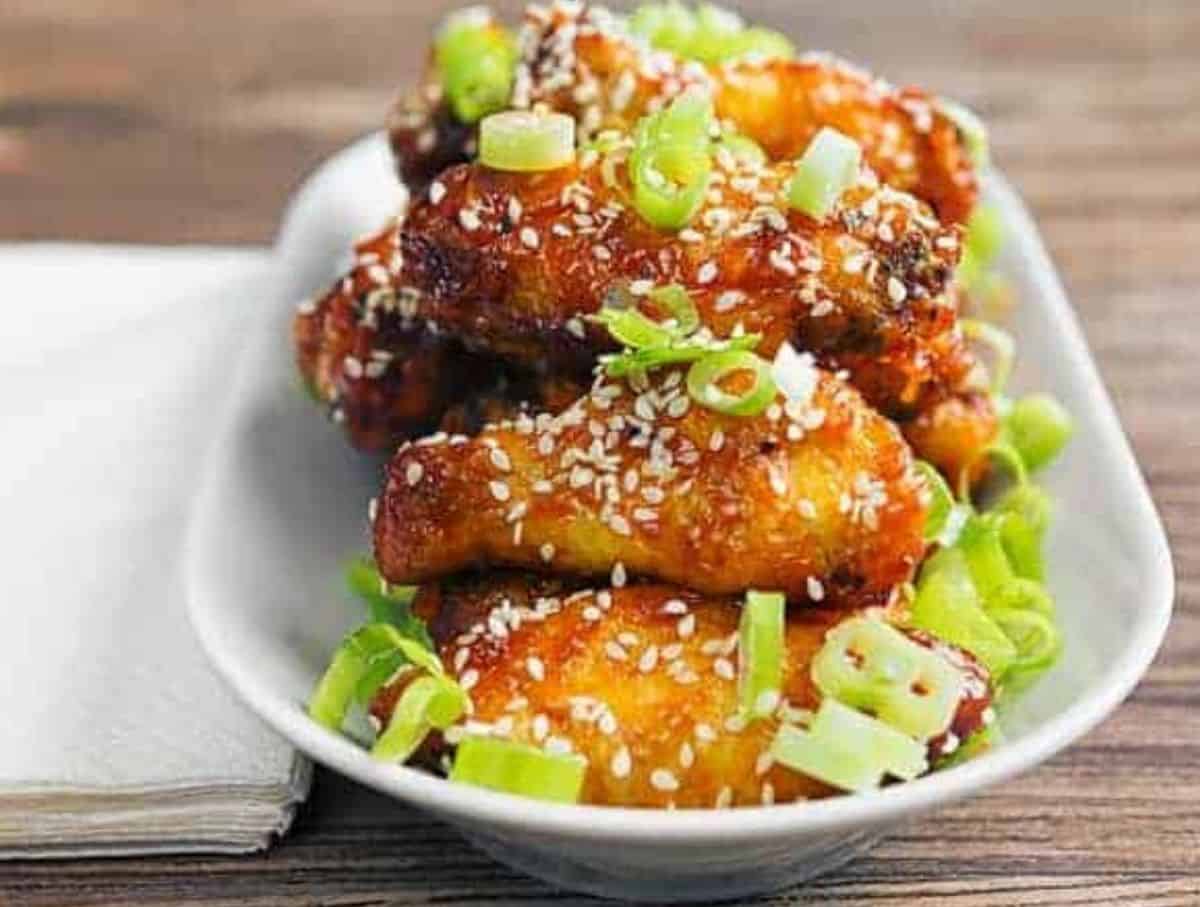 What Makes These Wings So Good?
These wings are a perfect low-carb appetizer and I love the ease of cooking them in an air fryer. These keto Korean chicken wings are loaded with vibrant Asian flavors and take just 30 minutes to cook.
This was my third try at these wings. The first time, let's face it I had no idea how to even buy wings, let alone make them. My facebook group really helped me out with that!
But the sauce lacked a little something to me. It was good, it wasn't great. Then my friend John was talking about how he makes Korean pork tacos, and he told me that he puts mayonnaise in his sauce.
Now I'd been planning to make a dip with just mayo and gochujang, but I hadn't thought of cooking with it!
So I decided to give it a try and I'm so glad I did. These Low Carb Air Fryer Korean Chicken Wings take very little effort, but they are super flavorful.
Oh, and super messy so get ready for that with lots of napkins.
What is Gochujang?
You definitely want the gochujang (pronounced go-choo-jan). No, you just REALLY want it.
Spiced, sweet umami, tangy--and nothing comes close to it. Nothing. No substitutes for this one! Don't even try. Just get it and once you do, you can use it for the following recipes: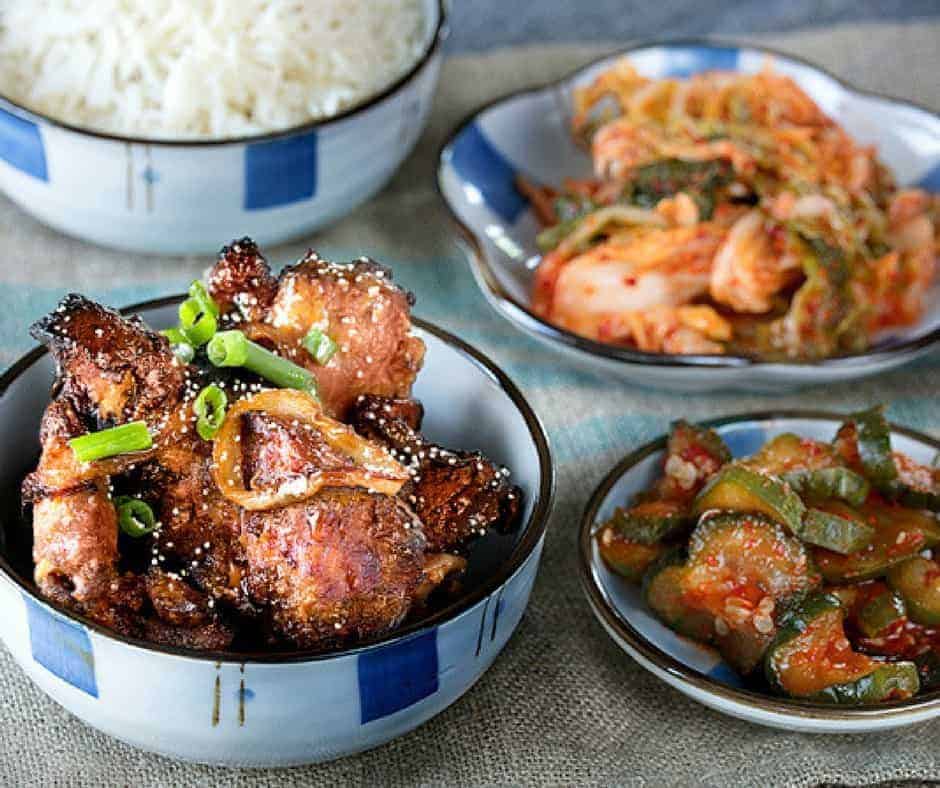 And I have no doubt I will be coming up with other recipes that need it.
Ingredients You'll Need
For the Wings:
For the Sauce:
For Finishing:
Step by Step for Korean Chicken Wings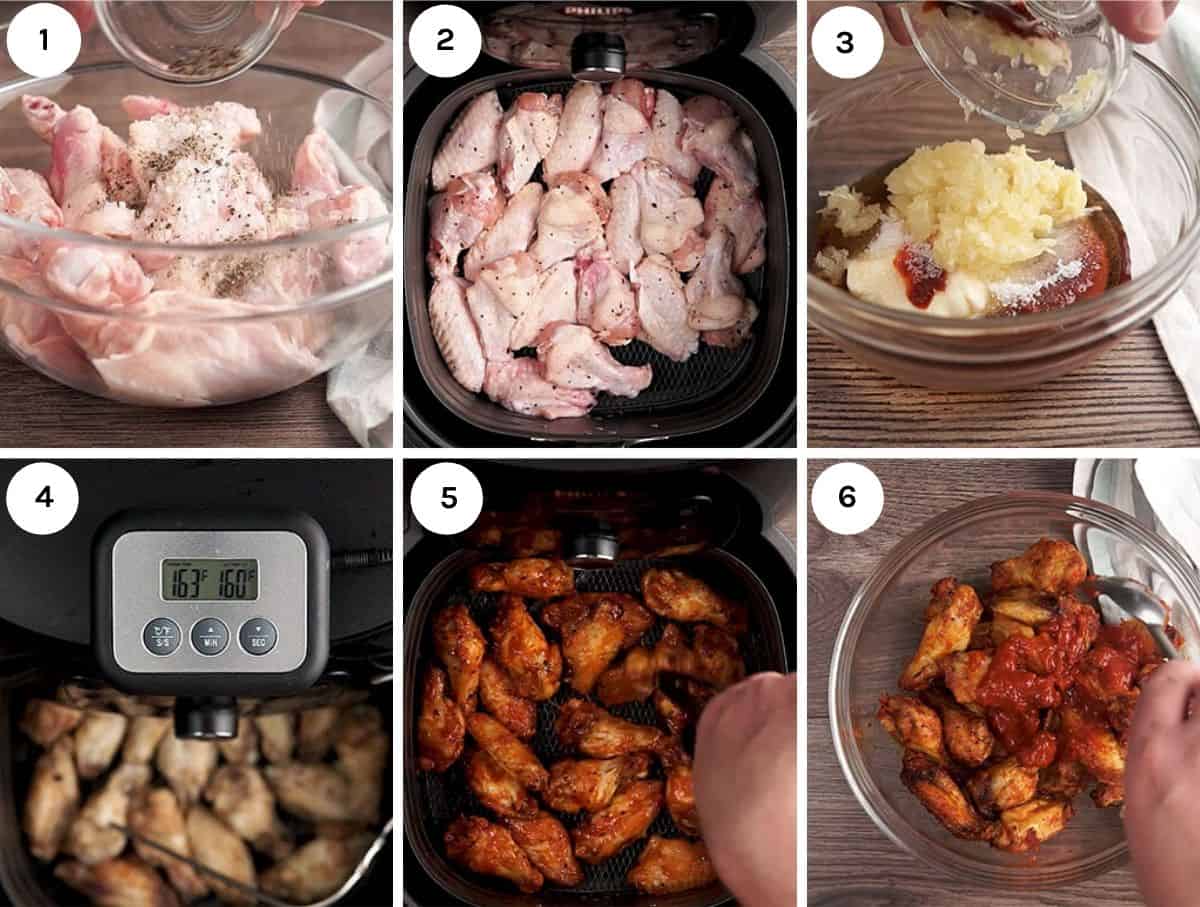 Step 1: Salt and pepper the chicken wings. You do not need to add oil, since the chicken wings are plenty greasy enough already.
Step 2: Arrange the wings in a single layer in the Ninja air fryer basket. Cook for 10 minutes, and then use silicone tongs to flip them over, and cook for another 10 minutes
Step 3: Meanwhile mix the Gochujang Mayonnaise together with all the seasonings. You will be using this as a cooking sauce as well as a dipping sauce, because #ruthlessEfficiency!
This makes an amazing sauce, that you could also eat with these keto breaded chicken tenders.
Step 4: Check and wings with a meat thermometer and make sure they're around 160F-ish. You will be cooking them a little bit longer so you want them slightly undercooked at this stage.
Step 5: Toss HALF the gochujang sauce with the chicken wings, and put them back in the air fryer for a few more minutes. Reserve the other half as a dipping or coating sauce.
Step 6: Once the korean chicken wings are fully cooked, toss in the remaining sauce and mix, or just serve it as a dipping sauce.
Tips and Tricks For Korean Chicken Wings
Tasty Variations
One of the wonderful things about having an active, enthusiastic, capable Facebook group is that I'm surrounded by home chefs that are passionate and creative.
Martin Jacoby made this recipe using drumsticks and using a smoker instead of an air fryer. So you can make smoked Korean chicken with the same sauce, but by using a smoker instead.
What you want to do is use a meat thermometer to ensure the chicken cooks to 165F as recommended.
But look at how beautifully those turned out! They remind me of a keto fast food meal, but way more delicious. If you smoke them, be sure to leave feedback either here or in the group, letting Martin know you were inspired by him.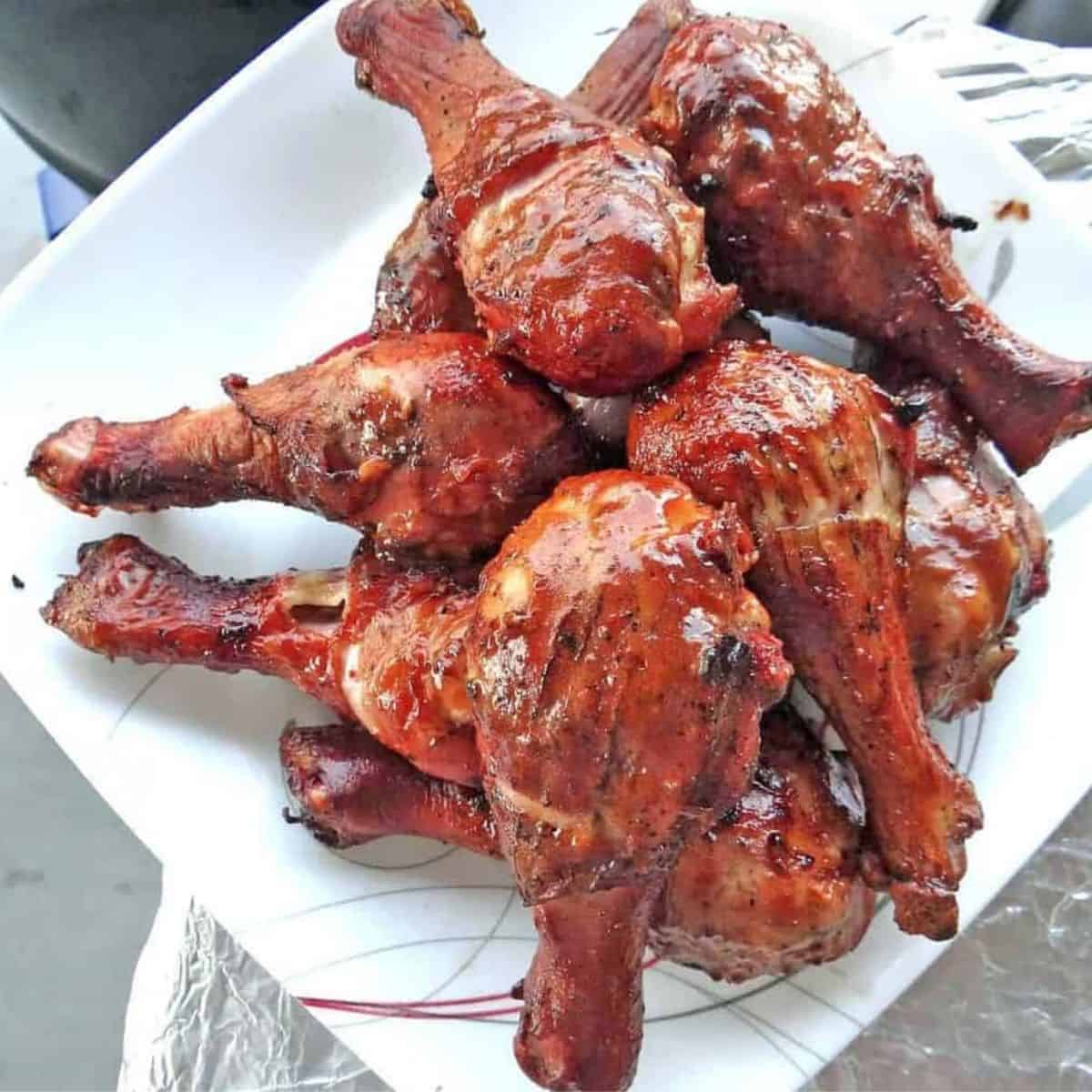 Frequently Asked Questions
Can you stack wings in an air fryer?
For the crispiest and best tasting wings, they need to be placed in a single layer in the basket of the air fryer. If the wings are small, you can stack them, but be sure to toss them several times during cooking.

Personally, I prefer to cook them in a couple of batches if I'm feeding a crowd.
Is Gochujang spicy?
Gochujang is spicy. It's a Korean red chili paste that is concentrated and pungent. If you prefer your wings a little less spicy, be sure to check out my Air fryer breaded wings.
What sides go well with Korean chicken wings?
These wings are so perfect by themselves but they also work well with so many side dishes. Serve them up along side Korean cucumber salad or air fryer potatoes to make a feast. Keep reading to see more side dish recipes!
Why cook wings in an air fryer?
Air frying wings is so quick and easy and it's a pretty hands off process. They only take 30 minutes to cook and you only need a small amount of oil compared to deep frying. The wings come out so wonderfully crispy and juicy and it really helps to lock in those flavors.
Equipment You Will Need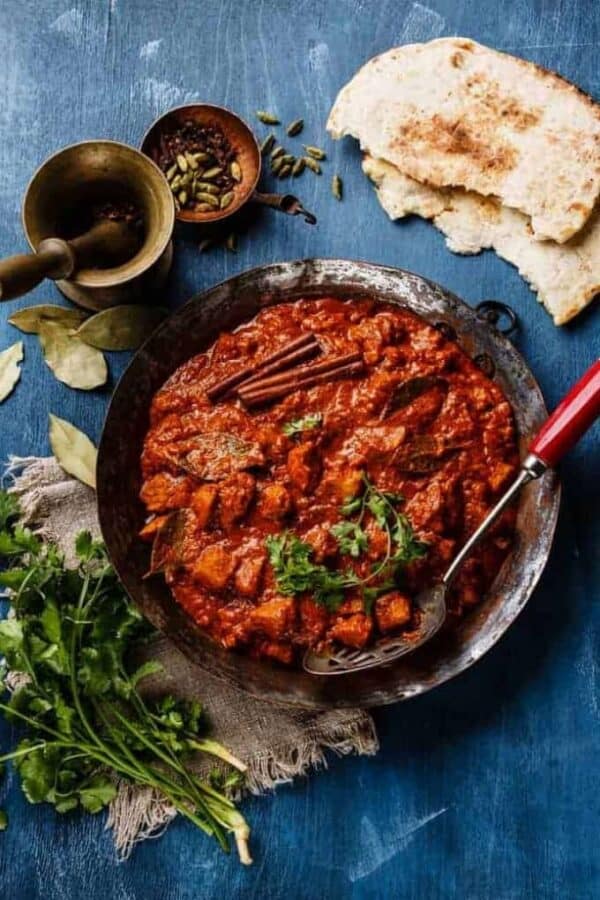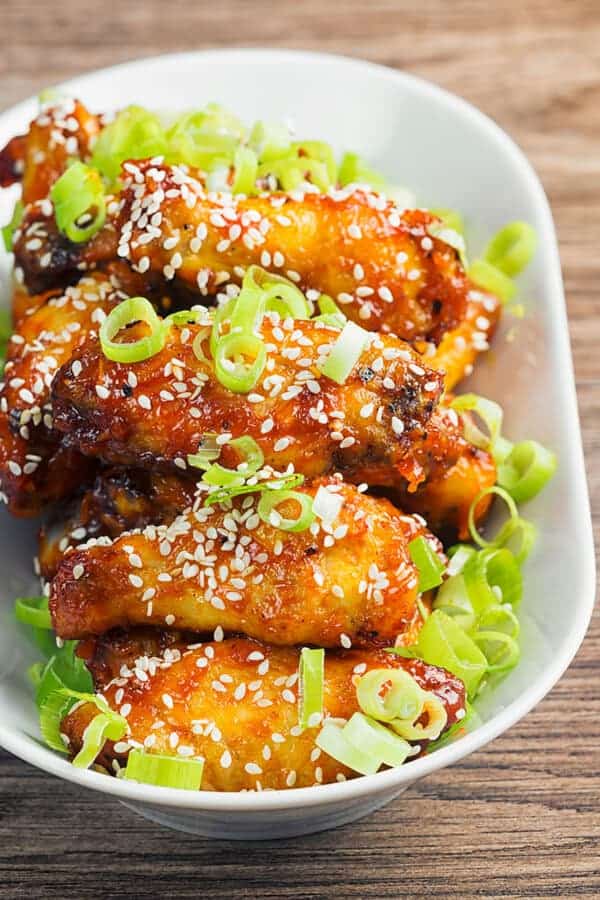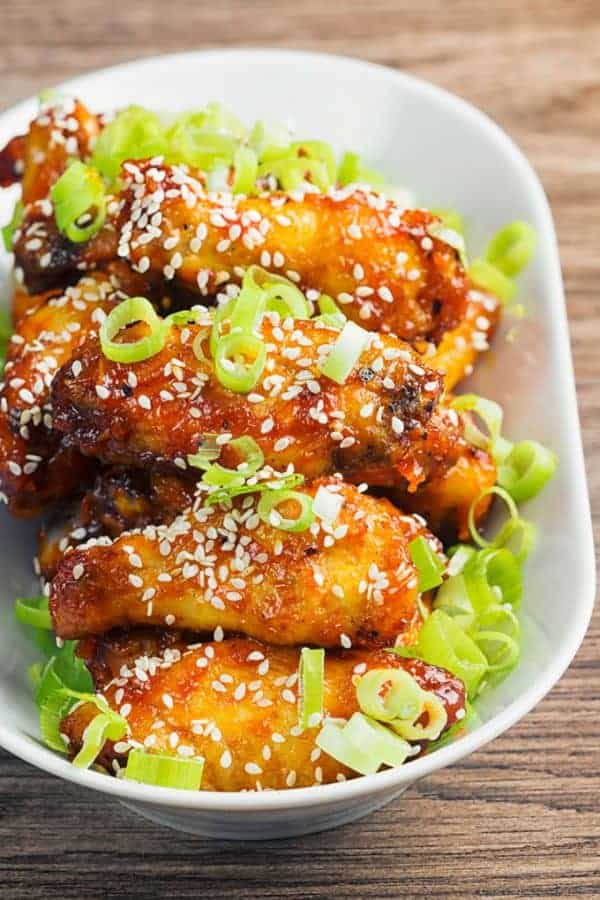 I just know you are going to love these delicious keto air fryer Korean Chicken Wings. They are bursting with flavor and so easy and quick to make. Everyone falls in love with them and you'll be using Gochujang in so many more recipes!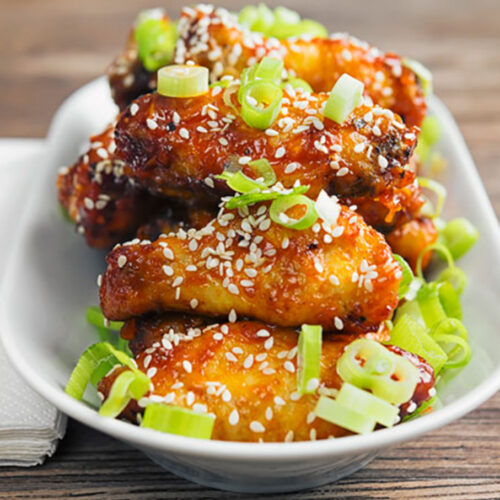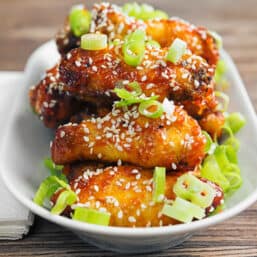 Korean Chicken Wings | Air Fryer Gochujang Chicken Wings
Tangy, sweet, spicy air fryer chicken wings with Gochujang make a delightful easy keto appetizer or meal. Make thee in your air fryer or oven and enjoy the finger-licking goodness.
Equipment
Ninja Air Fryer

Silicone Tongs
Ingredients
For the Wings:
2

pounds

chicken wings

1

teaspoon

Kosher Salt

1

teaspoon

Ground Black Pepper

or gochujaru
For the Sauce:
2

tablespoons

gochujang

1

tablespoon

mayonnaise

1

teaspoon

agave nectar

1

tablespoon

Sesame Oil

1

tablespoon

Minced Ginger

1

tablespoon

Minced Garlic

2

packets

Splenda

or sugar
For Finishing:
2

teaspoons

Sesame Seeds

optional

1/4

cup

Chopped Green Scallions

optional
Instructions
Preheat your oven or air fryer to 400°F

Salt and Pepper the chicken wings and place in the air fryer basket.

Set the timer to 20 minutes and allow the chicken wings to cook, turning once at 10 minutes.

As the chicken bakes or air fries, mix together all the sauce ingredients and let the sauce marinate while the chicken wings finish cooking.

As you near the 20-minute mark use a thermometer to check the meat. When the chicken wings reach 160F remove them from the oven and place into a bowl.

Pour about half the sauce on the wings, and toss to coat the wings with the sauce.

Place the chicken wings back into the oven or air fryer and cook for another 5 minutes until the sauce has glazed over, and the chicken is completely cooked and has reached at least 165F.

Remove, sprinkle with sesame seeds and chopped green onions and serve with plenty of napkins.
Notes
Tips and notes
Frozen Wings. You can cook frozen chicken wings in the air fryer. I do find, however, that not only does it take a little longer, but the skin tends to not crisp up as much.

It's not a huge difference, and I've certainly done it. But if you have time, defrost the wings first and pat them dry with a paper towel to reduce the steaming from the moisture left on the wings.

Sauce after cooking. You really want to cook the wings without sauce first before adding the sauce in. Otherwise, you get soggy chicken skin which is NOT attractive!
Oven Cooking. If you're using an oven, once you've added the sauce, broil the wings to get that crisping.
But it's not keto! Please do not write to me about how gochujang is not keto. Different people follow different rules for keto.

There is less than 1 teaspoon of gochujang per serving in the wings. If that doesn't work for your WOE, please select a different recipe from the blog.
And don't forget to check out my air fryer cookbooks! Every day easy air fryer, and Air Fryer Revolution.