Ready to make something with potatoes in your air fryer other than Air Fried French Fries? This is an easy Potatoes Anna recipe that you can make in your air fryer. Four simple ingredients yield a tasty, elegant dish that is fit for company but very simple to make.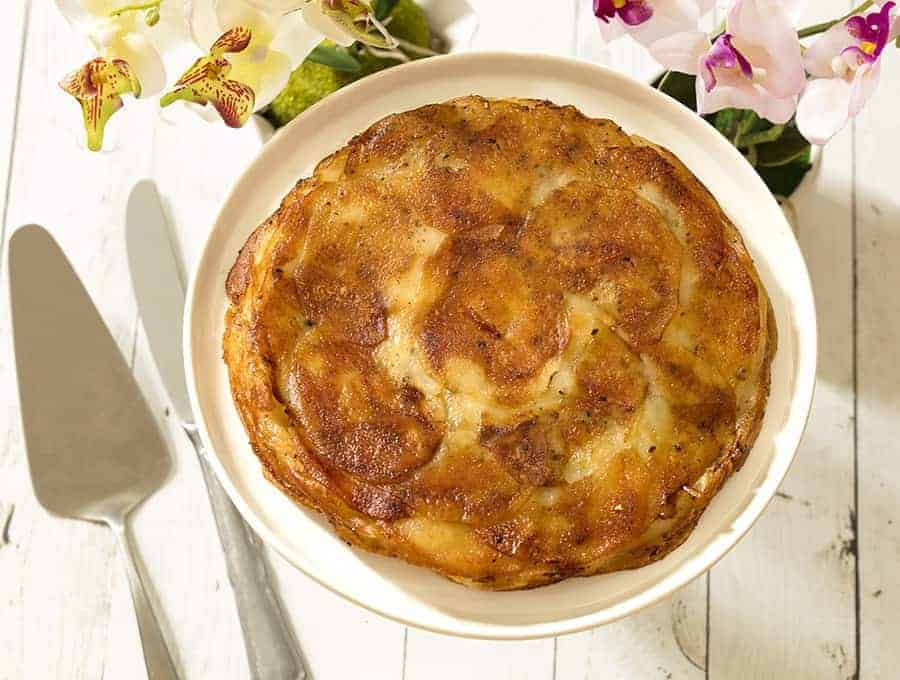 HOW TO MAKE POTATOES ANNA | POMMES ANNA IN YOUR AIR FRYER
Do you think it's too difficult to make Potatoes Anna or Pomme Anna? I will admit I have been entirely intimidated by this recipe. Mainly, I wasn't sure that I had the patience to make it. It looks so fiddly!
Well, here's the trick. Use a good quality mandolin like this Swissmar Mandolin That's simply the best way to get even slices that you can layer into a heat safe pan that fits in your air fryer. I have tried several different Mandolins, by the way, since this one seemed a bit pricey to me.
But the reality is, I wish I'd just bought this one in the first place and saved myself the hassle and the money I wasted on the others. It cuts evenly, the lever makes it easy for me to raise and lower the blade, it cleans easily, and it is sturdy and reliable, with neat, clean, even slices.
What you're going to do is to cut the potatoes evenly, and use lots and lots of butter. LOTS of butter.
This dish only has four ingredients–potatoes, butter, salt, and pepper. Don't be skimping on the butter! Use it. Enjoy it. And watch it transform the humble potato into something that is elegant, creamy, and absolutely delicious.
TIPS AND TRICKS FOR MAKING AIR FRYER POTATOES ANNA | POMMES ANNA
This dish is often referred to as a galette, or a cake because what you want is for the various layers of potato to melt into each other. You also want a deeply browned and crunchy crust. So there are the tips you will need, in order to make the best air fryer potatoes you will ever have.
Do not rinse the potato slices. You need the starch between the layers for the potatoes to stick together.
Do not skimp on the butter. There are only four ingredients in this dish. You NEED that butter. Cut calories somewhere else. It's definitely worth it to do this Potatoes Anna right and when you have a splurge.
Do not skip the step where I ask you to brown the pan with potatoes on the stovetop first. Listen. You know me. #ruthlessefficiency. If I tell you to follow an additional step, you can bet there's a reason why. In this case, the reason is simply that you need a good, firm brown crust on the bottom potatoes. The beauty of Potatoes Anna is the combination of a slightly crispy crust, along with the creamy potatoes inside. You can't get that crust with just the air fryer. Trust me. I tried it.
Take my advice and start with that center slice of potato as you begin layering. It really serves as an anchor point that will make the concentric circles in your Pomme Anna that much more even and symmetrical. You just don't get the same symmetry when you start placing potatoes from the sides first.
Other than that, making Air Fryer Potatoes Anna is simplicity itself.
If you're looking at this very simple list of ingredients wondering if this dish is "all that?" YES. Yes, it is. As you know I eat mainly low carb or keto. Potatoes are not keto. For that reason, I don't have a lot of potato recipes on this blog.
But if I had a splurge day, I'd choose this recipe over cookies. Especially since I have a great Keto Cookie recipe that tastes just like real cookies anyway. So I hope you try this, and I hope you enjoy these delicious Air Fryer Potatoes Anna recipe.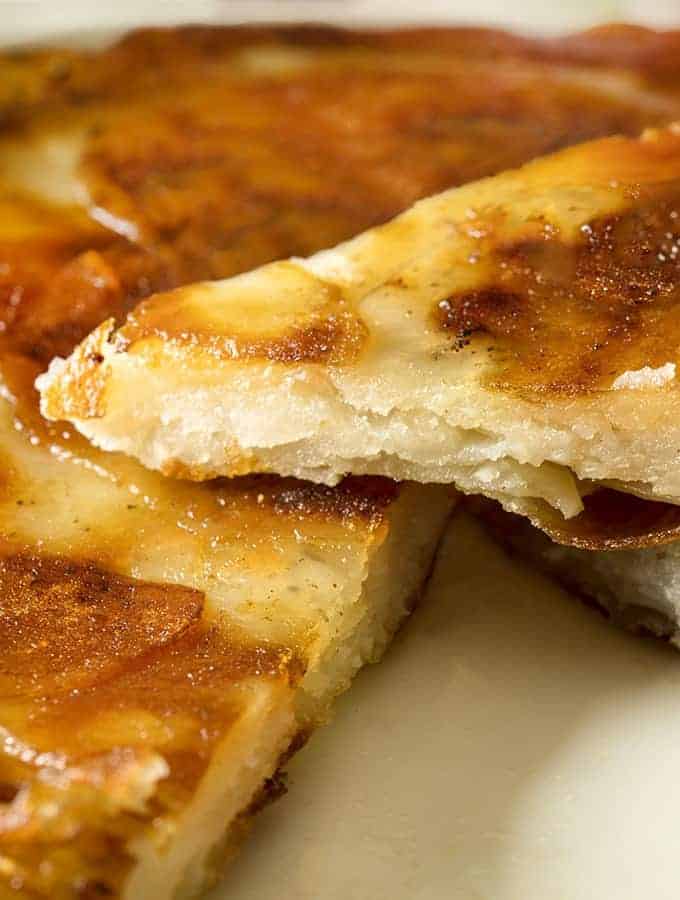 ★ DID YOU MAKE THIS RECIPE? DON'T FORGET TO GIVE IT A STAR RATING BELOW! JUST CLICK ON THE STARS IN THE RECIPE CARD TO RATE.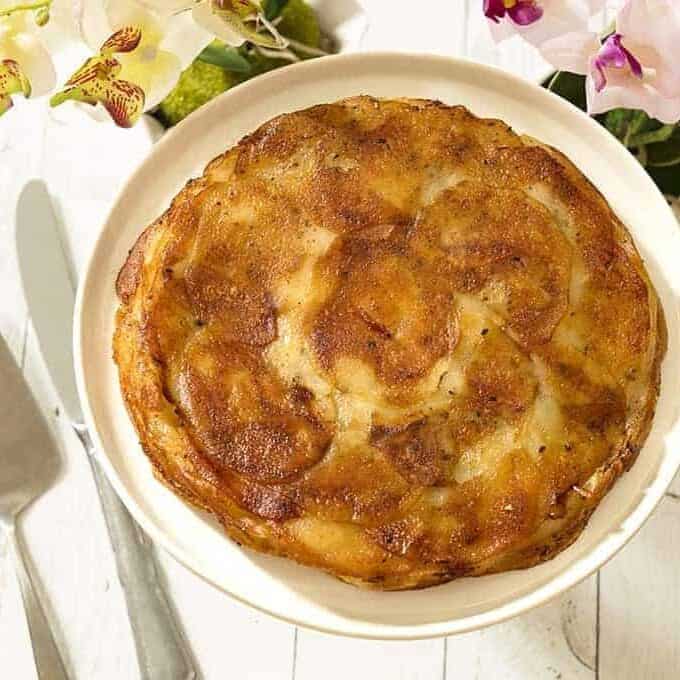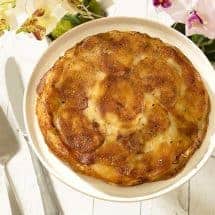 Potatoes Anna
Ready to make something with potatoes in your air fryer other than french fries? This is an easy Potatoes Anna recipe that you can make in your air fryer.
Dietary Consideration:
Egg-Free, Gluten-Free, Grain-Free, Low Sugar, Nut-Free, Paleo, Soy-Free, Vegetarian
Ease of Cooking:
Less than 5 ingredients
Recipe Type:
Vegetable Side Dishes
Instructions
Use a mandolin to slice the potatoes as thinly as you can.


Brush the bottom of a heatproof 7 x 2 inch pan with butter. Arrange one slice of potato in the middle. Now create concentric, overlapping circles of potato, making sure you go all the way to the edges of the pan since the potatoes will shrink as they cook.


Place this pan with its single layer of potatoes on the stove top and start heating it on medium. You are doing this to get the bottom layer well browned.


Continue to place layer upon layer of potatoes, continuing in concentric circles, brushing with lots of butter between layers. Press down on the layers so that the bottom will brown well.


Once you are done with the last layer, sprinkle any remaining salt and pepper and pour any remaining butter all over the potatoes.


Cover the pan with foil. Place the pan in the air fryer basket and set the air fryer to to 400°F for 30 minutes. Then remove the foil, and cook at 400°F for another 10 minutes.


Using a spatula, loosen the edges of the potatoes and upturn them on to a serving plate.

Don't forget to check out my Air Fryer Cookbook!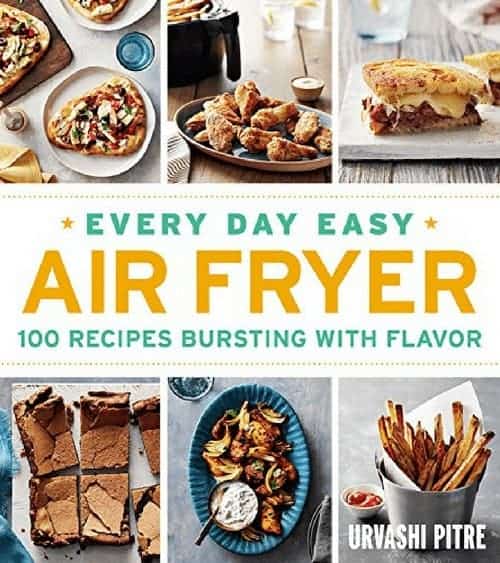 Every one of the recipes in this book can be made in an hour or less, and many are on the table in as little as 30 minutes. You won't find "cream of anything" cans in the ingredient list: instead, you'll start with fresh ingredients–healthful meats and vegetables–and let the air fryer do the hard work. Unleash the full potential of your Air Fryer and eat healthfully every night.