Instant Pot Pressure Cooker Low carb Kimchi Beef stew is an easy Korean-style dump and cook keto low carb recipe that's full of spicy, umami flavor. Guaranteed to perk up your taste buds, and taste like you slaved for hours to get this complex taste.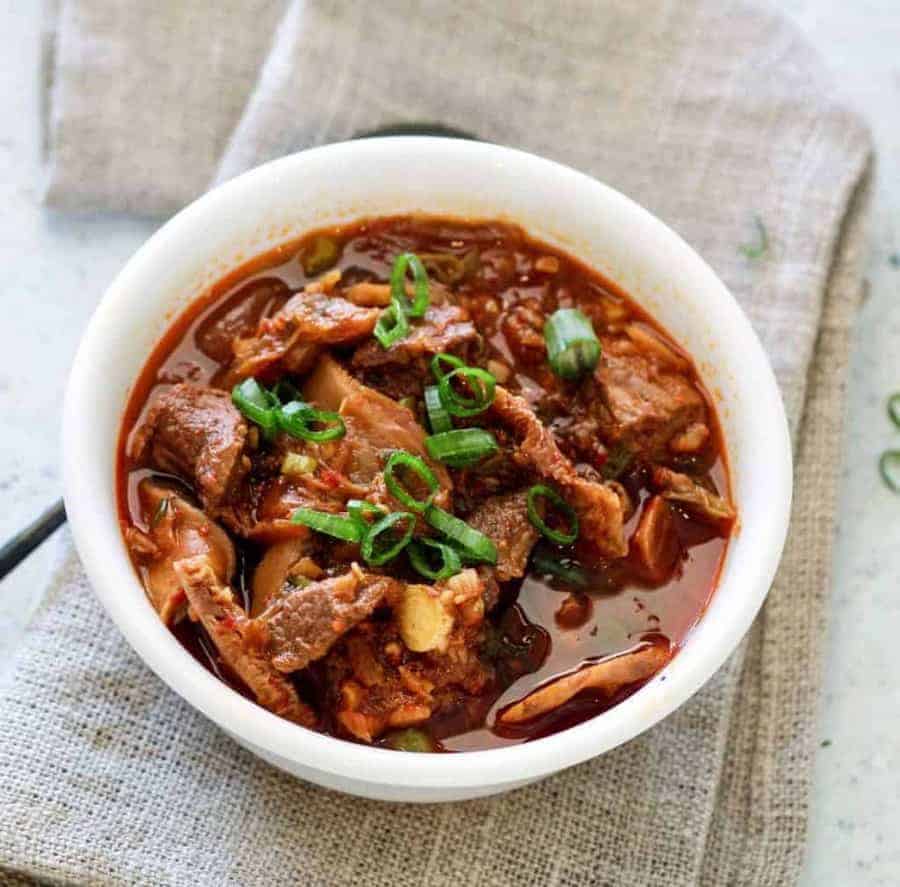 I love kimchi based soups. I had two different types of prepared cabbage kimchi in the fridge, and it was time to use them up.
I call this Korean-style because I've actually not had anything quite this way, but really, it's very close to Kimchi Jiggae which I love.
Ideally, you'd make this soup with Kimchi that is several weeks old, so that it is sour and almost a little over-fermented.

VARIATIONS ON INSTANT POT PRESSURE COOKER LOW CARB KIMCHI BEEF STEW
The possibilities are endless. Here are a few to get you started.
First things first. There is NO substitute for gochujang. None. Don't even try. Don't even ask me, I won't respond to your question 😀 Buy it and use it in all the wondrous gochujang recipes I have here, and you will thank me.
You can definitely use any other kind of dried mushrooms you have. If you want to use fresh mushrooms however, I don't know how the 20-minute cook time will affect them.
Gochugaru looks flaming red, but it's actually a lot less spicy than cayenne pepper. You can put in a tad bit of cayenne pepper instead, but be mindful of the spice in the kimchi.
You can use regular soy sauce instead of dark soy sauce. The dark one just as a richer, sweeter taste to me so I like to use it.
You can substitute Pork for the beef to get closer to a traditional Kimchi Jiggae. That will also need to cook for 15 minutes.
If you want to sub chicken, cook for 10 minutes for boneless skinless chicken thighs.
For a vegetarian version, cook for 5 minutes, 5 mins NPR, and then add diced tofu once you open the pot.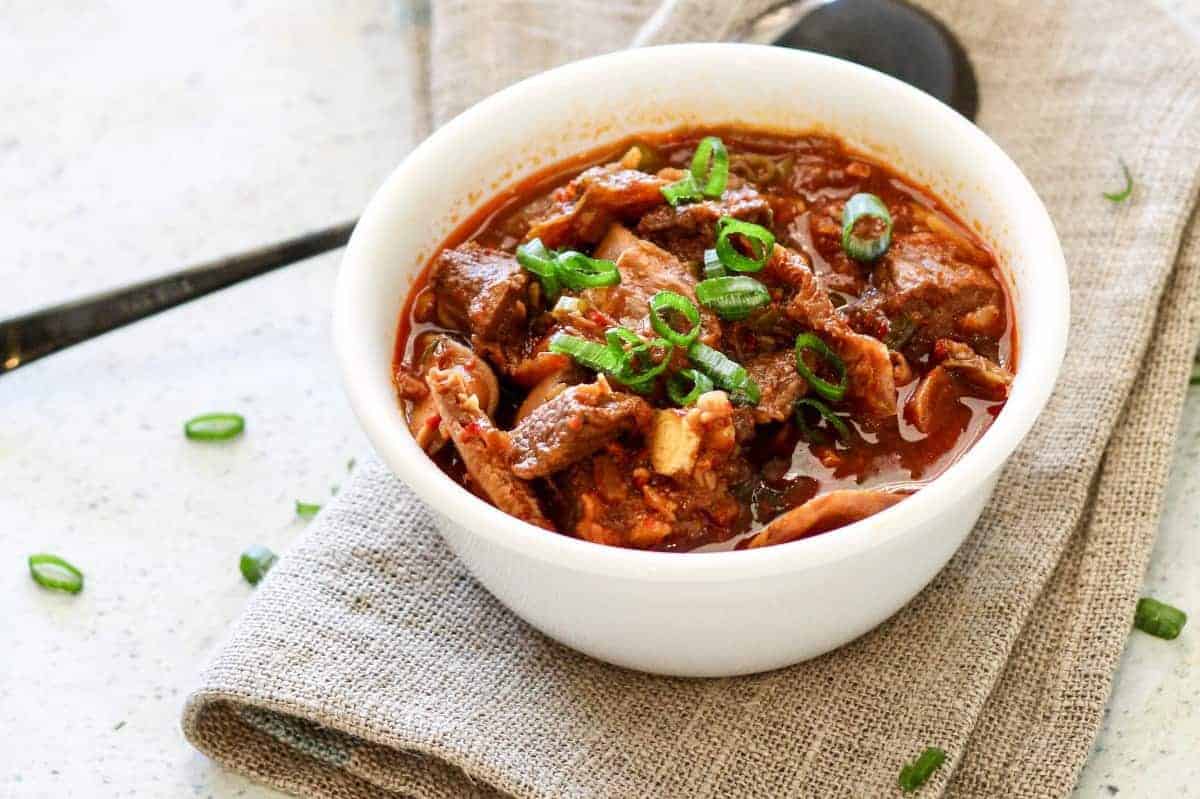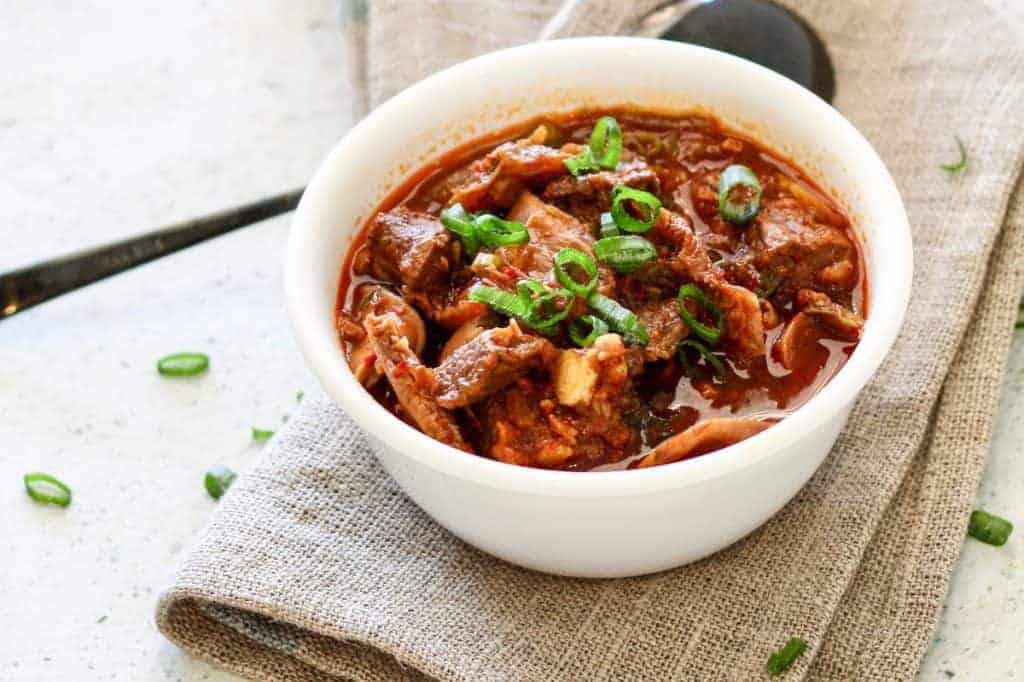 Want to try another killer beef stew recipe? Check out my Keto Spicy Korean Beef Stew recipe! It's made on the stove, but it's so simple you won't even mind!
Another great Instant Pot soup recipe is my Pressure Cooker IKEA Swedish Meatballs Soup.
EQUIPMENT YOU MAY NEED TO MAKE THIS INSTANT POT PRESSURE COOKER LOW CARB KIMCHI BEEF STEW
★ Did you make this recipe? Don't forget to give it a star rating below! Just click on the stars in the recipe card to rate. Tag me with #TrustUrvashi if you post and I will share your post!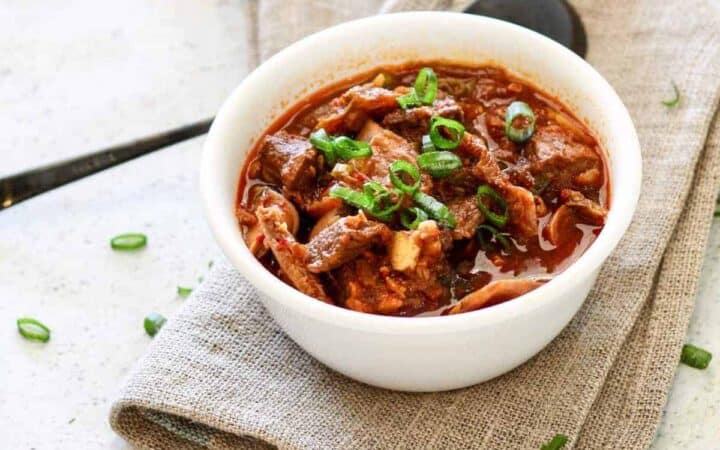 Ingredients
For Finishing
1/2

cup

diced green onion

1

cup

Diced firm tofu

optional
Instructions
I'd love to complicate this recipe for you but really, I just don't even know how. Dump everything in.

Set it for 15 mins at high pressure, 5 minutes NPR.

Add green onions and diced tofu if using.

Taste and add salt or more gochugaru if needed.

Eat.