This Instant Pot Beef Brisket is an easy, savory dish that you can make without heating up your entire house. Dump in everything and just let it make itself, and you end up with a savory, melt-in-your-mouth dish for dinner.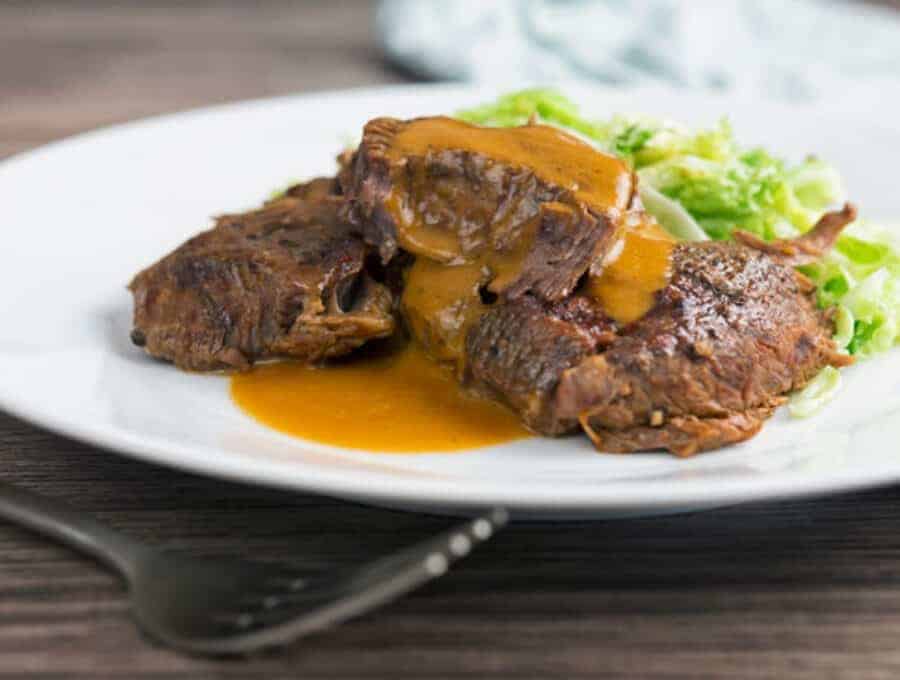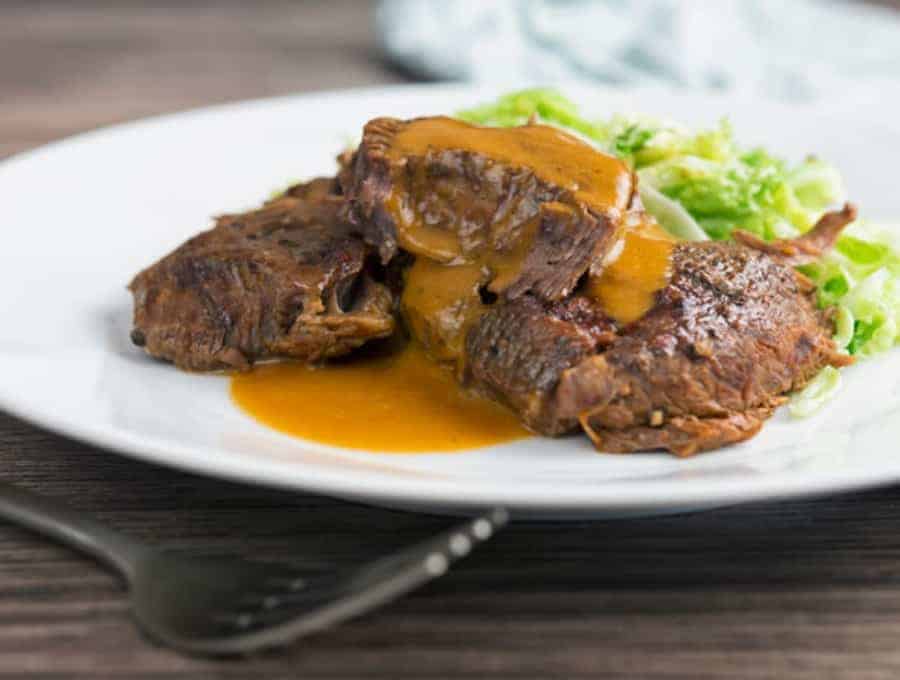 Jump to:
What Is Beef Brisket?
Brisket is a cut of beef located in the breast or pectoral region. It can be one of two different cuts. The point and the flat. For this pressure cooker brisket recipe, I used the flat cut.
Note this is same cut of meat that is used for corned beef brisket, but the two are not at all the same thing.
Fresh beef brisket is just fresh, uncured meat. In contrast, a corned beef brisket has been cured and brined and often spiced.
I have an excellent pressure cooker corned beef brisket recipe right here as well.
Why This Instant Pot Brisket Recipe Might Be The Best Way To Cook Brisket
Have you wondered how to pressure cook a brisket? This Instant Pot beef Brisket recipe will show you how to make an excellent brisket with minimal effort on your part.
It gives you a deliciously rich and tender braised brisket without having to smoke the beef brisket for hours on end.
This recipe for Instant Pot Brisket is sure to offend every bbq brisket person within a 100-mile radius of my Texas home. But I plan to watch them get upset while they chow down on a plate full of this delicious beef brisket with sauce while watching them yell at me.
I had really wanted to smoke this brisket but I didn't plan things very well and just ran out of time at the last minute. So I thought back to all the times that people have used slow cookers to make their brisket and decided the Instant Pot could do for me in a fraction of the time.
Advantages Of Making Instant Pot Brisket
Yes, But Does It Taste Like BBQ Brisket?
Well, no it doesn't taste anything like smoked beef brisket. Not even a little bit. It tastes like braised meat. Delicious, savory, umami braised brisket.
If I were you, I'd think of this as a braised meat dish that has minimal effort for the maximum beef-flavored payoff. You'll have a tender piece of meat, lots of thick, lovely sauce, and all with no effort.
And no barbecue sauce. Which, as a Texan, I consider unnecessary on a well-cooked piece of meat.
How Long Does It Take To Cook A 2 Pound Brisket?
The time it takes to cook a 2 pound beef brisket all depends on what method you're using to cook it. If you're using a more traditional method, such as grilling or baking, it can take up to an hour per pound to cook it through.
That's what makes Instant Pot Brisket such a great option if you're trying to get dinner on the table FAST. This beef brisket recipe cooks a 2 pound brisket in an hour and twenty minutes (including prep time).
How To Cook Brisket
Step 1: Slice the brisket into even pieces. Season with salt and pepper and set aside while you get everything else together.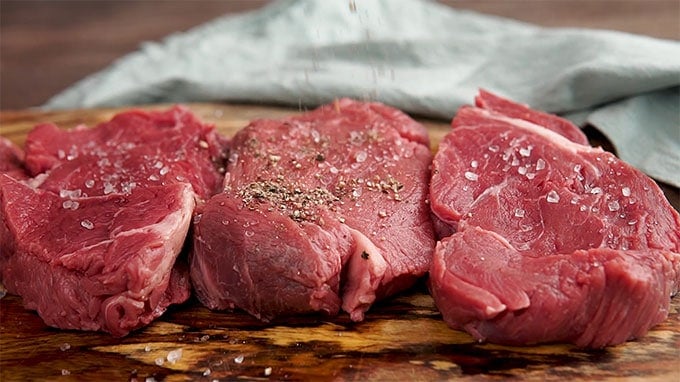 Step 2: Mix together ingredients for the sauce.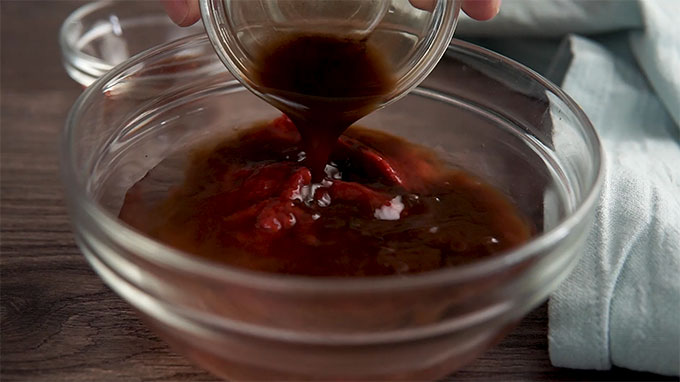 Step 3: Layer the sliced onions at the bottom of the pressure cooker. You are doing this to get some lovely flavorful stock into the recipe, and also keeping the brisket from scorching. You do not need to use beef broth, apple cider vinegar or barbeque sauce, or any other way to flavor your brisket if you follow this method.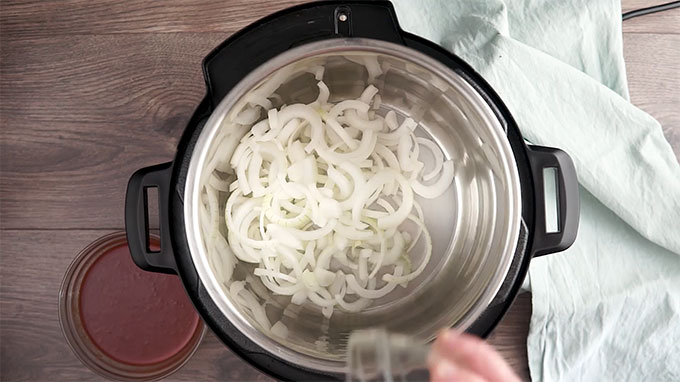 Step 4: Place the seasoned brisket on the onions. Pour in the sauce. The Brisket Cook Time will be 40 minutes.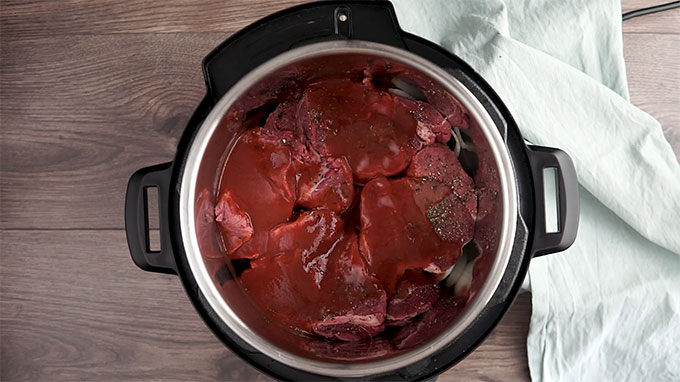 Step 5: Remove the meat from the pot. Using an immersion blender, purée the sauce and onion in the pot. Your flavorful cooking liquid just turned to gold around this brisket.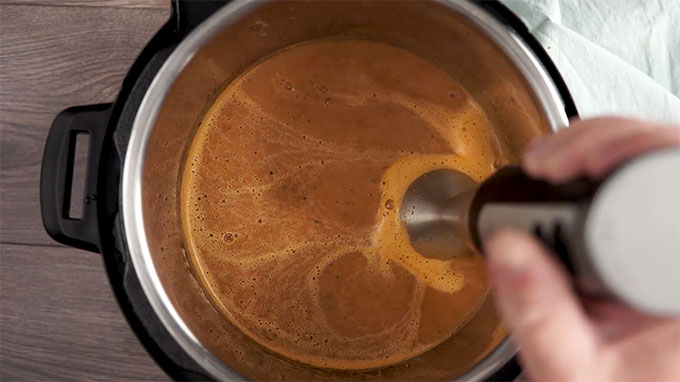 Step 6: Turn the pot to Sauté. To the cooking liquid, add in the prepared mustard, and thickener if using.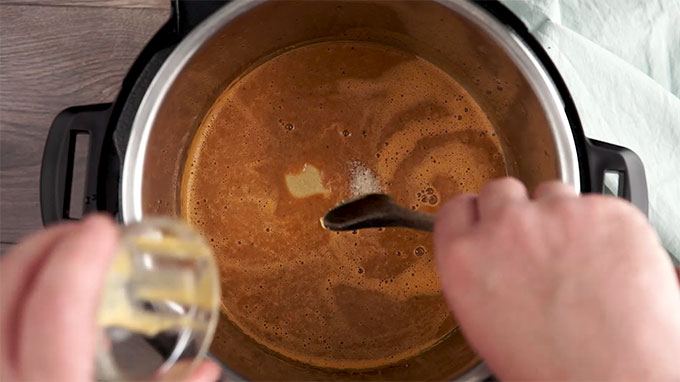 Step 7: Serve the beef brisket with the sauce poured on top. You could sprinkle with a little smoked paprika right before serving if you like.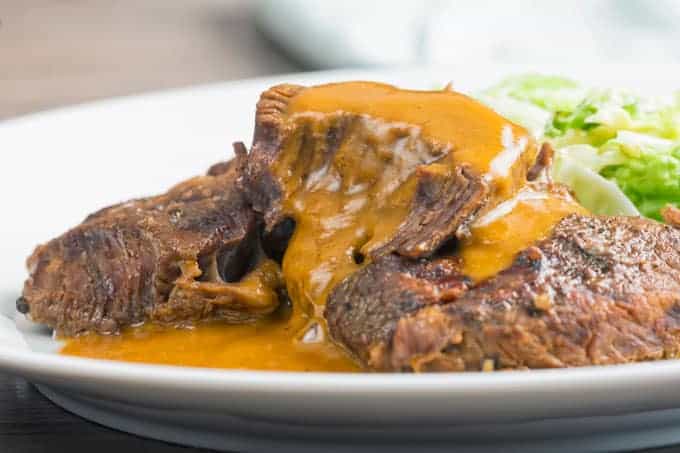 Tips And Tricks For A Perfect Instant Pot Brisket Recipe
Is Brisket Ok On Keto?
Yes, it is. Can you believe it? This recipe calls for cooking with onions, which can be relatively high carb. However, if you use the onions to cook and remove before serving, you have a Keto brisket recipe! Even if you still eat the onions you cook with the brisket, this recipe is only 5 net carbs for serving and a wonderful low carb meal!
What Cut of Brisket Am I Using?
So I discovered this the hard way. Brisket is made up of two different cuts: the point and the flat. The point cut is fattier, and the flat cut is drier and leaner
The fatty cut is ESSENTIAL for a good smoked brisket. For smoking, you want what's referred to as a Packer's cut, or the untrimmed version that has both the flat and the point. This usually comes in GIANT MASSIVE sizes. I get mine from Costco, and I use this smoker for the best brisket ever.
For a braised brisket, however, you can use the flat cut. This one is tougher and needs either a long, slow, low cook time, pressure cooking or slow cooking.
How Long Does It Take To Cook A 2 Pound Brisket?
So now to answer your question on how long to cook your brisket in an Instant Pot. Well, the short answer is that it depends on how THICK the brisket is, not just how much it weighs. So learning how to make a good brisket in your Instant Pot requires cutting it up into large, even pieces.
This is the absolute key to making tender brisket every single time! Do not skip this step.
If you follow the instructions in the recipe, you can cook a tender brisket Instant Pot meal in as little as 45 minutes.
Can You Overcook Brisket?
That question depends on how you're expecting your brisket to turn out. If you want a little bit of a bite to your brisket and you cook it for 45 minutes under pressure? Yes. You can overcook your brisket.
If you're wanting to shred your brisket to make sandwiches or tacos, it's hard to overcook your brisket but you could do it!
Longer cooking times will make the beef taste mealy and flavorless. So for a Brisket made in a pressure cooker, longer is not necessarily better.
That being said, follow the instructions in my recipe so you cook the perfect Instant Pot Brisket every time.
If you want slice brisket, cook it for a little shorter time. If the meat is still tough, you can add it back in for an additional 5-10 minutes under pressure.
How To Reheat Brisket
Looking For Dishes To Pair With This Instant Pot Brisket? Check These Out!
Now you've got all the fixings of a delicious Instant Pot Brisket dinner! Make sure to share this recipe with your friends on Pinterest and Facebook so they can enjoy it as well!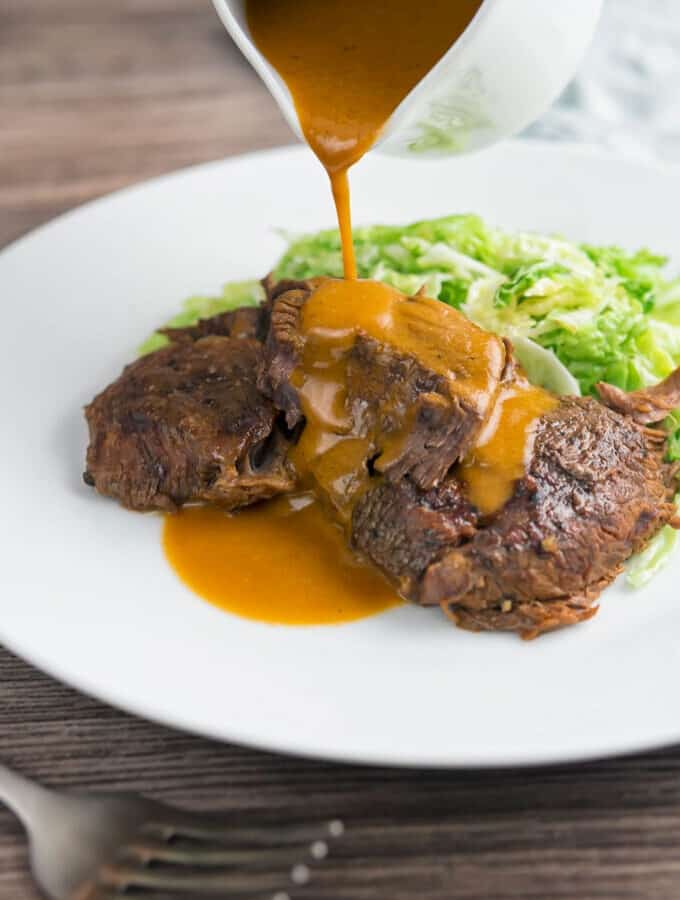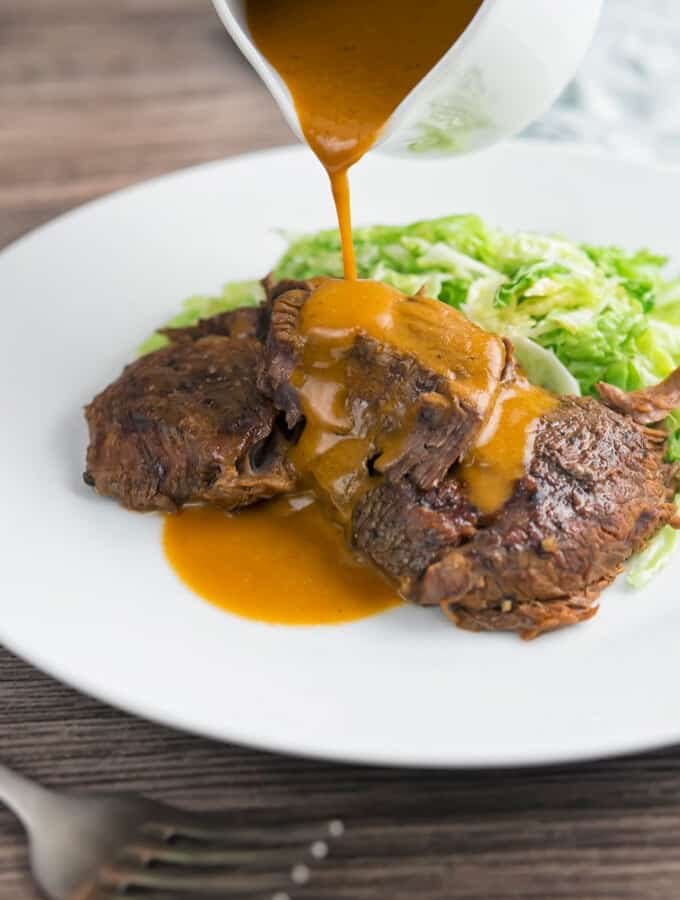 ★ Did you make this recipe? Don't forget to give it a star rating below! Just click on the stars in the recipe card to rate. Don't forget to pin this recipe for later!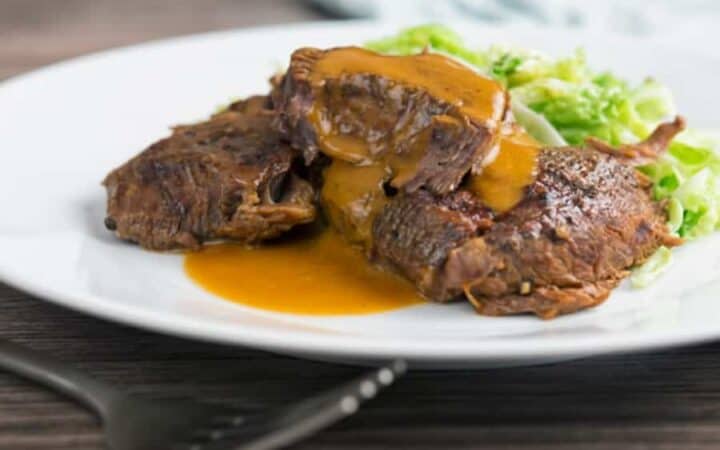 Click on highlighted ingredients or Equipment to see exactly what I use to make this recipe
Ingredients
For Finishing
1

tablespoon

(

1

tablespoon

) Prepared Mustard,

adjust to taste

1/2

teaspoon

(

0.5

teaspoon

) Xanthan Gum,

for low carb or sub with a cornstarch slurry
Instructions
For the Pressure Cooker
Put salt and pepper on the brisket pieces and let it sit while you get your other ingredients together.

In a small cup or bowl, mix together all the ingredients for the sauce.

Place sliced onions in the inner liner of your pressure cooker or Instant Pot. Place the sliced beef on top.

Pour over the mixed sauce.

Cook the meat at high pressure for 35 minutes for a brisket with some chew, and at 40-45 minutes for a more tender brisket. If you intend to shred it, you can cook for 60 minutes.

Open the pot and remove the brisket with

tongs.

Using

an immersion blender,

blend together the onions and all the liquid in the pot. Add mustard and ensure it is mixed well.

Turn your Instant Pot to sauté and add the xanthum gum or corn starch and allow the sauce to thicken.

Slice the brisket, and serve with the sauce.
For the Slow Cooker
You can make this recipe in a slow cooker by following all directions as above, and cooking the brisket on low for 8-9 hours.
The thickness of the brisket will dictate cook times. Watch the video or see the process shots above.
If you want slices, for the size and thickness in the video, you want a 35 minute cook time with a 15-minute natural pressure release. The video shows 70 minues for a shreddable brisket.
Cut that brisket up into large chunks before you cook it. Otherwise, you may have one large piece of meat that's overdone on the outside, and underdone on the inside.
Cutting the brisket also reduces total cook time.
Use the flat cut of the brisket for this recipe.
You can add some brown sugar to the cooked brisket if you want a touch of sweetness in the sauce.
Get support & connect with our community on Facebook!
Nutrition
Calories:
200
kcal
|
Carbohydrates:
5
g
|
Protein:
24
g
|
Fat:
8
g
|
Fiber:
1
g
|
Sugar:
2
g
Tried this recipe?
Follow @twosleevers and Pin it!
Indian Instant Pot, Keto Instant Pot, Instant Pot Fast and Easy, Healthy Instant Pot & Vegetarian Instant Pot.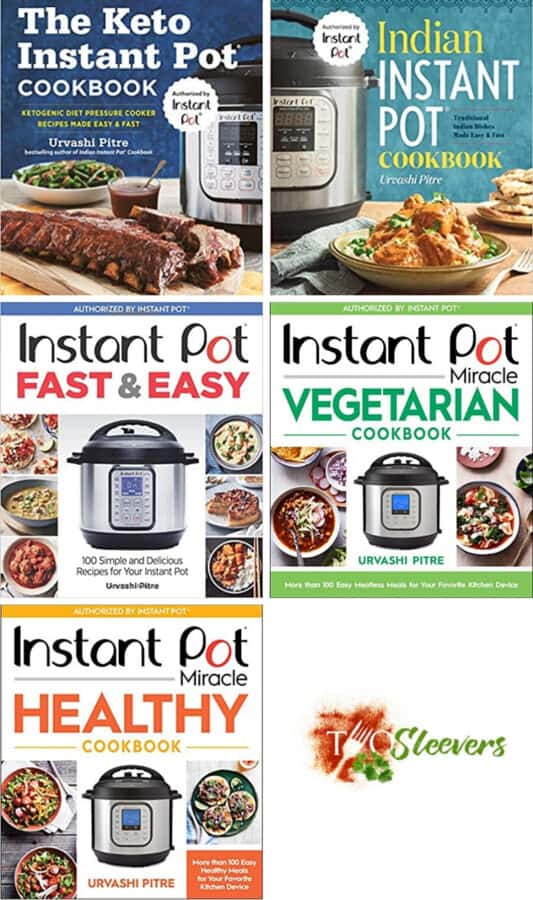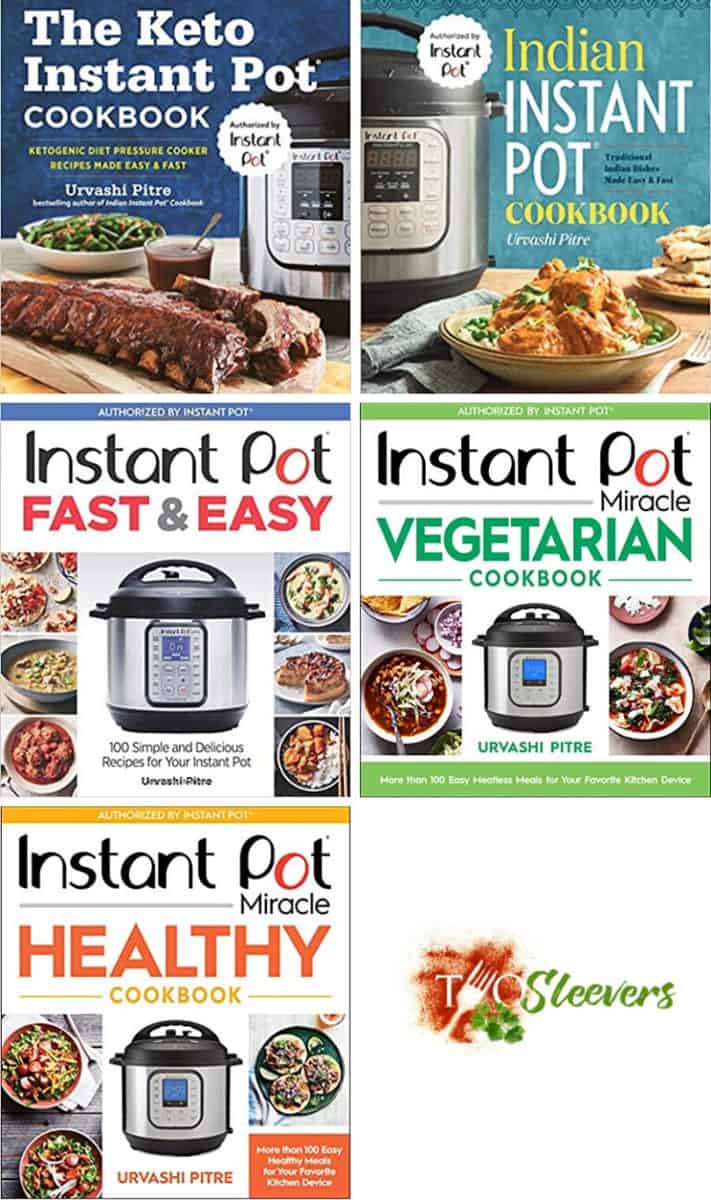 This post was originally published on Aug 8, 2017 at 12:20 PM.