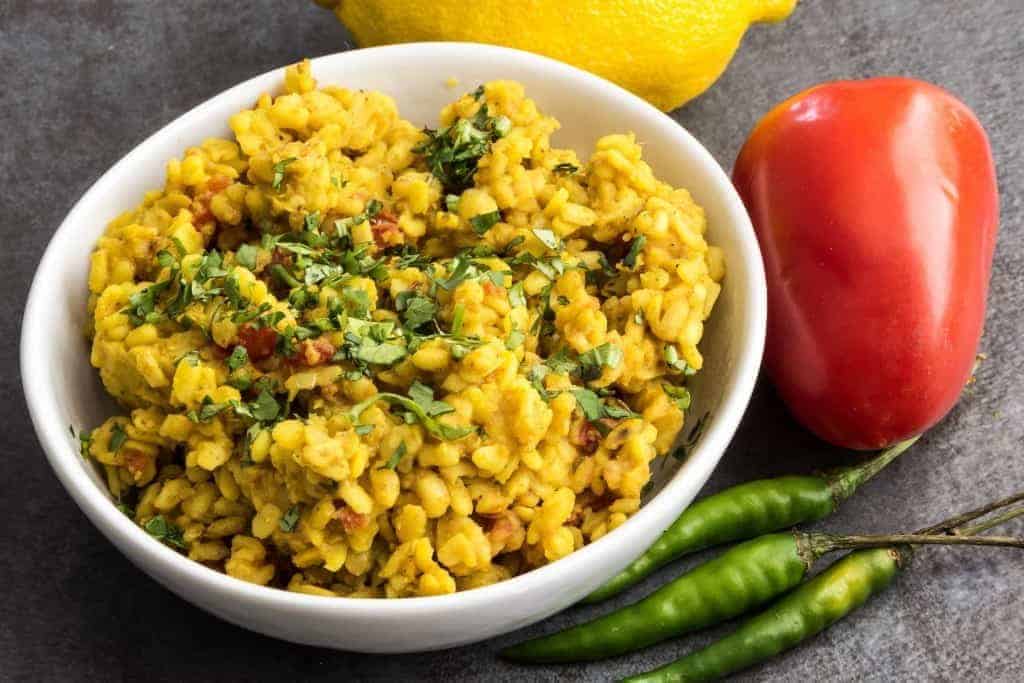 This pressure cooker dry urad dal or sookhi urad dal recipe is for a classic Punjabi dish that you will probably never get outside of someone's home. Easy, protein-packed vegan punch of deliciousness.
It's not sexy, it's not served in restaurants, few non-Punjabis have probably tried it--but it is absolutely delicious.
This was one of my favorite dals to eat as a child, but it's not easy to make and needs babysitting because you need to get the proportion of water and dal just right to make it dry.
But using your Instant Pot or Pressure cooker to make this Sookhi Urad Dal makes this dish a breeze.
BUT FIRST! A HINDI LESSON
Sookhi means dry. Typically dals are liquid, like thick soups. What makes this dal different is that it's made to be a dry accompaniment to your chappatis, rotis, naans, etc.
This actually makes it very handy for travel, when you don't want to be messing with a bunch of sloshing liquid, but still want a little dal protein in your meal.
This recipe is actually perfect for using the Kuhn Rikon pull chop I recommend for the tomatoes and onions. Speeds up prep even more.
TIPS FOR MAKING PRESSURE COOKER SOOKHI URAD DAL SUCCESSFULLY
Use SPLIT urad dal, not whole. This is a white, small little cute dal. Do not try this with whole urad dal. You'll have a crunchy mess on your hands
You will wonder if it has enough water in it. I stood and stared for a long time because I wanted just the right amount of water so as to not have to evaporate the excess and potentially overcook the dal.
If you just can't stand it, put an extra 1/4 cup of water just in case.
Do not shortcut the NPR cycle. The dal continues to cook with a lowered chance of burning while it is releasing pressure naturally.
EQUIPMENT & INGREDIENTS YOU MAY NEED TO MAKE PRESSURE COOKER SOOKHI URAD DAL RECIPE: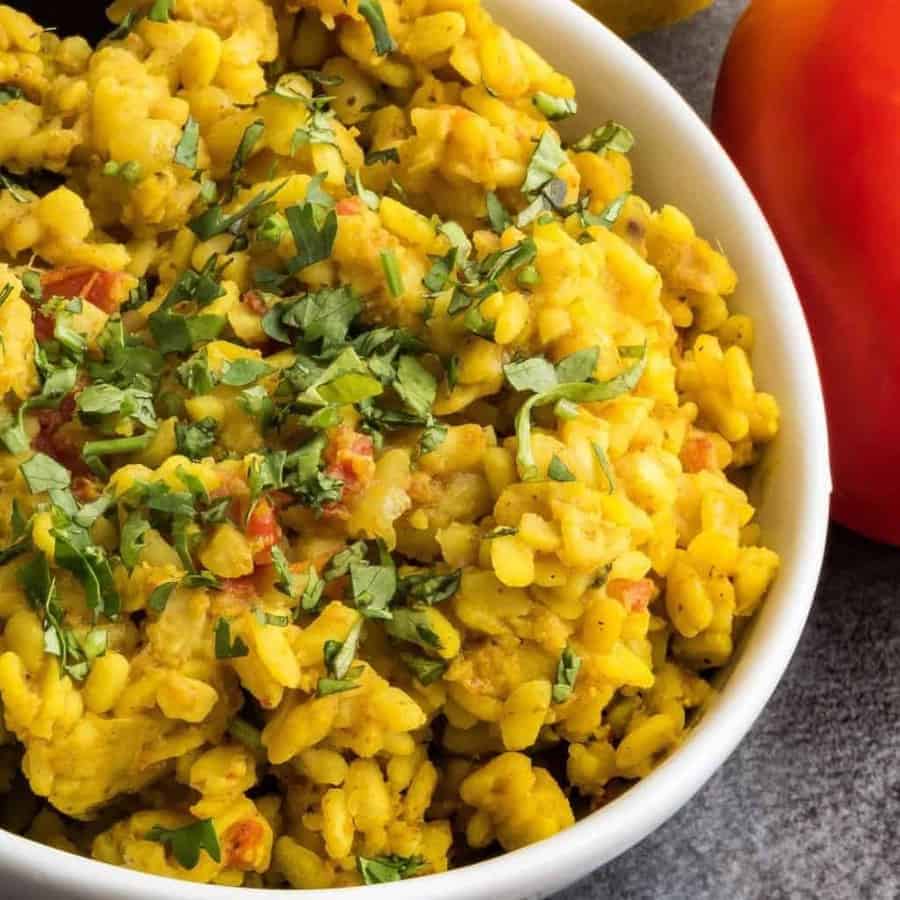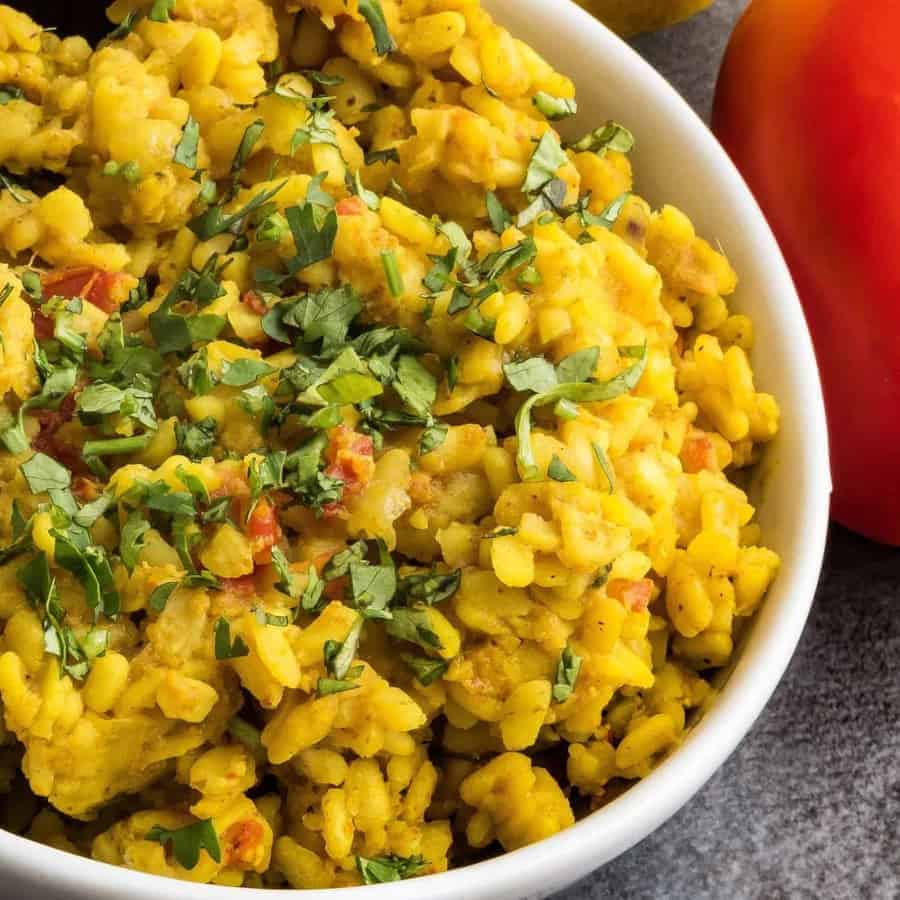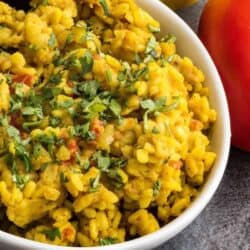 Pressure Cooker Vegan Sookhi Urad Dal
This pressure cooker dry urad dal or sookhI urad dal recipe is a classic Punjabi dish. Easy, protein-packed vegan punch of deliciousness.
Ingredients
For the Dal
1

cup

Split Urad Dal

1.5

cups

Water

2

teaspoons

Ghee or Oil

1

cup

Onion

1

cup

Tomatoes

1

teaspoon

Turmeric

1/2

teaspoon

Cayenne Pepper

1

teaspoon

Garam Masala

1

teaspoon

Amchoor
For Finishing
2

tablespoons

Lemon Juice

1/4

cup

chopped cilantro
Instructions
Add all dal ingredients into your pressure cooker at the same time.

Cook it on high pressure for 4 minutes and let it release pressure naturally for 10 minutes. Then release all remaining pressure.

Mix in the lemon juice and taste, adjusting as necessary.

Garnish with cilantro.

Serve with flatbreads of your choice, such as naan, roti, lavash, etc.
Indian Instant Pot, Keto Instant Pot, Instant Pot Fast and Easy, Healthy Instant Pot & Vegetarian Instant Pot.