Savory, toasted Garlic Chutney is quintessentially Indian but can be used for a variety of dishes. This simple to make chutney is very versatile and takes just minutes to put together.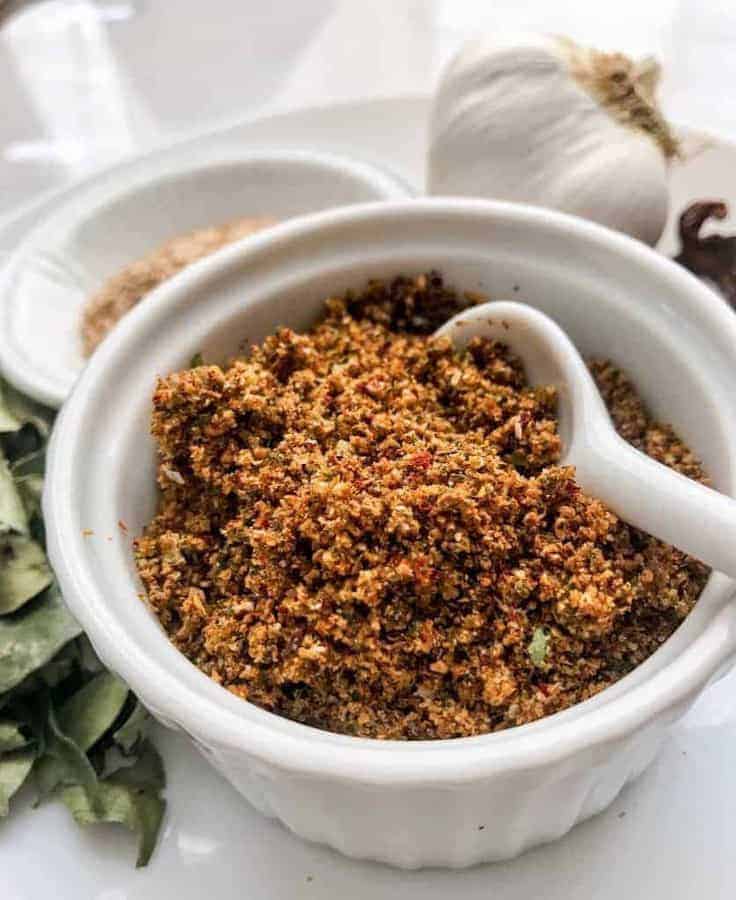 Why You're Going To Love It
Fast. A delicious and flavorful addition to any meal that's ready in under 30 minutes.
Easy. Toast a few ingredients, grind a few spices, and store.
Authentic. The flavors of this Garlic Chutney will remind you of your favorite local Indian restaurant.
Versatile. Use one of the serving suggestions suggested below for a new way to use this recipe every time.
How To Use Dry Garlic Chutney
Chutneys like this one, or the coconut green chutney, mango onion chutney, or meyer lemon chutney form an important part of Indian Meals. A little spicy or toasty, savory flavored chutney is a great way to add flavor to your meal, without having to make an elaborate side dish.
These chutneys are used as relishes, as a small side flavor to complement the main meal. They're often eaten with a small piece of naan, chappati, or roti.
But as often, they're mixed in with ghee and eaten with plain rice. So it's really up to you where you want to add in the flavor.
When I first posted this in the Facebook Two Sleevers Group, it started a lively discussion on all the various things you could use this for. A few ideas that emerged, some of which are traditional, and others of which are innovative and perfect sounding:
With ghee and rice
With ghee and chappatis
Over steamed buttered vegetables
Mixed in with mayonnaise
Mixed in with thick yogurt as a dip
Mixed with butter and spread on bread and toasted like an Indian version of garlic bread
Once you taste it, you might have other ideas and I'd love to hear them in the comments.
Ingredients You'll Need
How To Make Garlic Chutney
Making your own spice blends and chutneys can be SO easy and I'm always surprised at how few people actually create their own. Follow these 3 simple steps (and one storage suggestion) below for a tasty and flavorful addition to your next meal:
Cut peeled garlic cloves and smash flat to allow more of the surface area to roast
Roast sesame seeds
Mix all ingredients and grind together using a coffee or spice grinder
Store in a cool dry place for a week. Does not need to be refrigerated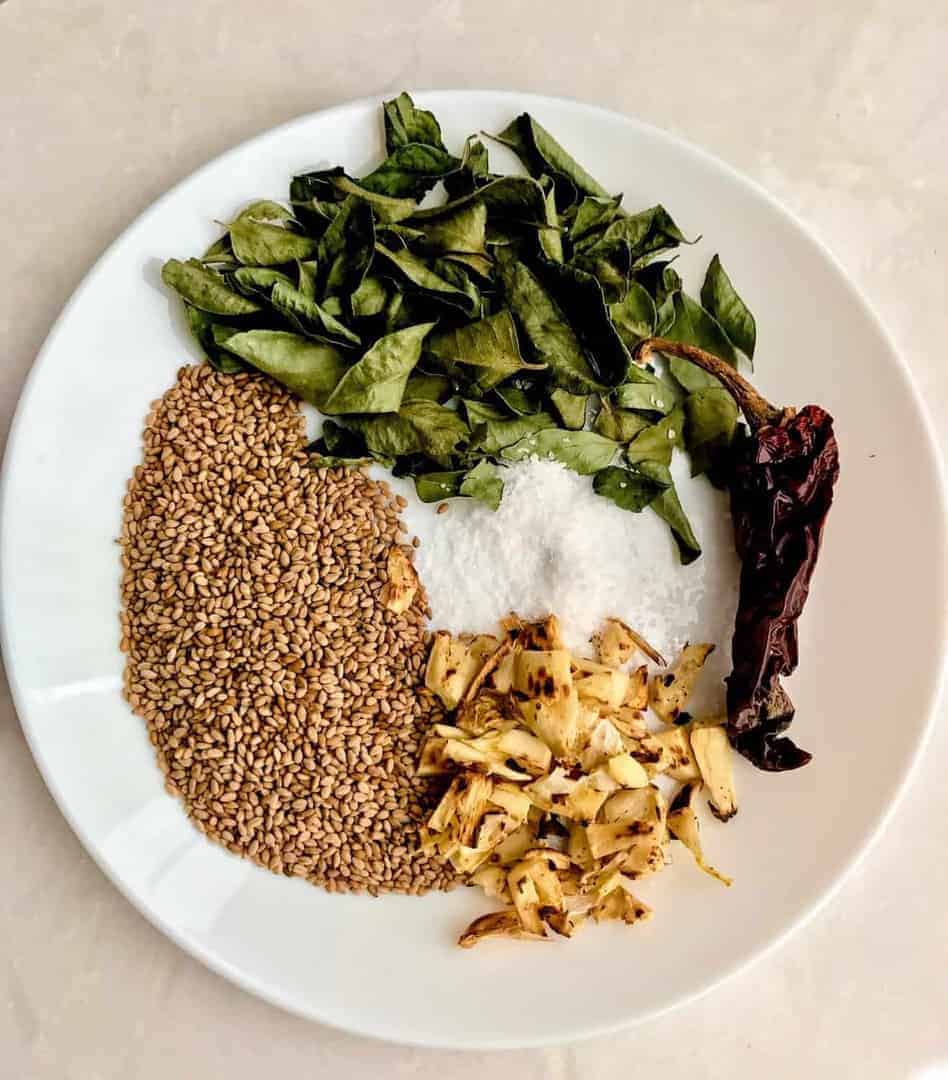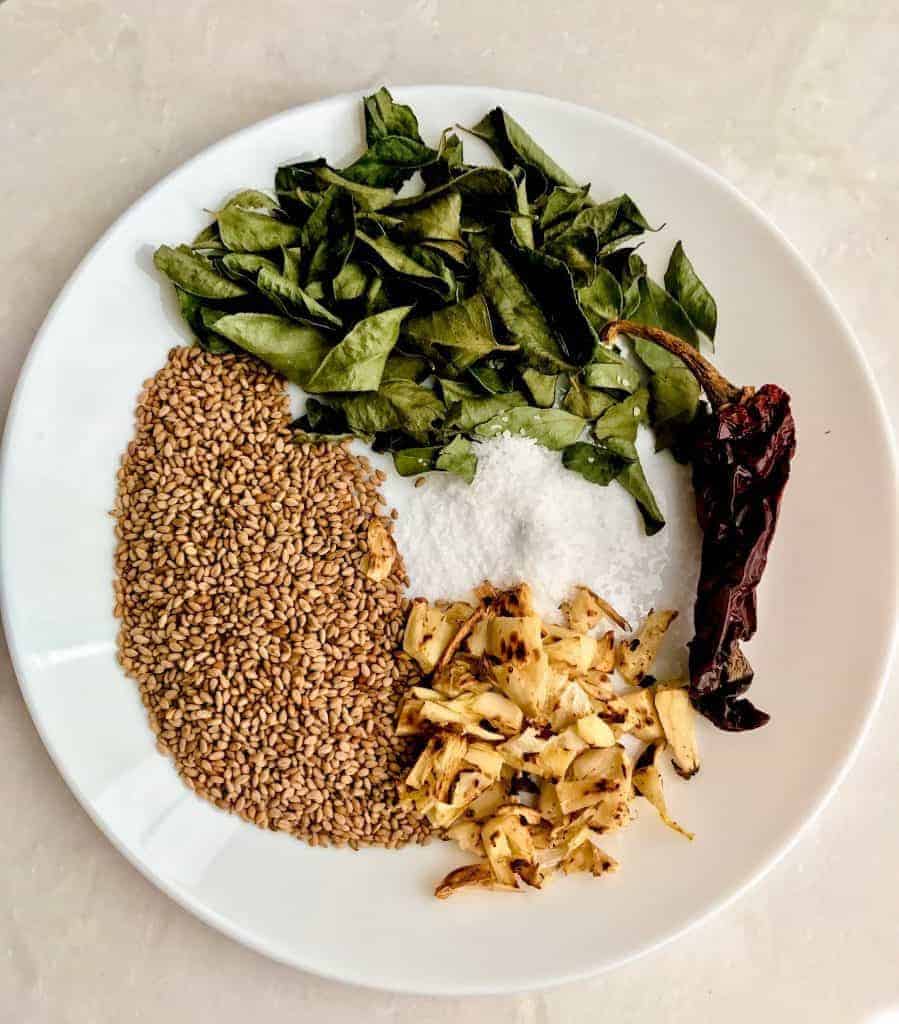 Substitutions You Can Make
I call for curry leaves in this recipe. I realize that not all of you will have access to these nor want to run right out and buy them. If you do though, try them here on Amazon, or at your local Indian grocery store.
But if you don't want to get them just yet, I'd suggest you omit them and just use garlic and sesame seeds along with the red chile and the salt. It will still be a very tasty chutney, just different from what I'm making here.
If you like it, you can then consider getting some curry leaves to add a wonderful, savory flavor to this Dry Sesame Garlic Chutney.
How Long Does It Last?
When you're making this Dry Garlic Chutney, don't be afraid to make a double batch. When stored in a cool, dry place, it will safely last up to a week--no need to refrigerate!
More Delicious Spice Mixes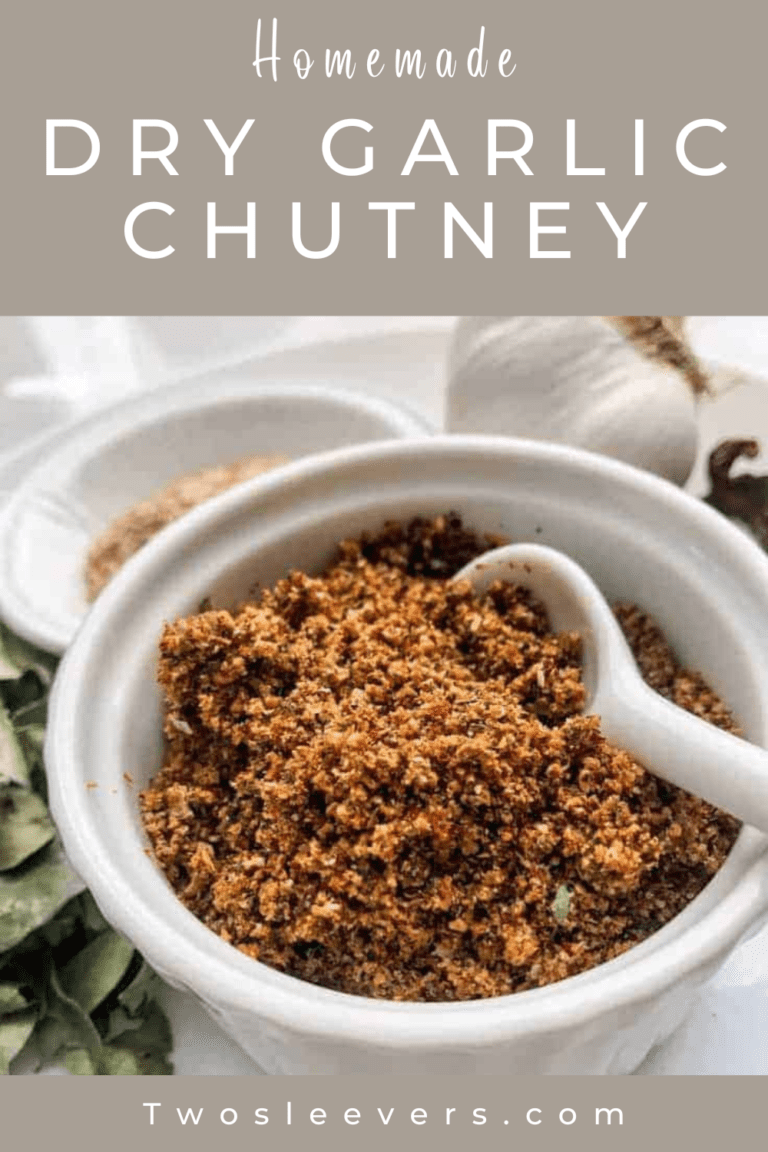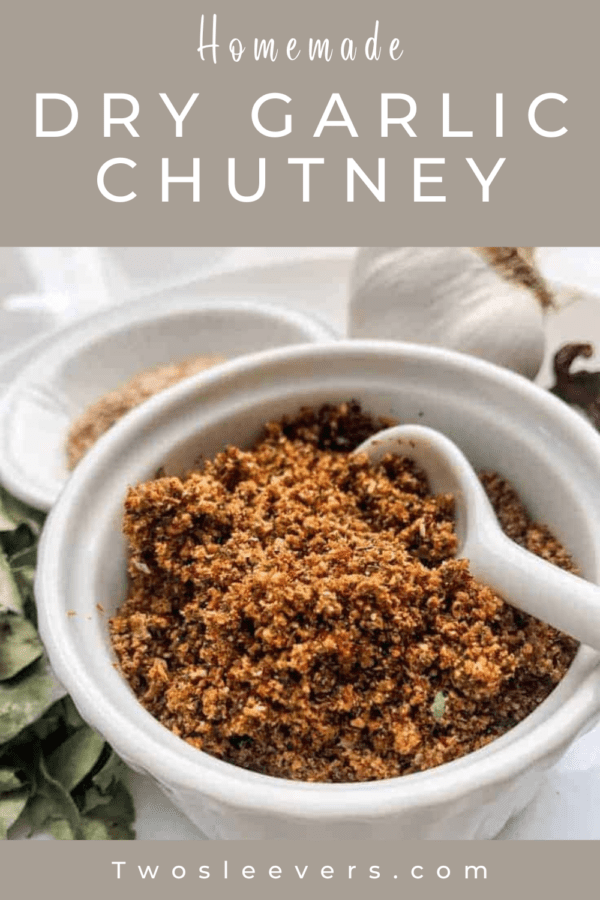 If you love this Dry Garlic Chutney as much as we do, make sure you share the recipe with your friends on Facebook and Instagram so they can try it too! Don't forget to Pin it so you can make it again soon.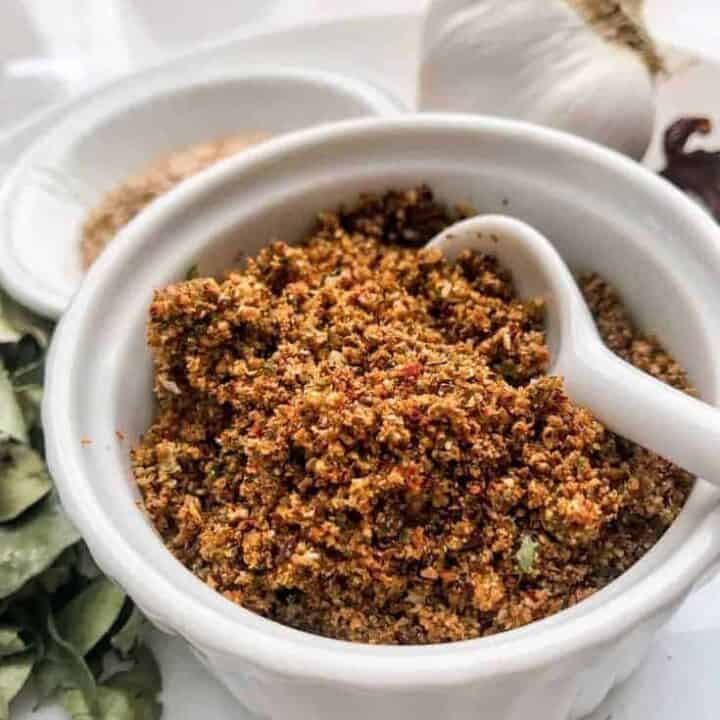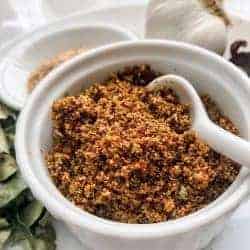 Dry Garlic Chutney | Dry Sesame Garlic Chutney Recipe
Savory, toasted Dry Sesame Garlic Chutney is quintessentially Indian but can be used for a variety of dishes. This simple to make chutney is very versatile and takes just minutes to put together.
Ingredients
2

tablespoons

Sesame Seeds

2

tablespoon

Dried Curry Leaves

6-8

cloves

Garlic

2

Dried Red Chilis

1/2-1

teaspoon

Kosher Salt
Instructions
Peel garlic and smash cloves with the side of a knife to flatten as much as possible.

Heat a small cast iron pan and when it's hot, add in the sesame seeds and stir frequently. At first these seeds will pop but will settle down in a few minutes. You may want to use a splatter screen or plate on top, but be sure to shake the pan so the seeds don't burn.

Once the seeds smell toasty and are somewhat brown, about 1-2 minutes, pour them into a plate and let them cool.

Add in the garlic cloves and toast until somewhat charred but not burned (see picture above).

Add these to the sesame seeds and let them cool for 5-10 minutes. Do not grind while hot else the steam will make a paste instead of a dry powder.

Once the garlic has cooled mix together all ingredients in the plate. Working in two batches, grind to a powder in a coffee or spice grinder, shaking the spice grinder to ensure an even grind.

Store in a covered container in a cool, dry place for up to a week. Does not need to be refrigerated.
Notes
★ Did you make this recipe? Don't forget to give it a star rating above! Just click on the stars in the recipe card to rate. 
Nutritional info is for total recipe. I don't really know how to calculate servings with this to be honest.
Indian Instant Pot, Keto Instant Pot, Instant Pot Fast and Easy, Healthy Instant Pot & Vegetarian Instant Pot.