Make this delicious low carb chicken kale soup with leftover cooked chicken, kale, and warm, winter spices in your Instant Pot or pressure cooker for a soul-satisfying, low carb soup that's perfect for cold winter nights.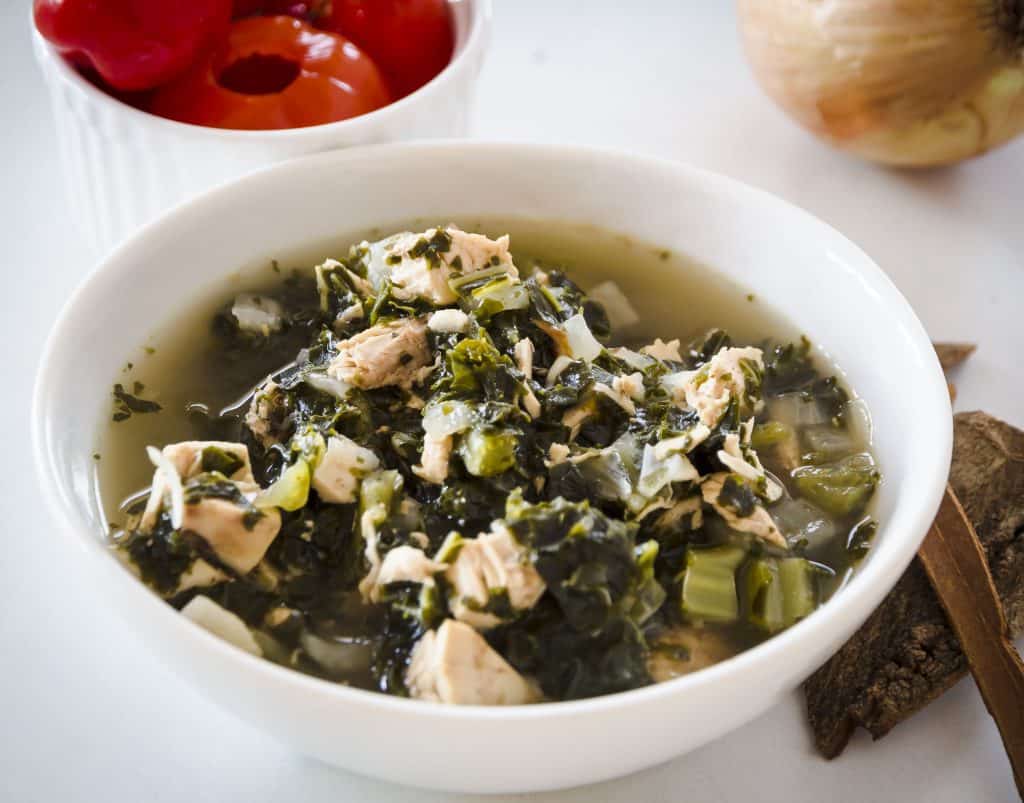 This soup was just about as impossible to name as it was easy to make. I asked in my Facebook Group and people had lots of wonderful--and often amusing suggestions for this. The problem is, if I told you to make a soup with cinnamon and cloves in it you'd never actually do it, now would you?
The most appropriate suggestion for this was "Trust me Chicken Soup" and I wish I could just call it that. Because trust me, this is some good low carb chicken soup.
Some other suggestions were "Cinn-ful soup", Spiced Chicken and Kale Soup, WInter Spiced Chicken and Kale soup, Warming Chicken and Kale soup--and all of those names are perfectly appropriate for this soup.
I also like it because it's perfect for lazy days. I used leftover cooked chicken to make this soup so it also came together extremely quickly. I like these types of soups that you can make with leftovers and freezer vegetables and a few little spices.
I mean look what went into this soup. Onions, leftover cooked chicken, frozen kale, cinnamon, cloves and chicken broth. Does it get simpler than that??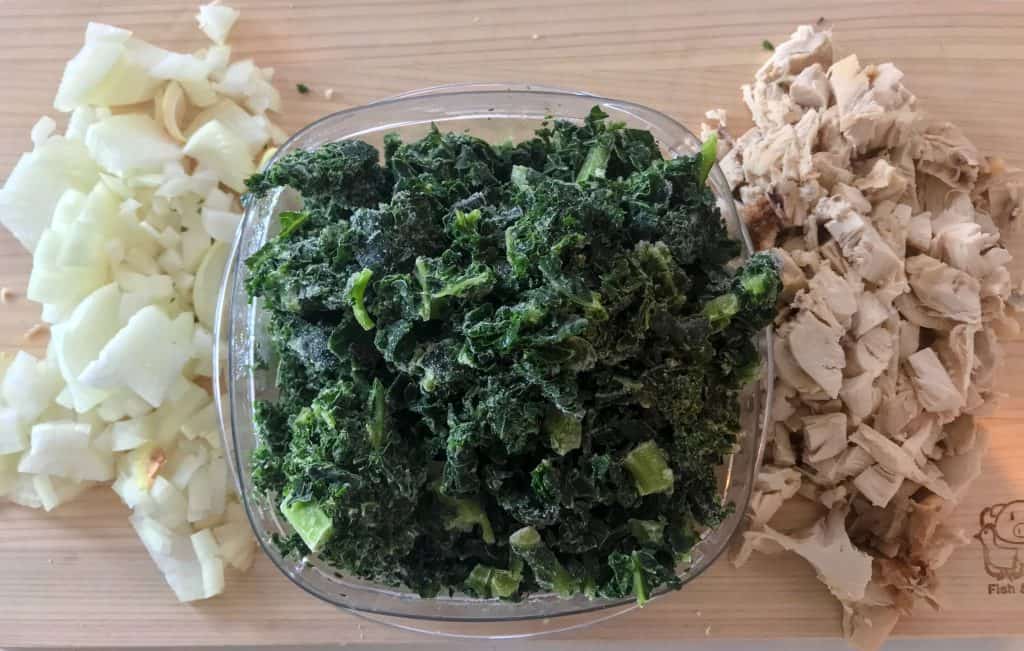 If you wanted to make this with raw chicken, I'd cut it into bite size pieces, and cook as directed. The 5 minuets under pressure will be sufficient to cook small pieces of chicken.
WHAT'S WITH THE CINNAMON AND CLOVES IN SOUP??
Okay yes I made up this soup. But in my defense, I'm not the only one who uses these types of spices in savory dishes. Many Moroccan and Algerian dishes use this combination. One of my readers reminded me that Cuban Picadillo uses a similar spice combination.
I actually once had a Jordanian chicken soup with Israeli couscous in it that had a similar spice profile. In fact, I had that soup once in my life, almost 16 years ago, and I STILL remember it. So yes, it may be an unusual combination, but it's not utterly crazy.
It tastes like warm, winter bowl of comfort and flavor. A lovely warming soup, with just a touch of the exotic about it.
I'd love to hear from you and have you rate this recipe in the card below if you try it.
EQUIPMENT YOU MAY NEED TO MAKE THIS INSTANT POT PRESSURE COOKER LOW CARB CHICKEN KALE SOUP:
OTHER PRESSURE COOKER LOW CARB SOUPS: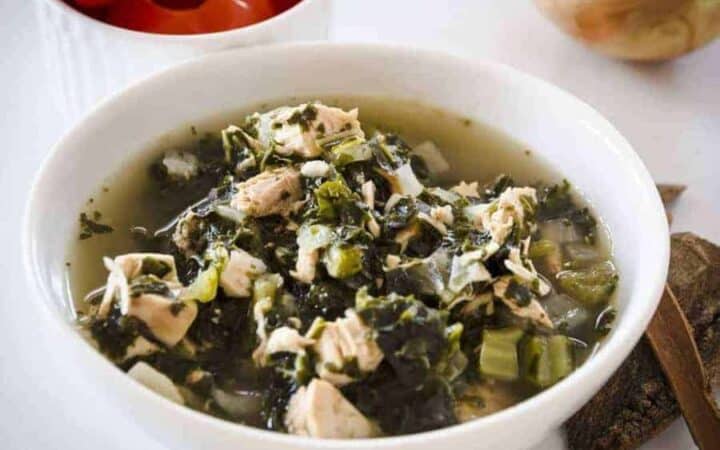 Click on highlighted ingredients or Equipment to see exactly what I use to make this recipe
Instructions
Place all ingredients in the inner liner of your Instant Pot or pressure cooker.

Cook on high pressure for five minutes, and allow it to release pressure naturally for 10 minutes.

Release any remaining pressure, taste and adjust seasonings as needed.
The cinnamon and cloves taste should be well-balanced. You don't people to go "Mmm cloves!" Since we aren't making dessert here. You just want them to go "Mmm soup!" If you aren't trying to keep this low carb, you could add 1/2 cup of Israeli couscous and increase water by 1 cup.
Get support & connect with our community on Facebook!
Nutrition
Calories:
143
kcal
|
Carbohydrates:
4
g
|
Protein:
23
g
|
Fat:
2
g
Tried this recipe?
Follow @twosleevers and Pin it!
Indian Instant Pot, Keto Instant Pot, Instant Pot Fast and Easy, Healthy Instant Pot & Vegetarian Instant Pot.