This is a recipe for a relatively low carb Hot and Sour Soup that is made in one step in your Instant Pot or Pressure cooker. Do you have ANY idea how many carbs are in a restaurant-style hot and sour soup? 10 gms. In one little cup. And who drinks 1 cup of soup? Not me, that's who!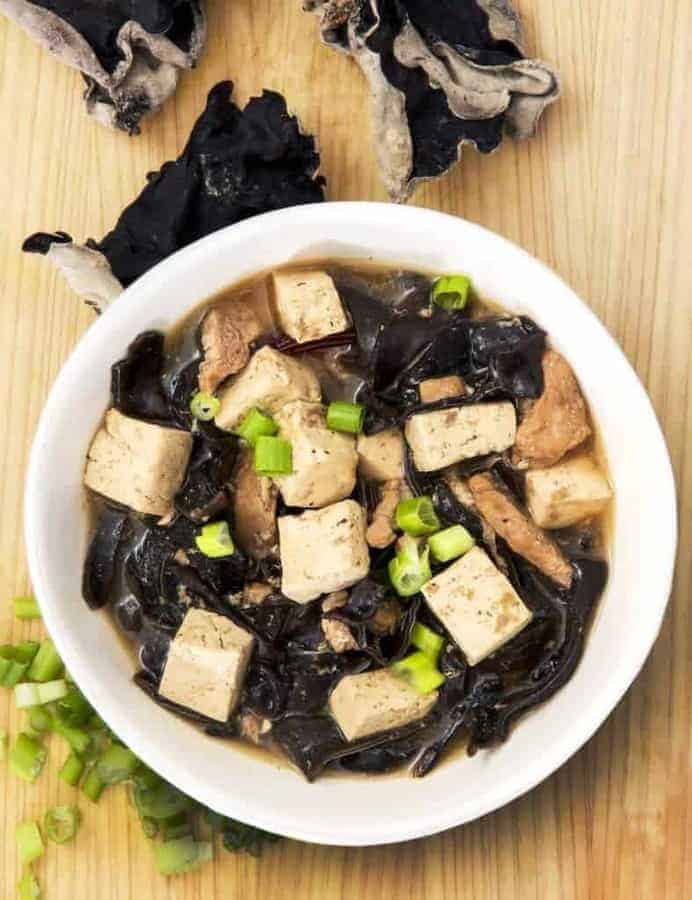 So I wanted to make it but of course, I want this to be as streamlined as possible while still being a low carb hot and sour soup recipe. There's one particular ingredient in there that gave me pause though, which was woodear fungus. Those are the black mushrooms that are in a typical hot and sour soup.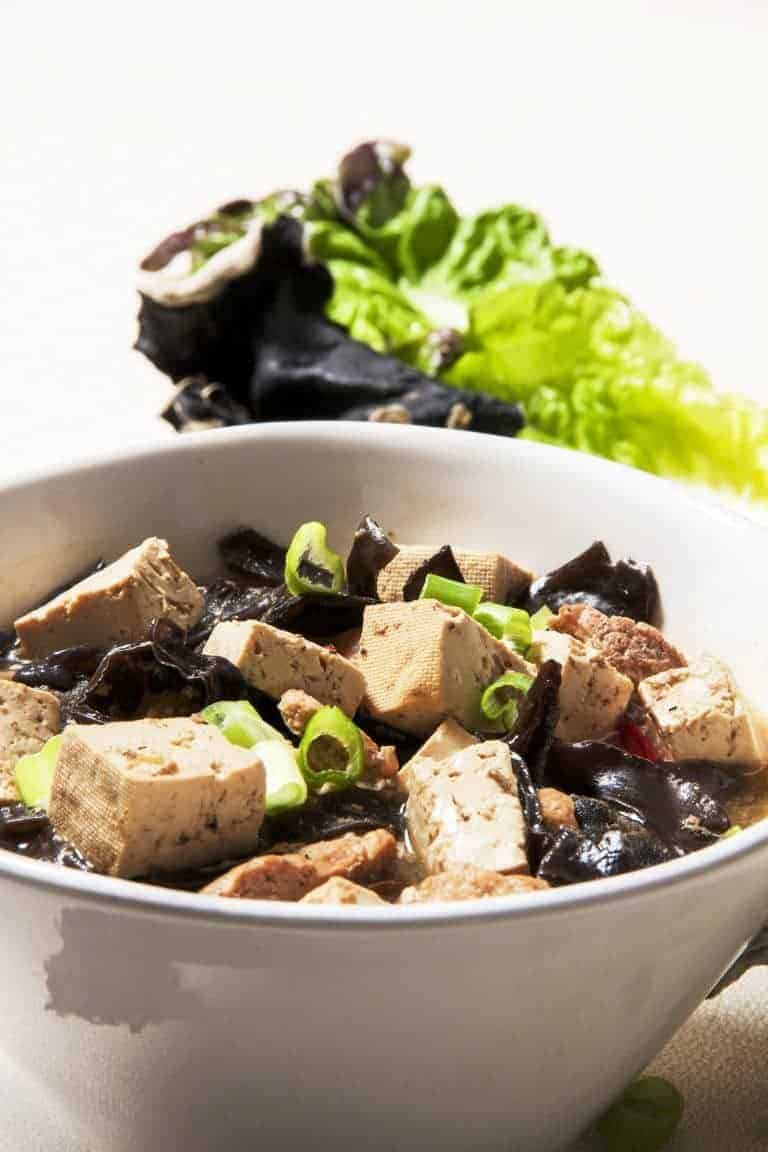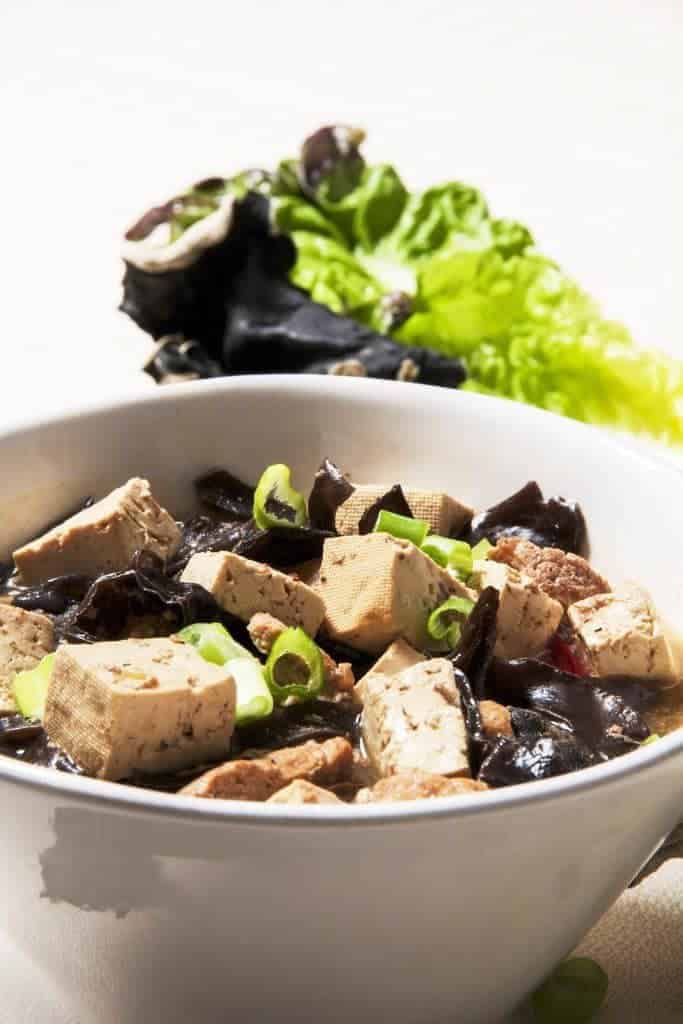 Traditionally they require soaking for 20 minutes to soften them. But surely if you're cooking this in a pressure cooker, you shouldn't have to do that should you? Wouldn't the pressure cooker take care of this for me?
I decided to find out. So I threw in dried, non-reconstituted mushrooms along with some pork and decided to give it a shot.
Guess what? It works. You do not have to pre-soak the dried mushrooms before cooking your soup!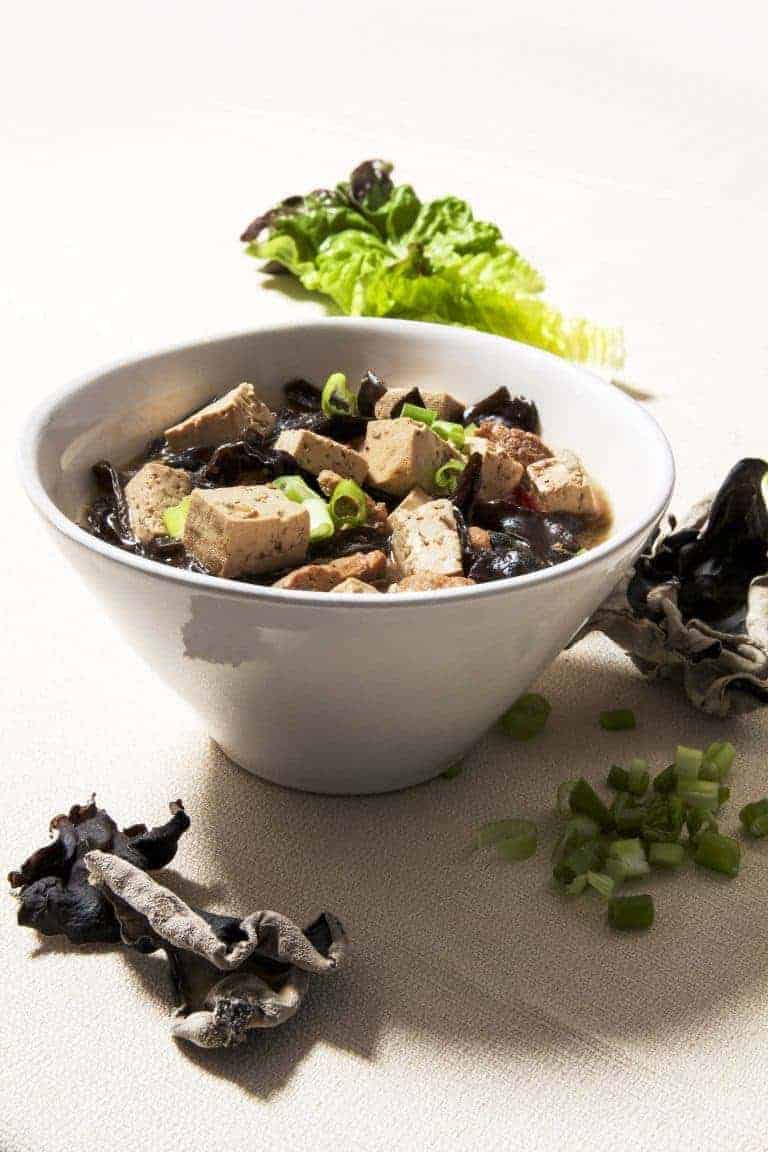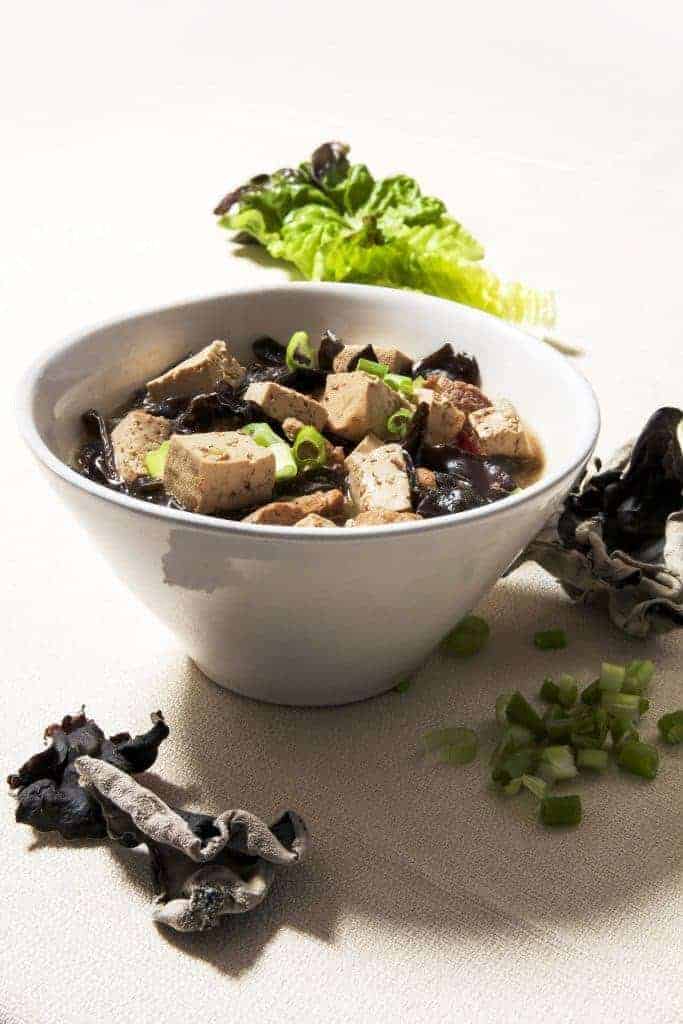 Okay but let me tell you something before you start making this hot and sour soup. Which is that you should treat the recipe as a guideline, not as an absolute. By which I mean, you will need to adjust the hot, and the sour to suit your tastes. If you open it and think it's too mild, or bland, well, get your vinegar in one hand and your pepper in the other hand and start seasoning your hot and sour soup until it's the way you like it.
To no one's surprise, I definitely added a lot of pepper to mine 🙂 I hope you try this and like it. Full of protein, low carb, and full of taste, and pretty much one step.
Oh by the way, if you're looking for full liquids or soft soup, or you don't want pork and mushrooms in your soup, I have an older recipe, for a very simple hot and sour soup with eggs that you might like.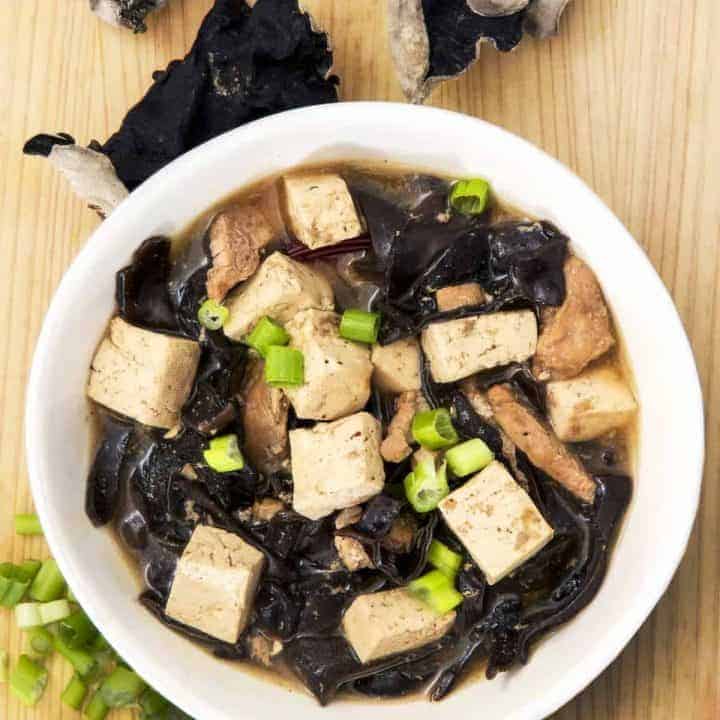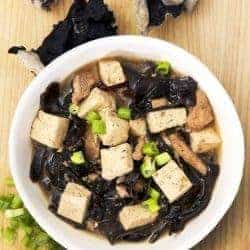 Instant Pot Low Carb Hot and Sour Soup
Instant Pot low carb hot and sour soup cooks in one quick step. So easy, warm and comforting!
Ingredients
5

cups

low-sodium chicken broth

1

pound

pork tenderloin

thinly sliced

1

cup

Dried Woodear Mushrooms

3

tablespoons

Soy Sauce

1

tablespoon

Chinese Black Vinegar

(Or use white vinegar)

2

tablespoons

 Rice Vinegar

(Or use white vinegar)

1

teaspoon

Kosher Salt

1/2

teaspoon

Xanthan Gum

2

teaspoons

Ground Black Pepper

(adjust to taste)

3

tablespoons

Water
After Soup is Cooked
1

pound

extra firm tofu

4

eggs, beaten lightly
Instructions
Pour all ingredients except tofu and eggs into the inner liner of your Instant Pot or pressure cooker.

Cook using the SOUP button for 10 mins or under high pressure for 10 minutes.

Allow the pot to release pressure naturally for 15 minutes, and then release remaining pressure.

Turn pot on Sauté to allow the soup to stay hot.

Remove the now-huge woodear mushrooms, and slice them thinly, and put them back into the soup.

Add diced tofu and stir. Slowly pour in the eggs. Mix three times around with chopsticks. Cover the pot and let the eggs cook slowly in the broth for a minute, and then serve.
Notes
Treat this recipe as a guideline, and season to taste. Use vinegar for tang, and pepper for spice and add one or both until the soup tastes right to you.
Indian Instant Pot, Keto Instant Pot, Instant Pot Fast and Easy, Healthy Instant Pot & Vegetarian Instant Pot.