If I had to guess, I'd say most of you have never had an Indian Kadhi (Indian Yogurt Soup) –unless of course you or someone you know are Indian and it was made at home for you.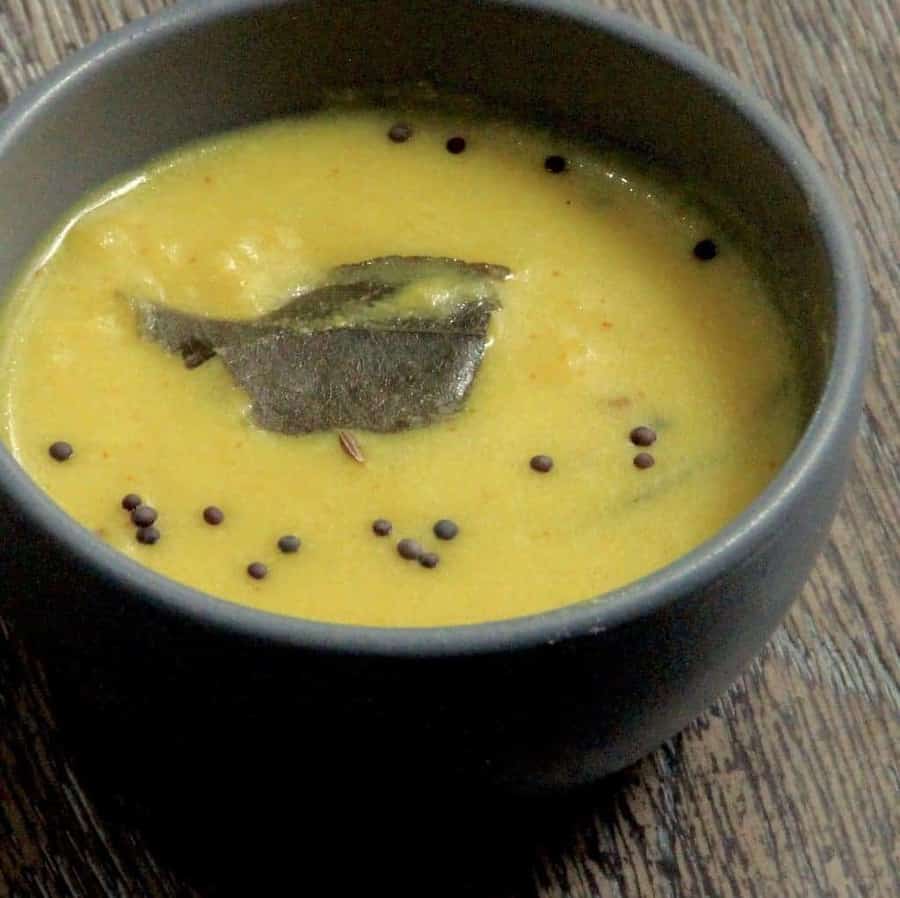 Indian Yogurt Soup
This dish uses yogurt and besan (chickpea flour) to result in a smooth, thick, tangy, spicy soup that goes very well with rice.
There are many regional variations of this Indian Yogurt Soup. Punjabis add onions and fried vegetable fritters (pakodas) to theirs. Gujrathi Kadhi is sweet, not as thick as some other versions, and uses ginger-garlic paste.
Sindhi Kadhi often uses okra or eggplant. I think mine is probably a mix of Punjabi and Marathi Kadhi–sort of like me! I'm not really sure. What I do know is that this Indian Yogurt Soup is delicious and quite unlike anything served in Indian restaurants.
I've seen some recipes for this that use a slow cooker, but as you guys know, I'm not that patient. I'll make something in a slow cooker if it yields better results, such as the Thai Green Curry that tastes better when it's slow cooked.
But I wanted to try this Instant Pot Kadhi under pressure first, and I was glad to see it works.
Sometimes I think I should just call my blog Cooking While ADD because a lot of the benefits of the Instant Pot for me are the fact that I don't have to stand over the food and stir and remember to not let it burn.
This Indian Yogurt Soup recipe is a case in point. Sure you could make this on the stovetop–but if you're going to be distracted by a shiny object in the middle of cooking then maybe not so much, as it does require some watching over and stirring.
This method however, is very hands off once you have the initial tempering of spices, or the tadka done.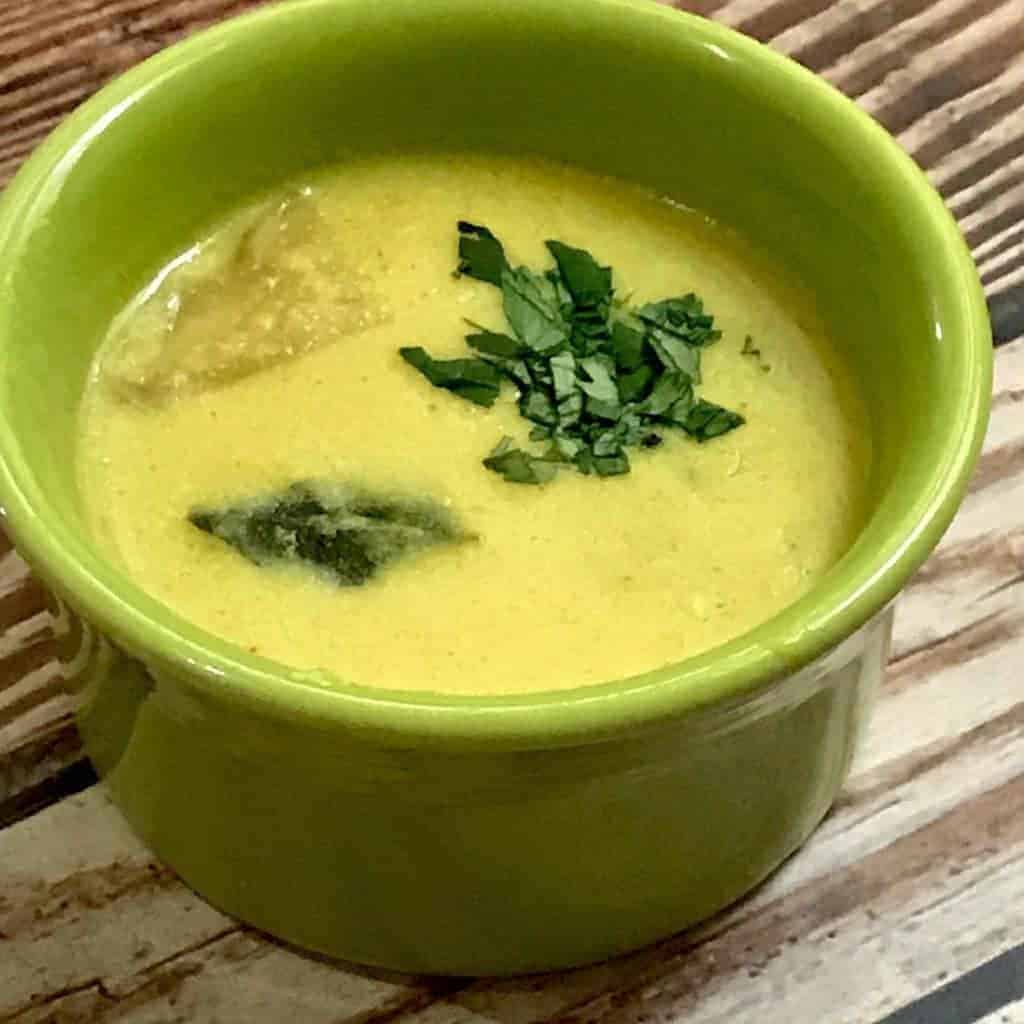 The Recipe Steps for this Indian Yogurt Soup are
Blend the yogurt water and besan together
Season the oil with the aromatics
Cook on SOUP setting for 5 minutes, 10 mins NPR

Instant Pot Gluten-Free Indian Kadhi Tangy Yogurt Soup

Instant Pot Gluten-free Kadhi Indian Tangy Yogurt Soup. A lovely warming soup that goes very well with rice.

Dietary Consideration:

Dairy-Free, Gluten-Free, Vegan, Vegetarian

Cooking Style:

Instant Pot/Pressure Cooker

Ease of Cooking:

Pour and Cook, Under 30 Mins

Recipe Type:

Beans, Legumes, & Lentils, Full Liquids/Soft Foods, Pressure Cooker, Vegetable Side Dishes

Ingredients

Blend Together

1

cup

yogurt

tangy, full fat. Can sub soy yogurt

2

cups

water

1

teaspoon

salt

1

teaspoon

sugar

1/4-1

teaspoon

cayenne pepper

(adjust to taste)

4

tablespoons

besan

(chick pea flour)

For the Tadka, or flavoring of the ghee

Instructions

Blend together the yogurt, besan, water, cayenne, sugar and salt. Don't let it get too frothy, just mix until everything is mixed.

Turn your Instant Pot onto Sauté on high. When the display reads HOT, add your ghee or oil. When the ghee is hot and shimmering, add the cumin and mustard seeds and let them sputter for 10-20 seconds.

Add the serrano pepper and ginger as well as the turmeric.

Pour in the blended yogurt mixture and seal the Instant Pot.

Cook on SOUP setting for 6 minutes, and allow the pressure to release naturally for 10 minutes. Release remaining pressure.

Recipe Notes

We're using the SOUP setting so as to not allow the yogurt to come to a vigorous boil which could cause it to separate.

Nutrition facts per serving

188kcal | Fat: 7g | Saturated fat: 3g | Cholesterol: 17mg | Sodium: 634mg | Potassium: 578mg | Carbohydrates: 26g | Fiber: 2g | Sugar: 6g | Protein: 5g | Vitamin A: 2.5% | Vitamin C: 7% | Calcium: 10.1% | Iron: 8.6%

I am not a registered dietician or nutritionist. Nutritional information is provided a courtesy, and can vary depending on the exact ingredients you use.