Once you make your own Dukkah Seasoning Mix, you will come up with 100 uses for this sweet, savory, nutty, versatile spice mix.
I am obsessed with spices. Not in a freaky kind of way.
Okay maybe in a freaky kind of way.
Spice mixes, especially freshly made spice mixes can make all the difference between a dish tasting mediocre, and a dish making your taste buds absolutely sing with joy.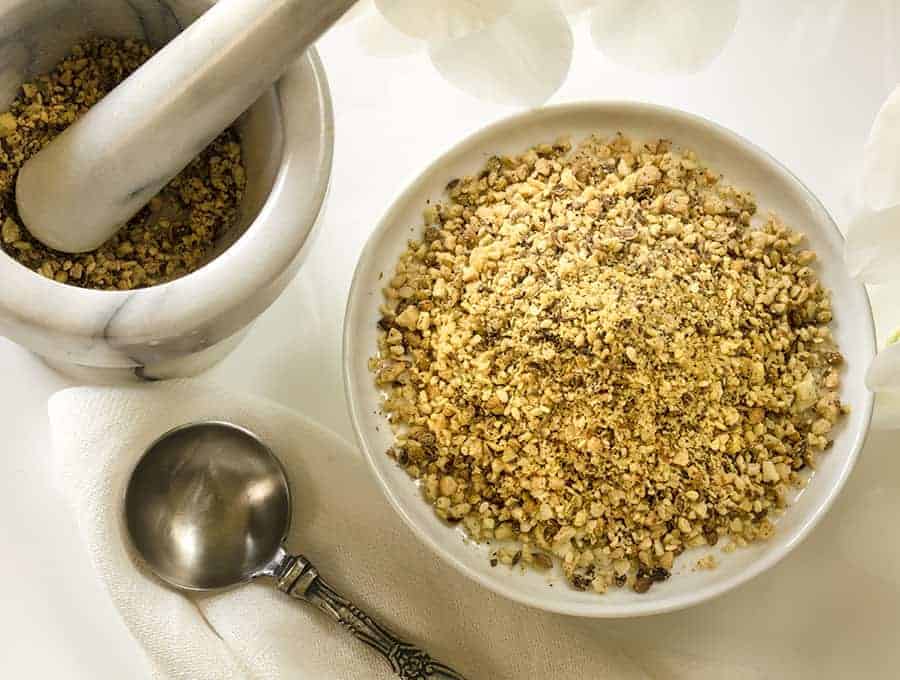 It's hard to find spices in the store, ready to go, that are as good as the spice mixes at home. Ground spices just don't last very long.
Make Your Own Spice Mixes
I have an old video above on this that I REALLY need to redo, but that's because it is too dark. The content on it, however, is what you will need to better educate yourself on why making freshly ground mixes is so important.
Many store-bought seasonings can be left for ages in your cabinet and still be somewhat usable (if they were ever really that usable). However, homemade seasoning mixes like this, if done correctly will have a much shorter shelf life, so take note of that.
In a nutshell, whole spices typically last for a year. Ground spices start to loose aroma as soon as you grind them. Within a few weeks, they are barely effective.
That's why I absolutely love making my own spices like this Dukkah Seasoning Mix. Not only is it easy to make your own seasoning mixes and spice blends, you'll notice the huge difference in flavor when you do. #trusturvashi
There is ZERO comparison between store-bought and home-made mixes.
What Is Dukkah? Egyptian Spice & Nut Blend
According to Wikipedia, "The word is derived from the Arabic for "to pound"[6][7] since the mixture of spices and nuts is pounded together after being dry roasted to a texture that is neither powdered nor paste-like."
According to Urvashi, it's pure Deliciousness : )
This Dukkah Seasoning Mix is a great recipe to learn a few steps I talk about in that video. This recipe doesn't just involve tossing some seasonings together, it involves both toasting the spices first, and then grinding them.
The one shortcut I used here was to use pre-roasted nuts so that I didn't waste time doing that. But of course, you can start with raw nuts and toast them in oil if you'd rather do that.
Dukkah Seasoning Mix is an Egyptian spice and nut blend that pairs deliciously with many dishes.
It can have various spellings such as duqqa, do'a, etc. However, it's all pronounced the same way and is referring to the same thing.
This seasoning has been commonly used to dip bread in as an appetizer of sorts although it can be used for many other purposes as well.
I have used Dukkah Seasoning Mix many times in my homemade hummus and even used it as a type of crust for fish.
I promise that if you follow this recipe, you will be thrilled with this Dukkah Seasoning Mix just as much as I am.
Uses for Dukkah Seasoning Mix
Once you taste the dukkah, you will have a lot of different ideas on how to use it. But let me start you off with some uses.
Dukkah is traditionally served with bread or raw vegetables and olive oil for dipping. But don't limit yourself to that!
Mix into hummus
Add a little oil, make a paste, and coat some strips of flank steak with it. Either air fry or grill those.
Spread some tahini on flatbread, sprinkle with dukkah, toast lightly and enjoy.
Steam vegetables, add butter and dukkah and toss together.
Slather it onto seafood, using a little mayonnaise for binder, and air fry or bake that fish. SO YUMMY!
Lamb burgers with dukkah are heaven on a bun (or lettuce wrap)
Mix panko breadcrumbs with dukkah and bread some chicken tenders that way.
Sprinkle on deviled eggs.
Other Spice Mixes You May Enjoy
If you're looking for more interesting ways to spice up a meal, check out my Shawarma Spice Mix. You can use it with a variety of meats including chicken, beef, lamb, ground beef, or even green beans!
And if you're looking for something with a little bit of heat, check out my Homemade Cajun Spice Mix. This Cajun Spice Mix is great on all your Cajun dishes from gumbo to dirty rice!
In fact, I have a whole section on spice mixes and salad dressings you may want to check out.
As I said before, this recipe is a great choice for learning how to do more with your spices and get the most out of them. You'll be impressed with the differences and you'll never want to go back.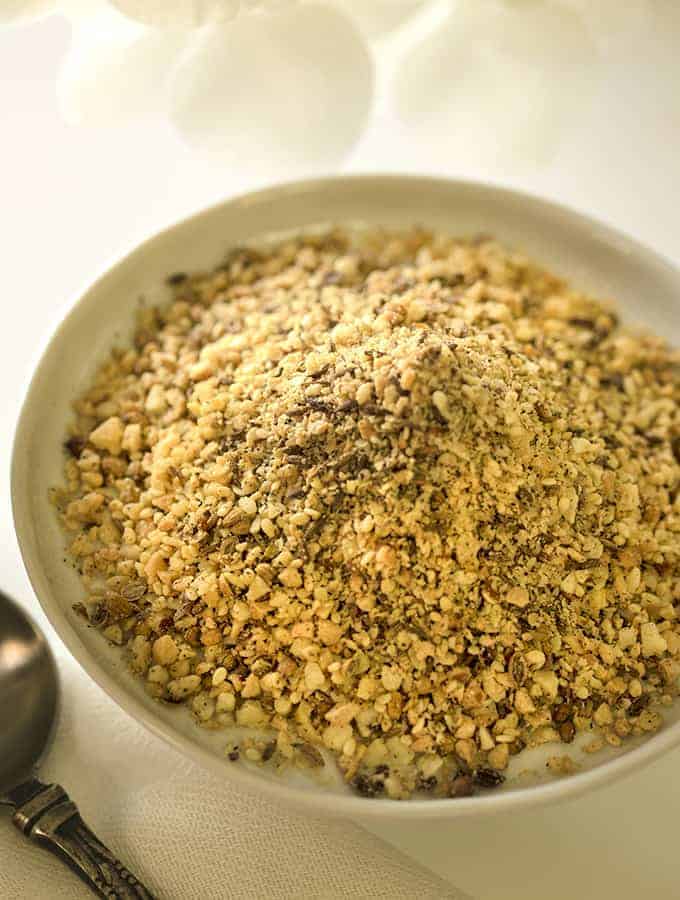 ★ DID YOU MAKE THIS RECIPE? DON'T FORGET TO GIVE IT A STAR RATING BELOW! JUST CLICK ON THE STARS IN THE RECIPE CARD TO RATE.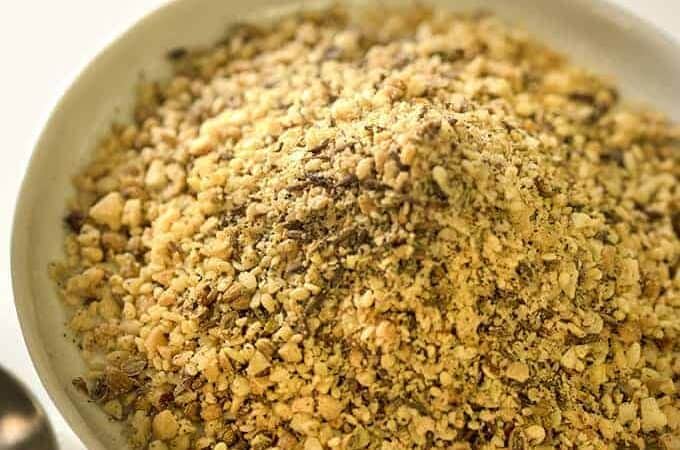 Instructions
Heat a small skillet over a high flame. Once it is hot, turn the flame down to medium and toast coriander, cumin and sesame for 4-5 minutes. Note that as the seeds toast, the sesame seeds will start to leap out and attack you. Stir consistently at this point, and remove from the pan once the seeds have browned, about-5 minutes. Allow them to cool for 5 minutes.

Place roasted mixed nuts and the toasted seeds into the bowl of a food processor or spice grinder and pulse to get a rough chop. Add salt and pepper and stir well. You should have about 1/2 cup of dukkah. Store leftovers in a tightly sealed container in the refrigerator. It's great sprinkled on roasted vegetables.

Notes
I used 6 servings to calculate macros.
Dukkah is traditionally served with bread or raw vegetables and olive oil for dipping. But don't limit yourself to that!
Mix into hummus
Add a little oil, make a paste, and coat some strips of flank steak with it. Either air fry or grill those.
Spread some tahini on flatbread, sprinkle with dukkah, toast lightly and enjoy.
Steam vegetables, add butter and dukkah and toss together.
Slather it onto seafood, using a little mayonnaise for binder, and air fry or bake that fish. SO YUMMY!
Lamb burgers with dukkah are heaven on a bun (or lettuce wrap)
Mix panko breadcrumbs with dukkah and bread some chicken tenders that way.
Sprinkle on deviled eggs
Nutrition
Calories:
59
kcal
|
Carbohydrates:
3
g
|
Protein:
1
g
|
Fat:
5
g
|
Sodium:
196
mg
|
Potassium:
73
mg
|
Fiber:
1
g
|
Vitamin C:
0.2
mg
|
Calcium:
29
mg
|
Iron:
1
mg