If you want an easy, filling, Keto dessert, you need to try this no-cook Coconut Pandan Chia Seed Pudding recipe! It's flavorful and whips up in no time! Keto, Low carb, Gluten-Free, Dairy free chia puddings taste just fantastic.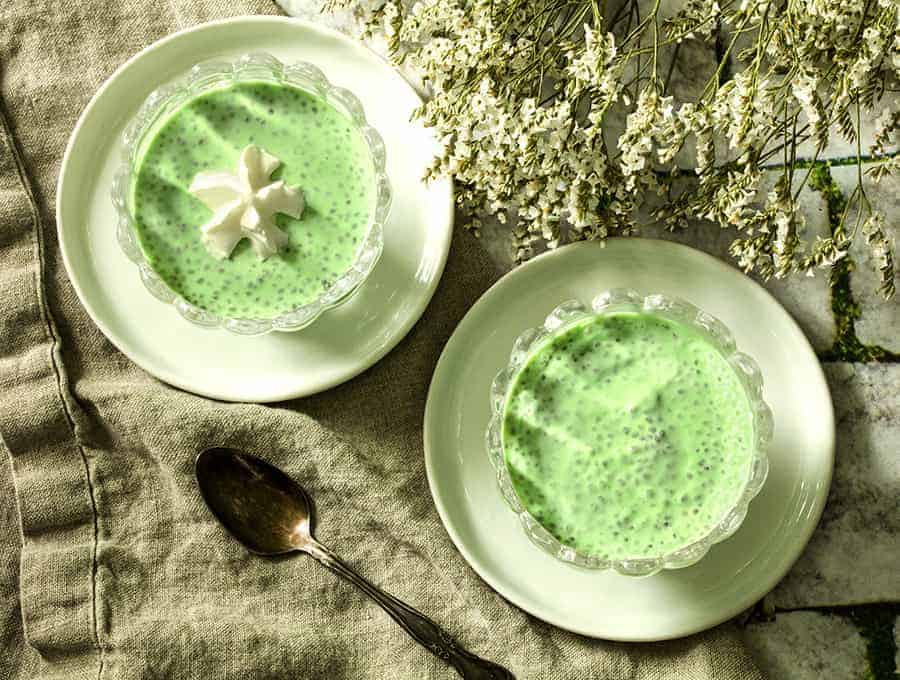 Coconut Pandan Chia Seed Pudding
WHAT ARE THE BENEFITS OF CHIA SEEDS?
Chia seeds have many benefits and have long been known and used as a superfood. Outside of their fantastic texture that turn the texture of this pudding from boring to fantastic, they also are amazing for your health! They're an excellent source of Omega-3 Fatty Acid, which is great if you're doing Keto, or anytime really. They are also a good source of iron, calcium, and fiber. All things which are essential when you're going low-carb. They're also rich in antioxidants which is like icing on the cake.
WHAT IS PAND

AN?
Pandan is a southeast Asian fruit. It's sweet, and typically pairs well with coconut, hence this Coconut Pandan Chia recipe. It's also called Screw Pine or Palm Pine, so if you see that referenced somewhere, they're talking about Pandan. The flavor is hard to describe, but I would call it sweet with a hint of vanilla.
WHAT ARE SOME VARIATIONS OF CHIA SEEDS PUDDINGS?
The variations for chia seed pudding are about limitless. You can start with a basic vanilla recipe and build on that. Some people even blend it so the chia texture isn't as pronounced, but I like them how they are naturally, so no blending for me. Some people add cocoa powder to make a chocolate variation. It's a very versatile ingredient, so it works well in a lot of puddings. I like to pair it with fruit, like the coconut and pandan here.
I also have a great Vegan Chocolate Pudding recipe that's no-cook and it's delicious! Go HERE to get the recipe for that one. If you don't mind cooking a bit, you can use your Instant Pot to make this delicious Kheer Rice Pudding recipe. It's creamy and full of awesome flavor.
Another great Asian dessert recipe is my Nyonya Ondeh Ondeh. It's the perfect mix of pandan and coconut!
You will need to soak your chia seeds to allow them to gel for the pudding. To make your chia seeds gel faster, you can use hot water. I think we all know that I like to find shortcuts and quicker ways of cooking, and this is one of those things I do to cut down on time without losing out on flavor or texture.
Want More Low Carb Recipes?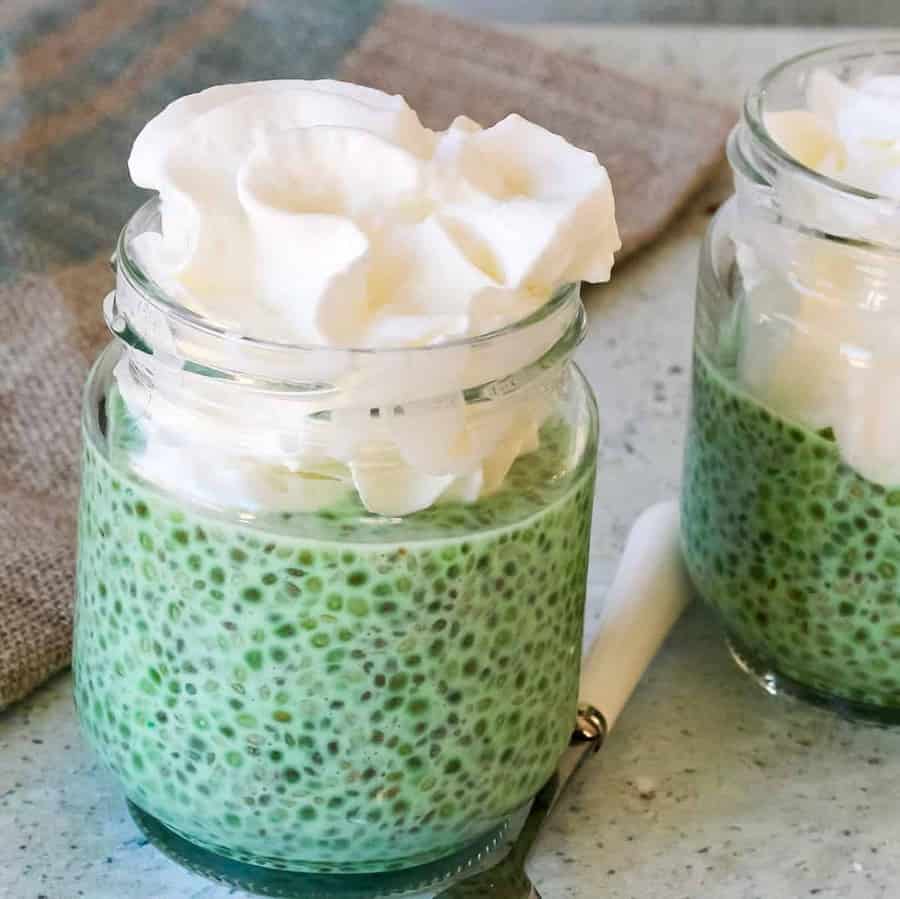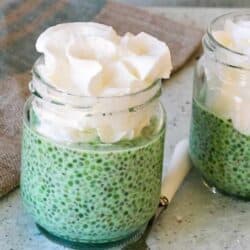 Coconut Pandan Chia Seed Pudding
Exotic, comforting, fragrant, gluten-free, dairy-free, low carb, delicious--and done in minutes. Coconut milk and Pandan combine with chia to make a filling pudding with chia seeds.
Ingredients
1/2

cup

Black Chia Seeds

1.5

cups

hot water

14

ounce

Full-Fat Coconut Milk

canned

1/2

teaspoon

Pandan Extract

1/3

cup

Truvia

or Swerve or sugar
Instructions
Mix the hot water in with the chia seeds. Using hot water causes the chia seeds to absorb the water and swell much faster than tap water--which means your pudding will be done sooner and you can eat sooner!

I mean, that's really the only thing you need to know. Other than that, mix everything together, and let it chill in the refrigerator while you chill with some snacks or dinner.

The chia will make it gel and set into a pudding, and coconut milk will make it creamy, and the pandan will make it delicious.

If you don't have pandan (which you really should get and taste before you die), you can substitute vanilla extract, or almond extract for a different but delightful flavor
Notes
Use vanilla extract or almond extract if you don't have pandan (although you REALLY need to try it!)
Don't forget to check out my other Keto cookbooks.
Keto Instant Pot, Keto Fat Bombs, Sweets, & Treats, and Easy keto in 30 minutes.