Bite into the perfect mix of pandan and coconut. Nyonya Ondeh Ondeh is a delicious little bite that the whole family will enjoy.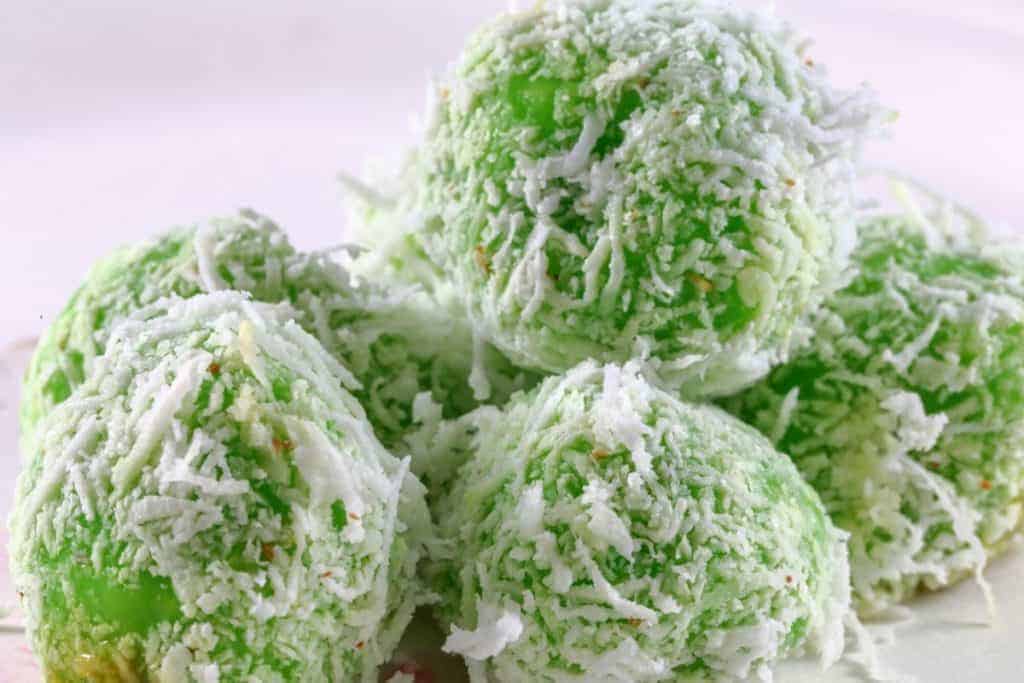 What Is Ondeh Ondeh Cake?
This is a Nyonya Ondeh Ondeh dessert found in Singapore, Malaysia, and Indonesia. Some say it originates from Indonesia, and some say Malaysia. The recipes vary from region to region, but the Singapore version is my favorite.
It is pronounced "on-day on-day" and it's basically Pandan extract mixed into glutinous rice flour (with a little tapioca flour), stuffed with gula Melaka (coconut palm sugar); boiled, and then coated with shredded coconut.
In Singapore, they have the luxury of fresh shredded coconut. I'm using organic shredded coconut and pandan from Amazon.
You can't go wrong with Pandan and coconut. Biting into a Nyonya Ondeh Ondeh is so incredibly satisfying. The melted coconut sugar in the flour ball explodes in your mouth and mixes so well with the Pandan flavored balls.
Tips And Tricks For Making This Ondeh Ondeh Recipe
This recipe is fairly easy. So there aren't a ton of shortcuts that can be added.
The toughest part is rolling into balls... Either I'm bad at it or I'm too rough. Just be gentle rolling the balls and you'll have perfect Ondeh Ondeh that's as simple to make as it is delicious.
How To Serve Ondeh Ondeh
These delicious little pandan and coconut bites are so gorgeous and delicious you'll have a hard time not popping them in your mouth as soon as they're ready to eat.
I usually keep Ondeh Ondeh in an airtight container to grab when I have a sweet craving but feel free to serve them to a crowd in mini cupcake liners for a single serving treat.
They'll also make a great finishing touch to your next charcuterie board.
How Long Can You Keep Ondeh Ondeh?
Left unrefrigerated, it only lasts a day. Shredded coconut tends to spoil quickly when left at room temperature. If you store these in an airtight container and keep them in the fridge, they can last 3-5 days without losing their delicious flavor or texture.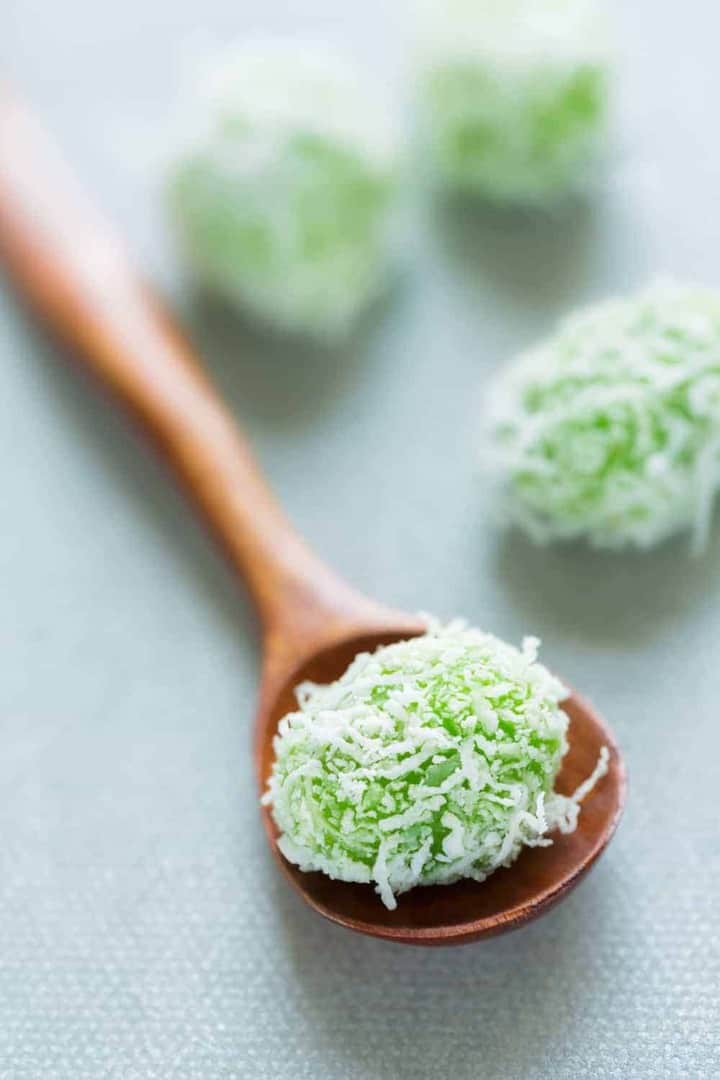 If you love this Ondeh Ondeh recipe as much as we do, make sure you share it with your friends on Facebook and Pinterest so they can try it too.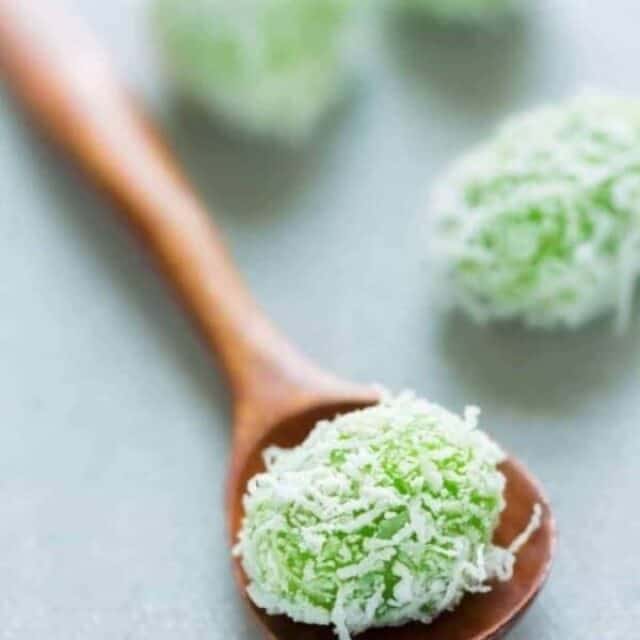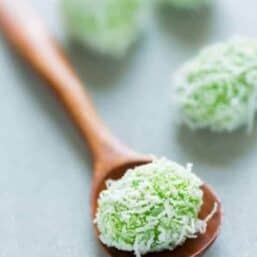 Nyonya Ondeh Ondeh
Bite into the perfect mix of pandan and coconut, Nyonya Ondeh Ondeh, and serve a dessert the whole family will enjoy!
Ingredients
1/2

cup

Sweet Rice Flour

2

tablespoons

Tapioca Flour

1

teaspoon

Pandan Extract

1

oz

Sugar Or Other Sweetener Equivalent

1/2

cup

Coconut Palm Sugar

shaved

1/5

cup

Water

1

tsp

Kosher Salt
Instructions
Sift the flours and mix it with salt, sugar and Pandan Extract till you get a nice ball of dough. Add another 1-2 tbsp of water as needed.

Cut the dough into 12 pieces. Put them on a lightly floured surface (flour with the sweet rice flour).

Flatten with your hands, put some shaved coconut palm sugar in it (about 1/2 tsp) and pinch/roll it into a ball. The coconut palm sugar should be encased in the Pandan flour ball.

In a pot of boiling water, add in the balls one by one, and stir lightly once or twice to keep them from sticking. As the balls cook, they start to float. Cook for an additional 2 minutes once they float, and then using a slotted spoon, scoop the balls out.

Coat the balls with shredded coconut and serve. Best if eaten within 24 hours. Makes 12 balls, 2 balls per serving.

Do not refrigerate as they tend to dry out and get hard.
Notes
If you have access to screwpine leaves, you can blend the leaves together with water, and squeeze out the water, and use that instead of pandan extract. 
You can try brown sugar instead of coconut palm sugar if you'd like. Although it will taste a little different, it will still be yummy!