Are you in absolute awe of the intricate charcuterie boards you see all over Pinterest and Instagram? Do you want the perfect low effort snack for your next Netflix binge? With a few tips and tricks, you can make something that is just as drool-worthy.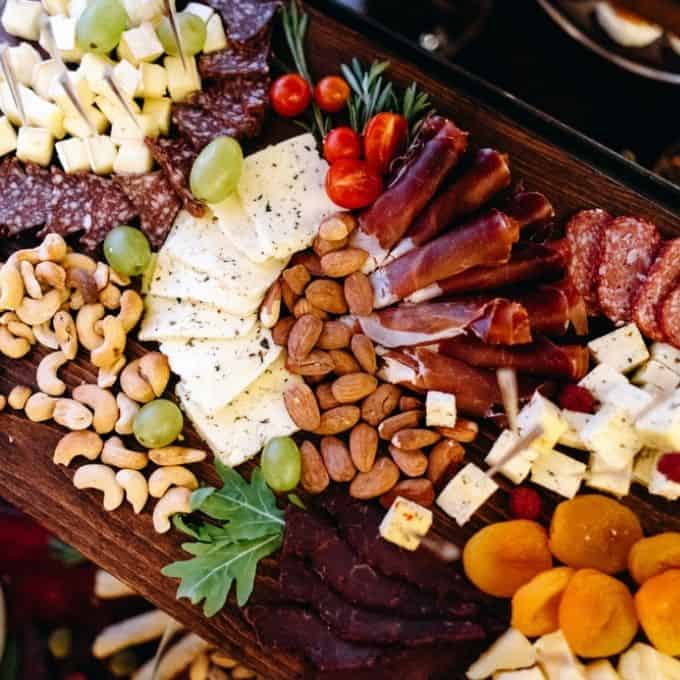 Why Charcuterie Boards Are Going To Be Your New Go-To Meal
Fast.
Easy.
Versatile.
Delicious.
What Is Charcuterie?
Charcuterie (pronounced shahr-ku-tuh-ree) is the art of organizing various cuts of cut or cured meats on a tray or board in a beautiful, edible display.
How To Make A Charcuterie Board
The great thing about charcuterie boards is that there is no "right way" to make them. They're a fantastic way to express your creativity and incorporate all of your favorite snacky foods all in one place.
I promise even the most beginner charcutier will make something appetizing enough to disappear in no time.
Tips And Tricks For Making The Best Charcuterie Tray
Get The Perfect Sized Board or Tray
Use Easy To Find Ingredients
Presliced Or Preportioned Ingredients
Use A Picture or Template For Reference
Buy Brightly Colored Fruits And Vegetables
Use Lots Of Little Bowls
Place Everything In The Right Order/Add Height Or Dimension
Combine Flavors
1. Get The Perfect Sized Board Or Tray For Your Charcuterie Board
Part of the awe-factor in a great charcuterie board is the tray that it is served on. Luckily, there is no "right" type of tray or board to serve your spread on.
What Can I Use For A Charcuterie Board?
As I mentioned, there is no right type of board, but there are a few that are more popular options than others. Save yourself some time searching for the perfect board and grab one of my favorites.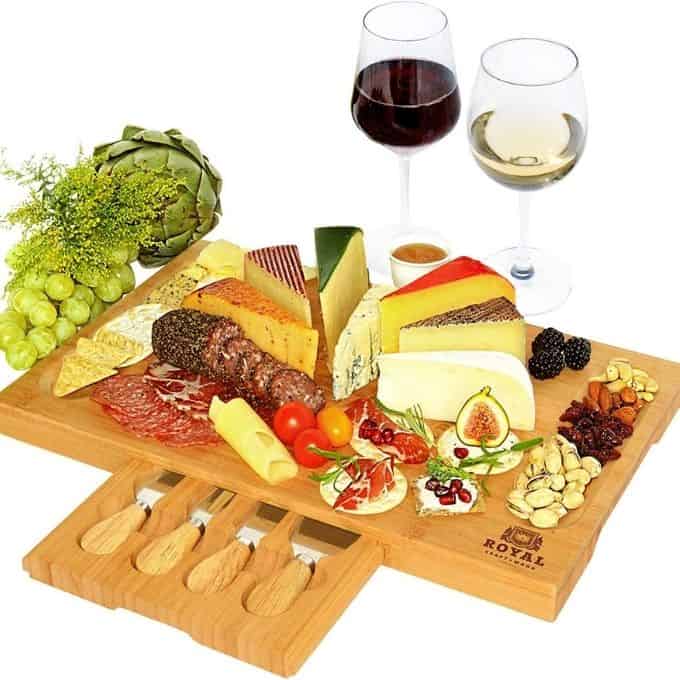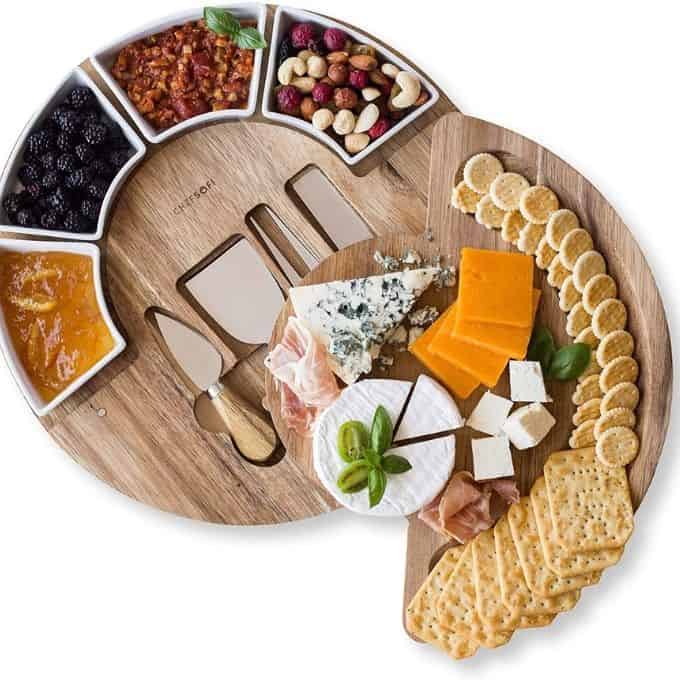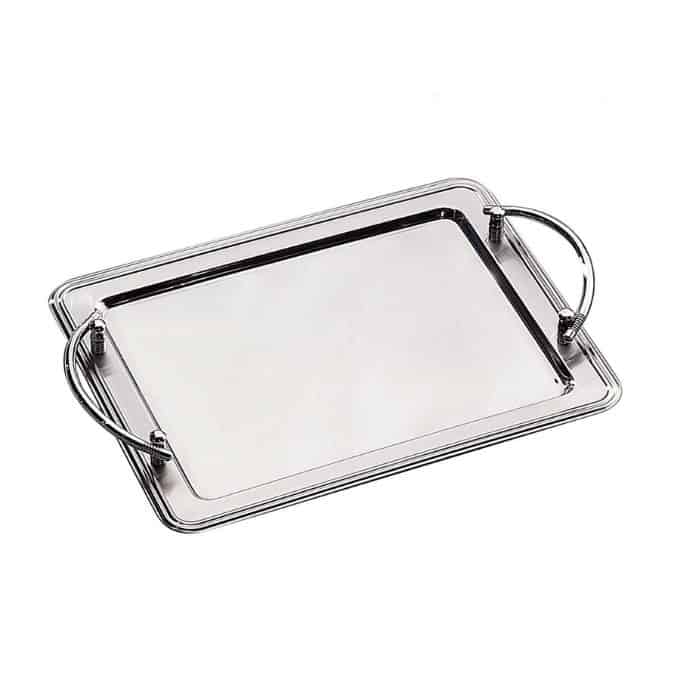 Don't feel pressured to purchase a special board just to serve charcuterie on. If you have a wooden cutting board or another large serving tray, those make for equally beautiful charcuterie arrangements.
*PRO TIP* Put your charcuterie board on a lazy Susan to make it easier to share.
2. Use Easy To Find Ingredients For The Best Charcuterie Board
It's easy to feel influenced or pressured by the ingredients on some of the other charcuterie boards you see on Pinterest or at a friend's small gathering. DON'T BE.
Some of the best charcuterie boards are made of simple to find ingredients because they're the most popular. If it's hard to find some of the unique ingredients like cranberry goat cheese or the perfect smoked prosciutto in your grocery store, stick with the usual cheddar and salami. I promise your guests or family will enjoy it just as much.
3. Presliced Or Preportioned Ingredients
If you're short on time or have hand mobility issues you may find it difficult to prepare all of the different ingredients for your tray.
If that's the case, there's no shame in buying a premade meat and cheese tray in the deli and rearranging on your charcuterie board with some prepackaged nuts, fruits, or crackers.
4. Use A Picture Or Template For Reference To Know What To Put On A Charcuterie Board
Some say that imitation is the best form of flattery. Whether you believe that or not, it's a great motto to live by when it comes to charcuterie trays.
If you're not an incredibly creative person (like me) or just can't seem to make your board look like the vision in your head, use a picture of another board someone has made for inspiration.
My friend Kim has made some amazing boards that I like to use for reference. She even gives step by step tutorials on her YouTube channel. Here are some of her amazing works of art: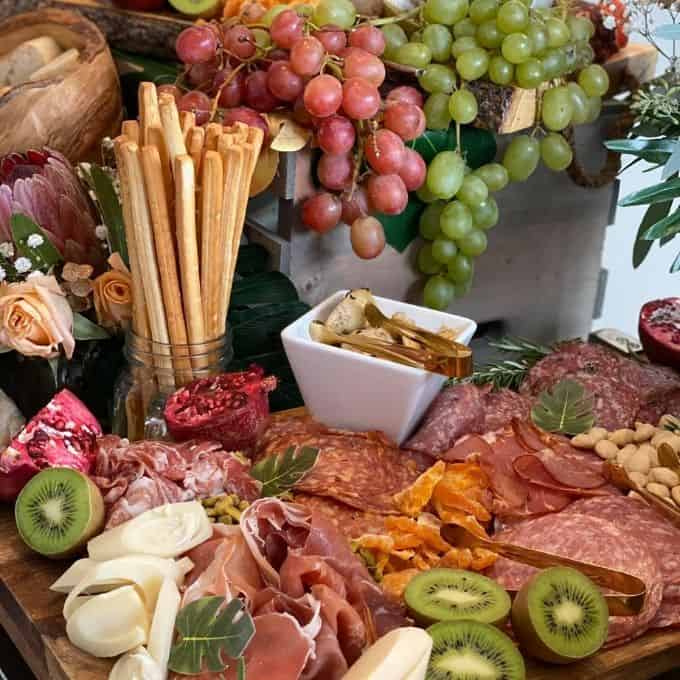 If you're worried this type of display is a little above your skill level, you can even use one of these divider trays to help you portion things appropriately.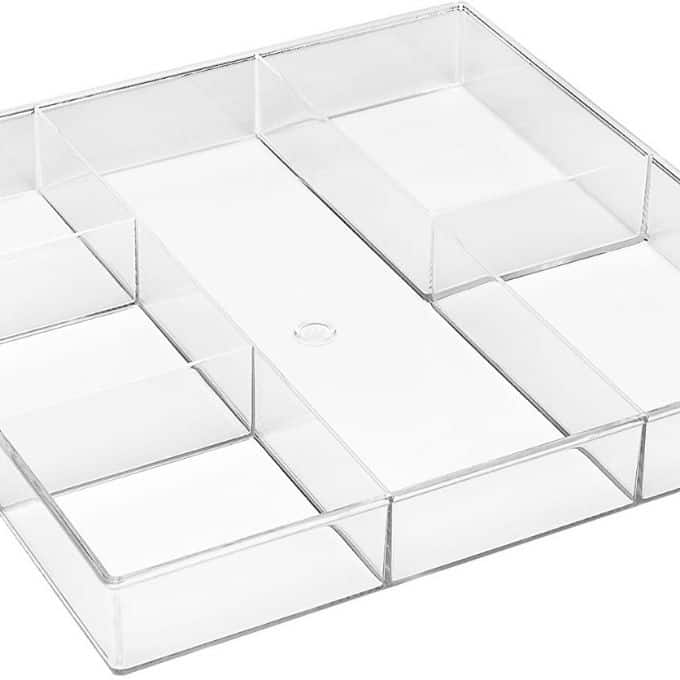 So you think you have the design all figured out but you're still a little skeptical about your ability to pick the perfect ingredients? Here is a simple template for a beginner's charcuterie board.
3-4 Types Of Meat
2-3 Kinds Of Cheese (one soft and two hard)
3-4 Savory Items (Nuts, Pickles, Olives, etc.)
2 Types Of Crunchy Snacks (Raw Veggies or Crackers)
2-3 Dips (A Variety Of Sweet And Savory)
5. Buy Bright Colored Fruits And Vegetables
To keep things exciting, make sure you're using a variety of bright-colored fruits and vegetables.
We eat with our eyes first, so incorporate a variety of reds, purples, yellows, and greens to contrast the browns, whites, and pinks of the meat and cheese.
6. Use Lots Of Little Bowls
When you're beginning to place all of the ingredients on the bowl, consider adding a lot of little bowls for odd-shaped ingredients or sauces.
These bowls can be difficult to work into your design once the rest of your ingredients are added. They also add extra texture and height to your tray.
7. Place Everything In The Right Order/Add Height Or Dimension
While there isn't correct placement for your ingredients when building the perfect charcuterie board, the order that you put your ingredients on the platter can make all of the difference in how easy it is to assemble.
Start with bowls
Add crackers so they don't fall over
Add the meat and cheese
Fill the gaps with random fruit, veggies, and nuts
If you're short on space, this collapsable charcuterie board folds into itself for easy storage.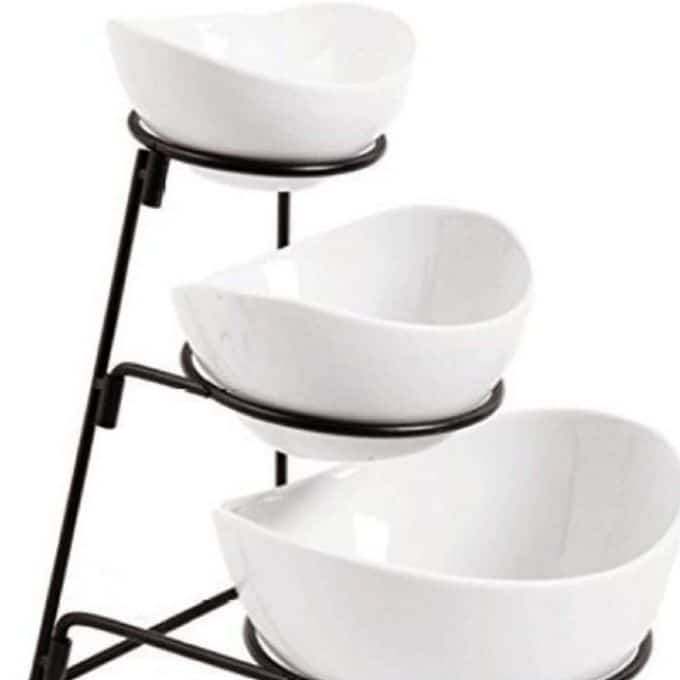 Add height and dimension to your charcuterie platter by incorporating these tiered serving bowls.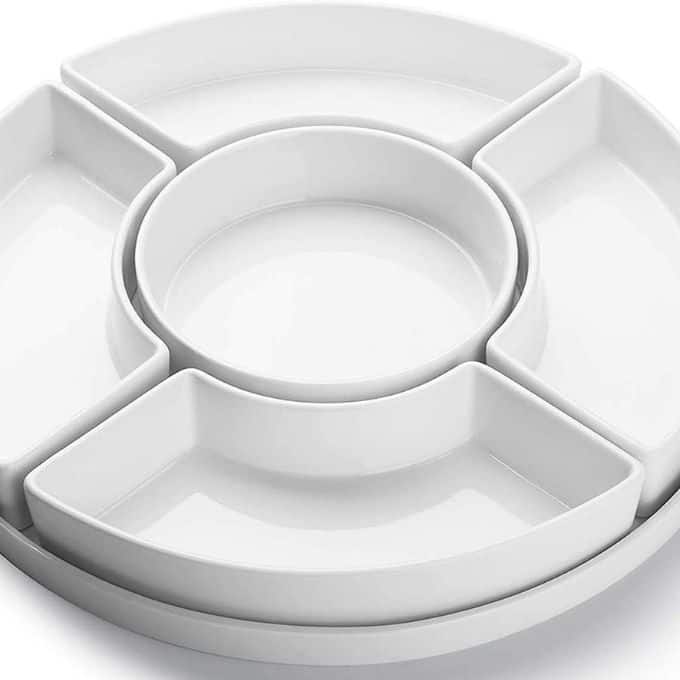 These are great for beginners and you can even put the separate compartments on a wooden tray to add color to texture variety to your presentation.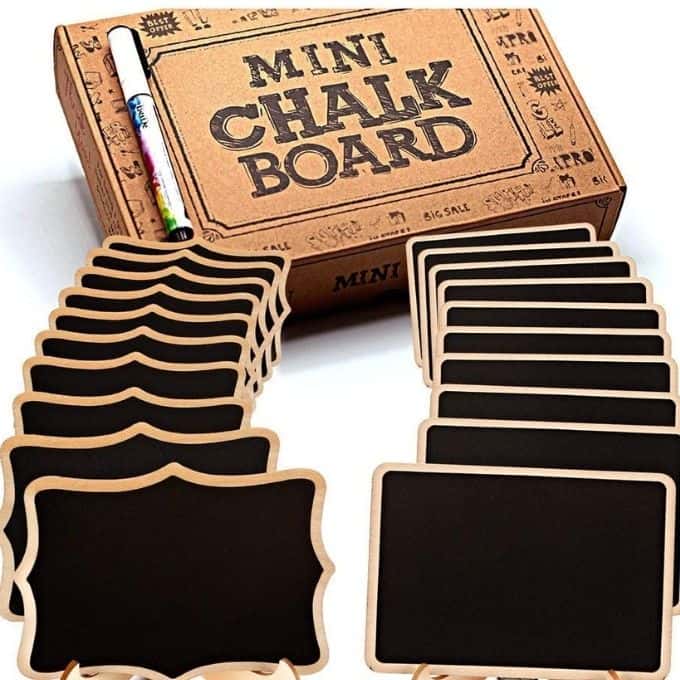 If you are offering a variety of ingredients or things that may be unique to an event, label them with these cute little chalk board signs.
8. Combine Flavors
A great charcuterie board has a variety of textures and flavors to keep you coming back for more.
When shopping for your ingredients ensure you're grabbing an assortment of flavors such as sweet, savory, spicy, and salty.
Also, shop for a variety of textures. Offer a variety of soft, hard, chewy, and crunchy.
Charcuterie Board Ideas
Are you at a loss for inspiration when making a new and exciting charcuterie board? Here are some ideas to help nudge yourself along to make the perfect spread for your next family gathering or movie night.
Meat and Cheese Charcuterie Trays
Dips and Spread Assortments
Fruit and Cheese Spreads
Breakfast Charcuterie Boards
Low Carb Charcuterie Platters
Valentine's Day Charcuterie Boards
1. Meat And Cheese Charcuterie Trays
Meat and cheese charcuterie trays are the most popular option. They usually consist of:
Meat
Cheese
Crackers or Bread
Nuts
These can be customized with your favorite meats and cheese or whatever you happen to have in your kitchen already.
2. Dips And Spread Assortments
If you have trouble deciding on one kind of dip or spread, a dip and spread trays are perfect for you. They are great for watching sporting events and movies. They usually include:
If you want to kick it up a notch, try it with my peach chutney, cranberry chutney, or Sugar-Free Jam.
3. Fruit And Cheese Spreads
Fruit and cheese spreads are great for evenings filled with wine and friendship or even a Sunday brunch with the family. Here is what you might include in one of these trays:
Cheddar Cheese
Swiss Cheese
Munster Cheese
Brie
Grapes
Strawberries
Raspberries
Blueberries
Feel free to customize these to fit your tastes and budget. The more variety you have, the more exciting your charcuterie tray will be.
4. Breakfast Charcuterie Boards
Does your family love to graze on the weekends? Do holiday mornings have everyone in the kitchen begging for food when you're trying to prepare the big meal?
Breakfast charcuterie boards are a lifesaver for just these occasions. Here are some things to make the perfect charcuterie platter:
Feel free to have small dipping cups of syrup or whipped topping to make it even more delicious.
5. Low Carb Charcuterie Platters
Charcuterie trays are a dream come true for anyone eating low carb. It's basically a tray of low carb foods spread out in front of you to munch on to your heart (or macros) content. Include these things on your next tray to keep things low carb:
Pepperoni
Salami
Cheddar Cheese
American Cheese
Provolone Cheese
Keto Bread
Low Carb Crackers
Raspberries
Blackberries
Blueberries
Serve delicious low carb dips like Sugar Free Jam or Low Carb Marinara sauce to keep things exciting.
6. Valentine's Day Charcuterie Boards
What's better for a holiday celebrating love than snuggling up with someone special and a tray full of delicious, totally indulgent food? Make your next date night or Valentine's dinner special with some of these ingredients:
Chocolates
Gummies
Candies
Strawberries
Raspberries
Chocolate Sauce
Whipped Topping
How Many People Does A Charcuterie Board Feed?
Charcuterie boards can feed one or two people all the way up to a whole family gathering. It all depends on how big your board is and how high you pile everything.
If you're wondering about an average serving size so you don't over (or under) buy for your charcuterie platter, here is a general rule of thumb:
For an appetizer or snack portion, plan on around 3oz of meat and cheese with a handful of fruits or veggies per person.
For the main course, double that. Six ounces of meat and cheese with a handful of fruits and veggies or crackers for dipping is ideal.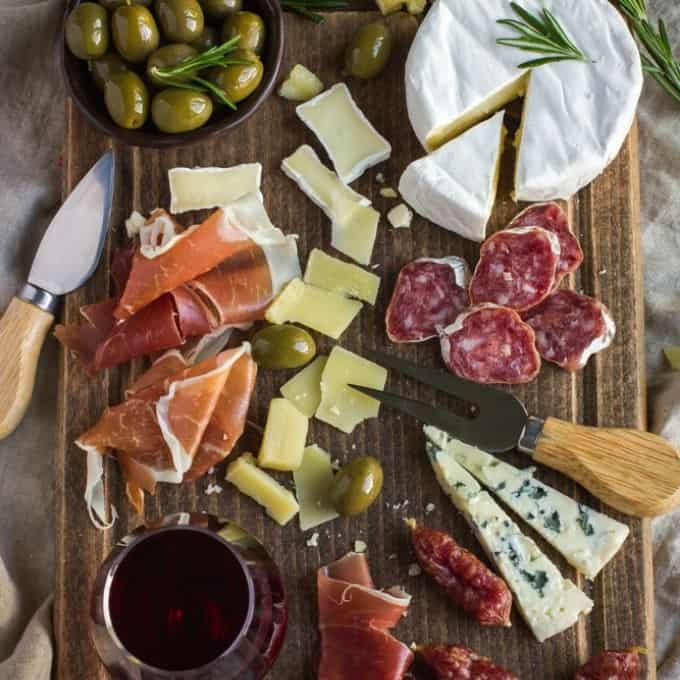 More Delicious Appetizer Ideas
If you found this list of tips and tricks to help you make the best charcuterie boards helpful, make sure you share it with your friends on Facebook and Pinterest so they can make the perfect one too.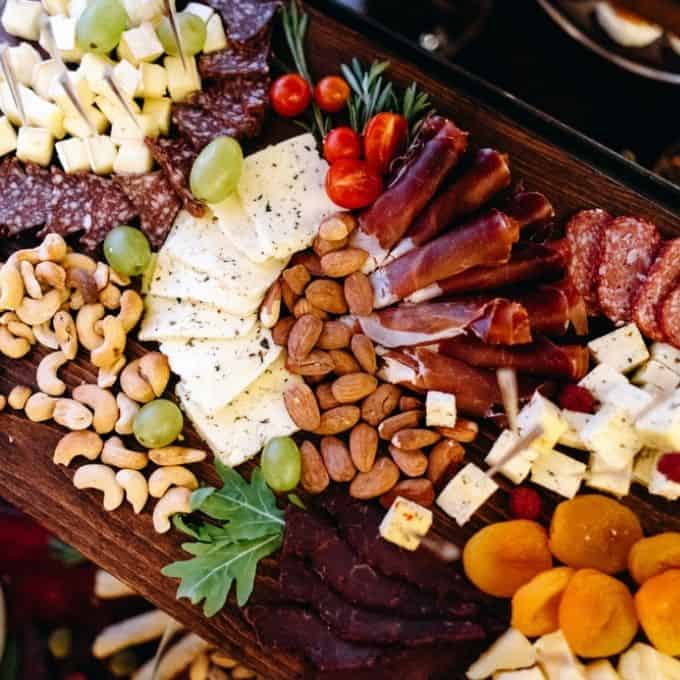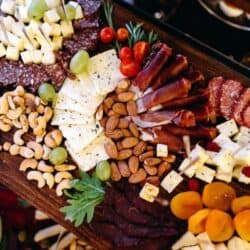 5 Tips To Help You Make The Best Charcuterie Boards
How to make a simple and delicious charcuterie board for the perfect family gathering or movie night.
Equipment
CUTTING BOARD

4 OZ RAMEKINS
Ingredients
Dips And Spreads
8

oz

Dips or spreads such as jelly, tzatziki, marinara, or ranch
Cheese And Meat
8

oz

Cured or chilled cooked meats such as salami, prosciutto, pepperoni, or ham

8

oz

Soft cheese such as brie, mozarella, feta, or gorgonzola.

8

oz

Hard cheese such as cheddar, provolone, or gouda
Fruit And Vegetables
8

oz

Strawberries

4

oz

Blueberries

4

oz

Raspberries

4

oz

Sweet peppers

4

oz

Cherry tomatoes
Breads And Crackers
8

oz

Crackers

1/4

loaf

Artisan bread
Filler Ingredients
8

oz

Mixed Nuts

4

oz

Olives

4

oz

banana peppers

8

chocolate truffles
Instructions
On a large platter or cutting board, start by placing several small bowls or ramekins for dipping sauces or wet ingredients.

Add crackers or bread in small portions in clusters around your board.

Add clusters of meat next to your crackers to fill in open spots.

Continue to fill in around your meat with slices of various cheeses.

Finish filling in empty gaps on your board with a variety of fruits, vegetables, or sweet treats.