One step Baked Chicken Poppers combine chicken, 2 kinds of cheese, peppers and bacon to get a hearty, keto-friendly low carb appetizer.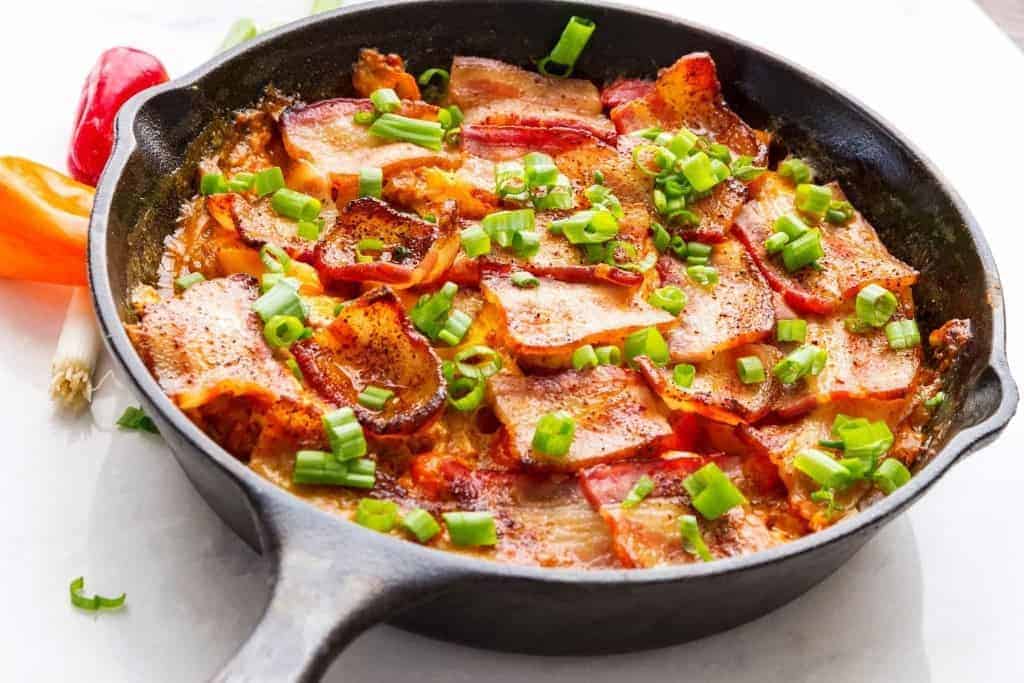 I love making cream-cheese stuffed poppers, but i don't love the time it take to stuff each one, and sometimes I don't love how the peppers get soggy and fall down on my shirt.
Not that THAT has ever happened to me–right before a meeting–but I'm just saying.
So I've been thinking about how todo this in one step and I figured I'd try a Baked Chicken Poppers recipe.
Traditionally the way this is made is that you'd slice jalapeños in half, you'd stuff each half with cream cheese and a piece of chicken, and then you'd wrap all of it in a slice of bacon, and then you'd either grill, broil, air-fry or bake these.
Instead, we're going to dump everything in and bake it, and we're going to add more cheese, because why not?
I think this dish is best served as a side or an appetizer rather than a main course because it's actually quite rich with all the cheese. Of course that makes it perfect for keto, and with the fat and protein macros, it's also very filling, but I don't know that I could chow down on a 4 oz portion of this by myself for a meal.
I made this in a small, very cute cast iron skillet so if you use something else, it's possible you may have to cook a little longer. Just check to ensure the chicken is cooked, and you should be good to go.
THE STEPS FOR MAKING THESE KETO BAKED CHICKEN POPPERS ARE:
Mix together everything except bacon and scallions
Pour into skillet, place bacon on top
Bake at 350F for 30 minutes
Scatter with scallions and serve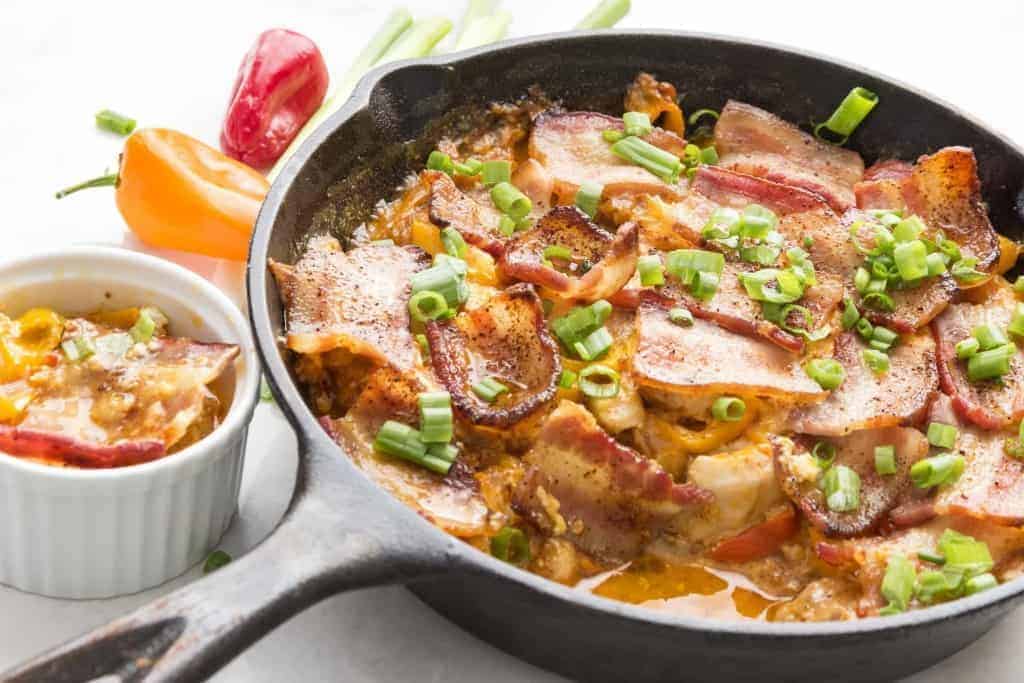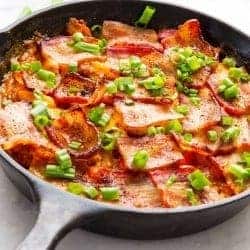 Keto Baked Chicken Poppers
One step Baked Chicken Poppers combine chicken, 2 kinds of cheese, peppers and bacon to get a hearty, keto-friendly low carb appetizer
Course:
Appetizer, Main Course
Dietary Consideration:
High Fat, High Protein, Keto, Low Carb
Ease of Cooking:
Pour and Cook
Recipe Type:
Cheese, Chicken
Ingredients
1

pound

skinless chicken thighs,

diced

1.5

cups

sweet peppers

diced

4

jalapeños,

chopped (adjust to desired spice level)

2

ounces

cream cheese

2

teaspoons

chile powder

(NOT cayenne)

1/2

teaspoon

garlic salt

1/2

teaspoon

salt

4

slices

bacon

1/4

cup

chopped scallions
Instructions
Turn on your oven to 350F.




Mix everything except the bacon and scallions together until you get a nice, homogenous mixture.




Cut each slice of bacon into 3-4 pieces. Lay the pieces of bacon on top of the casserole in a circle.




Bake for 30 minutes or until the cheese is melted and the chicken is cooked through.




Scatter with fresh scallions and serve.

The casserole is very rich so I'd plan to serve it as a side dish or appetizer rather than a main course.
Nutrition Facts
Keto Baked Chicken Poppers
Amount Per Serving
Calories 177
Calories from Fat 126
% Daily Value*
Total Fat 14g 22%
Cholesterol 37mg 12%
Sodium 658mg 27%
Potassium 184mg 5%
Total Carbohydrates 4g 1%
Protein 7g 14%
* Percent Daily Values are based on a 2000 calorie diet.
Love the recipe? Check out my

Pressure Cooker Mexican Recipes e-Cookbook.

Love this recipe? Check out Traditional Indian Dishes made easy and fast with my new 

cookbook

!

This Instant Pot cookbook contains:

50 Quick and Easy Recipes requiring minimal ingredients and 60 minutes or less of prep and cook time
Prep Advice for stocking your kitchen with the best tools and spices
Instant Pot Guide making the most of your Instant Pot for delicious Indian dishes
Handy Tips substituting ingredients for variations on your favorite recipes

Order

your copy

today!
Ready to upgrade your

Instant Pot

with must have accessories? Check them out

here

!
You'll also love these

top 20 gadgets for foodies

that will complement any kitchen!