If you've been scouring the internet on how to cook Perfect Pressure Cooker Rice, you're in luck. Today, I'm going to cover how to best cook rice in the pressure cooker or Instant Pot.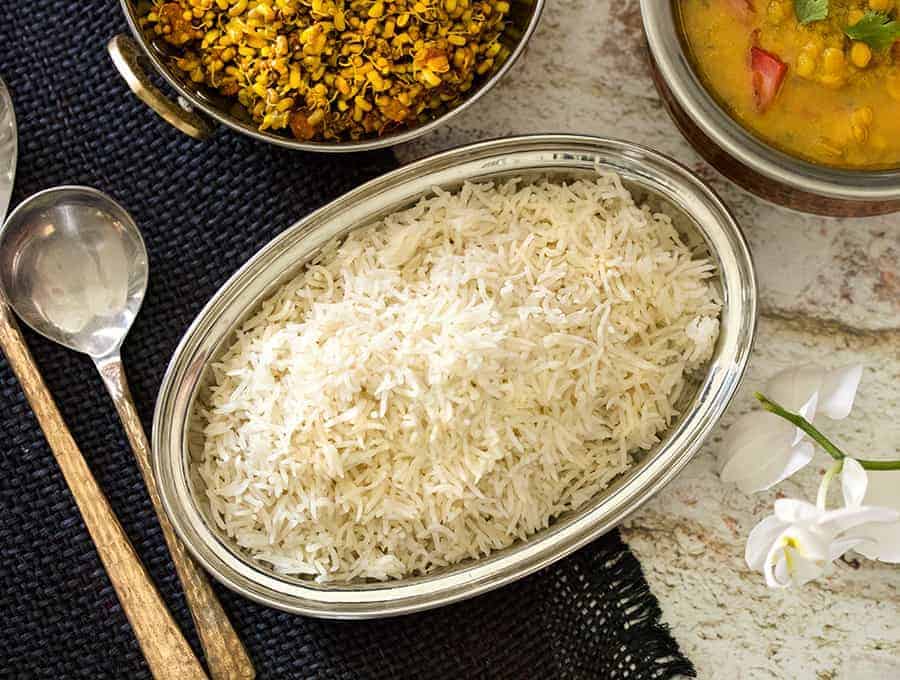 I will be discussing the various types of rice, how they're used, why pressure cooking rice is a great idea, and most importantly, how to make perfect Pressure Cooker Rice.
Don't waste time and money ruining pot after pot of rice, or just giving up in your pressure cooker for rice altogether. Making rice in your Instant Pot is simple and easy, and I'll teach you how to do it perfectly!
I strongly urge you to watch the video in this post for the best information. I've tried to transcribe it here, but the video covers most of this in much better detail.
How to Make Perfect Pressure Cooker Rice
Rice is probably the most commonly cooked food all over the world, and yet many of us still struggle to cook the perfect pot of rice. I will share what I have learned through research and lots of trial and error to help you cook the perfect rice in a pressure cooker.
In order to do that it's first important to understand the different types of rice, their distinguishing characteristics, and best uses.
How to Think About Rice:
There are three main attributes about rice that distinguishes it:
Grain Length/Starch Quantity: Rice is distinguished by the length of the grain and the dominant type of starch in it. Some rice like Basmati is long and skinny and contains the starch Amylose which doesn't bind or stick together when you cook it. Other rice like Sushi, Jasmine, or brown rice is short and fat and contains Amylopectin which gives the rice its sticky quality.
Color: Black, brown white and red are all colors of rice and carry very different textures and flavors.
Aroma: Basmati rice has kind of a popcorn aroma, Jasmine has a nice floral aroma and brown rice has a great nutty scent. Aroma identifies the rice taste in such a wonderful way.
If you look a little deeper, you will understand more about the variances in aroma and what that means.
Further, rice usually has two types of starches.
Amylopectin makes the rice sticky. Sushi rice and sweet rice are high in amylopectin.
Amylose which is a longer type of start which doesn't bind or stick together
It is the balance of these two elements that defines whether the rice grains stick together, or whether each grain cooks up separately.
This means that the two types of rice aren't interchangeable and can't be swapped out for each other.
Different Types of Rice
Here are a few guidelines to help you pick the correct type of rice for your dish. These are just guidelines, not rules, so at the end of the day, use whatever you like and enjoy it!
Basmati is rice that doesn't get fatter as it cooks, it gets thinner and longer.
Jasmine rice is sticky rice which means it will clump together, making it great to eat with chopsticks.
Brown rice is believed to be healthier but, it's really not. Brown rice is all-purpose rice and usually tastes nuttier and chewier.
Black rice has a coating that contains the same chemical as eggplant. This chemical is how both black rice and the eggplant gain their color.
Sushi rice is very sticky which is why it's great for sushi rolls.
Glutinous rice is not high in gluten as the name might suggest.
Choosing the Right Type of Rice
As you can see from the list above you should choose the type of rice depending on the dish you're making.
When you're making an Indian or Middle Eastern dish like Biryani or Pilau you'll want a Basmati or long grain to ensure that the grains will separate and not clump together.
On the other hand, if you're making Asian dishes that you would use chopsticks for and need the rice to be a little sticky, you would choose a Jasmine. I also love Jasmine rice with Thai curries when I cook with coconut milk as the Jasmine rice and coconut flavors pair so well together.
Brown rice is nutty and chewy and a good all-purpose rice. Traditionally, it's been considered healthier than white rice, but that's debatable since it has only a little more fiber and can carry more contaminants if it's not organic. But it cooks really well in a pressure cooker so it's fine to use as an all-purpose rice if you prefer the taste or texture to white rice.
Black rice, once known as "forbidden rice" because it was so extravagant only royalty ate it, has a bran hull that gives it its dark purple color. This rice is used for puddings and is quite sticky once you break the hull on the rice. Black rice is stickier rice. Stickier kinds of rice have the ability to raise your blood sugar more than a longer grain, less sticky rice like Basmati would.
Sushi rice is very sticky and starchy due to its high level of Amylopectin. If you're watching your blood sugar please note that the starchier the rice the more it will raise it so this one might be one to avoid.
Glutinous rice such as Arborio ironically has no gluten in it. This rice is the most sticky and is used for dishes such as puddings or risotto.
Out of all these rices, each one has a different type of starch and different levels of starch which is the most important aspect to note.
Long, Medium, & Short Grain Rice
Long grain rice grows to about four times its length when cooked. Medium grain rice grows about two times the size, and short grain rice stays short and plump up when cooking.
Can You Use a Pressure Cooker for Rice?
Now that we've discussed how to pick the best rice for your dish, let's discuss why you should cook it in a pressure cooker.
Rice tastes so much different and better in the pressure cooker than in stovetop methods but you don't want to just take your stovetop method and put it into a pressure cooker. The pressure cooker changes the chemistry of food and how the food reacts.
The pressure cooker prepares rice in a much different way than it would on the stove.
Creamier Mouth-Feel. The heat and moisture in a pressure cooker gelatinizes the starch in rice for a much creamier mouthfeel. For Basmati, which shouldn't get creamy, it cooks the rice the whole way through for nice separation of the rice.
Better Aroma. Cooking rice in a pressure cooker requires less water because there is no water being evaporated like there is in a stovetop method. One of the key benefits of cooking in a pressure cooker is that none of the aroma of the rice is lost and it turns out so much more flavorful.
Hands-free. You don't have to babysit rice in the pressure cooker nor do you have to pre-soak the rice, resulting in less time and effort for you.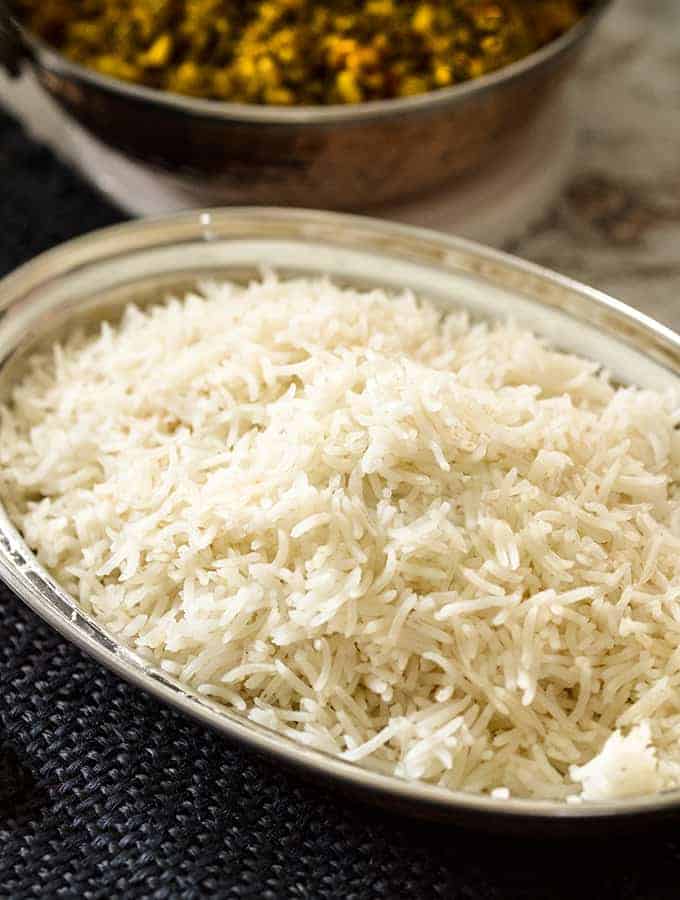 How Much Water Do You Put in a Pressure Cooker for White Rice?
It may surprise you to know that for all rice other than Black and Arborio the ratio of water to rice is 1:1. For Arborio and black rice, the ratio will be 1 cup rice and 1.5 cups water.
With brown, red, and mixed rice, the water and rice ratios remain the same, but the natural pressure release time needs to be 22 minutes, not just 10.
I know that we were all taught differently, but remember that pressure cooking is much different than stovetop cooking.
How Long Does It Take for Rice to Cook in a Pressure Cooker?
Why is it so different and why is it so much quicker?
Because you don't lose water to evaporation in pressure cooking, you don't need more water for the more fibrous rice like brown.
However, different types of rice do require different cooking times because the water needs more time to penetrate the outer husk for brown, black and red rice.
Be sure to be patient and let the steam release naturally when your rice is done because that's actually time that the rice is cooking. If you use a quick release, the rice won't be cooked all the way through.
Below you'll find a printable chart that outlines cooking and NPR (natural pressure release) times for each type of rice.
It's important to note that for all rice I recommend rinsing it before and draining off all the water prior to putting it in the pressure cooker.
Troubleshooting Rice in a Pressure Cooker
Not everyone likes their rice exactly the same way and mistakes can always occur in cooking, so below is a list of how to handle if the rice doesn't turn out exactly the way you want it to:
If the rice is too mushy, reduce the water then, if need be, reduce the time.
If it's too chewy, try increasing the cooking time first and if that doesn't work, try increasing the liquid.
If the center of the rice is hard but the outer portion isn't, try increasing the water by a tad and if need be, increase the cooking time.
Always ensure you're doing a 10-minute NPR (natural pressure release).
If the rice is sticking to the bottom, try adding ghee or butter first, then reduce the cooking and NPR time or try using a ceramic liner.
Try Out These Instant Pot Rice Recipes:
Arroz Con Pollo – which in English means chicken with rice. This is an easy one-pot meal that's SO GOOD.
Black Rice Pudding – this is SO much easier made in the Instant Pot and creamier too.
Red Beans and Rice – this is one of those recipes that is so much better in the Instant Pot so I never cook it the traditional way again.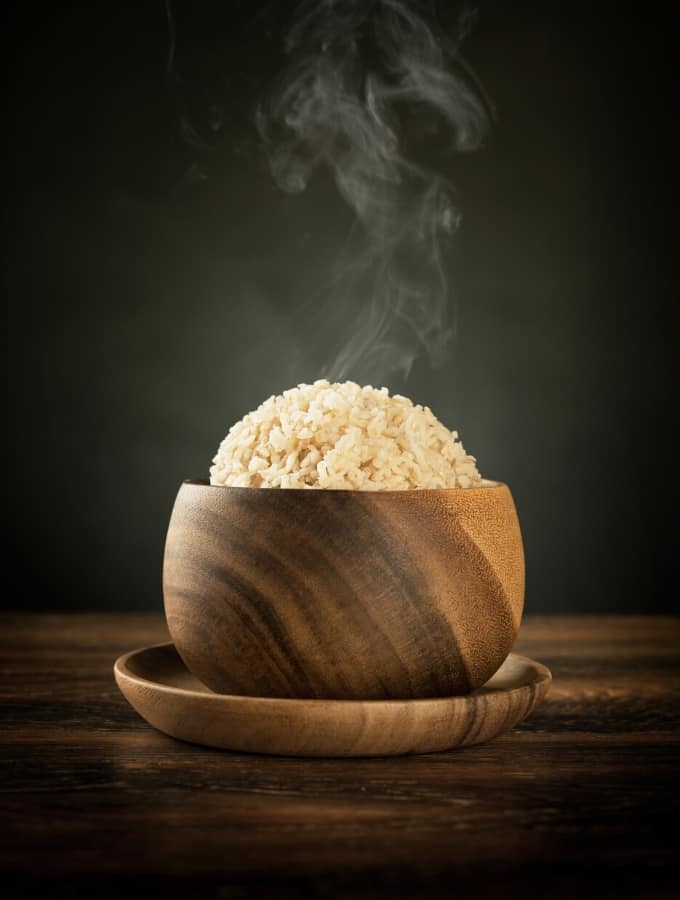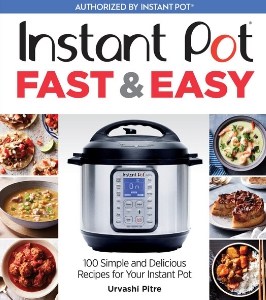 This book is full of all kinds of boldly flavored and internationally-themed recipes—Mexican, Thai, Moroccan, and more—with Instant Pot Fast & Easy, fully authorized by Instant Pot. Just like you have come to expect, my recipes will work perfectly every time, and of course, taste great too.