This Air Fryer Low Carb Persian Joojeh Kabobs Grilled Saffron Chicken is aromatic, easy, and very family-friendly. It's really perfect for kids. Joojeh kabobs are traditionally made with boneless, skinless chicken breast, but I think it's actually juicier if you use chicken thighs.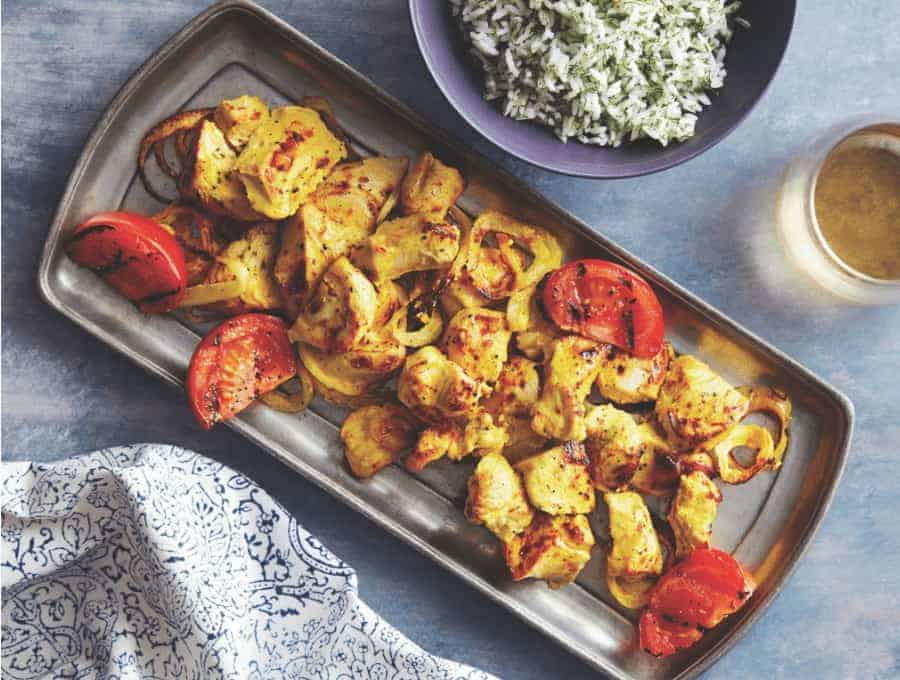 What Makes This Joojeh Kabob Recipe So Yummy?
Fast. The cook time is under 30 minutes.
Easy. The hardest part of this recipe is making the saffron water. Which, really, isn't hard at all.
Low Carb. Only 1 carb per serving.
Healthy. An amazing air fryer recipe skips the need to deep fry these Persian Chicken Kabobs.
What Is A Persian Chicken Kabob?
I know this says it's a kabob recipe, and there are just pieces of chicken on the plate in the pictures, but that's because really it was just easier to throw the chicken in the Air Fryer basket and be done with it.
If you want to cook it on the skewers, you can, or you can even put them on skewers when they're done cooking. Either way, they're tasty and perfect in the air fryer.
Usually, Joojeh Kababs are served with tomatoes and onions. In addition to the vegetables, you'll also normally find basmati rice as well.
WHAT IS SAFFRON WATER?
Saffron water is used as a way to preserve saffron since it can be an expensive spice. Saffron water is best used when a recipe already calls for liquid in the first place.
Typically you would take some saffron and grind it in a mortar and pestle and then put it in a small amount of water for about half an hour. If you don't want to mess with that, you can just throw a few strands of saffron into the recipe and call it a day for Joojeh Kababs.
How Do You Pronounce Joojeh?
The pronunciation of this word depends on where you're from. From my experience, you can find two different ways to pronounce Joojeh.
Jew-Jee
Jew-Jay
I doubt anyone will correct you if you say it either way. So don't be afraid to give it a try.
What Kind of Chicken Do You Use For A Persian Chicken Kabob
Chicken Breast
This is the more popular choice and you can absolutely use this cut of meat. It is a leaner cut of meat, so you may want to spray with a little extra oil before cooking to maintain the juiciness of the meat while it cooks in the air fryer.
Chicken Thighs
This is my preference. I prefer to make this recipe with boneless skinless chicken thighs because of how juicy they turn out.
Want To Make This Persian Chicken Kabob A Full Persian Meal?
If you're not eating low carb, I would recommend making this with Sabzi Polo. Deliciously spiced rice that will leave you totally satisfied but somehow still wanting more. Plus it's made in your Instant Pot, so you know it'll be done in a flash.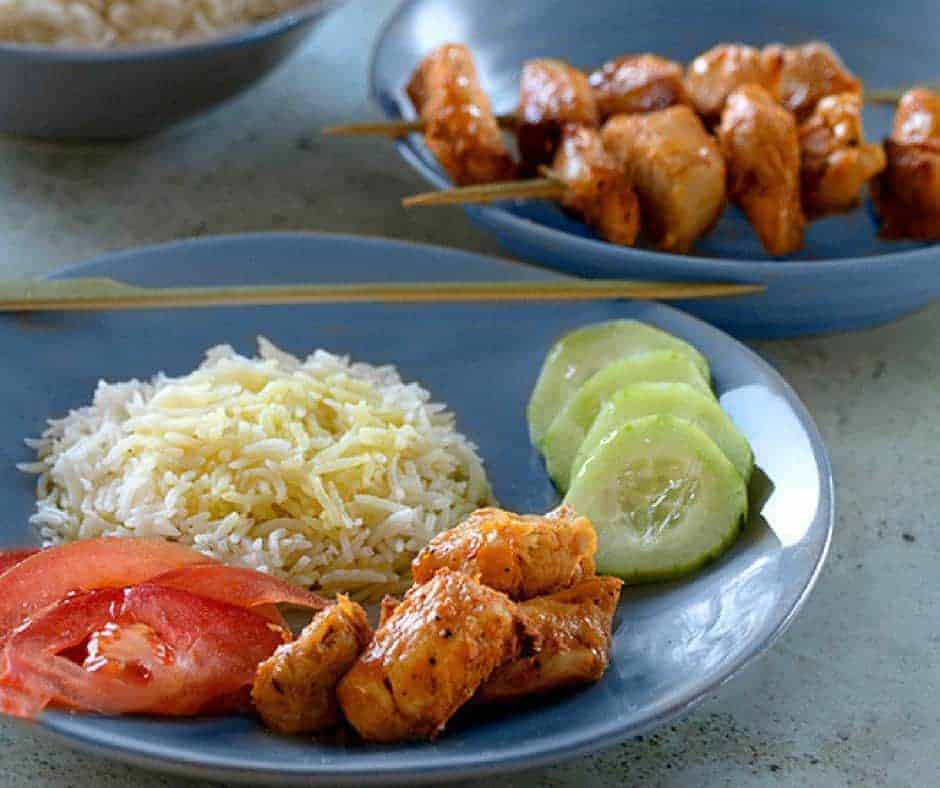 If you love this Persian Chicken Kabob recipe as much as I do, make sure you share it with your friends on Facebook and Pinterest so they can try it too.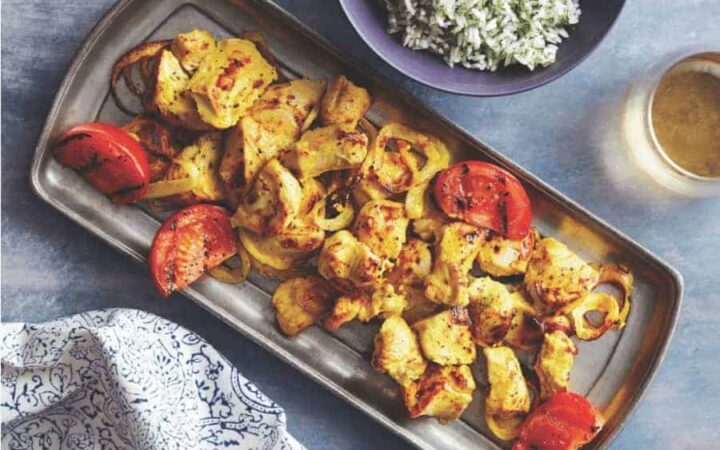 Click on highlighted ingredients or Equipment to see exactly what I use to make this recipe
Ingredients
1.5

pounds

(

680.39

g

)

chicken breasts

,

cut into large, bite-size pieces

1/4

cup

(

40

g

) Onion,

roughly chopped

1/4

cup

(

50

g

)

Full-Fat Greek Yogurt

1

tablespoon

(

1

tablespoon

) Oil

1

teaspoon

(

1

teaspoon

) Kosher Salt

1/2

teaspoon

(

0.5

teaspoon

) Smoked Paprika

1/2

teaspoon

(

0.5

teaspoon

) Ground Black Pepper

2

tablespoons

(

2

tablespoons

)

saffron water

,

See recipe

1

teaspoon

(

1

teaspoon

) Turmeric
Instructions
Make the Saffron Water
In a mortar and pestle, grind together equal parts of saffron and sugar. You're doing this for two reasons. One, it extends the use of the saffron by flavoring the sugar with the aroma and essence. Two, once it is ground up fine, it dissolves in water more easily.

Use about 1/2 teaspoon of this powder mixed with 1 cup of hot water to give you a saffron water you can use to flavor meats, desserts, and cakes.
Joojeh Kabobs
Place chicken in a large bowl.

Place onion, Greek yogurt, oil, salt, paprika, and black pepper in a small blender container and process until you get a smooth mixture.

Pour this mixture over the chicken.

Add turmeric and saffron water and mix until the chicken is well-coated with the marinade. You're adding these two ingredients later to keep your blender bowl from being irrevocably stained yellow.

Allow the chicken to marinate for 30 minutes or for up to 24 hours in a refrigerator.

Remove the chicken from the marinade, and place in the air fryer basket.

Set the air fryer to 370F for 15 minutes, flipping the chicken halfway through.

Test with a meat thermometer to ensure the chicken has reached an internal temperature of 165F before serving.
These joojeh kababs are usually served with plain white rice with butter, and a sprinkle of the saffron water on top of it.
Get support & connect with our community on Facebook!
Nutrition
Calories:
159
kcal
|
Carbohydrates:
1
g
|
Protein:
25
g
|
Fat:
5
g
Tried this recipe?
Follow @twosleevers and Pin it!
Originally Published March 26, 2018
And don't forget to check out my air fryer cookbooks! Every day easy air fryer, and Air Fryer Revolution.