These easy keto low carb crackers with mixed seeds will satisfy your need for something easy and crunchy while you're on a low carb diet, without a lot of work or too many ingredients.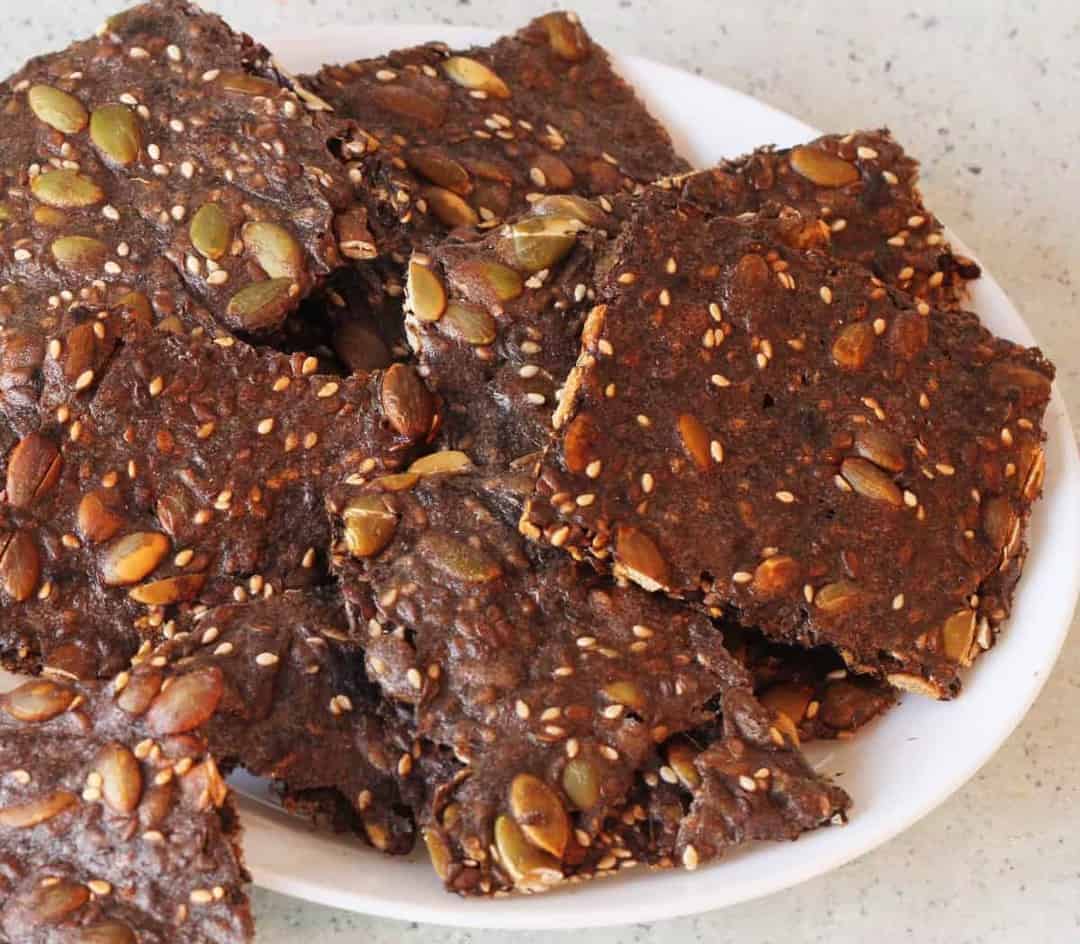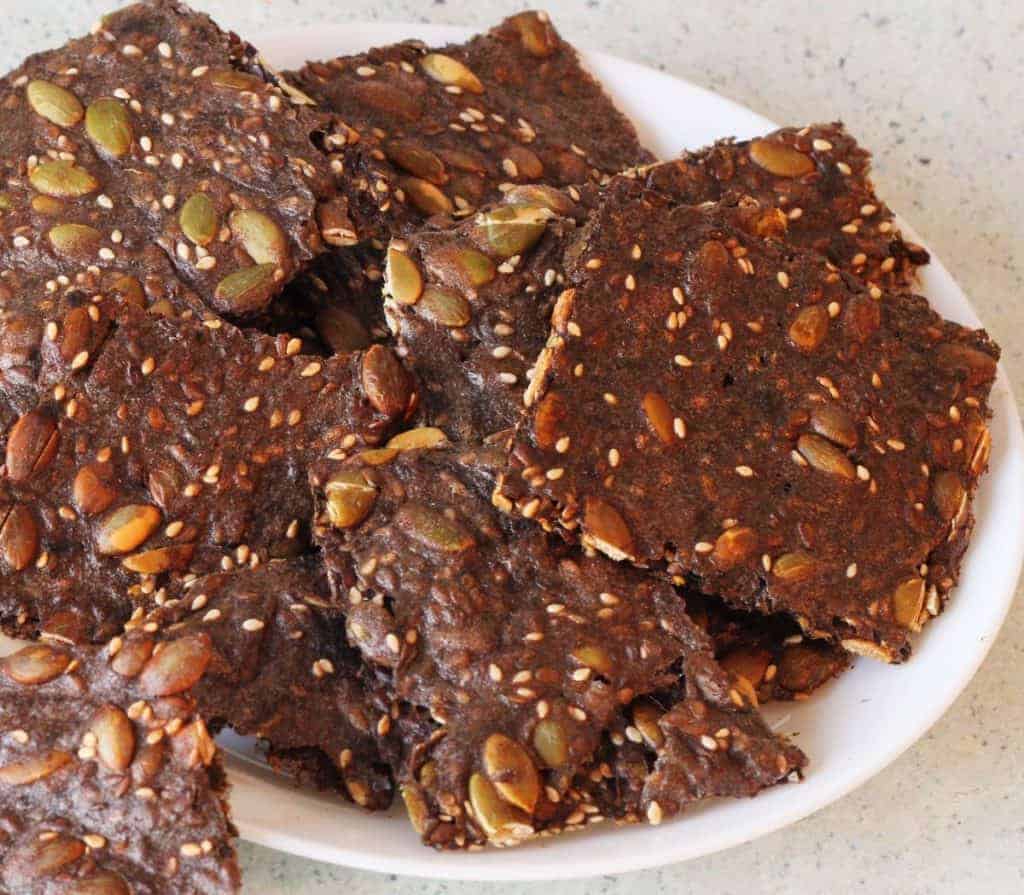 These low carb crackers are also great for anyone who needs or wants to eat a gluten-free diet as well. They're delicious for snacking by themselves but sturdy enough for a chicken salad, or heavy dips like guacamole or my delicious Keto Salmon Cream Cheese Dip.
I like these low carb crackers for a Keto diet because they're also full of fiber, which is incredibly important to include when you're doing Keto.
VARIATIONS ON THESE KETO LOW CARB CRACKERS WITH SEEDS
I give you the seeds I used to make this batch specifically, but you could also use whatever seeds you have on hand or prefer the taste of best. I liked mixing up the size of the seeds I used to make these and really like the consistency of the cracker. Try out a few different blends and see what you like best!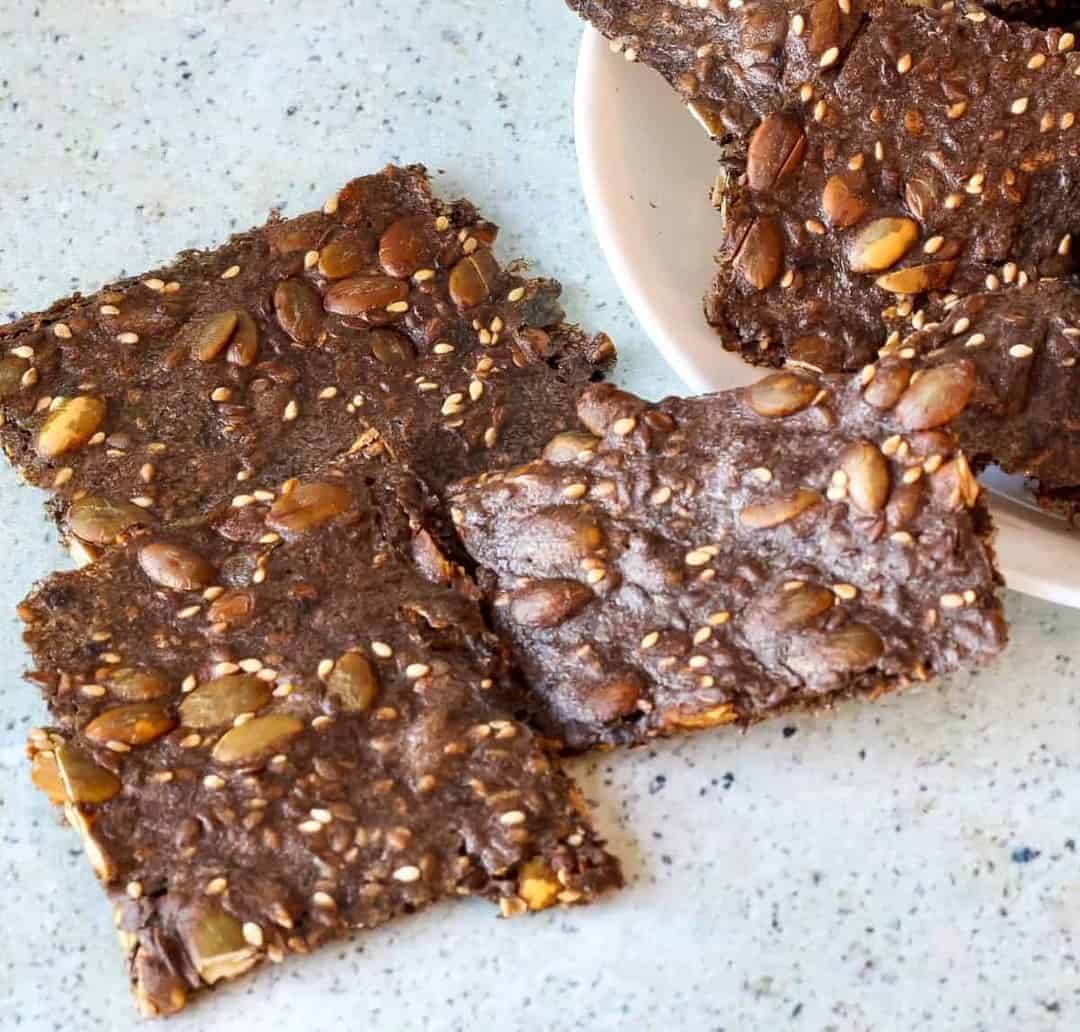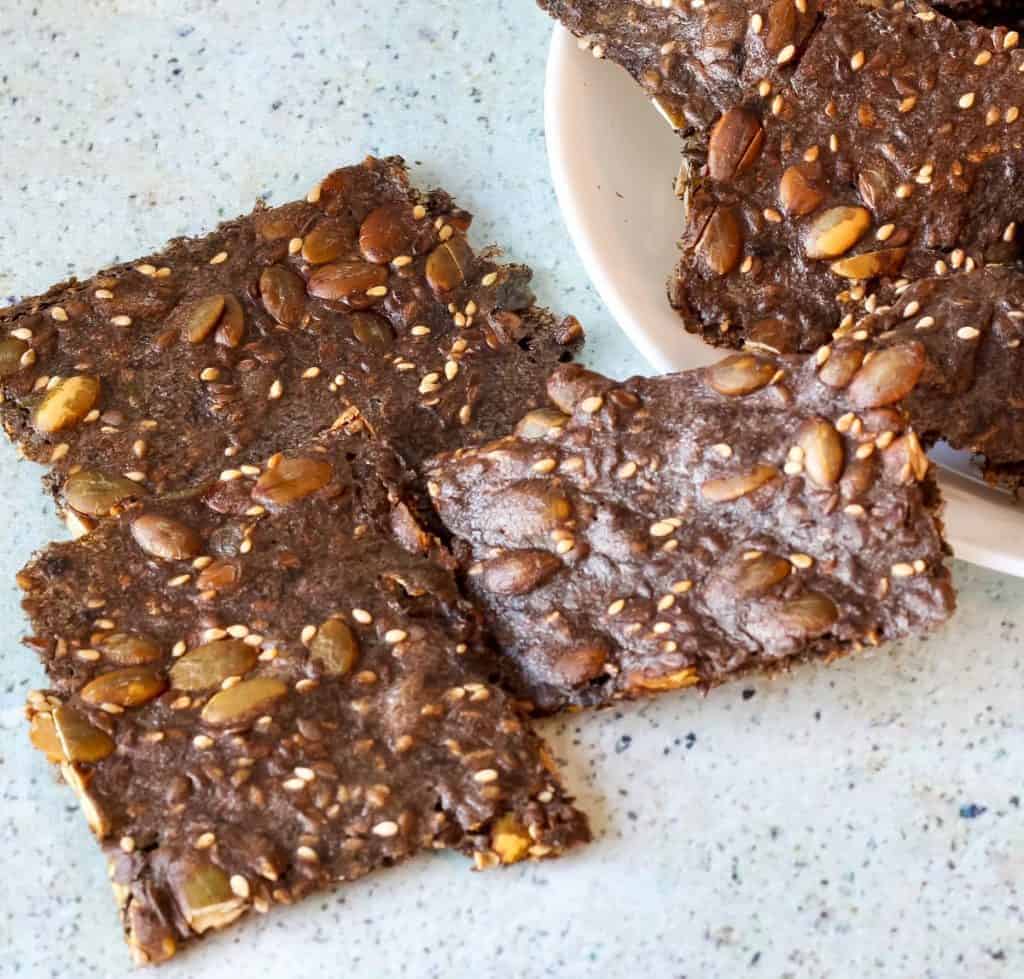 ★ Did you make this recipe? Don't forget to give it a star rating below! Just click on the stars in the recipe card to rate.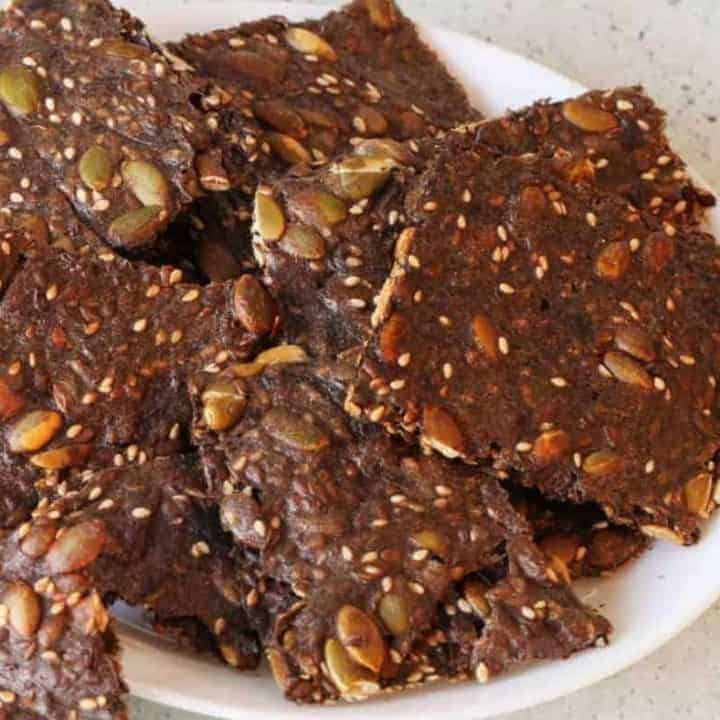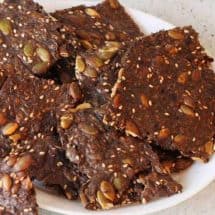 Keto Low Carb Seed Crackers
These easy keto low carb crackers will satisfy your need for something easy and crunchy while you're on a low carb diet, without a lot of work or too many ingredients.
Course:
Appetizer, Side Dish, Snacks
Dietary Consideration:
Dairy-Free, Gluten-Free, High Fiber, Keto, Low Carb, Low Sugar, Paleo, Vegan, Vegetarian
Ease of Cooking:
Pour and Cook
Recipe Type:
Low Carb Bread, Vegetable Side Dishes
Instructions
Into a large mixing bowl, pour in 2 cups of tap water.

A little at a time, mix in the psyllium husk powder, whisking all the time. Do not use hot water. Do not put in powder first and then try to add water #askmehowiknow

When all lumps are dissolved, add salt and then the seeds, stirring well.

Depending on your husk powder, you may need to add a few more seeds, but before you do that, just let it rest for about 10-15 minutes. This gives the psyllium a chance to gel.

Heat oven to 350F while it is resting.

Either grease well a 13 x 9 pan, or use a silicone mat to prevent the mixture from sticking.

Once the mixture has gelled, spread it as thinly and evenly as you can on the mat. I found it handy to have a small bowl of water that I could dip my fingers into from time to time to reduce the sticky factor.

Place in the oven and set the timer to 30 minutes.

When the timer goes off, remove the pan and using a pizza cutter or a sharp knife, score the mixture into cracker shapes. I scored 4 long strips and 8 short strips for a total of 32 crackers.

Put them back in the oven and set the timer for 15 minutes. Your crackers will likely take between 45 mins - 60 minutes to crisp up. Seeds burn easily so you will have to watch them after the timer goes off.

You're aiming for crisp crackers but keep in mind they continue to cook a little when you get them out of the oven.

Once they're done, remove and break along the scored lines. Once cooled, put them in a sealed container and enjoy!
Recipe Notes
-I counted 4 crackers as a serving, out of 32 crackers.
-Your macros will vary depending on what types of seeds and nuts you use. These macros use.
-To calculate macros for this recipe, I used the seeds I specified but you can use whatever you like.
Nutrition facts per serving
130kcal | Fat: 10g | Saturated fat: 1g | Carbohydrates: 6g | Fiber: 5g | Protein: 3g
I am not a registered dietician or nutritionist. Nutritional information is provided a courtesy, and can vary depending on the exact ingredients you use.
Don't forget to check out my Keto Desserts Cookbook!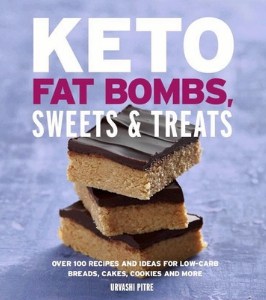 Featuring recipes for many classic, high-carb favorites that have been reworked to be "fat bombs," which help keep your macros in balance, as well as prevent you from craving all the things you usually can't eat when you're trying to lose weight. Many of the more than 100 recipes require no more than 10 to 15 minutes of prep time, and they taste as delicious and indulgent as they sound—how about Chocolate Peanut Butter Pops, Mocha Cheesecake, or Almond Butter Bombs?