If it's one thing I could eat every day and never blink at the amount I've eaten, it's dip. I'm sure I can't be the only one that gets on a roll while eating dip then realizes I've eaten the entire bowl. And nne of my favorite dips to make is Lebanese Muhammara. It's a delicious hot pepper dip that's bursting with flavor and, let me tell you, addicting as can be.
There are countless items you can dip in it. I, personally, prefer pita chips, however, vegetables are a go-to for me as well.
This Lebanese Muhammara is low carb which makes it a perfect snack for most diets.
When I'm eating it as a snack while doing keto, I'm always sure to eat the vegetables with it instead of the pita chips since it makes it an even healthier choice.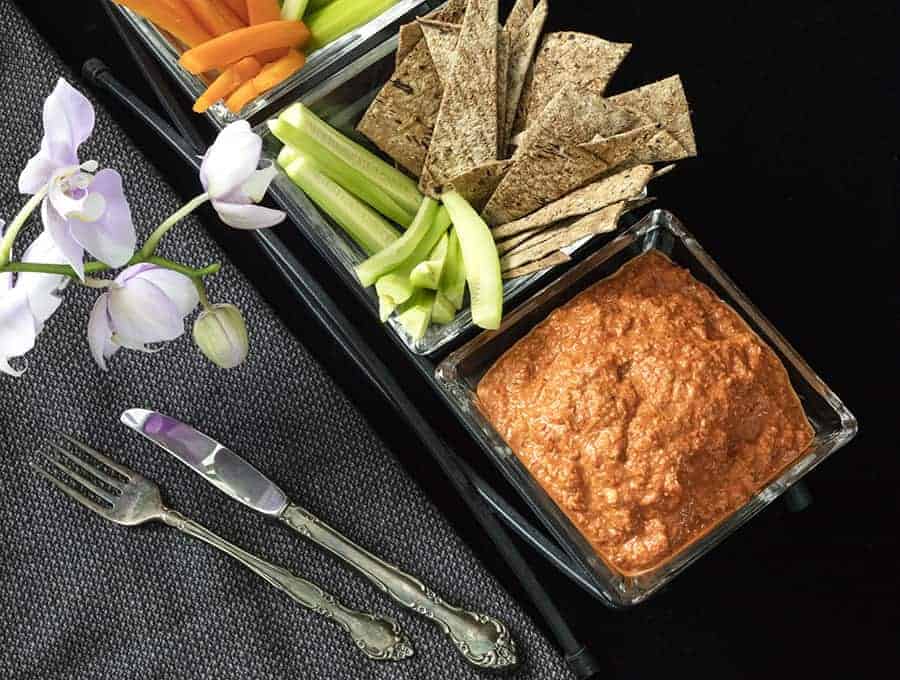 Lebanese Muhammara | Low Carb Hot Pepper Dip
Can you believe I made this in the air fryer? It's honestly crazy all the various types of recipes I can make with that thing. It turned out perfectly. In fact, an airfryer is actually perfect for making Muhammara because it relies on roasted peppers for its base. An airfryer is an absolutely amazing, and relatively mess-free way to roast vegetables.
I'm sure many of you are unfamiliar with the word "muhammara" since it's not a common food term in the United States. Muhammara simply means "reddened."
As you can see, the color of the Lebanese Muhammara is a reddish color, so this term makes sense with this recipe. Muhammara can also be spelled without the "u" and mean the same thing. This word is commonly used for the popular red, hot pepper dip found in Syria, Turkey, and surrounding countries. In Turkey, this same dish is often referred to as "acuka."
So although I call it Lebanese in this recipe, at its broadest, it's a Levantine preparation.
It's just that it's not really easy to title a recipe "Lebanses, Syrian, Turkish and other surrounding countries Muhammara" 😀
This dip, or sauce, has been popular for many years in the aforementioned countries and is used in many dishes.
I mainly use it as a dip like you would a chip dip, however, just like salsa, it goes well with other dishes. It can be used for a wide variety of purposes which is why it's so popular in my house.
Oh also in my neighbor Renée's house. We took it over to a holiday party at her house and I was not sure how it would be received.
The fact that it was all gone in no time at all told me I was on to a good thing! So do make it for parties at your house, or just to feel festive, or heck, just to eat something good!
Guess what else you will like about this Lebanese Muhammara?
It is a savory FAT BOMB! I'm not kidding!
By the time you add the walnuts and oil, it's got some great healthy fats in it.
If you prefer a lower fat version, halve the walnuts and the oil and enjoy your lightened-up dip.
If you're looking for more delicious dip options, check out my Keto Savory Thyme Dip or my Persian Borani Beet Dip!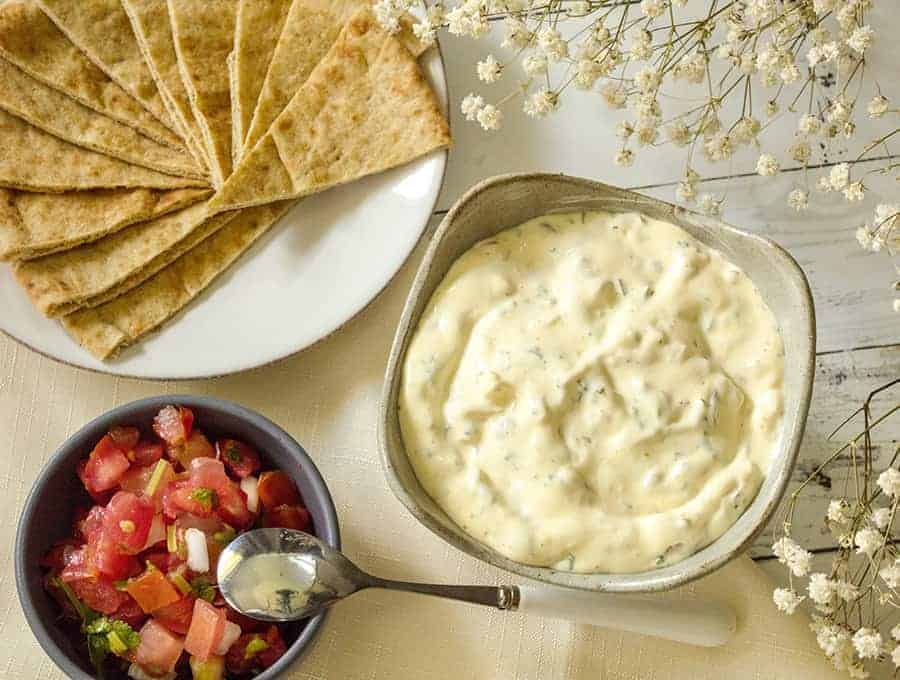 If you're looking for something low carb to dip, check out my Keto Low Carb Crackers. They're low carb, gluten free and vegan friendly!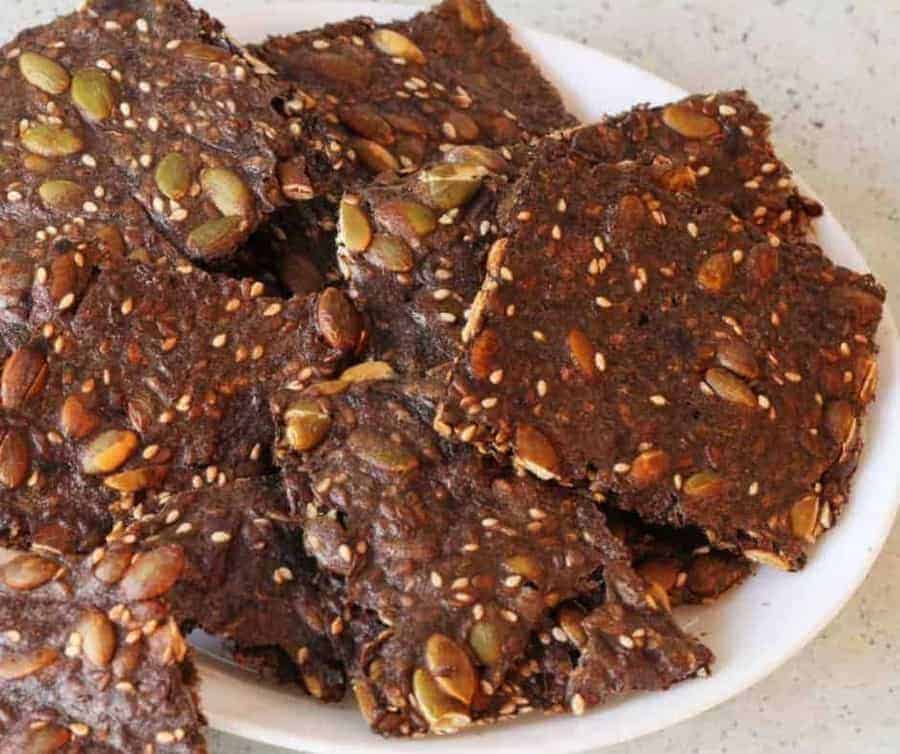 You'll have to give this Lebanese Muhammara a try. It takes less than thirty means to throw together and cook which makes it a pretty quick recipe.
Can you believe it's keto? Not to mention, it's dairy-free, gluten-free, egg-free, etc. It's great for most dietary restrictions.
What's the most rewarding is that it's healthy without sacrificing all the flavor like many healthy recipes make you do. Enjoy!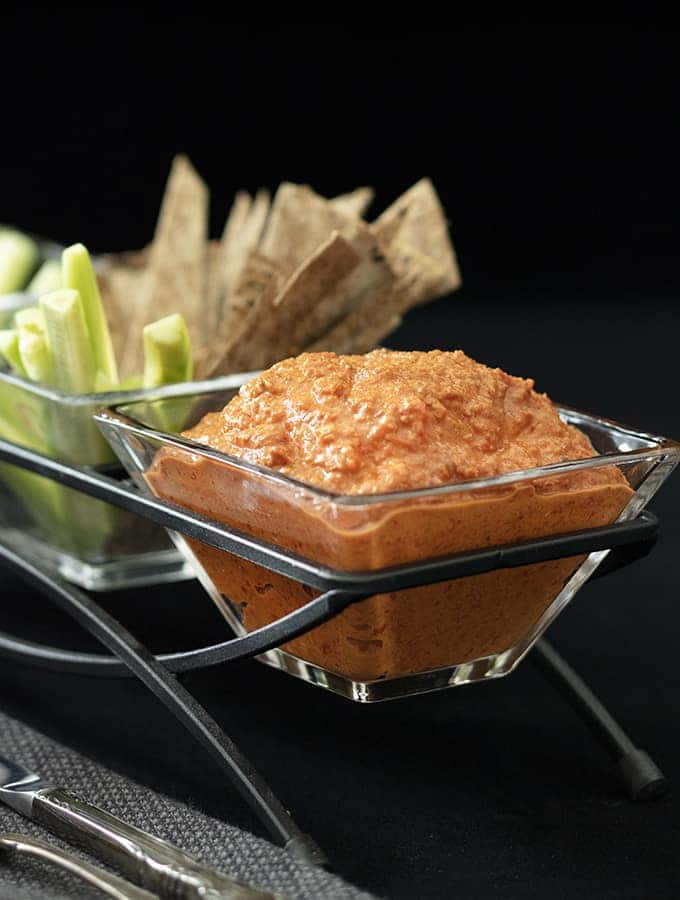 ★ Did you make this recipe? Don't forget to give it a star rating below! Just click on the stars in the recipe card to rate. Don't forget to pin this recipe for later!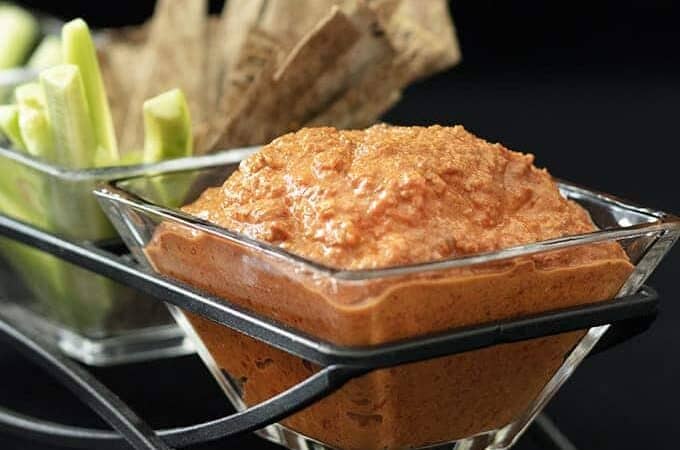 Click on highlighted ingredients or Equipment to see exactly what I use to make this recipe
Instructions
Spray the red peppers with oil and place directly in the air fryer basket.

Set air fryer to 400F for 10 minutes.


At the end of the cook time, add the walnuts to the basket, around the red peppers. Set air fryer to 400F for 5 minutes.


Remove the peppers and walnuts. Place peppers into a plastic zip top bag and let them rest while you get the other ingredients together, about 5-10 minutes.


Place softened peppers, walnuts, lemon juice, salt, cumin, and 1/2 teaspoon pepper flakes in the bowl of a food processor and puree until you get a smooth mixture.


Tip the dip into a bowl and make an indentation in the middle. Pour in the olive oil and garnish with remaining pepper flakes. Serve with toasted pita chips or raw vegetables like cucumber, carrots, zucchini slices or cauliflower.

Get support & connect with our community on Facebook!
Nutrition
Calories:
272
kcal
|
Carbohydrates:
6
g
|
Protein:
3
g
|
Fat:
26
g
|
Fiber:
2
g
|
Sugar:
3
g
Tried this recipe?
Follow @twosleevers and Pin it!