Keto Air Fryer dishes are popular in my house. You might be wondering, "Are air fryers good for a keto diet?" I think it's like everything else with a Keto WOE (way of eating). It's not how you cook it-it's what you cook. Having said that though, I have a lot of keto dishes for the air fryer.
In fact, my Airfryer cookbook has 60+ keto/low carb recipes in it, since I typically cook keto or low carb at home anyway.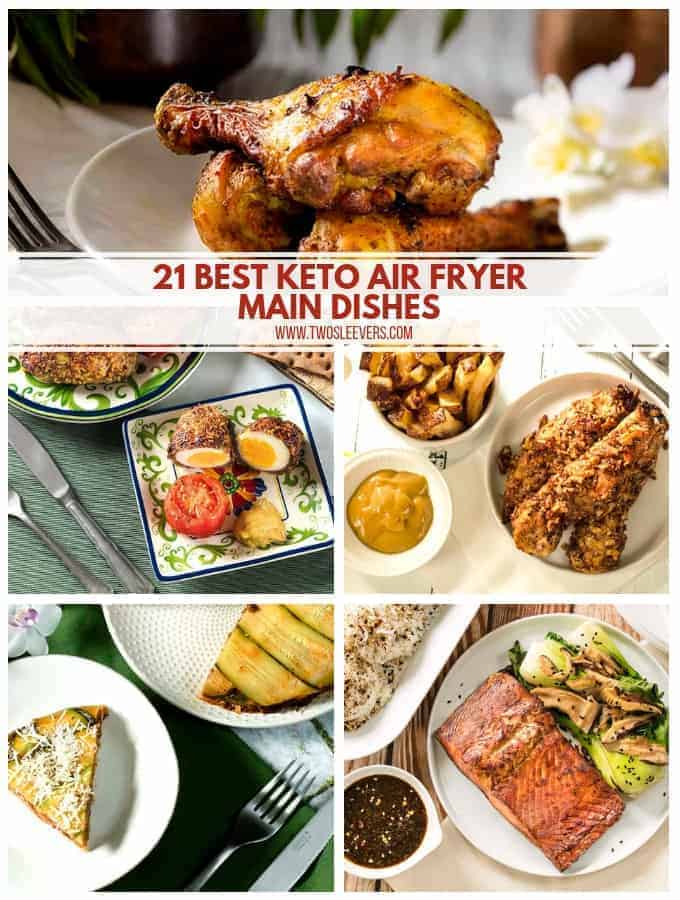 Is An Air Fryer Keto Friendly?
One of the best things about cooking with an air fryer is how versatile it is for all sorts of lifestyles.
It's especially helpful when making low carb foods! You can get perfectly cooked meats, delicious roasted vegetables, and the perfect keto desserts made all with one easy-to-use appliance.
Here are a few of my favorite keto air fryer main dishes, but they're not just my favorites, they also get rave reviews in the TwoSleevers Facebook groups.
They're all considered perfect for the whole family, who may not even be keto. In a few instances, you will need to swap out the accompaniments--lettuce leaves for the burgers instead of buns, konjac noodles rather than regular pasta etc. But those are small swaps. These keto air fryer recipes are fast, easy, and delicious.
So whether you're looking for keto air fryer chicken recipes, looking for that perfect way to make air fryer salmon, or air fryer scallops, or air fryer burgers--all while keeping it keto? You've come to the right place! I hope you enjoy them!
21 Best Keto Air Fryer Main Dishes
The best, easiest, most flavorful Keto air fryer main dishes are right here! Don't forget to share and pin this post!
If this hasn't convinced you to buy an air fryer, or to use yours more often, I don't think anything will! If you're wondering how to know which kind of air fryer to buy (because there are a TON out there), you may want to read my unbiased review on some of the most popular models to help you decide. You can read it for yourself HERE.
I hope you try and enjoy several of these keto air fryer recipes and love them as much as we do. Happy cooking!
And don't forget to check out my air fryer cookbooks! Every day easy air fryer, and Air Fryer Revolution.