Love your Instant Pot but are wondering if an Instant Zest Plus would make a great addition to your kitchen? See if you should grab one of these 20 cup rice makers with my unbiased Instant Zest Plus review.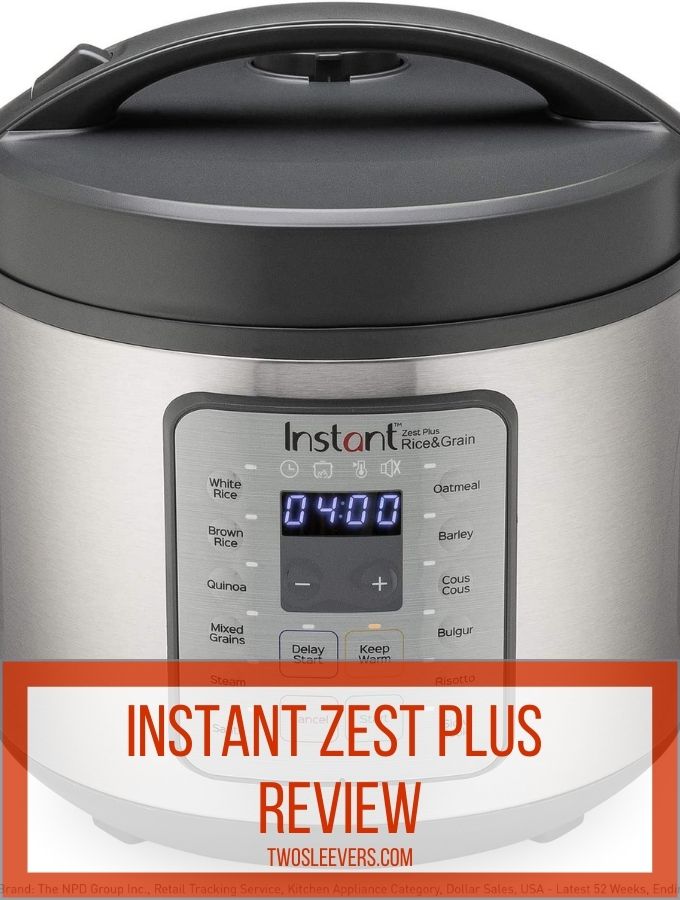 Buy One
Instant Zest Plus Review | 20 Cup Instant Pot Rice Cooker + Video
Watch The Video
Why You Should Trust My Review
Cookbook Author: I've written 5 Instant Pot Cookbooks that have been authorized by Instant Pot.
Efficient: That's the only way I know how to do things in the kitchen. Who has time to waste when you're trying to get food on the table? I'm known for my ruthless efficiency and use the pot in pot cooking method every chance I get.
Gadget geek!: I'm a self-proclaimed food tech enthusiast and have been known to purchase (and review) just about any kitchen appliance I can get my hands on.
1. Footprint
I'm not going to lie. For a rice cooker, this is rather large. It's approximately the same size as a 6 quart Duo or Ultra.
If you're short on space, or hate clutter on your countertops, this might not be the right appliance for you.
However, if you already have a rice cooker AND a rice cooker on your countertops, this will replace both of them and take up less room than the two appliances together.
If you're curious on what the actual dimensions of this rice cooker are:
12.75 x 12.5 x 12.35 inches
If you don't plan on using this often or prefer to put your appliances away after every use, rest easy knowing this only weighs 8 pounds and is very easy to lift and move.
2. Capacity
The Instant Zest Plus boasts an impressive 20 cup capacity. However, don't think you can cook 20 cups of uncooked rice in this machine with that description. That's the capacity of COOKED food. So you can cook up to 10 cups of rice in this amazing kitchen gadget.
3. Functions
The Instant Zest Plus has 9 programming functions as well as an option to manually adjust the time up and down. The programming options are:
White rice
Brown rice
Mixed grains
Quinoa
Barley
Couscous
Bulgur
Oatmeal
Risotto
On top of those functions, it also gives you the option to sauté, steam, slow cook, and keep warm.
4. Ease Of Use
If you're used to cooking food with your Instant Pot, the manual presets will not be an issue for you.
They are totally intuitive and easy to use. Here's how you cook with your Instant Pot rice maker:
If You're Cooking Rice
Add Rice
Add Ghee or Butter
Pour Some Water
Add Salt
Close Lid
Select Your Preferred Preset
Let Cook in your rice cooker
Serve and Enjoy
If You're Using The Slow Cook Function
Add all ingredients.
Select Slow Cook.
Adjust Time and Slow Cook Setting to Preferred Option.
Serve and Enjoy.
If You're Using The Saute Function
Select Saute.
Allow to Heat Thoroughly.
Add Ingredients.
Cook Until Done.
Select Cancel to End Cooking Time.
5. Ease Of Cleaning
With the Nonstick liner, this Instant Zest Plus is a breeze to clean. All you need to do is rinse the liner with some dish soap and water and it's ready to use again.
If you're used to popping the Instant Pot lid in the dishwasher to clean it, you won't be able to do this with the Instant Zest Plus. You'll need to wipe it down with a wet cloth before using your machine again.
6. Price
I absolutely couldn't believe how affordable this Instant Zest Plus was. For as many functions as it has with such a large capacity, it is absolutely a bargain.
If you're known to cook less than great rice or have a tendency to burn the bottom of your rice, this will without a doubt save you money.
There's no waste as this Instant Zest Plus makes perfect rice every time.
Would I Buy This?
While this might be a FANTASTIC addition for some people, this Instant Zest Plus might not be the right kitchen gadget for everyone. Let me give you some quick pointers to help you decide if it's right for you:
Buy This If
You're on a budget and want a new kitchen gadget.
You love your Instant Zest rice maker but would like the sautee or slow cooker function.
Aren't ready to make a jump to a pressure cooker.
You want perfect rice every time.
Pass On This If
You already have a slow cooker and you like the Instant Pot rice setting.
Limited with counter space.
You love using your Instant Pot for making rice.
Instant Zest Plus Pros and Cons
I've only had the chance to use this rice cooker a few times, but in the time I've owned it, I haven't used my Instant Pot to make rice a single time. So far, I'm loving this Instant Zest Plus. Here are a few things I love and dislike about it:
Pros
Large capacity.
Sautee function
Slow cook function
Perfect rice every time
Affordable
Cons
Larger footprint.
Can't put the lid in the dishwasher like you can with an Instant Pot.
Cheap steamer rack.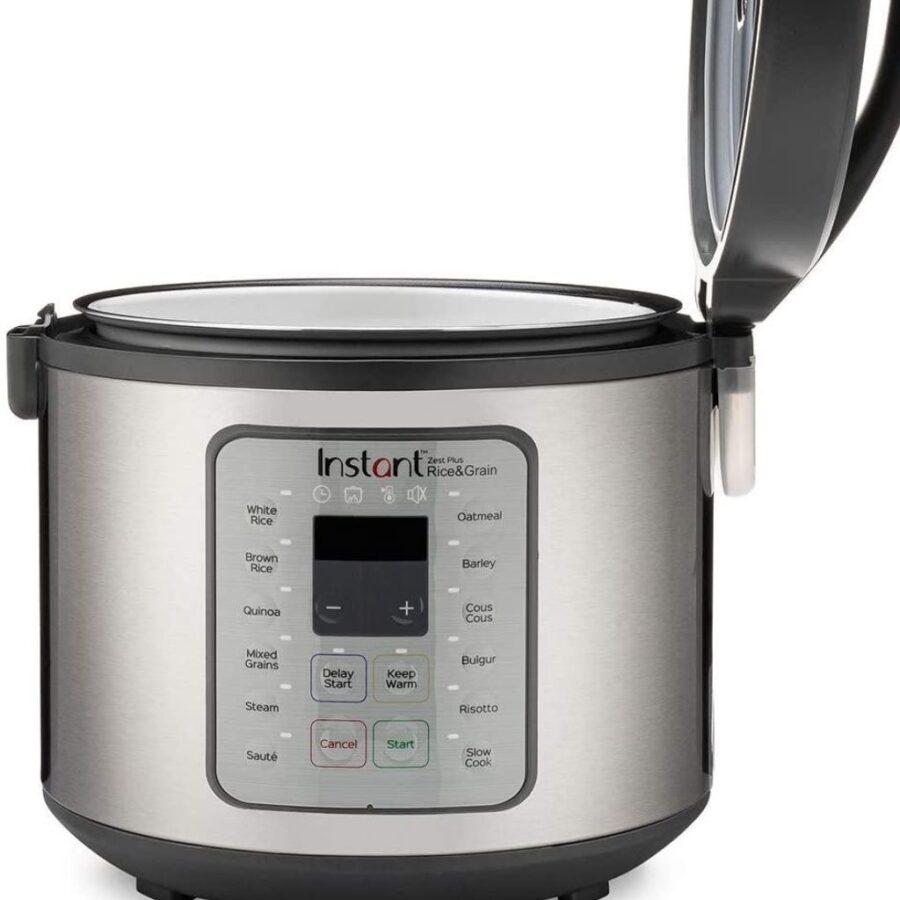 Other Useful Gadget Reviews
Instant Zest Plus Review | 20 Cup Instant Pot Rice Cooker + Video
If you found this Instant Zest Plus review helpful, make sure to share it with your friends on Pinterest and Facebook so they can decide if this is the perfect rice cooker or slow cooker solution for them too.
Originally Published August 27, 2020