Unless you've been living under a rock, you've probably heard about the new "must-have" kitchen gadget -- the Dash Mini Waffle Maker. Read my full unbiased review to see if it lives up to all of the hype and if you need to add one to your kitchen gadget collection.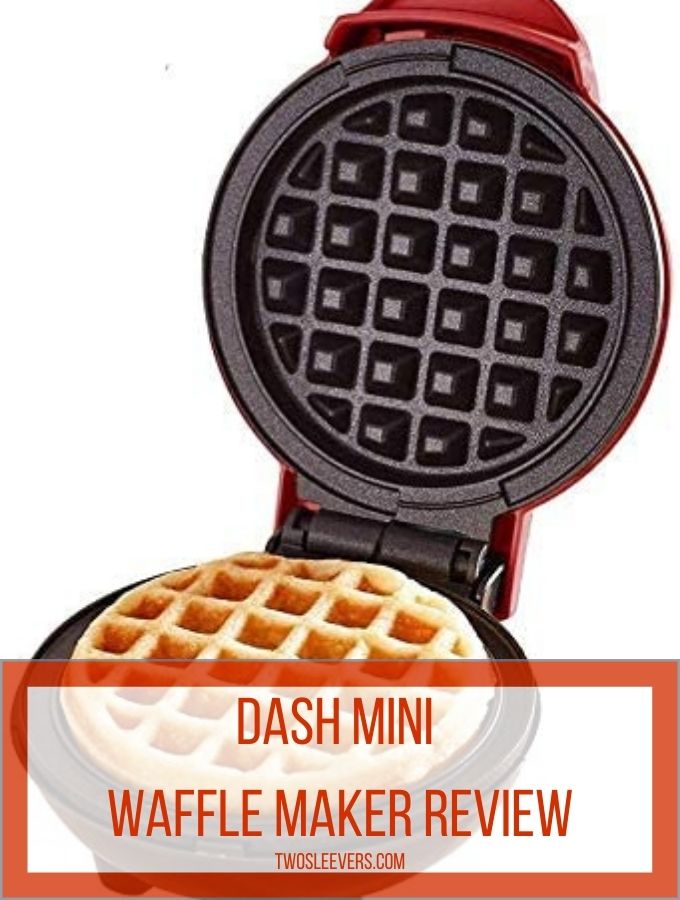 Why You Should Trust My Dash Mini Waffle Maker Review
Cookbook Author: I've written 5 Instant Pot Cookbooks and 2 Air Fryer Cookbooks so I've spent more than my fair share of time in the kitchen.
Efficient: That's the only way I know how to do things in the kitchen. Who has time to waste when you're trying to get food on the table? I'm known for my ruthless efficiency and use the pot in pot cooking method every chance I get.
Gadget geek!: I'm a self-proclaimed food tech enthusiast and have been known to purchase (and review) just about any kitchen appliance I can get my hands on.
What Is A Dash Mini Waffle Maker?
The Dash Mini Waffle Maker is exactly what it sounds like. It's the cutest, tiniest waffle maker on the market. It's perfect for dorms, rv's, travel, or for anyone eating low carb that has jumped on the Chaffle bandwagon.
What Did I Consider When Reviewing This Mini Dash Waffle Maker?
Footprint
Capacity
Features
Ease Of Use
Ease Of Cleaning
Price
1. Footprint
The struggle with adding a new kitchen gadget to your collection is trying to find room for it. Especially if you have a small cooking space or limited storage options.
If you decide to pick up one of these Dash Mini Waffle Makers, you won't have to worry about finding room for it. This thing is seriously tiny. You can fit the whole thing in the palm of your hand. It's easy to tuck away after each use if you want. However, as frequently as I found myself using mine, it has made a permanent home on my countertop.
It is great for people with hand mobility issues or people that live alone. It's lightweight (weighing in at just 1.35 pounds) so it's easy to move. Plus it makes the perfect portions for a small breakfast.
2. Capacity
Unlike some other waffle irons (read my article on the best waffle irons of 2020 here) the Dash mini waffle maker has a very small capacity. If you're wanting to make waffles for an entire family, or meal prep waffles to freeze, this probably isn't the waffle maker for you.
How Much Batter Do You Put In A Dash Mini Waffle Maker?
Because of the small amount of batter that it is able to cook at one time it also cooks waffles very quickly. For these mini waffles, you'll use between 2 and 3 tablespoons of batter. The Dash is able to cook each one in less than two minutes.
3. Features
I'm afraid that if you're looking for a waffle iron with tons of bells and whistles, you may be underwhelmed by the features this Dash waffle iron offers. Basically, you plug it in, wait for your waffle to cook (there is an indicator light to tell you when the cooking time is complete) and then unplug it when it's finished.
It doesn't have removable plates, cooking time settings, or even a button to turn it on and off. But this simple design makes it easy for the entire family to use.
Are There Any Other Varieties Of Dash Waffle Makers?
Yes, there are! As the Dash mini waffle maker continues to grow in popularity, they have made several new styles with additional designs. Here are a few different styles you and your children might enjoy to celebrate a variety of seasons and holidays:
heart
skull
pumpkin
snowflake
pineapple
4. Ease Of Use
I don't know that a waffle maker can get any easier to use than this Dash Mini Waffle Maker. Seriously, there aren't even any buttons to press and there's an easy to read indicator light to let you know when your waffle is perfectly cooked.
Here's an easy tutorial on how to use a Dash mini waffle maker:
Prepare waffle mix
Plug in the waffle maker
Wait for the light to turn off (this indicates the waffle iron is hot enough)
Pour waffle mix into your Dash mini waffle maker
Close the lid
The light will come back on and when it goes off again, the waffle is ready
Raise the lid and remove your waffle
Enjoy!
One thing I have noticed when making Chaffles is that the handle to raise the lid is quite small. So I would suggest using a small silicone mitt to avoid burning your fingers.
How Long Do Dash Mini Waffles Take To Cook?
There is no timer setting on this tiny waffle maker, but the indicator light will let you know when the cooking cycle has completed. The cook time is approximately 5 minutes per cycle.
What Can You Make In A Dash Waffle Maker?
A great feature of this Dash mini waffle makeris how versatile it is. Sure, you can make waffles in it, but you can make so much more. While these aren't exactly Dash Mini Waffle Maker recipes, here are a few other items I've successfully made in it:
Waffles
Chaffles
Hashbrowns
Cinnamon rolls
Mini omeletes
5. Ease Of Cleaning
My only complaint with this waffle maker is that it doesn't have removable plates for easy cleaning. That being said, the waffle iron plates are extremely nonstick so cleanup is still a breeze. Here's how I clean my Dash mini waffle maker:
First, wait for it to cool completely
Then, take a paper towel and wipe away any leftover crumbs
Next, gently wipe the plates down with a damp towel
Lastly, use the clean part of the rag to wipe down any drips or splatters off of the exterior
6. Price
Price may be one of my favorite things about this Dash mini waffle maker. Compared to a lot of other waffle irons on the market, the Dash is incredibly affordable. With the incredibly low price point, it's silly not to give it a chance.
With the time you'll save in the mornings and the money you will save by skipping take out breakfast, the Dash mini waffle maker will pay for itself in no time.
What Does It Come With?
What does this mini waffle iron come with? Well, not much. You won't be surprised when you see how small the box it comes in that there isn't much that will fit inside. The only things that come in the box for the Dash mini waffle maker are the waffle maker and the instruction manual.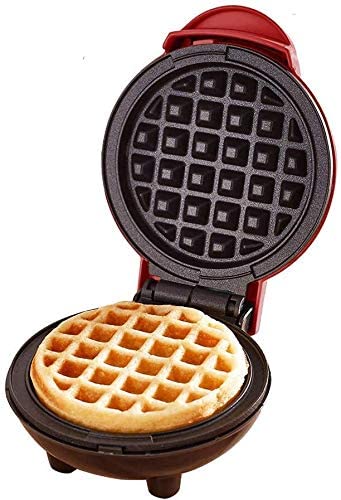 Pros and Cons
After using this mini waffle iron more times than I should probably admit to, I can comfortably tell you that it has way more pros than it does cons. In fact, the cons that I listed aren't really even cons, just things that could be improved.
Pros
Small footprint
Easy to use
Versatile
Inexpensive
Cons
No removable plates for easy cleaning
Virtually no customizable features for different cooking times
Would I Buy This?
Buy A Dash Mini Waffle Maker If:
You love waffles
Have a small kitchen or cooking space
Are eating low carb and want to make easy Chaffles
You need a waffle iron on a budget
If you live alone
Pass On A Dash Mini Waffle Maker If:
You already own a waffle maker
Want a waffle iron with advanced cooking functions
Want a waffle maker with removable plates for easy cleaning
Other Helpful Buying Guides
If you found this Dash Mini Waffle Maker review helpful, make sure you share it with your friends on Pinterest and Facebook so they can decide if they need one too.
Originally Published November 1, 2020