What is a chaffle? If you're eating low carb or Keto, you have probably heard all the rage about chaffles! Let me show you what they are and why they're worth the hype – and all the recipes you need to try!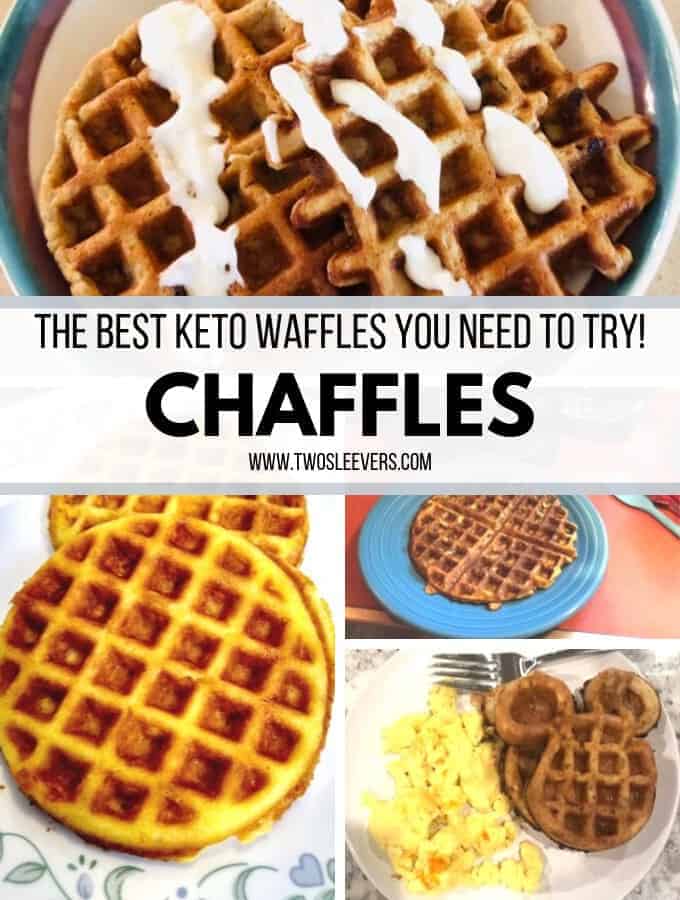 What is a chaffle?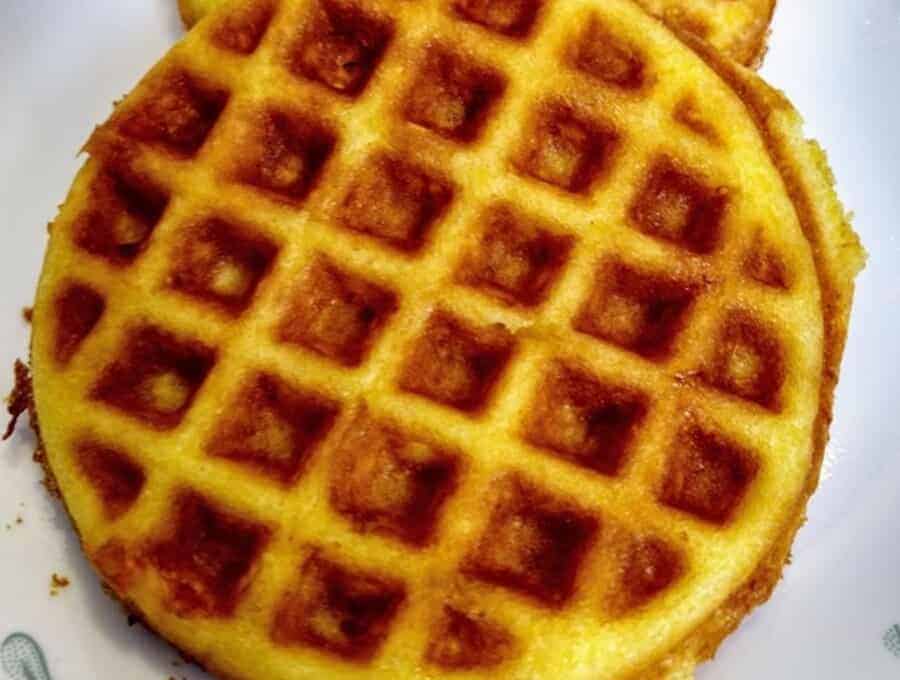 The basics are some combo of egg and cheese but from here you can riff like mad. You can use a variety of cheeses including cream cheese, parmesan cheese etc. Some add almond flour and flax seed, and baking powder, others don't.
The basic Keto Chaffle recipe I use is:
1 egg, beaten
1/2 cup cheese
Layer 1/8 cup of cheese on the bottom of the waffle maker.
Add half the beaten egg.
Layer the other 1/8 cup of cheese on top.
Cook until crisp. Keep in mind the chaffle gets crispier as it cools.
Chaffles are all the rage because even though I have a ton of Keto bread recipes like my Keto Bread, Keto Cheese Muffins, Keto Blueberry Muffins, Cauliflower breadsticks, and Keto Pancakes – sometimes people want something bready that they can make in a flash.
Hence the chaffle.
People are having the most success using this Dash Mini Waffle Iron. It makes the perfect size to cook them quickly and crisps them up just right.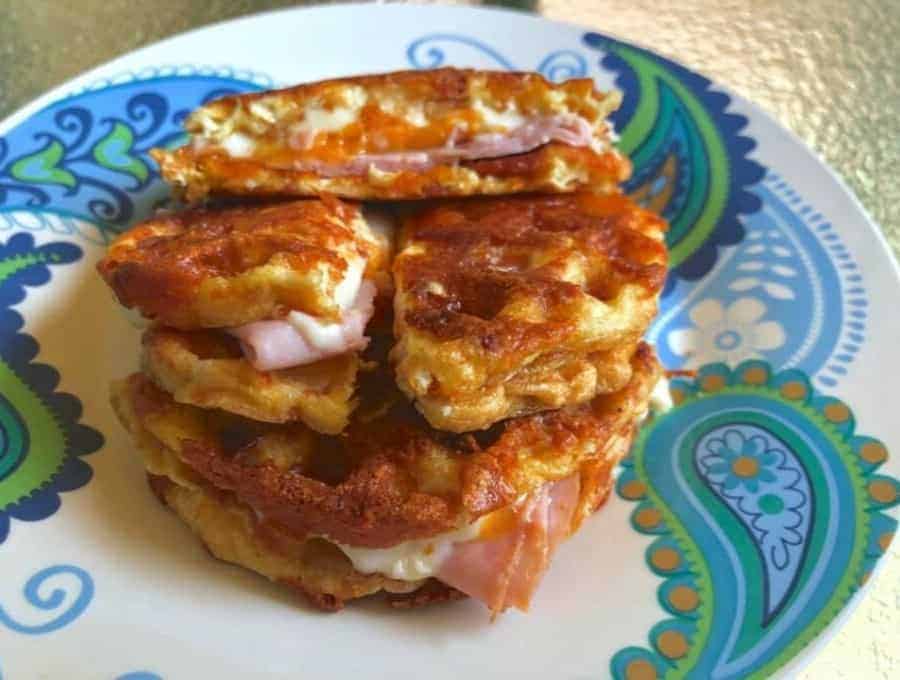 The reason the small one is best, is that you can make chaffle sandwiches using the mini size waffle iron. With a larger or thicker chaffle, it can make for a very thick sandwich.
You can use a full-size one like this Cuisinart, but try not to use a Belgian waffle maker as it takes forever to crisp a thick waffle iron. The trick is to cook it long enough for it to properly crisp up.
Can you freeze chaffles?
Yes, you can freeze chaffles. Place them in a freezer bag with a piece of parchment paper between each one or just freeze them in small freezer bags, two per bag. You can defrost in microwave or air fryer at 300F for 2-3 minutes at most when you're ready to eat.
Do chaffles taste eggy?
The more things you add the less likely they are to taste eggy.
If they taste super eggy to you, use egg whites which makes them less eggy tasting.
What are the best keto chaffle recipes to try?
Besides my base recipe I mentioned earlier, I didn't come up with the recipes below. I didn't invent the chaffle, but I'm thankful someone did! Most of the following recipes came from my Keto TwoSleever's Facebook group (which you should totally join, by the way) and they have given me permission to share! Some of these recipes belong to some other awesome bloggers, and I will link to them in those cases.
Savory Chaffle Recipes
Everything but the Bagel Chaffle
Rich & Creamy Chaffles
2 eggs
1 cup shredded mozzarella
2 tablespoons almond flour
2 tablespoons cream cheese
3/4 teaspoon baking power
3 tablespoons water (optional)
Mix all ingredients together.
Cook in a mini waffle iron for 4 minutes, or until crispy.
Makes 6 waffles. – Shelly J.
Zucchini Chuffles | Zuffles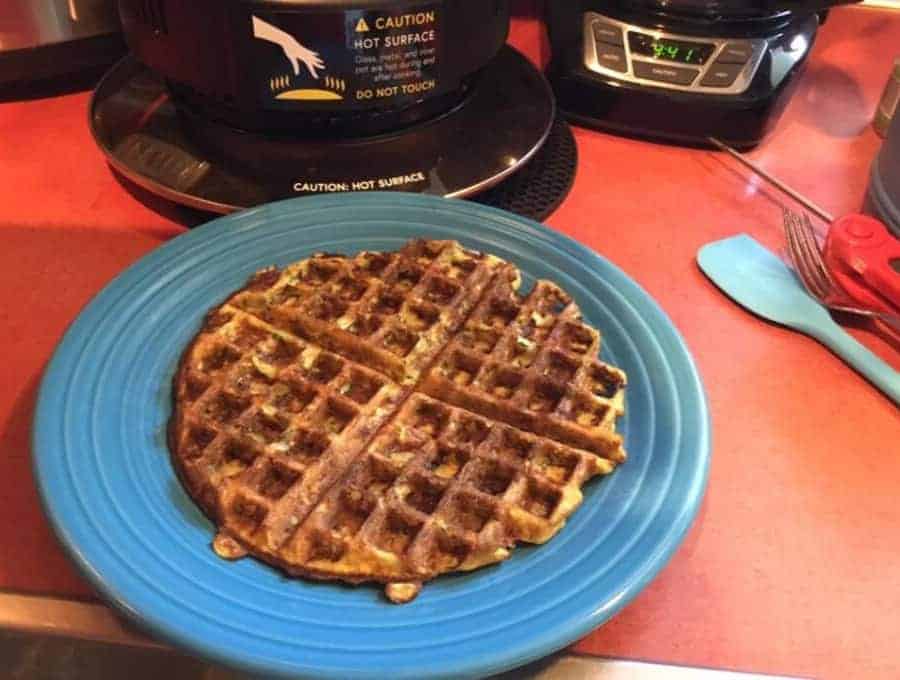 1 small zucchini, grated
1 egg
1 tablespoon parmesan
Small handful of shredded mozzarella
Basil and pepper to taste
Mix all together and cook in a full size waffle maker.
Makes 2 full size zaffles and a skimpy zaffle. – Marian R.
Light & Crispy Chaffles
1 egg
1/3 cup cheddar
1/4 teaspoon baking powder
1/2 teaspoon ground flaxseed
Shredded parmesan cheese on top and bottom.
Mix and cook in a mini waffle iron until crispy. – Kim H.
Bacon Cheddar Chaffles
1 egg
1.2 cup cheddar
Bacon bits to taste
Mix and cook until crispy. – Jennifer H.
Bacon Jalapeno Chaffles
1/2 cup shredded swiss/gruyere blend
1 egg
2 tablespoons cooked bacon pieces
1 tablespoon diced fresh jalapenos
Cook until crispy. Works great as a bun to a cheeseburger. – Meagan J.
Sandwich Bread Chaffles
1 egg
2 tablespoon almond flour
1 tablespoon mayo
1/8 teaspoon baking powder
1 teaspoon water
Sweetener and garlic powder (optional)
Makes 2 chaffles, and you can easily cut them in half for a bun. – Linda K.
Sweet Chaffles
To make chaffles sweet, the possibilities are endless! You can simply use the base recipe and add in some Keto-friendly sweeteners.
If you want to add some sweet flavoring after, you can drizzle all kinds of Keto-friendly awesomeness on top. I like to use this Lakanto Maple Syrup. There are also several ChocZero products I use from Amazon as well.
Otherwise, if you want more than that, you can utilize the recipes below!
Chocolate Brownie Chaffles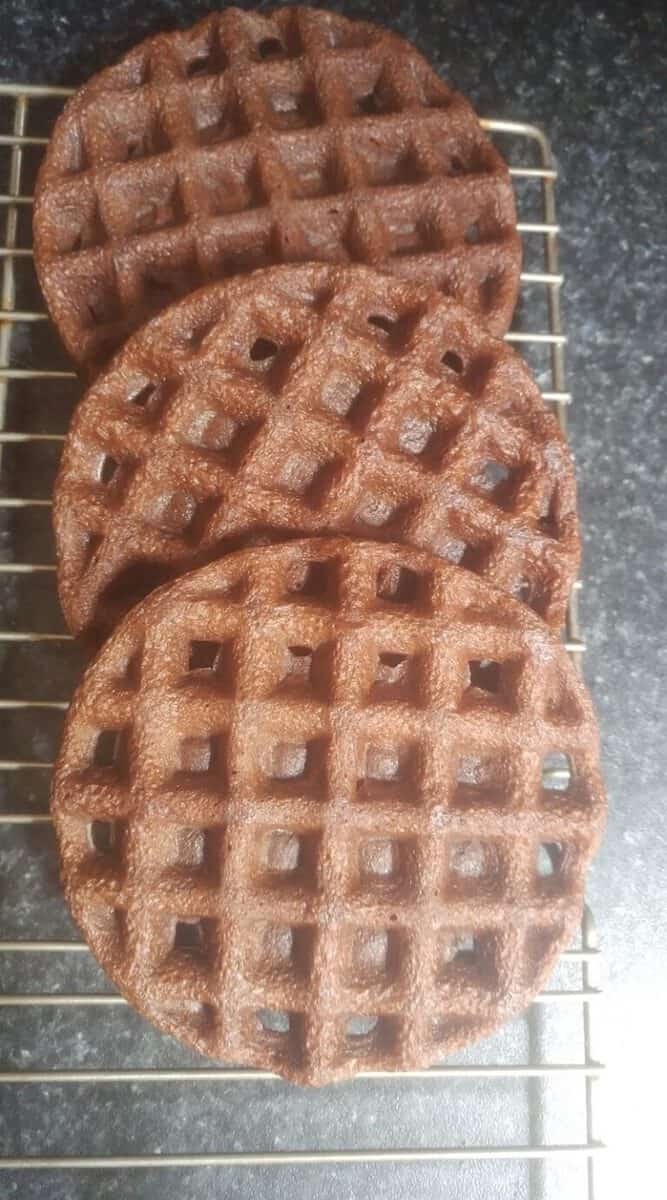 Mint Chocolate Broffle (brownie waffle)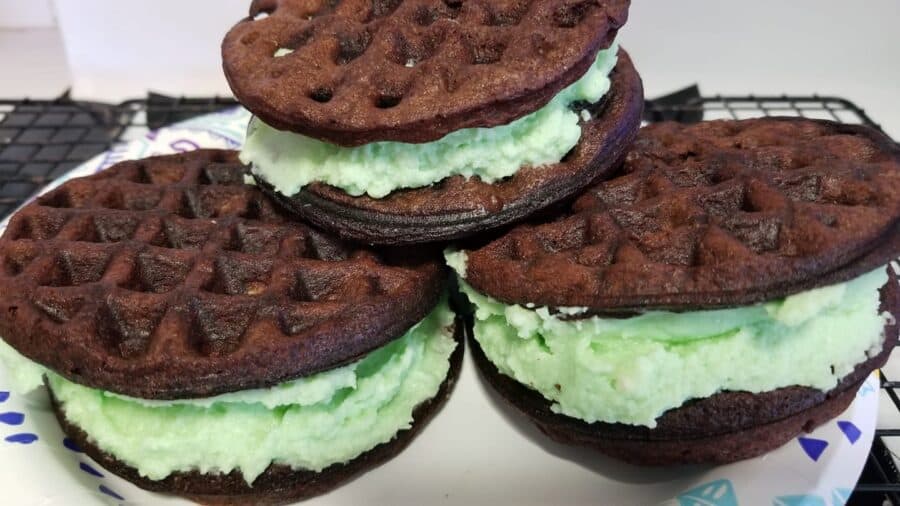 Use this keto brownie recipe
Add chopped pecans and each broffle (brownie waffle) used 3 tablespoons of batter for 7 minutes.
Then I made buttercream and put it between 2 broffles. The recipe for the buttercream is based on Urvashi's maple pecan buttercream recipe, only with mint instead of maple extract. —Susan C.
Lemon Pound Cake Chaffles
Many people are cutting my lemon pound cake recipe by 1/4 and making Cake Chaffles out of them.
Apple Pie Chaffles
1.2 cup mozzarella cheese
1 egg
Add the mozzarella to the waffle maker.
Put the egg on top.
Sprinkle on apple pie spice and 5 sugar free chocolate chips.
Serve with butter on top. – Stacy G.
Cream Cheese Carrot Cake Chaffles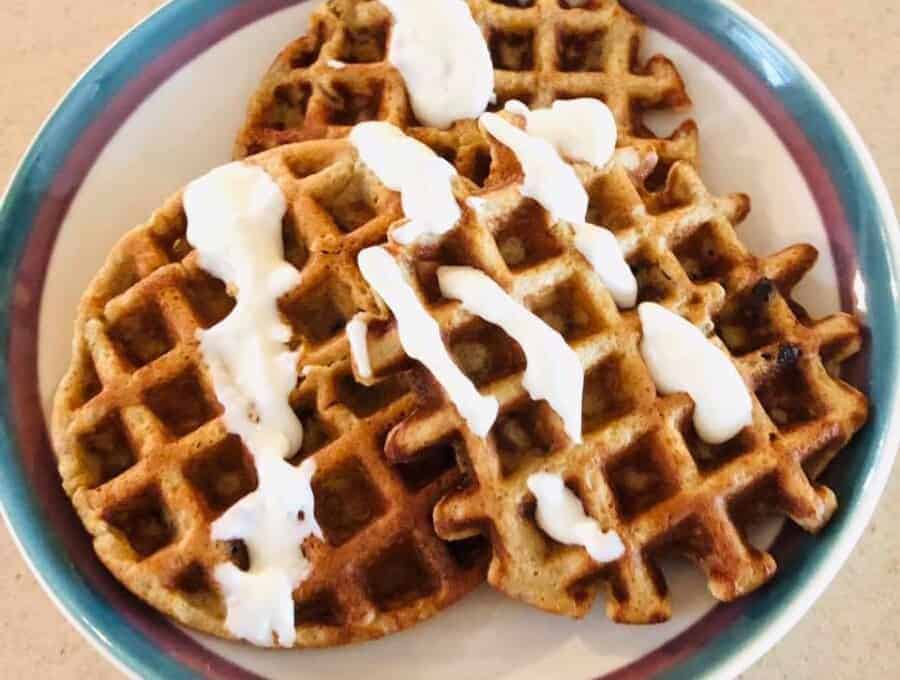 2 tablespoons cream cheese or a combination of 1 tablespoon cream cheese and 2 tablespoons shredded mozzarella cheese
1/2 pat of butter
1 tablespoon finely shredded carrot
1 tablespoon of sweetener of your choice. I used Splenda.
1 tablespoon almond flour 
1 teaspoon pumpkin pie spice
1/2 teaspoon vanilla
1/2 teaspoon baking powder
1 egg
OPTIONAL
I added 6 raisins, 1 tablespoon of shredded coconut and 1/2 tablespoon of walnuts to the blender ingredients.
CREAM CHEESE FROSTING
1 tablespoon cream cheese
1 pat butter
1 teaspoon sweetener of choice. I used Cinnamon Brown Sugar sugar-free syrup.
Heat up waffle maker. I used a mini Dash. I oiled with a silicon brush dipped in coconut oil.
Microwave cream cheese, mozzarella, and butter for 15 seconds to melt the cheeses to make combining easier. I did this in a magic bullet cup to blend.
Add the rest of the chaffle ingredients to blender cup and blend until smooth and incorporated.
Add batter to waffle maker. For the Dash, I added 2 heaping tablespoons and it made 3 chaffles.
While making the chaffle, heat up the butter and cream cheese for the frosting. Mix until smooth and incorporate your sweetener. Drizzle over chaffles as desired. – Heather S.
Cinnamon Chaffles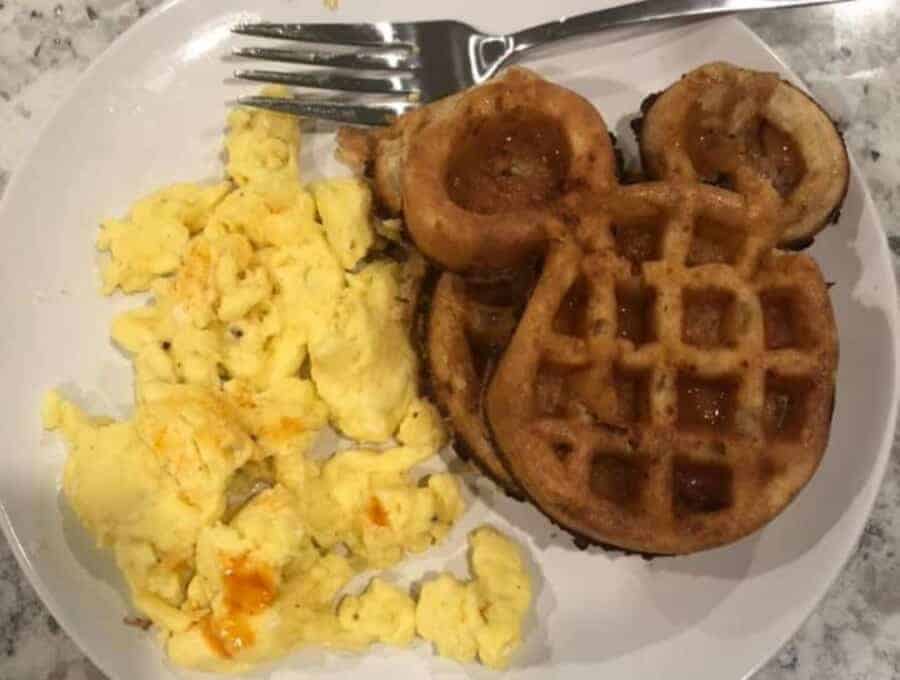 1/2 cup mozzarella
1 egg
1 tbsp vanilla extract
1/2 tsp baking powder
1 tbsp almond flour
Sprinkle of cinnamon
Mix together and cook until chaffles are crispy. – Tiffany Y.
Cinnamon Swirl Chaffles
CHAFFLE:
1 oz cream cheese, softened
1 large egg, beaten
1 tsp vanilla extract
1 tbsp almond flour, superfine
1 tbsp Splenda
1 tsp cinnamon
ICING:
1 oz cream cheese, softened
1 tbsp butter, unsalted
1 tbsp Splenda
1/2 tsp vanilla
CINNAMON DRIZZLE:
1/2 tbsp butter
1 tbsp Splenda
1 tsp cinnamon
Heat up waffle maker, I brushed on coconut oil on my DASH.
Mix up the chaffle ingredients until smooth.
Use a spoon to add 2 heaping tbsp of batter to the waffle iron. It will make 3 small waffles.
Cook to your desired waffle crispness. I did 4 min, they were like a soft waffle.
Cool on a rack.
Mix the icing and cinnamon drizzle in small bowls. Heat in microwave for 10 secs to get to soft consitency. Swirl on cooled waffles. Heather S.
Want to see your recipe added? Join my facebook group and post in the thread there. Don't forget to pin and share this post!
If you liked these chaffle recipes, try these:
Don't forget to check out my Keto Desserts Cookbook!
Featuring recipes for many classic, high-carb favorites that have been reworked to be "fat bombs," which help keep your macros in balance, as well as prevent you from craving all the things you usually can't eat when you're trying to lose weight. Many of the more than 100 recipes require no more than 10 to 15 minutes of prep time, and they taste as delicious and indulgent as they sound—how about Chocolate Peanut Butter Pops, Mocha Cheesecake, or Almond Butter Bombs?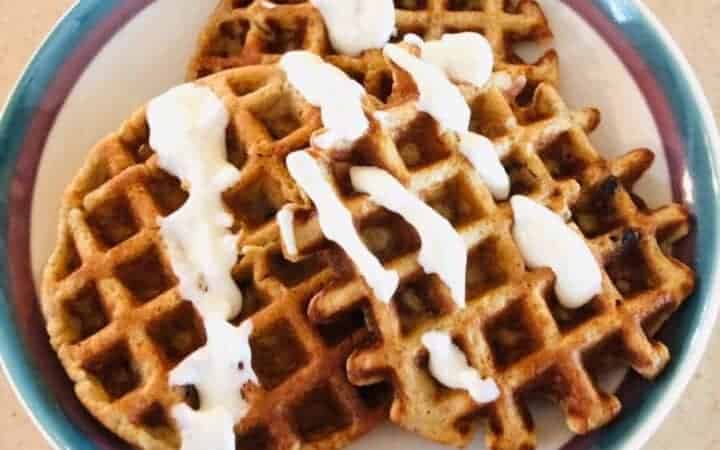 Ingredients
1/2

cup

shredded cheddar cheese

1

egg
Instructions
Layer 1/4 cup of the cheese into the waffle maker.

Add the egg on top of the cheese.

Add the remaining 1/4 cup of cheese on top of the egg.

Cook until it's crispy. It gets crispier as it cools too.
Notes
Chaffles freeze well! Make a big batch and freeze them for later to reheat in the microwave or air fryer. 
Mix and match your seasonings to come up with new flavor combos.
Make them taste less "eggy" by using egg whites, or adding more ingredients or seasonings.
Nutrition
Serving:
2
g
|
Calories:
291
kcal
|
Carbohydrates:
1
g
|
Protein:
20
g
|
Fat:
23
g
|
Saturated Fat:
13
g
|
Cholesterol:
223
mg
|
Sodium:
413
mg
|
Potassium:
116
mg
|
Sugar:
1
g
|
Vitamin A:
804
IU
|
Calcium:
432
mg
|
Iron:
1
mg