If it's one thing I crave while focusing on keto, it's some sort of bread. I know I'm not alone when I crave a crazy amount of carbs while trying to watch my diet. That's why I love these Keto Cheese Muffins and end up making them often.
I love suggesting these to friends and family. They hit the spot when those cravings for bread start rolling around. Even if you're not watching what you eat, these Keto Cheese Muffins are still a great side dish option.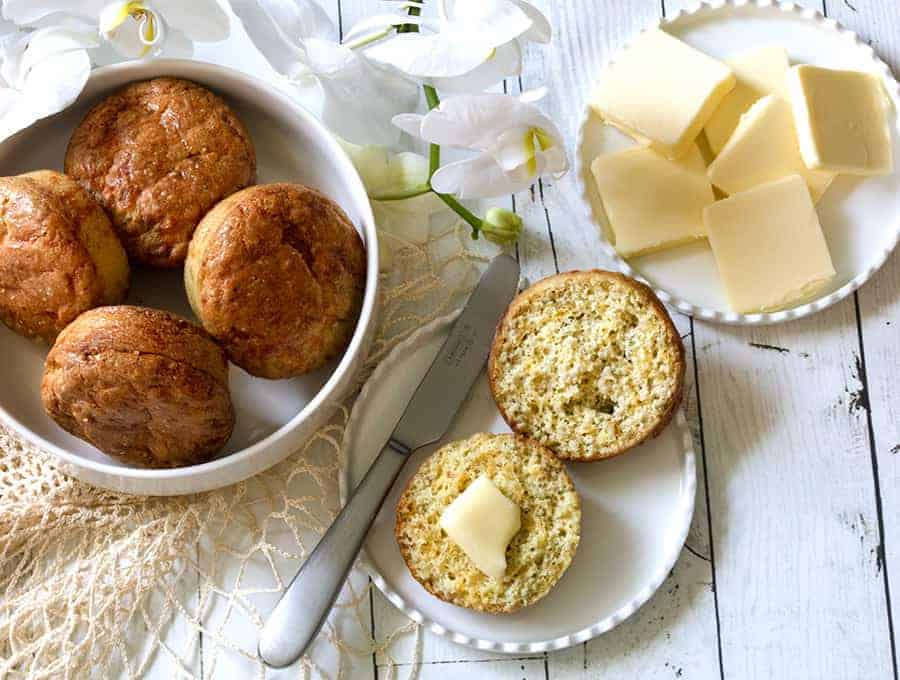 Keto Cheese Muffins | Savory Low Carb Muffins
There's nothing better than having a low carb bread option. These Keto Cheese Muffins only take about ten minutes to whip up. Once you've put them together, just toss them in the oven and you're set.
Keto Cheese Muffins aren't only great as a side. They're a perfect option for a snack or even breakfast. I like to use them as the bread for my sandwich sometimes, even. They're pretty versatile.
Other Keto Bread Recipes
If you're looking for more delicious low carb bread options, check out my Keto Bread recipe! It's a great low carb bread option that doesn't an eggy taste like most other keto bread recipes.
And if you're in the mood for muffins but are looking for something a little sweeter, check out my Keto Ricotta Lemon Poppyseed Muffins. They're light, moist and done in under 30 minutes.
My Keto Blueberry Sour Cream Muffins are another fantastic muffin recipe that is completely keto friendly.
And if you're looking for more great cheesy recipes, My Air Fried Feta Psiti is an amazing snack or appetizer that will make your taste buds sing! Bonus: It's low-carb and Keto friendly!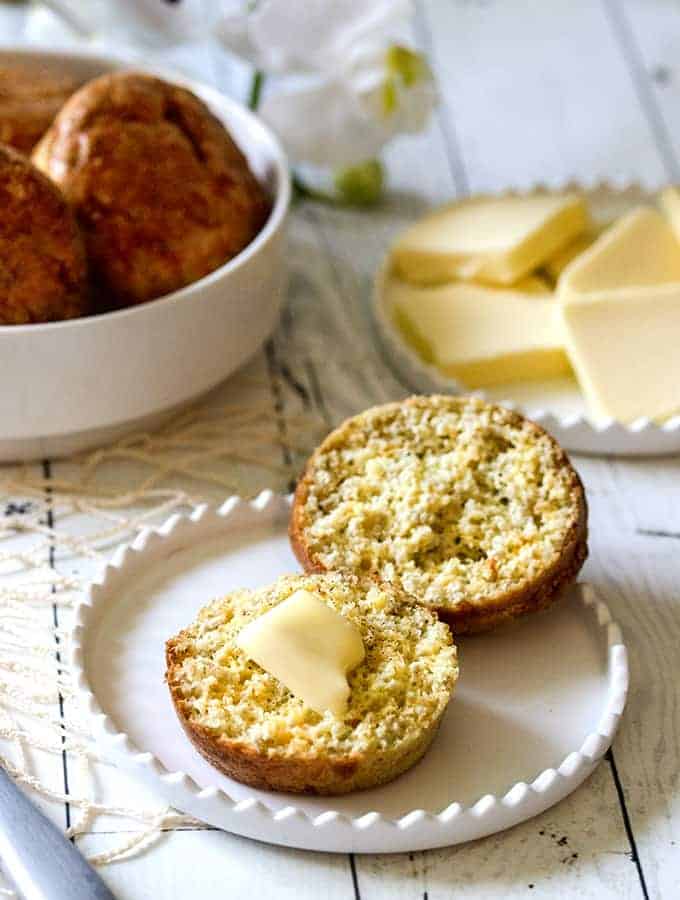 If you love your bread like I do, these Keto Cheese Muffins will do the trick. They've always been a hit whenever I took them to get-togethers as well. You can't beat a delightfully savory and cheesy recipe like this one.
? DID YOU MAKE THIS RECIPE? DON'T FORGET TO GIVE IT A STAR RATING BELOW! JUST CLICK ON THE STARS IN THE RECIPE CARD TO RATE.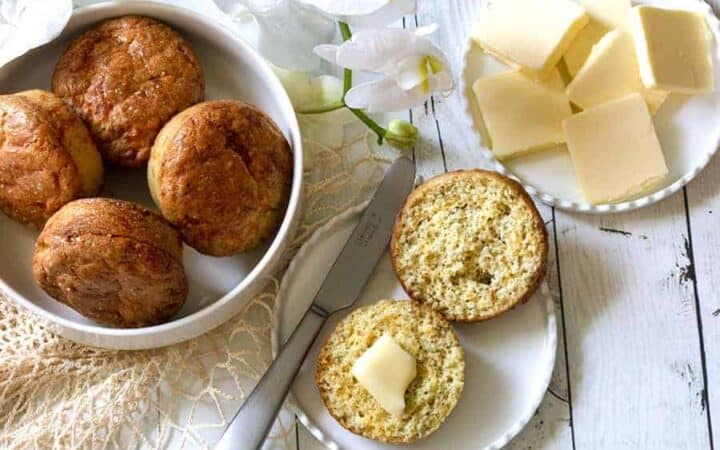 Instructions
Preheat oven to 350°F. Grease a 12 cup muffin pan with vegetable oil and set aside, or use a silicone muffin pan.


In a medium bowl combine almond flour, chia seeds, baking powder, and granulated garlic. Make a well in the dry ingredients. Add eggs and beat in the well, then pour in melted butter and heavy whipping cream. Stir until smooth. Gently fold in the grated cheese.


Pour batter into greased muffin pan. Bake for 35-40 minutes until the tops are well browned. Turn off the oven and allow the muffins to rest in the oven for 10 minutes.

Notes
Variations
Rosemary Cheese Muffins:
Add 1 teaspoon dried rosemary
Ham and Cheese Muffins:
Omit cheddar cheese. Add 1/4 cup grated swiss cheese and 1/4
cup diced ham
Bacon and Chive Muffins:
Omit cheddar cheese. Add 1/4 cup cooked, crumbled bacon and 1/4 cup fresh chopped chives
Parmesan Pepper Muffins:
Omit cheddar cheese and granulated garlic. Add 1/2 cup shredded parmesan cheese and 1 teaspoon ground pepper.
Nutrition
Calories:
182
kcal
|
Carbohydrates:
5
g
|
Protein:
6
g
|
Fat:
15
g
|
Saturated Fat:
5
g
|
Fiber:
3
g