Want to amp up your BBQ game this year without grilling? This amazing Air Fryer Pineapple is melt-in-your-mouth delicious and incredibly simple to make.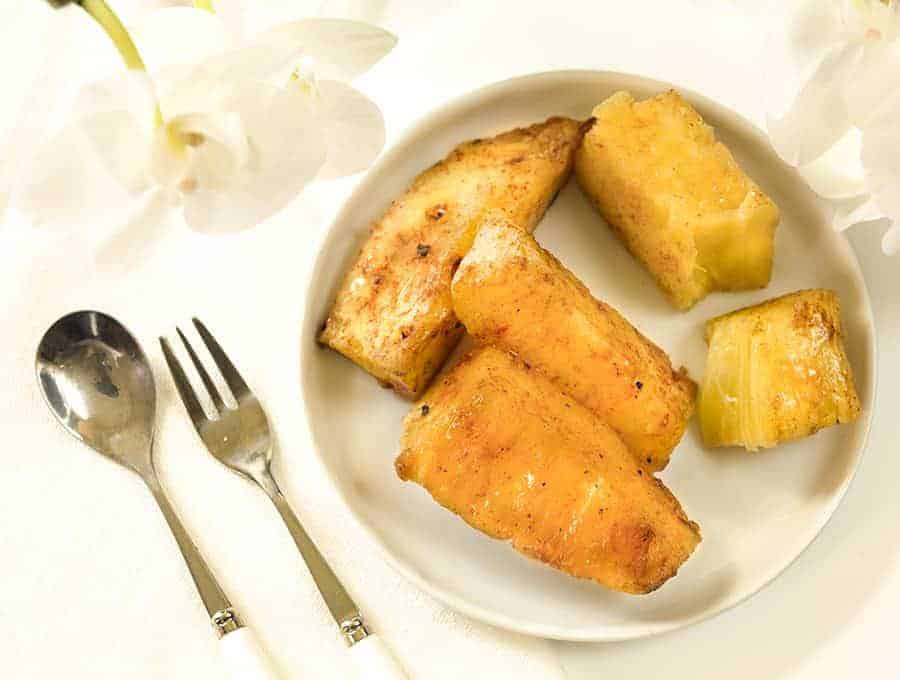 Brazilian Grilled Pineapple
Pineapple is a summer staple for us and it's delicious on its own. But, when you cook it in your air fryer with brown sugar and butter it turns it into this delicious, light dessert and you will want to make it every night.
I love my Air Fryer year-round, but in the summer it really saves me. I can make this amazing Brazilian Grilled Pineapple without firing up my oven or grill and it turns out consistently delicious every time. It's the perfect addition to a summer bbq, or to a dish that just needs a little acidic pop.
Why You'll Love These Air Fryer Pineapple Slices
Fast. Ready in under 30 minutes with the help of your air fryer.
Easy. Coat with brown sugar, cinnamon, and butter and pop in your air fryer--that's it!
Few Ingredients. You'll only need 4 ingredients for this air fryer pineapple recipe.
Family-friendly. This sweet pineapple slice recipe is a way to get someone of any age to enjoy nature's candy.
Brazilian Grilled Pineapple is sweet, light, and delicious! It's perfect for a fresh, summer dessert (because pineapple is SO good during the summer!) or even as a side dish. It's not low-carb by any means, but it's a much healthier option than pie or cake, right? Grab your Air Fryer, and let's cook!
Can You Put Fruit In The Air Fryer?
Not only can you put fruit in the air fryer, you absolutely should. Whether you are using the air fryer to "grill" your fruit (like in this recipe) or if you are using your air fryer to dehydrate fruit, it is a great way to cook some of your favorites without heating up the kitchen.
How Can Pineapples Be Cooked?
I've enjoyed the natural sweetness that is brought out when it is cooked in a variety of ways. Here are a few ways that you can enjoy cooked pineapple:
Grilled
Sauteed
Air Fried
Baked
Ingredients You'll Need
Pineapple Slices
Butter
Brown Sugar
Cinnamon
How To Make Air Fryer Pineapple
Mix together brown sugar and cinnamon.
Brush the pineapple with melted butter and then sprinkle cinnamon sugar over the spears
Place the pineapple slices into the air fryer basket in a single layer. Depending on the size of your air fryer, you may have to do this in batches.
Air Fry and flip halfway through the cooking time.
The pineapples are done when they are heated through and the sugar is bubbling.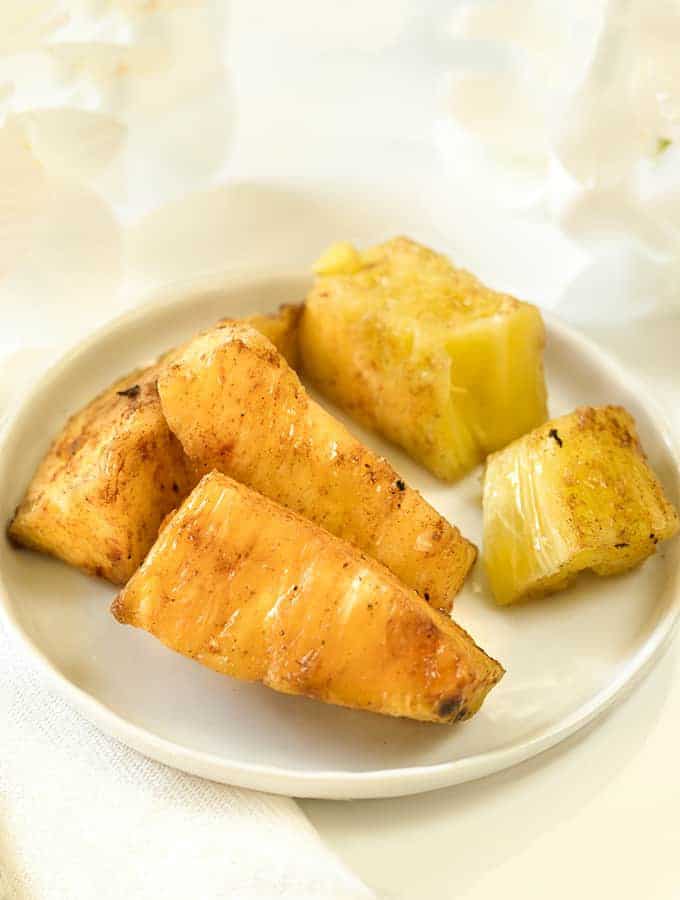 Tips and Tricks
Cover the pineapple with the butter and cinnamon sugar--but continue to baste while cooking for an even more intense cinnamon sugar flavor.
Cut into 1" pieces before air frying your pineapple if you want to add it to pizza.
Stick popsicle sticks in the ends of your pineapple slices or spears and freeze. As they begin to defrost, they make delicious, natural fruit pops.
How Long Do These Pineapple Slices Last?
Once the caramelization happens in the air fryer on these pineapple slices, I would suggest enjoying them the day they are prepared or the following day for the best experience.
If you do have any leftovers (we rarely do) store them in an airtight container in the refrigerator.
What To Serve With Air Fryer Pineapple
Really, the possibilities are nearly endless. This air fryer pineapple is perfectly paired with both sweet and savory recipes. Here are some of my favorite pairings:
Want More Easy Air Fryer Recipes?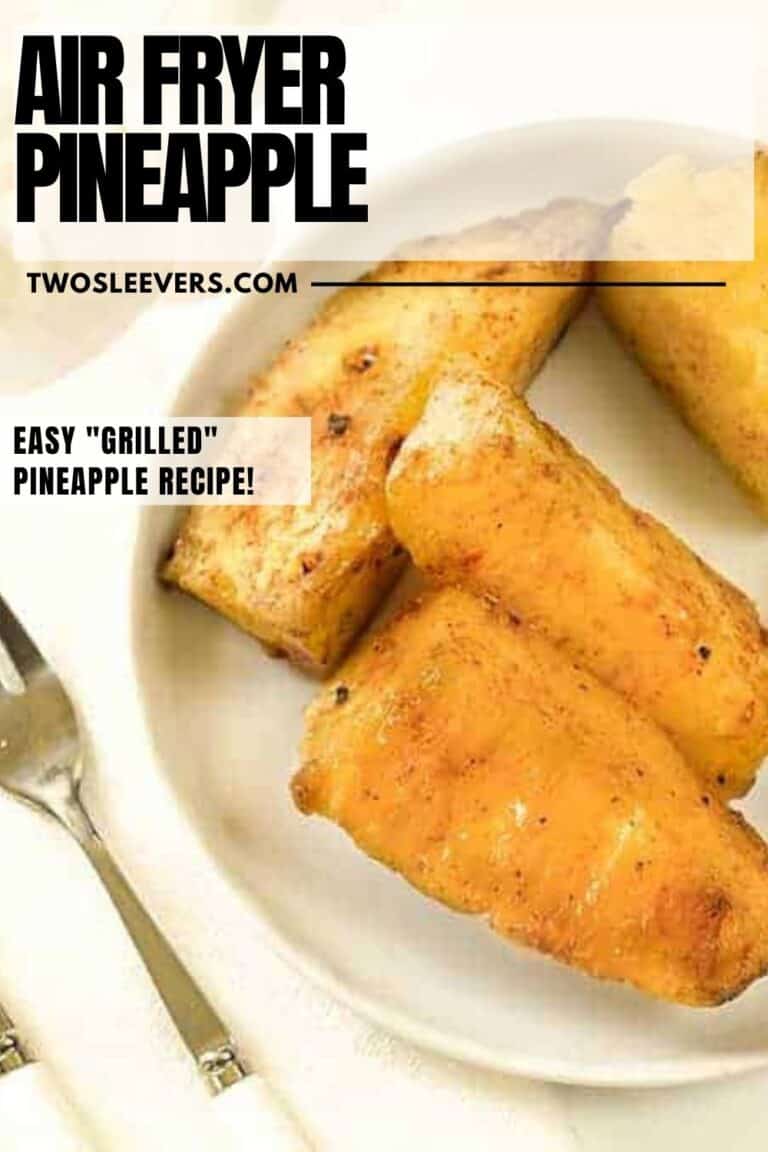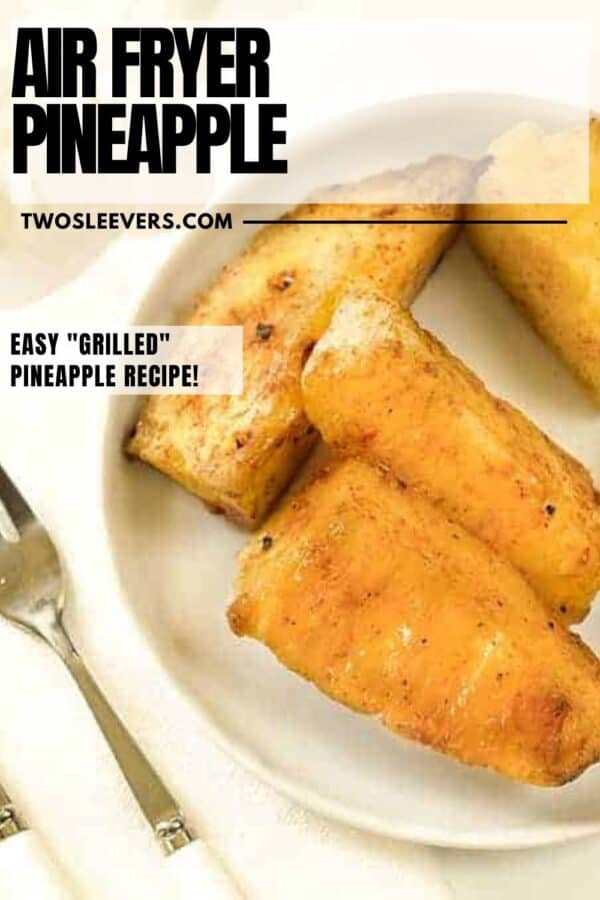 If you love this Air Fryer Pineapple as much as we do, make sure you share it with your friends on Facebook and Instagram so they can try it too! Don't forget to Pin it so you can make it again soon.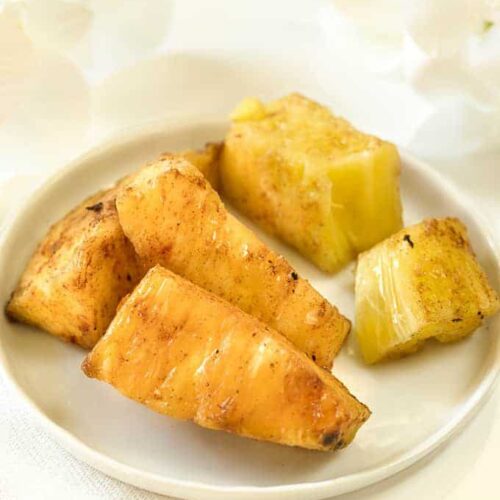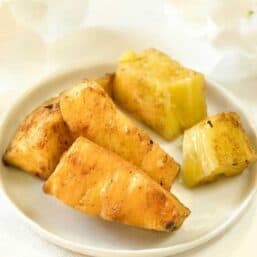 Air Fryer Pineapple | Easy Grilled Pineapple Slices
Want a delicious side to your grilled food without adding to your grilling load? Make this delicious 4-ingredient Brazilian Grilled Pineapple in your Air Fryer! So easy yet so delicious.
Ingredients
1

pineapple

peeled, cored and cut into spears

1/2

cup

Brown Sugar

2

teaspoons

Ground Cinnamon

3

tablespoons

melted butter
Instructions
In a small bowl, mix together brown sugar and cinnamon.


Brush the pineapple spears with the melted butter. Sprinkle cinnamon sugar over the spears, pressing lightly to ensure it adheres well.


Place the spears into the air fryer basket in a single layer. Depending on the size of your air fryer, you may have to do this in batches. Set fryer to 400°F for 10 minutes for the first batch (6-8 minutes for the next batch as your air fryer will be preheated). Halfway through, brush with any remaining butter.


Pineapples are done when they are heated through and the sugar is bubbling.

And don't forget to check out my air fryer cookbooks! Every day easy air fryer, and Air Fryer Revolution.