Want to amp up your grill game this year without grilling? This amazing 4-ingredient Brazilian Grilled Pineapple is made in your Air Fryer and is melt-in-your-mouth delicious. Pineapple is a summer staple for us and it's delicious on its own. But, when you cook it in your air fryer with brown sugar and butter it turns it into this delicious, light dessert and you will want to make it every night.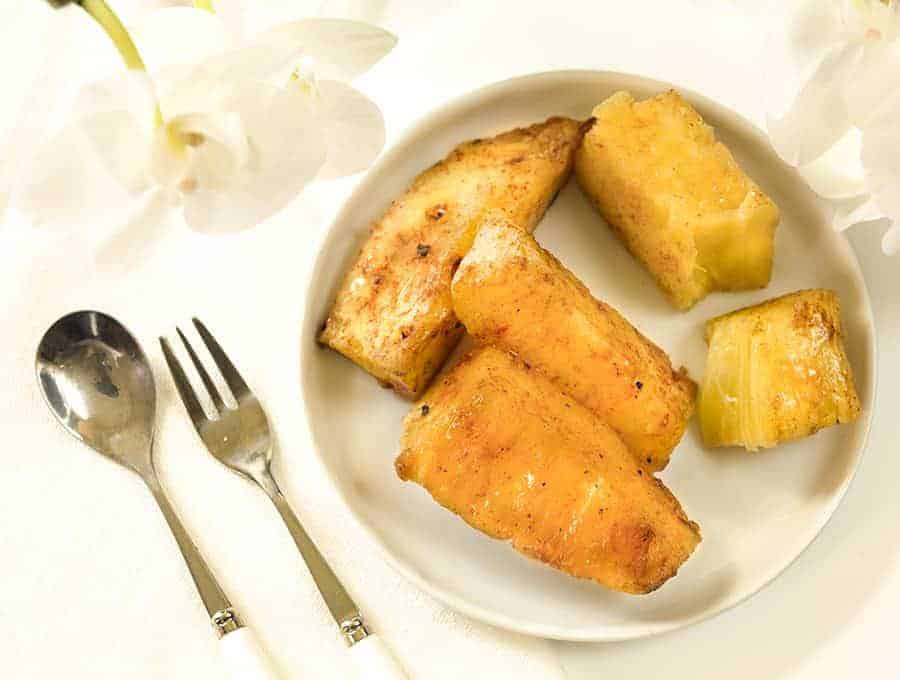 Jump to:
What is this Brazillian Grilled Pineapple Recipe?
Have you ever been to those Brazillian Rodizio/ Churrascaria places? The insanely expensive ones where they make all their profit from people like my family who barely eat more than a cup of food at a time?
We love going there and in fact, our family tradition is to go to one of those for Thanksgiving and for Christmas. As expensive as they are, we like to save them for a special occasion for us.
But here's the thing. My son Alex? He eats very little to start with. ALL he wants, is their filet mignon, their pao de quejo, and the grilled pineapple. So $50 later, that's all he's eaten!
This is what led to me make a stupid simple Pao de quejo recipe at home to start with. (You can also make this Instant Pot Pao de Quejo if you don't want to mess with an oven in the heat of summer).
Then I made a Brazilian hearts of Palm soup or Sopa de Palmito, which can be eaten either hot or cold.
But somehow I assumed the Brazillian Grilled Pineapple recipe was going to be complicated.
Wrong.
It's stupid simple, which of course, is my speed all day long.
But I will admit, I haven't yet embraced my grill as much as I should. Between the Instant Pot, my air fryer, my smoker, etc. etc. I am fairly gadgeted up!
So I had to come up with a different way to make this Brazillian Grilled Pineapple recipe.
Brazilian Grilled Pineapple
Enter my Philips Avance air fryer. I love my Air Fryer year round, but in the summer it really saves me. I can make this amazing Brazilian Grilled Pineapple without firing up my oven or grill and it turns out consistently delicious every time. It's the perfect addition to a summer bbq, or to a dish that just needs a little acidic pop.
Brazilian Grilled Pineapple is sweet, light and delicious! It's perfect for a fresh, summer dessert (because pineapple is SO good during the summer!) or even as a side dish. It's not low-carb by any means, but it's a much healthier option than pie or cake, right? Grab your Air Fryer, and let's cook!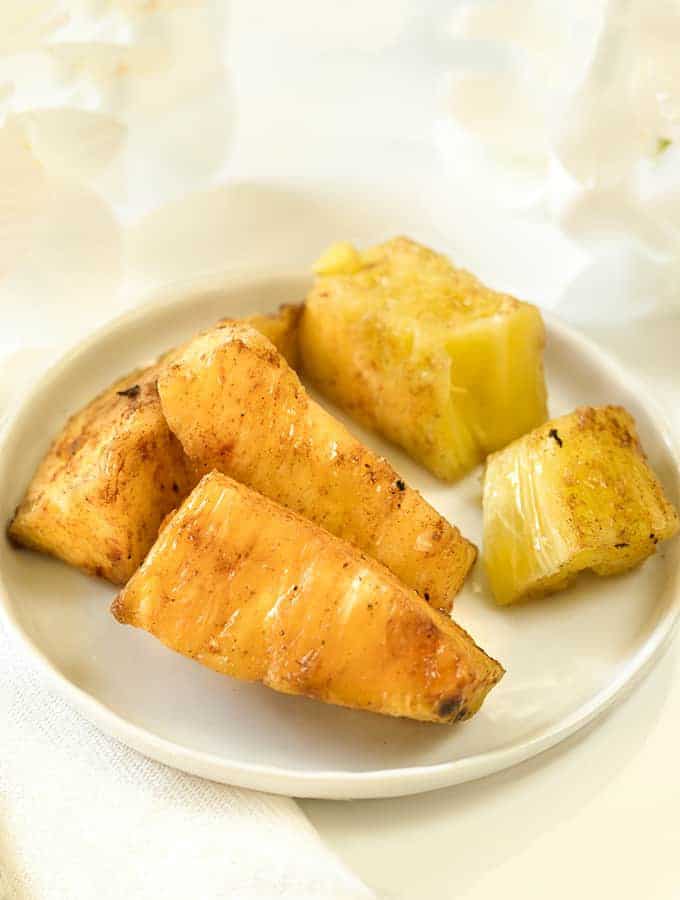 Click on highlighted ingredients or Equipment to see exactly what I use to make this recipe
Instructions
In a small bowl, mix together brown sugar and cinnamon.


Brush the pineapple spears with the melted butter. Sprinkle cinnamon sugar over the spears, pressing lightly to ensure it adheres well.


Place the spears into the air fryer basket in a single layer. Depending on the size of your air fryer, you may have to do this in batches. Set fryer to 400°F for 10 minutes for the first batch (6-8 minutes for the next batch as your air fryer will be preheated). Halfway through, brush with any remaining butter.


Pineapples are done when they are heated through and the sugar is bubbling.

Get support & connect with our community on Facebook!
Nutrition
Calories:
295
kcal
|
Carbohydrates:
57
g
|
Protein:
1
g
|
Fat:
8
g
|
Fiber:
3
g
|
Sugar:
48
g
Tried this recipe?
Follow @twosleevers and Pin it!