I've seen so many comment threads on Facebook of people who are against cooking seafood in their pressure cooker because they're afraid of over-cooking. The thing is, seafood in the Instant Pot is amazing and is so simple. I love this Fish Saag recipe because it's creamy and cooks so quickly.
But mainly I like it because it's delicious and perfectly cooked.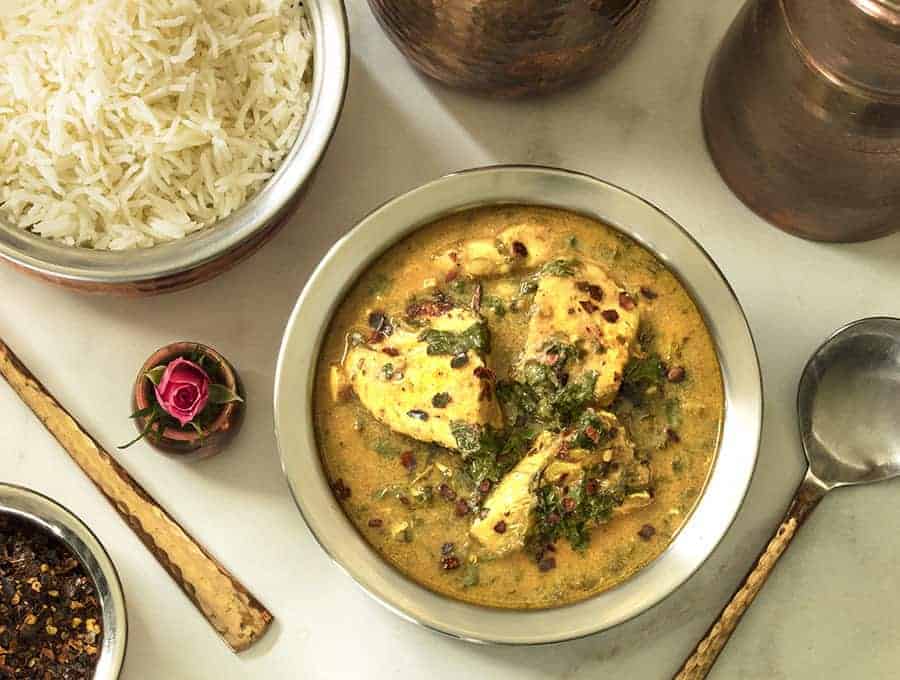 In addition to being delicious, this Fish Saag recipe is also good for you. It's full of spinach, warm spices, and coconut milk and is not only a balanced meal, but is also dairy-free, gluten-free, and Keto friendly.
Of course for Keto, you will have to forgo the rice, but riced cauliflower is always a good bet!
Fish Saag | Pressure Cooker, Low Carb and Gluten Free
In my experience, as long as you know how to do it, cooking seafood in the Instant Pot is a great idea. It turns out moist and infused with all the flavors of the spices and aromatics you cooked with it. This recipe uses Haddock and it cooks very well in the Instant Pot without much fuss.
WHAT IS SAAG?
Saag is a common Indian dish that's usually made with greens of some kind (spinach, mustard greens etc) and cooked down with spices, and sometimes paneer.
While it can be eaten alone, many people choose to pair it with a protein to make it a complete meal. I've cooked it many many ways, and love pairing it with different meats. I really love how this Fish Saag recipe came out, and I think you'll like it too.
Another great Saag recipe is my Pork Saag recipe. And just like this recipe it's low carb, gluten free and made conveniently in your Instant Pot!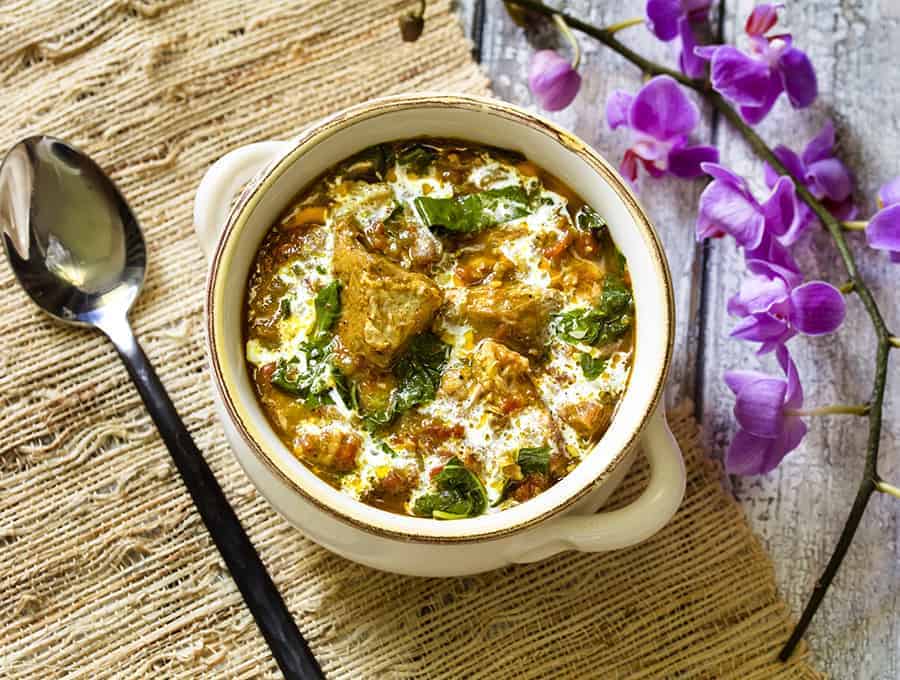 And why not follow an Indian dish up with an Indian dessert? My Air Fryer Eggless Farina Cake looks gorgeous and is delightfully moist and delicious.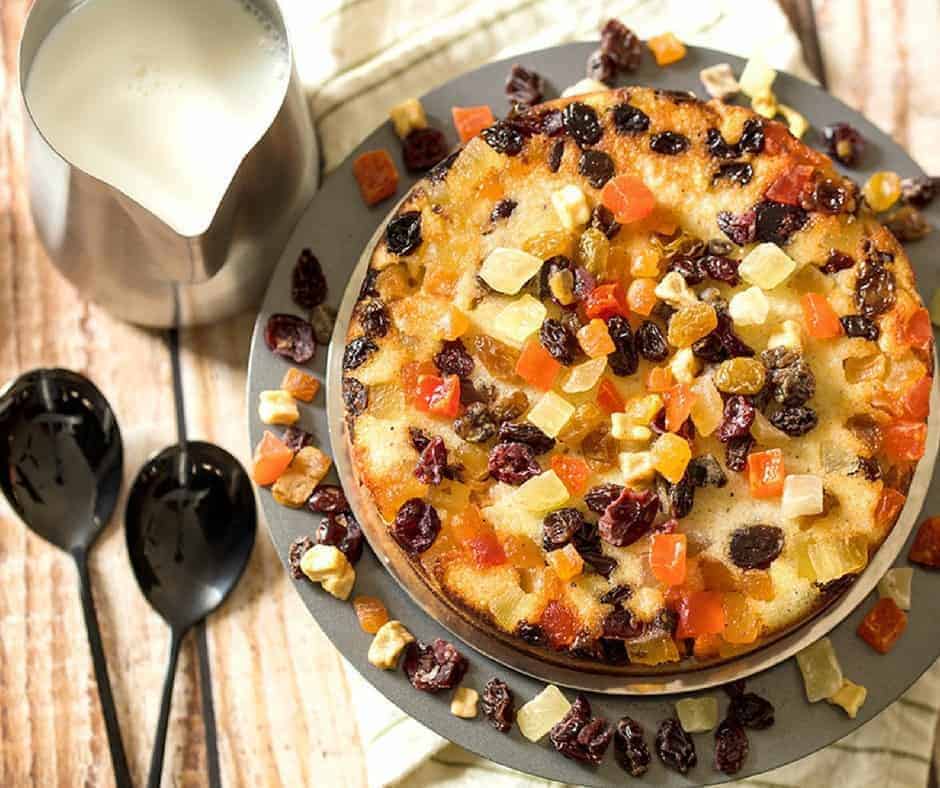 Tips for Cooking Seafood in the Pressure Cooker
Use Frozen Seafood
You'll notice in the recipe below that I use frozen spinach and frozen fish for this Fish Saag.
I do that because it's convenient. The pressure cooker will do all the hard work for you. There's no need to defrost, or to use fresh spinach. I use my Instant Pot so often because it saves me steps like this, so I use shortcuts like frozen foods, as often as I can. It doesn't change the flavor of this recipe, and it turns out creamy and delicious in less than 30 minutes.
But I also do that because it's the little trick you need to know, the one that keeps your seafood from overcooking in the pressure cooker.
I have found that starting with frozen seafood is often the best way to get perfectly cooked, not overdone seafood in your Instant Pot or other Electric pressure cookers.
Use Pot-in-Pot Cooking
The other trick I have found is that seafood invariably does better when cooked Pot-in-Pot. Elevating the fish away from the hot liner retards cooking and results in a perfectly well-cooked piece of fish. I have another recipe for an Instant Pot Ginger Scallion Fish that uses the same trick, as does my Easiest Ever shrimp curry recipe.
So don't be afraid to try seafood in your pressure cooker. Follow this Fish Saag recipe exactly as written, and you can start improvising in no time at all to get perfectly cooked seafood from your Instant Pot.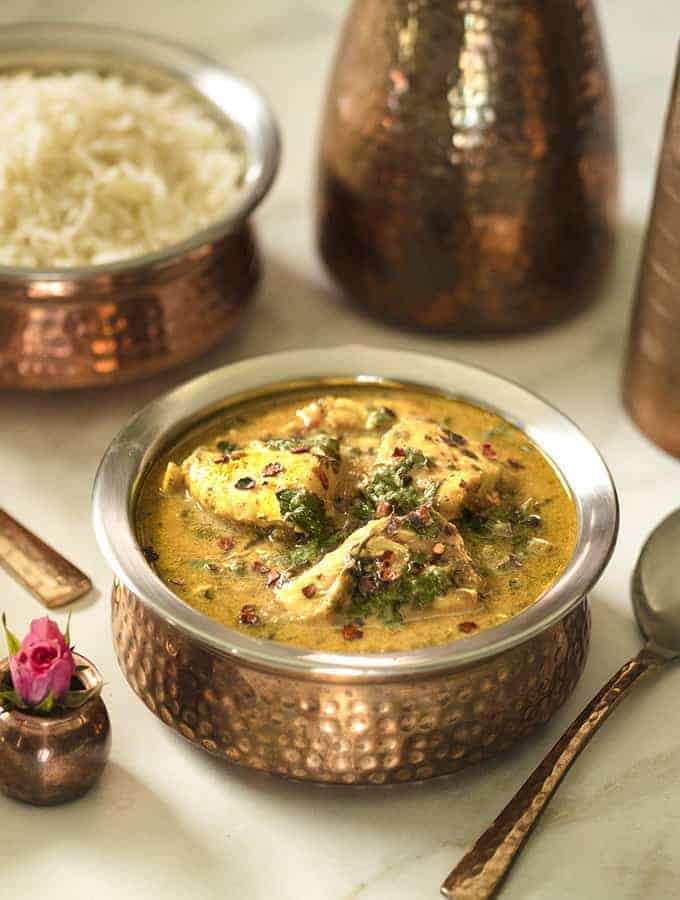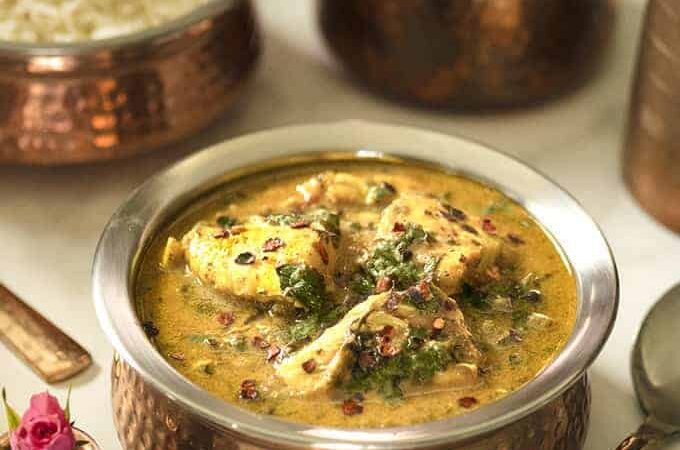 Click on highlighted ingredients or Equipment to see exactly what I use to make this recipe
Ingredients
For the Fish
1

pound

semi-frozen haddock fillets a

,

bout 1/2 inch thin and cut into 3-4 inch even bite size pieces, or any other firm white fish such as cod or tilapia

1

teaspoon

tumeric

1

teaspoon

Kosher Salt
Instructions
Set out the fish on the kitchen counter to defrost and proceed with the steps listed below. By the time you gather all the ingredients and get to to the fish, it should be somewhat defrosted and ready for you.

Blend together the onions, tomatoes ginger, and garlic. Pour this sauce into the inner liner of the Instant Pot.    

Stir in the salt, cayenne, turmeric and garam masala. Use the 1/4 cup of water to wash out the blender jar and pour that last bit of goodness into the pot.


Add in the frozen spinach and stir. The spinach or greens are what makes this a saag.


Place a steamer rack on top of this sauce.


For the Fish: Rub the fish cubes with oil, salt, and turmeric. Place the fish on a sheet of aluminum foil and fold the sheet over on all sides to make a securely-wrapped package. Place this package on top of the steamer rack.


Cook for 5 Minutes high pressure.


Allow it to release pressure naturally for 5 mins and then release all remaining pressure.


Very carefully lift up the package of fish, open one side of it, and tilt it so that all the cooking liquids pour into the sauce below. Set the package of fish aside. (You are doing this so that you don't break up the fish as you proceed to the next step which asks you to mix the sauce well.)


Pour in the coconut milk and stir well until it is well incorporated. Only once this is done will you carefully open the package of fish and tilt the pieces of fish into the spinach saag. Serve with rice, or naan, cauliflower rice, or zoodles.   
Get support & connect with our community on Facebook!
Nutrition
Calories:
115
kcal
|
Carbohydrates:
12
g
|
Protein:
5
g
|
Fat:
7
g
|
Fiber:
4
g
|
Sugar:
4
g
Tried this recipe?
Follow @twosleevers and Pin it!
Indian Instant Pot, Keto Instant Pot, Instant Pot Fast and Easy, Healthy Instant Pot & Vegetarian Instant Pot.