When you read the word "fried" you immediately think popping, hot oil, and crispy, crunchy food. However, this Nigerian Fried Rice actually isn't fried at all. In fact, it's a quick and tasty dinner or side dish idea.
Traditional Nigerian Fried Rice takes a long time to cook, and needs a lot of babysitting at the stove. I used my Instant Pot for this recipe, and I'm so happy with how it turned out that I'll never make it the traditional way again.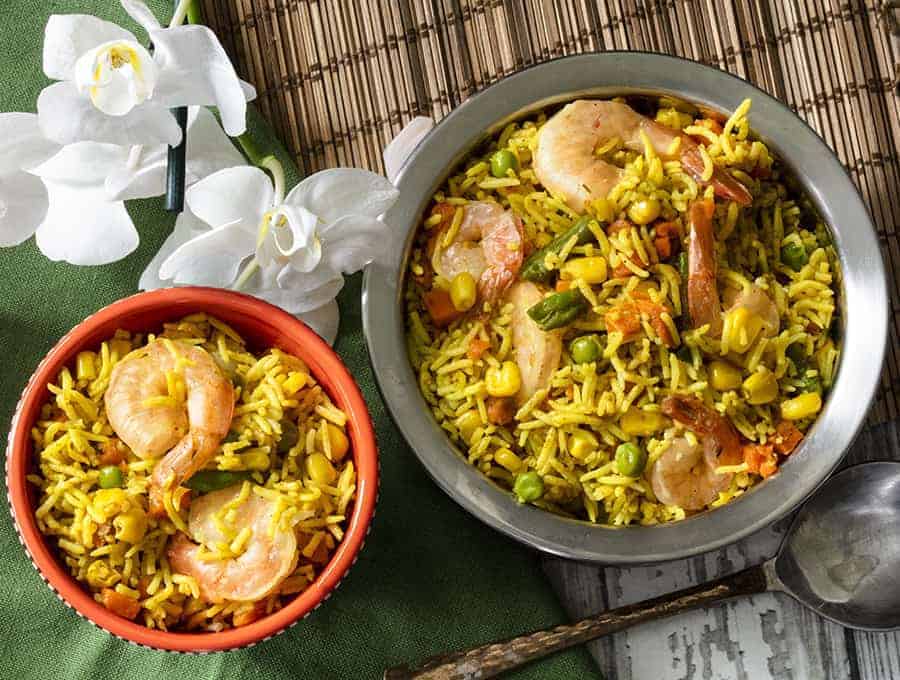 Nigerian Fried Rice | Instant Pot Recipe
So as I said, and as you likely know if you've made this before, Nigerian Fried Rice typically takes over an hour to cook traditionally. My Instant Pot recipe only takes you about 35 minutes. We compared the traditional method of cooking with the Instant Pot version side by side, and really there was little to no taste difference at all. I'd call that an Instant Pot win!
The best part about this recipe is that it was all hands-off. No major prep steps or complicated cooking steps. That's what's so great about an Instant Pot - it makes complicated recipes so easy, yet still delicious.
I honestly don't know if I would cook as much as I do without my Instant Pot. I can fit so much more cooking in because of how easy it is to make delicious recipes at any cooking level. This tasty Nigerian Fried Rice is only one of the many recipes I enjoy having such quick access to.
You used Curry Powder??
YES! I know, I know, I tell you never to use curry powder, except--I do use it for non-Indian cooking. I know that sounds odd, but this Nigerian Fried Rice is actually traditionally made with curry powder. So yes, I used it for this one.
But I still stand by my original position--make your own spice mixes with these recipes! And watch my video on how to use spices in cooking.
I have also use
Knorr Bouillon granules
as that is what is preferred by most of my Nigerian friends who make traditional Nigerian food.
You know what? It all just works in this recipe.
Feel free to sub your favorite brands, but I wanted you to know what I used to make this Authentic Nigerian Fried rice--except of course that making it in an Instant Pot is not traditional!
What can I use instead of Shrimp?
So this is a great recipe for any sort of leftover meat such as rotisserie chicken, leftover turkey, or ham. There's no reason you have to use shrimp.
I'd suggest you mix in cooked meat after the rice is cooked, much as I did with this cooked shrimp.
But yes, feel free to customize this Instant Pot Nigerian Fried Rice--which just happens to be not all that fried after all.
If you enjoyed this recipe and you're a fan of shrimp, check out my Air Fried Salt and Pepper Shrimp recipe. It's so easy to make in your Air Fryer and is so much healthier than traditional fried shrimp!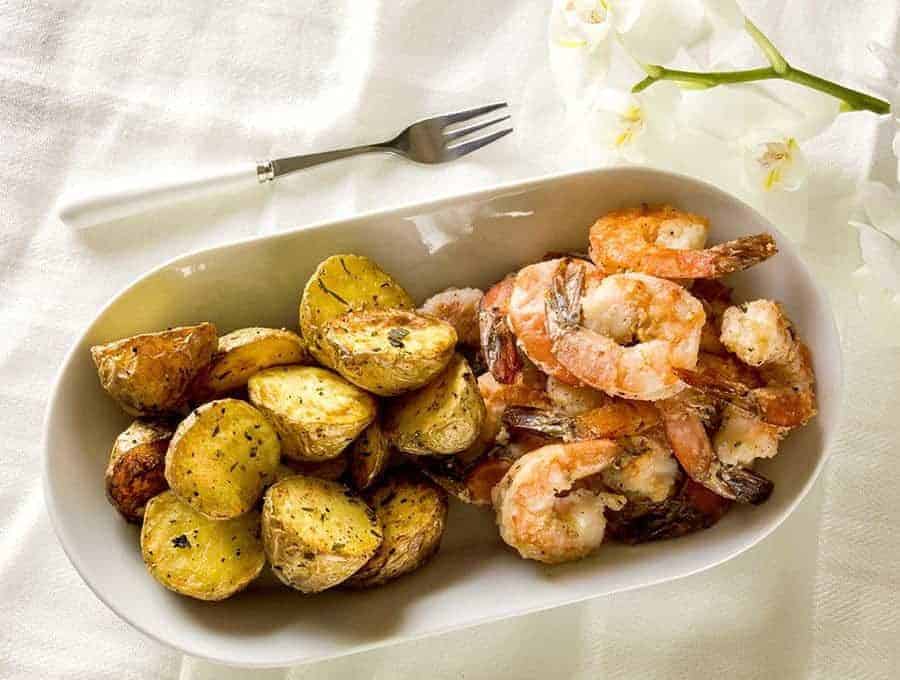 If you're looking for a good dessert to go with your Nigerian Fried Rice, check out my Instant Pot Halva Recipe. This classic Indian dessert is vegan and is made easily in your Instant Pot!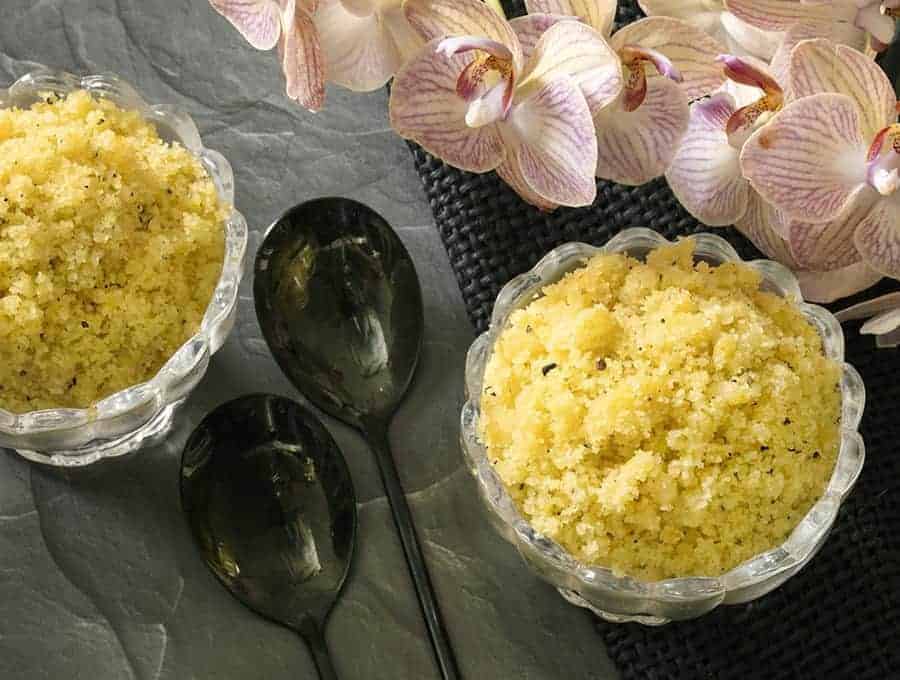 And if you're looking for more great rice recipes, check out my Wild Rice Pilaf! This dish is rich with flavor and is loaded with delightful veggies.
If you're looking for a quick and delicious recipe, give this Nigerian Fried Rice a try. It quickly became one of my favorite recipes. Not to mention, it's bursting with flavor and a satisfying meal.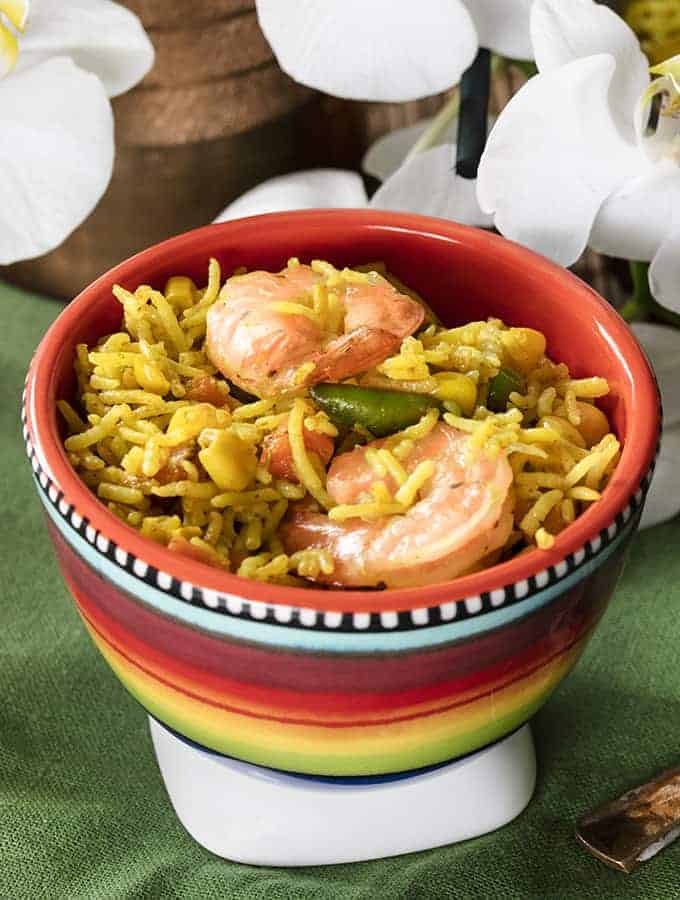 ★ DID YOU MAKE THIS RECIPE? DON'T FORGET TO GIVE IT A STAR RATING BELOW! JUST CLICK ON THE STARS IN THE RECIPE CARD TO RATE.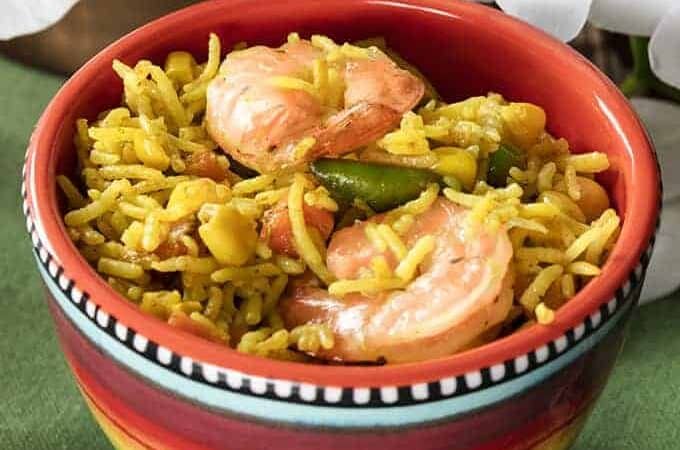 Click on highlighted ingredients or Equipment to see exactly what I use to make this recipe
Instructions
In the inner liner of your Instant Pot or Pressure cooker, place rice, frozen vegetables, water, oil, chicken bouillon powder, curry powder, thyme leaves and salt. Stir to mix.

Set the pressure cooker to cook on high pressure for 4 minutes. At the end of the cook time, allow the pot to sit undisturbed for 5 minutes and then release all remaining pressure.


Gently stir in the cooked shrimp, taking care to not break the rice grains. Cover the pot with the lid and let it rest for an additional 5 minutes so that the shrimp can heat through. You can also do this with uncooked shrimp, but you may have to let the covered pot sit for a little longer to allow the shrimp to cook.

Feel free to substitute rotisserie chicken, leftover ham, cooked turkey, or whatever sort of cooked meat you have--or leave it out for a vegetarian version.
Get support & connect with our community on Facebook!
Nutrition
Calories:
300
kcal
|
Carbohydrates:
34
g
|
Protein:
22
g
|
Fat:
7
g
|
Fiber:
1
g
Tried this recipe?
Follow @twosleevers and Pin it!