As an Amazon Associate, I earn from qualifying purchases. We may also earn money from the companies mentioned in this post.
This is without a doubt, the easiest ever Instant Pot Keto Low carb Shrimp with coconut milk you're going to make in your pressure cooker.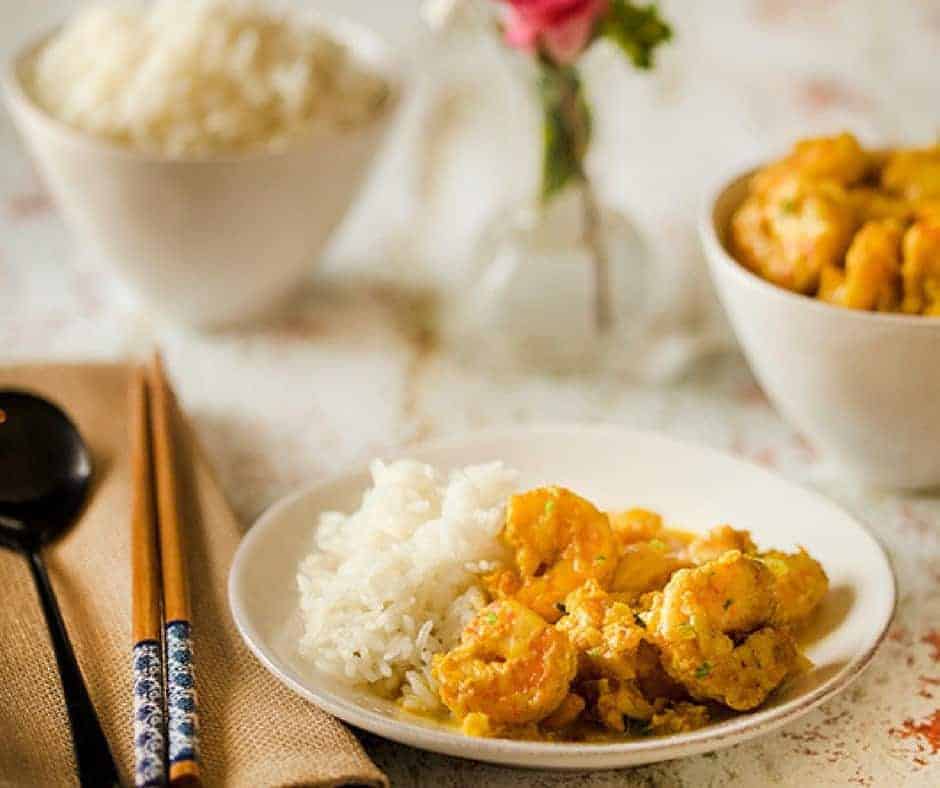 Shrimp with Coconut Milk
What's more, it's a healthy shrimp recipe with no packages or mixes.
I've been struggling to get shrimp done just right in an Instant Pot. Okay, I'm not sure why I'm even trying. Shrimp cooks so quickly it should be a non-issue to cook it stove top.
Some of it is just that I don't like failing and I failed with shrimp in a Instant Pot two or three times and it irritated me.
Shrimp is too expensive to waste like that anyway. So I was determined to try it. With thawed shrimp, not even frozen, which would have been easier.
So I decided the only way this would work in an Instant Pot is Pot-in-Pot.
By the way, before you decide you don't have an Instant Pot and couldn't be bothered with reading this, I'm also going to show you how to do this stove top.
The steps to this Low Carb High Protein Shrimp with Coconut Milk are very simple:
Mix Shrimp with spices
Cook in Instant Pot using PIP (pot in pot) for 3 mins Low pressure, QPR or
Cook in a pan until shrimp are done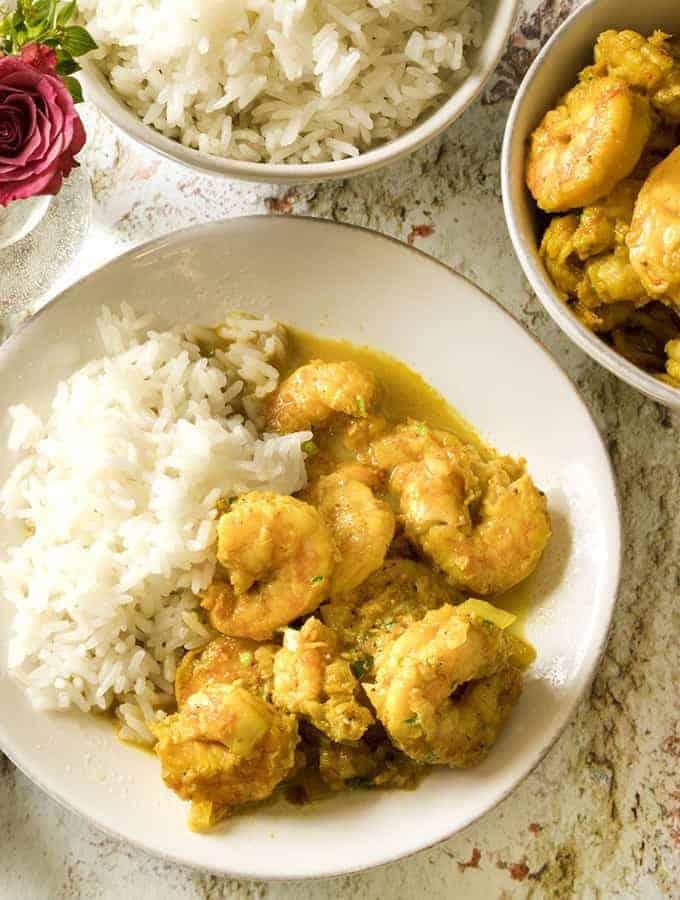 Equipment & Ingredients You May Need to Make Easiest Ever Low Carb High Protein Shrimp with Coconut Milk
★ Did you make this recipe? Don't forget to give it a star rating below! Just click on the stars in the recipe card to rate.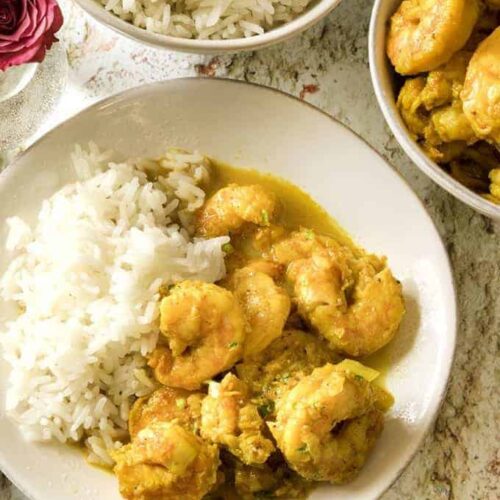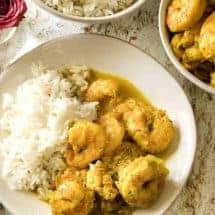 Easiest Ever Low Carb High Protein Shrimp with Coconut Milk
Simple shrimp with coconut milk and a few select spices makes the easiest ever coconut shrimp curry you've ever made in your pressure cooker or Instant Pot.
Dietary Consideration:
Gluten-Free, High Fat, High Protein, Keto, Low Carb, Paleo
Cooking Style:
Instant Pot/Pressure Cooker, Stove Top
Ease of Cooking:
Pour and Cook, Under 30 Mins
Recipe Type:
Full Liquids/Soft Foods, Pressure Cooker, Seafood
Instructions
Mix all ingredients together.
For Stovetop
Put into a pan and cook over gentle heat until the shrimp are cooked through. Add a little extra coconut milk if you need.

Eat with riced cauliflower, cucumber "noodles", or shirataki noodles for low carb options, or over rice if carbs are not an issue.
For Instant Pot
In the inner liner of your Instant Pot, place 2 cups of water, and place a trivet on top.

Place the shrimp & coconut mixture in a pot that fits inside your Instant Pot, and cover with foil.

Set your Instant Pot at 4 minutes for low pressure, release pressure quickly and mix well. Add a little extra coconut milk if you need.
Recipe Notes
Please note: To get the shrimp to cook in the time specified, ensure that:
Your shrimp are between 21-25 per pound
They are fully submerged in the coconut milk before you cook
You use a stainless steel bowl to best conduct heat
You use a low trivet.
Otherwise just add 1-2 minutes to the cook time, or open, stir, and close the pot back up and let the shrimp cook in the residual heat of the coconut milk. 
Nutrition facts per serving
192kcal | Fat: 12g | Saturated fat: 9g | Carbohydrates: 4g | Fiber: 1g | Sugar: 1g | Protein: 16g
I am not a registered dietician or nutritionist. Nutritional information is provided a courtesy, and can vary depending on the exact ingredients you use.