Shrimp with Coconut Milk is the easiest and most delicious meal you are going to make in your pressure cooker or Instant Pot. This shrimp recipe is slightly sweet from the coconut milk with an Indian spice profile of garam masala, turmeric, and cayenne. Serve with cauliflower rice to make a perfect low-carb or keto dinner.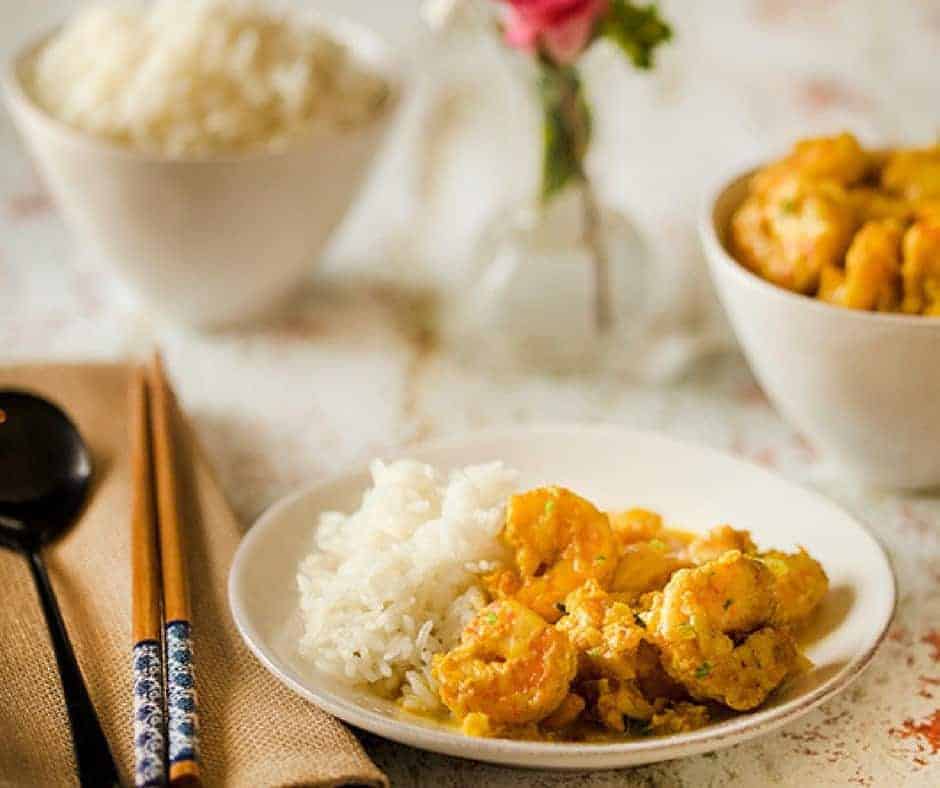 Shrimp with Coconut Milk
What's more, it's a healthy shrimp recipe with no packages or mixes.
I've been struggling to get shrimp done just right in an Instant Pot. Okay, I'm not sure why I'm even trying. Shrimp cooks so quickly it should be a non-issue to cook it stove top. But this recipe actually turned out so good that the recipe has even become a favorite of my readers.
Some of it is just that I don't like failing and I failed with shrimp in a Instant Pot two or three times and it irritated me.
Shrimp is too expensive to waste like that anyway. So I was determined to try it. With thawed shrimp, not even frozen, which would have been easier.
So I decided the only way this would work in an Instant Pot is Pot-in-Pot.
By the way, before you decide you don't have an Instant Pot and couldn't be bothered with reading this, I'm also going to show you how to do this stovetop.
How To Cook Shrimp With Coconut Milk
Toss Shrimp with spices and full fat coconut milk
Cook in Instant Pot using PIP (pot in pot) for 3 mins Low pressure, QPR or
Cook in a pan until shrimp are done
Serve with a side of your choice
To cook this easy keto dinner on the stovetop, the directions couldn't get simpler. Toss the shrimp with the spices and full fat coconut milk. Add everything to a pot, and turn the heat to medium. Cook until the shrimp are cooked through, no longer than 10 minutes. Serve with your side.
Coconut Shrimp Sauce
This shrimp recipe is quick cooking and delicious. You toss all the spices together with the coconut milk and cook it all together. Serve it with noodles, vegetables, or rice. When you cook the shrimp in the Instant Pot, the pressure not only cooks it quickly, making this a perfect easy weeknight meal, but it also melds the flavors of the sweet and nutty coconut milk with the shrimp.
The Coconut shrimp sauce is perfect to serve over rice or pasta. You can use cauliflower rice to keep this a low carb recipe. Just spoon some extra coconut sauce on top of your rice....delicious! My Green Beans
would be delicious with this shrimp dinner recipe, and you can get dual use out of the Instant Pot since both recipes cook so quickly!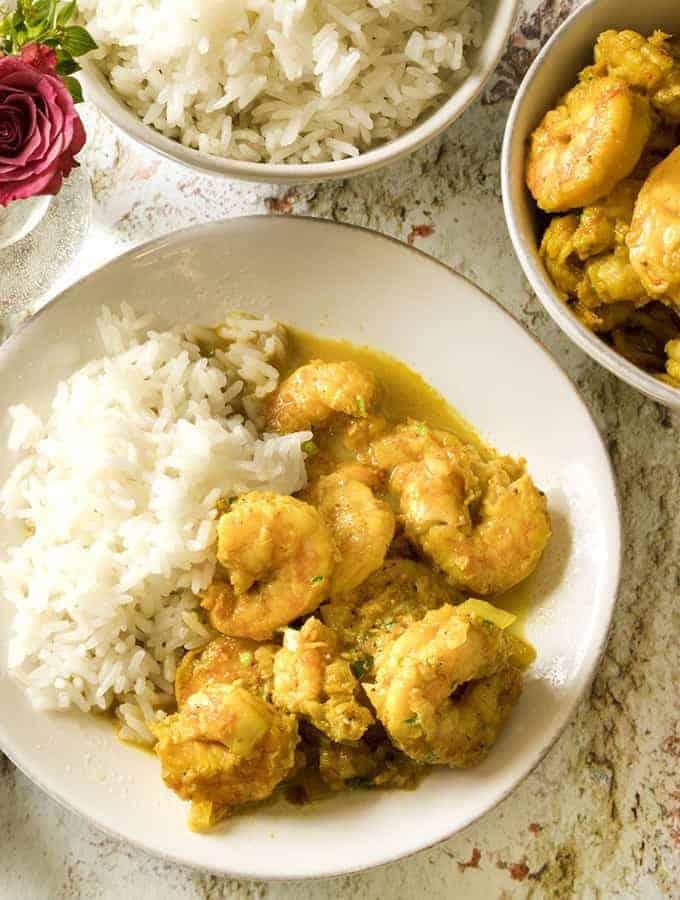 Spices Needed For Shrimp With Coconut Milk
Most of these spices you probably have in your spice cabinet, and if you have been following along with me, you are familiar with my go-to ingredients. This coconut shrimp recipe has a classic Indian spice profile with Garam Masala, Minced Garlic, Minced Ginger, Turmeric, Cayenne Pepper, and Coconut Milk.
I have more easy shrimp recipes for you to add to your easy weeknight dinner menu as well! Shrimp is perfect for a keto or low carb diet, so try my Keto Shrimp Scampi or my Shrimp Risotto (not low-carb).
Want more amazing Indian Instant Pot recipes?
Find 74 more Indian Instant Pot recipes like this one that are tried and tested - and did I mention delicious?! Click here to go to the post so you can Pin it on Pinterest for later!
? Did you make this recipe? Don't forget to give it a star rating below! Just click on the stars in the recipe card to rate.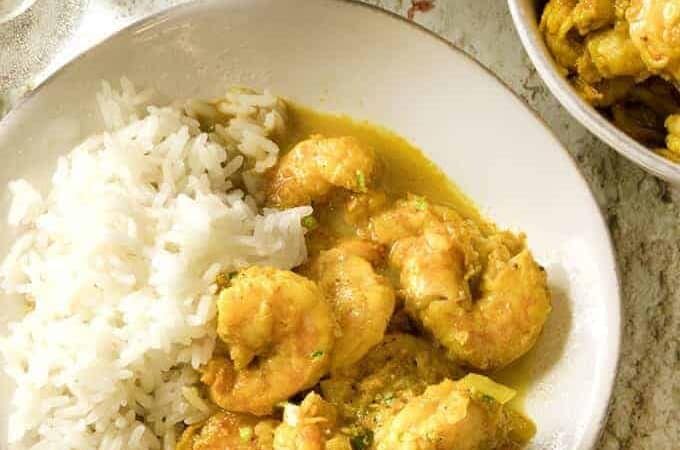 Click on highlighted ingredients or Equipment to see exactly what I use to make this recipe
Instructions
Mix all ingredients together.
For Stovetop
Put into a pan and cook over gentle heat until the shrimp are no longer pink, it should take about 6 to 8 minutes. Add a little extra coconut milk if you need it.

Eat with riced cauliflower, cucumber "noodles", or shirataki noodles for low carb options, or over rice if carbs are not an issue.
For Instant Pot
In the inner liner of your Instant Pot, place 2 cups of water, and place a trivet on top.

Place the shrimp & coconut mixture in a pot that fits inside your Instant Pot, and cover with foil.

Set your Instant Pot at 4 minutes for low pressure, release pressure quickly and mix well. Add a little extra coconut milk if you need.
Please note: To get the shrimp to cook in the time specified, ensure that:
Your shrimp are between 21-25 per pound
They are fully submerged in the coconut milk before you cook
You use a stainless steel bowl to best conduct heat
You use a low trivet.
Otherwise just add 1-2 minutes to the cook time, or open, stir, and close the pot back up and let the shrimp cook in the residual heat of the coconut milk.
Get support & connect with our community on Facebook!
Nutrition
Calories:
192
kcal
|
Carbohydrates:
4
g
|
Protein:
16
g
|
Fat:
12
g
|
Fiber:
1
g
|
Sugar:
1
g
Tried this recipe?
Follow @twosleevers and Pin it!