Are you trying to lose weight through a low carb or keto lifestyle but you've hit a weight loss plateau you can't seem to overcome? My guide on How to Break a Weight Loss Plateau on a Low Carb Diet will help you get out of that weight loss rut!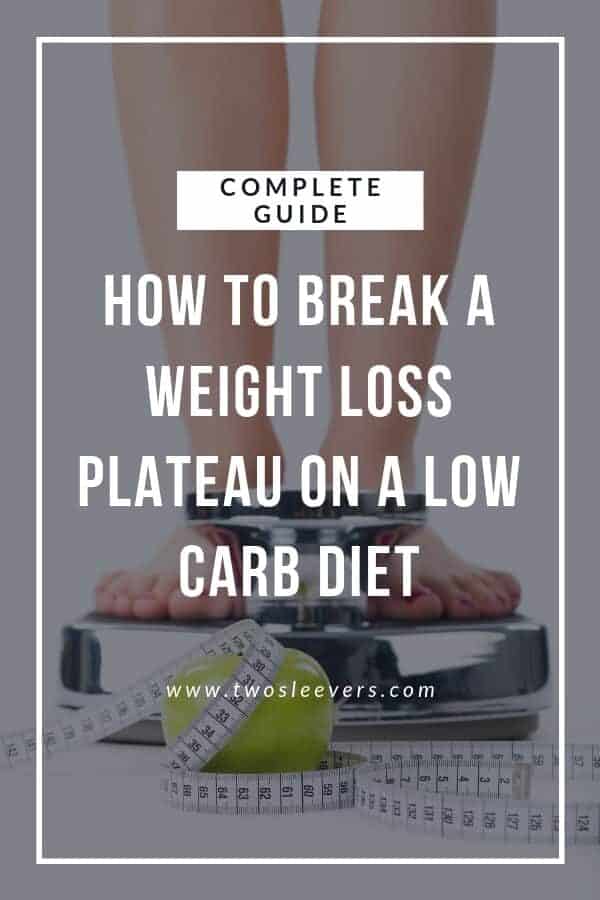 What to do when you hit a weight loss plateau and stop losing weight
It's happened to most of us; we start a keto way of eating, and once we've hit ketosis we watch the weight drop off. Many of us have tried countless other diets and have struggled with our weight for years and watching the numbers on the scale finally go down is like a dream come true.
And then you stop losing.
No matter how strict you are on your diet, no matter how much you count every calorie and macros you can't shed another pound.
This is called a plateau and frankly, it sucks. It's frustrating and demoralizing and discouraging, but it doesn't have to mean that it's the end of your weight loss journey.
In this article we'll discuss how to tell if you've hit a plateau and what you can do to break through it.
How to tell if you're in a weight loss plateau
It's important to keep in mind that after a significant weight loss your body will take some time to stabilize itself. This is an example of our bodies' survival coping mechanisms kicking in to reset and protect itself.
This can last for up to 3 months, depending on how drastic your weight loss was.
Yes THREE MONTHS! In other words, not losing for a week or two or three weeks is NOT UNUSUAL. Seriously. It's not.
The Whoosh Effect in Weight Loss
There is a phenomenon that occurs when you lose weight and is also referred to as LTDFLE (Long-Term Delayed Fat Loss Effect).
This happens when your body empties its fat cells of triglycerides as they get burned up for energy and fill up with water. So you might not look different and might weigh the same because of the water, but you will have less fat because your cells are filled with water and not fat.
After a bit (it's different for everyone; can be a few days or many weeks), your fat cells will suddenly drain their temporary water storage and you will experience a whoosh that makes you feel slimmer and lighter immediately.
So give your body a little time to adjust to its new self, and go through the whoosh effect, but if your weight-loss stall lasts more than 3 months and you're doing everything you're supposed to, then you've most likely hit a weight loss plateau.
What you Can do to Break Through a Weight Loss Plateau
1. Make sure you're measuring the right thing
If you have started working out or even have just increased your protein intake you will begin to build lean muscle.
Muscle weighs more than fat so while the numbers on the scale might not change (or even increase), focus on the non-scale victories; do your clothes fit better, do you feel better, do you have more energy and focus?
Additionally, while in the long-term exercise could help you lose weight, in the short term if you've recently just started exercising or resumed exercising after a long hiatus, your body could experience some inflammation. Give it some time to get used to your new level of activity.
2. Go back to the basics and start tracking your macros again.
Once we've been on a keto diet for a while, we can often become comfortable and stop being as diligent in tracking our macros as we were when we began.
Remember your macros should be 75% fats, 20% protein and 5% carbs to get into and remain in ketosis. These ratios can get out of whack if we let things slowly creep into our daily intake.
3. Track your calories
I wish I were one of those lucky people who doesn't have to consider calories on a keto diet, but unfortunately, like many people who have struggled with weight loss, I'm not.
I've also found that women struggle with caloric intake much more than men do. So perhaps your macros are in balance and you're simply taking in too many calories. It's worth looking at again.
On the other hand, if you have cut your calories down too low your metabolism will slow down to accommodate.
This is referred to as Adaptive Thermogenesis and is a way our bodies develop coping mechanisms to deal with adverse situations.
In this case, you actually might have to slowly increase your calories to kickstart your metabolism.
Remember to remain firmly within your macros when you do this.
4. Eat real Food
Relying on processed foods can stall your weight loss even if they're keto-friendly.
Eating a lot of convenience-type foods like hot dogs and fast food when you're on the run can impede your weight loss.
These foods are nutrient-poor, meaning they're high in calories but low in vitamins, minerals, and antioxidants.
To optimize your nutrient intake while losing weight on the keto diet, stick to unprocessed, whole foods.
For example, full-fat dairy products, eggs, fish, pastured meats, poultry and healthy fats like avocado and olive oil are all great choices.
Be sure to add non-starchy veggies like greens, broccoli, peppers, and mushrooms to dishes to add nutrients and fiber.
5. Plan your meals ahead of time
It seems contradictory that to lose weight you have to think more about your food, but if you plan out your meals ahead of time you are much more likely to stay within your macros and calories goals and less likely to grab something unhealthy or compromise your keto diet.
I will often plan, cook and measure out my meals for the week on Sunday and then just take out the container at mealtime.
6. Consider trying Fat Bombs
It might seem contradictory that if you're trying to lose weight you would add high-calorie fat bombs to your diet.
Fat bombs are loaded with fats that curb your appetite and rev up your metabolism.
Many people report that fat bombs give them an extra boost of energy for a workout, and help them fight cravings for hours. So they just might be the boost your body needs.
You can find over 100 fat bomb recipes in my Keto Fat Bombs, Sweets, and Treats book.
I don't recommend fasting until you're well into ketosis, but once you are, fasting can play an important role in increasing insulin sensitivity and helping you to burn fat.
If you haven't tried fasting before you can start slowly with the 16/8 method which means you restrict all of your eating to 8 hours per day and fast for the other 16. You can eventually work your way up to a 24-hour fasting period with many steps in-between.
You can also do a 'fat fast' and cut out all of your fat for 1-2 days to restart your metabolism.
Interested in Intermittent Fasting but unsure how it works or where to start? Check out this post on Intermittent Fasting Made Simple: A Beginners Guide and learn everything you need to know!
8. Check your dairy intake.
Although dairy is allowed on a keto diet, some people are not able to tolerate it well and it will cause inflammation.
Try cutting it out of your diet for a week to see if you feel better and start to lose weight again.
9. Check your alcohol intake.
Whether or not to drink alcohol (even low or no carb) on a keto diet is often debated, but what is not in debate is the fact that your body will burn alcohol before it burns fat.
If you're drinking on a regular basis, this could be the reason you're not losing weight.
10. Make sure you're getting adequate sleep.
Research shows that stress and lack of sleep can negatively impact weight loss. When your body is stressed, it produces excess amounts of a hormone called cortisol and elevated levels of cortisol, commonly known as the stress hormone, can encourage your body to store fat, especially in the belly area.
Some of my toughest times for weight loss came when I was working and traveling too much and stressed out all the time.
You can lower stress and improve your sleep by trying techniques like meditation or yoga and spending less time on electronic devices before bed.
Looking For More Low Carb Weight Loss Guides?
My guide on How to Start Keto A Keto Diet gives you all the info and resources you need in order to start living a keto lifestyle.
My Keto Basics guide gives you a list of 11 things that I consider weight loss basics (or keto basics) that help me lose a regain.
My How To Calculate your Macros for a Keto Diet guide explains macros for a keto diet. I've also included a calculator for you to determine the right proportions of macros as you determine how to get into and stay in ketosis.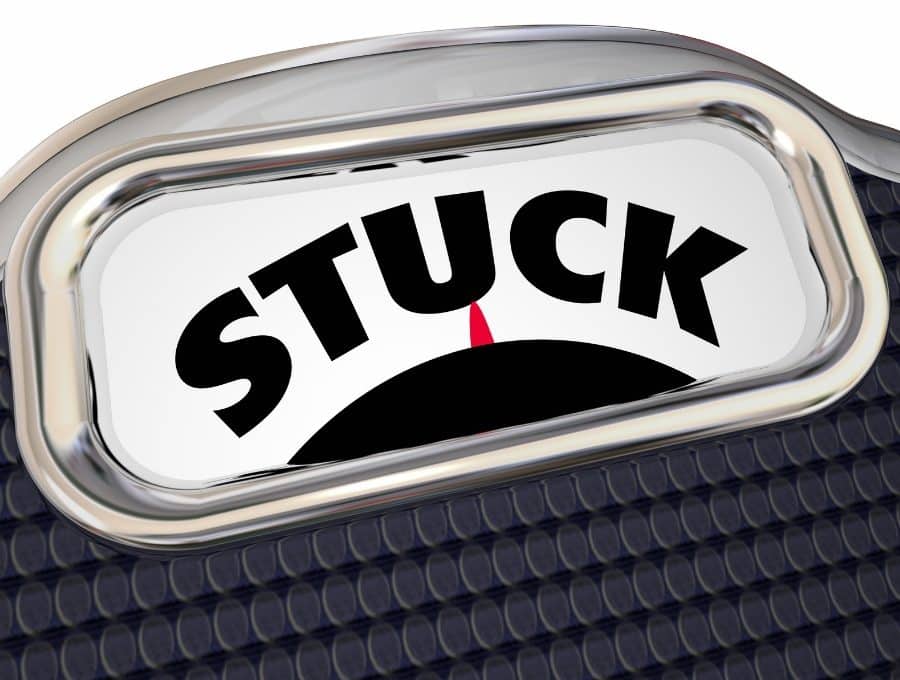 NO excuses!
Let me tell you what a weight loss plateau is.
It's NORMAL. It happens to everyone.
Let me tell you what a weight loss plateau is NOT.
It's NOT an excuse to give up, to throw in the towel, to eat everything in sight.
I want you to read this part carefully.
Yup, that's right. Your body has..excuse the silly expression...a mind of it's own.
Just keep doing the right thing, don't lie to yourself about where you are screwing up, and the weight will come off when your body is ready to shed it.
I hope that one or a combination of these tips will help you break through that weight loss plateau. Please report back and let us know what worked!