If you're looking for some delicious Vegetarian Soup Recipes, this is the post for you! Packed with flavor and veggies, these soups will make an excellent meal!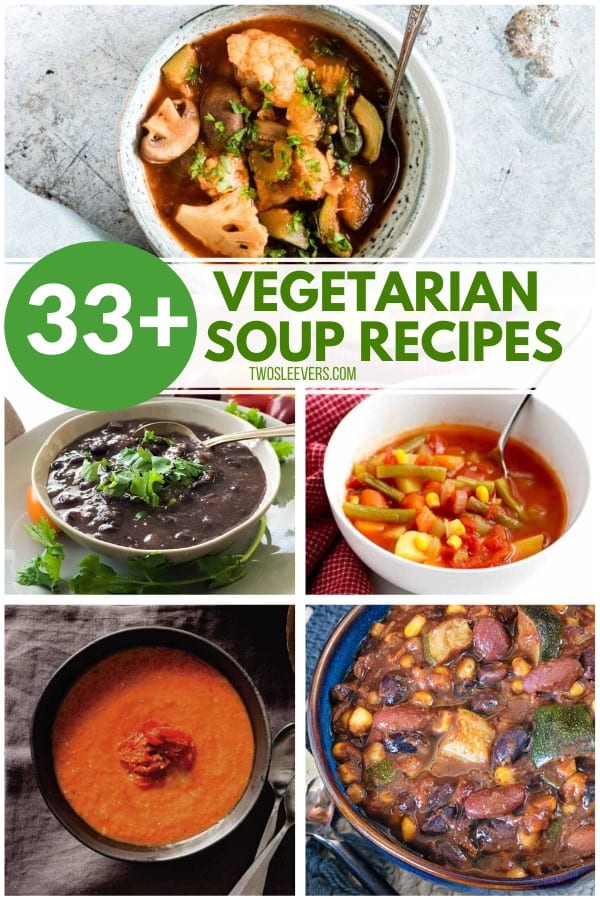 You don't need meat to make hearty, filling soups! In this list of Vegetarian Soup Recipes there are flavors from all over the world, and some traditional recipes you grew up loving. Pick your favorite and get cooking!
What Makes Veggie Soup So Good?
Healthy- Veggie soup is packed with vitamins and fiber.
Hearty- Add vegetables and lentils for a filling meal.
Easy- Most of these are pour and cook recipes.
Inexpensive- Skip the expensive meat and use pantry staples.
Why Should You Try These Easy Soup Recipes?
I don't know about you, but I am ALWAYS busy. And there aren't many meals easier than homemade vegetable soup. These easy soup ideas are family friendly and freeze really well to reheat for later. A quick meal that's even better reheated? I don't mind if I do.
Not only are these soup recipes Vegetarian, but a good portion of them are also Vegan or easily adaptable to be so. So if you're looking for Vegan soup, these may be a good resource for you as well.
Vegetarian Soup Recipes
Now that you have all my favorite Vegetarian Soup Recipes, which one will you make first? If you enjoy these quick soup recipes, make sure you share with your friends on Facebook and Pin to make again later.
If you want some more vegetarian recipes, you can check out my list of all my favorite Vegetarian Instant Pot recipes! If it's soups you want more of, I have a list of 38 of the best Instant Pot Soups you can make in no time!
Indian Instant Pot, Keto Instant Pot, Instant Pot Fast and Easy, Healthy Instant Pot & Vegetarian Instant Pot.