This Sambar recipe will show you how to make sambar and get a wonderful soup to go with your Indian meals. This is an authentic sambar recipe for an Andhra Sambar--one that has been handed down for generations--but most importantly, it is very tasty.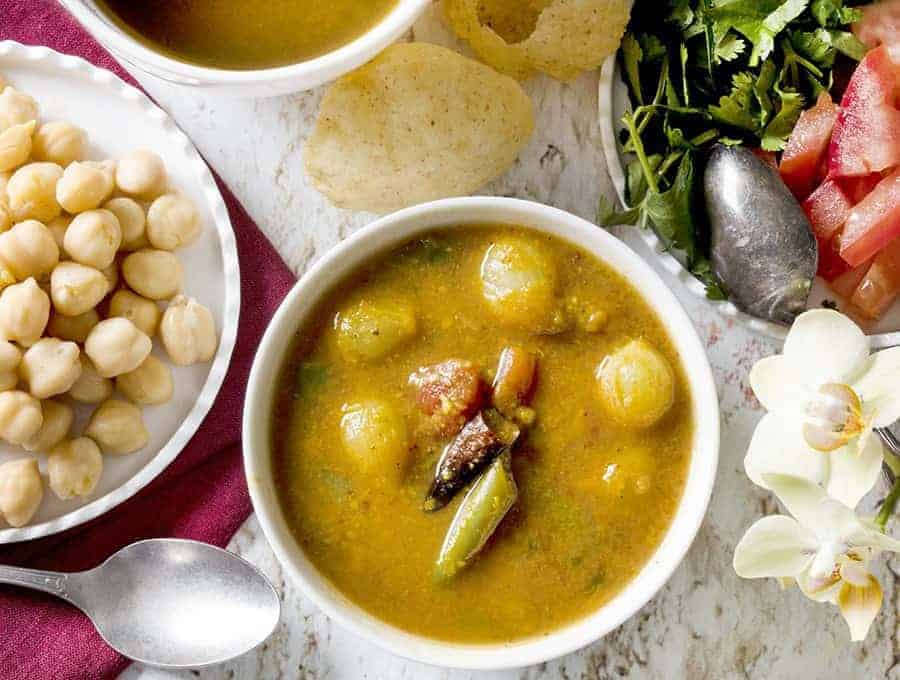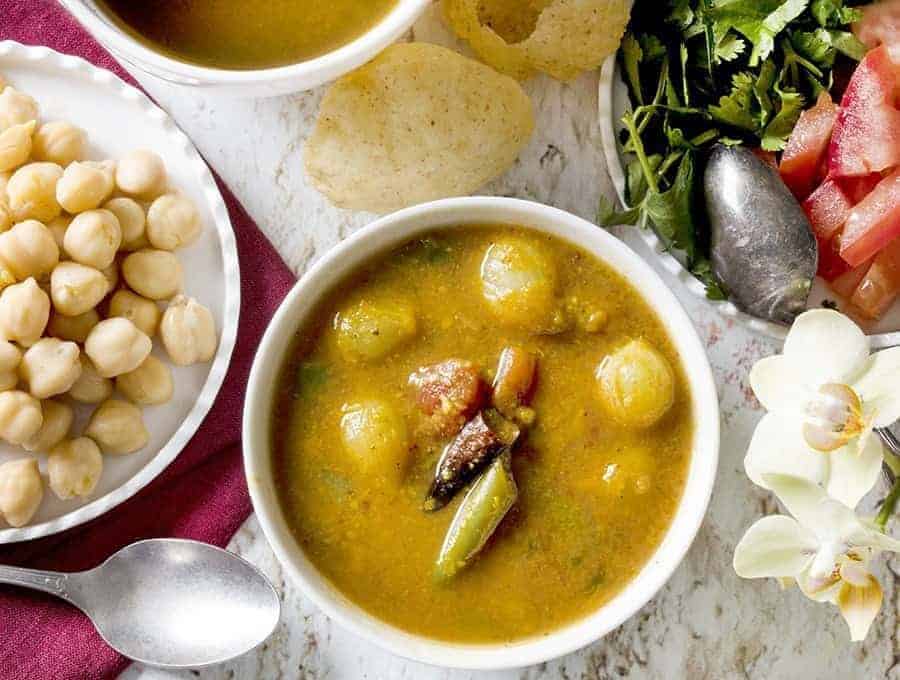 What Makes This Sambar Recipe So Good
This sambar recipe has a few more steps than my typical recipes, but I can guarantee that you will find it well worth it--because this makes some of the best homemade sambars I've ever had in my life!
I can say this without any false pride--because this is Shubha Iyengar's recipe that I tweaked to make just a few changes. But it's not just Shuba's recipe--it's a recipe that has been in her family for generations--minus the Instant Pot of course! Let's let Shubha tell us a bit about this.
What Is Sambar?
A sambar is a South Indian lentil and vegetable stew made with lentils, tamarind, and a special sambar spice mix. There are as many sambar spice mixes as there are households. There are also many different variations of sambar. But a basic sambar recipe will have a mix of a few different vegetables, tamarind extract, lentils, sambar powder, and a few other spices.
Shubha's Story Behind This Andhra Sambhar Recipe
My maternal grandfather was a priest at the Ranganathaswamy temple in a small village called Thondapadu in Ananthapur district of Andhra Pradesh. Being a priest, it was very important that sumptuous Prasadam was offered to the Lord which would then get distributed to the bhaktadis / visitors to the temple
It was imperative the food be made with extreme love--and it had to be very delicious. My grandmother was in control of the kitchen. How she made such delicious prasadam was out of the world to me, which then was translated to her daughters and through my mother to me.
Though we have adapted to the new-gen taste these days, the recipes that have been signature to the way it was made has never changed in our households.
Whenever we make such recipes at home, it brings alive all those eternal lovely memories of our childhood, playing on the temple streets, cleansing near the main gate with my grandmother and her daughters drawing the Rangoli in wee hours of the morning, prasadam distribution and eating that lovely meal.
Now thanks to Shubha, we too can enjoy this recipe at home.
How To Make An Instant Pot Sambar Recipe From Scratch
There are a few steps to follow in making this Pressure Cooker Sambar recipe:
Tips And Tricks For Making Sambar
You can use ready-made sambhar masala for this recipe if you prefer.
You can use other vegetables such as diced pumpkin, chopped eggplant, or whole okra as well.
Looking For More Great Recipes To Make With These Ingredients? Check These Out!
I know I'm asking you to get a few specialty ingredients for this Instant Pot Sambar such as toor dal, sambhar powder, curry leaves, etc. So here are some recipes you can make with some of your leftover ingredients!
See? I never ask you to buy something for one recipe only! And I will soon post other recipes with the tamarind concentrate as well.
So whether you're looking for an opening course for an Indian meal or you're just looking for a delicious and filling soup, you're sure to love this Sambar recipe! Make sure to share this recipe with your friends on Pinterest and Facebook so that they can enjoy it as well!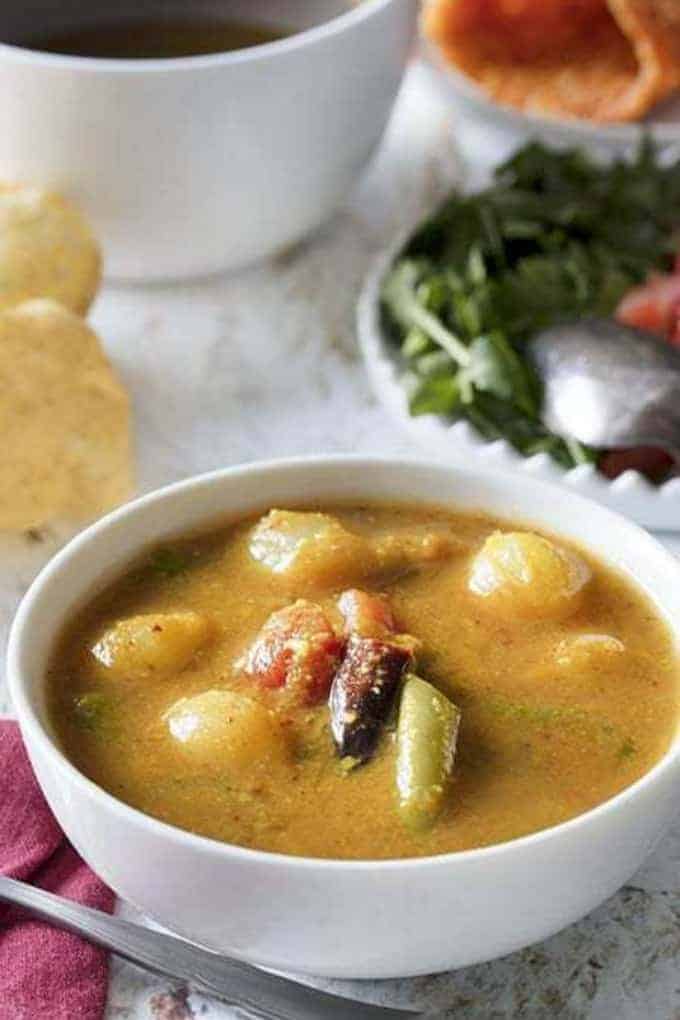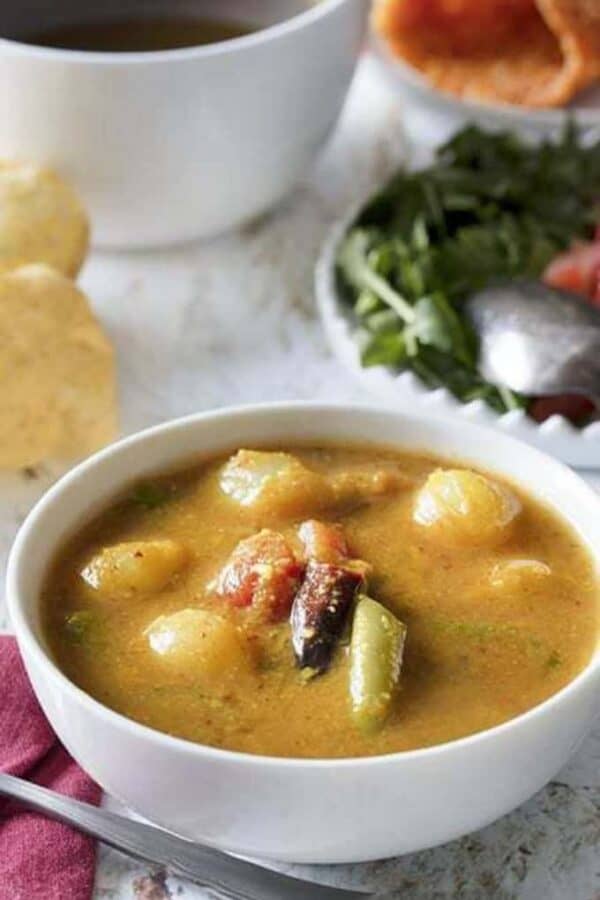 ★ Did you make this recipe? Don't forget to give it a star rating below! Just click on the stars in the recipe card to rate.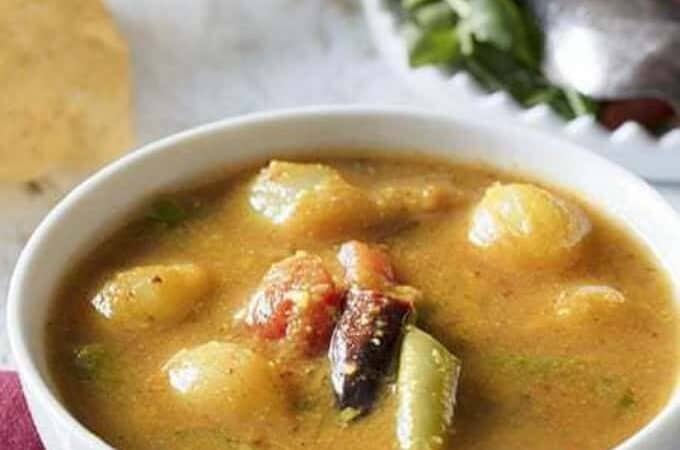 Click on highlighted ingredients or Equipment to see exactly what I use to make this recipe
Ingredients
Instructions
First Cooking Cycle
Add dal, water, tomatoes, chopped onion, sugar, salt, turmeric, cayenne and sambhar spice blend to the inner liner of your Instant Pot. 

Cook for 10 minutes at high pressure. Allow the pot to sit undisturbed for 10 minutes, and then release all remaining pressure.

Using an immersion blender, blend together the dal and vegetables. You are doing this to create a flavorful mix and to keep the dal from settling to the bottom in what will be a relatively thin broth.
Second Cooking Cycle:
To the blended dal mixture, add 2 cups water, the tamarind concentrate, and the frozen vegetables.

Cook for 2 minutes at high pressure and then immediately release all remaining pressure.

On the stovetop in a small pan (preferably a tadka ladle), heat 1 tablespoon of ghee. When it is hot, add mustard seeds, the whole red chilies, and the curry leaves. Stand back and allow the mustard seeds to splutter about 30 seconds.

Pour this hot, flavored ghee onto the sambhar, garnish with chopped cilantro and serve.
You can use ready-made sambhar masala for this recipe if you prefer
You can use other vegetables such as diced pumpkin, chopped eggplant, or whole okra as well
Get support & connect with our community on Facebook!
Nutrition
Calories:
79
kcal
|
Carbohydrates:
13
g
|
Protein:
4
g
|
Fat:
1
g
|
Fiber:
4
g
|
Sugar:
4
g
Tried this recipe?
Follow @twosleevers and Pin it!