If you're looking for how to cook lentils, you've come to the right place. Learn all about lentils and how to cook them in the Instant Pot.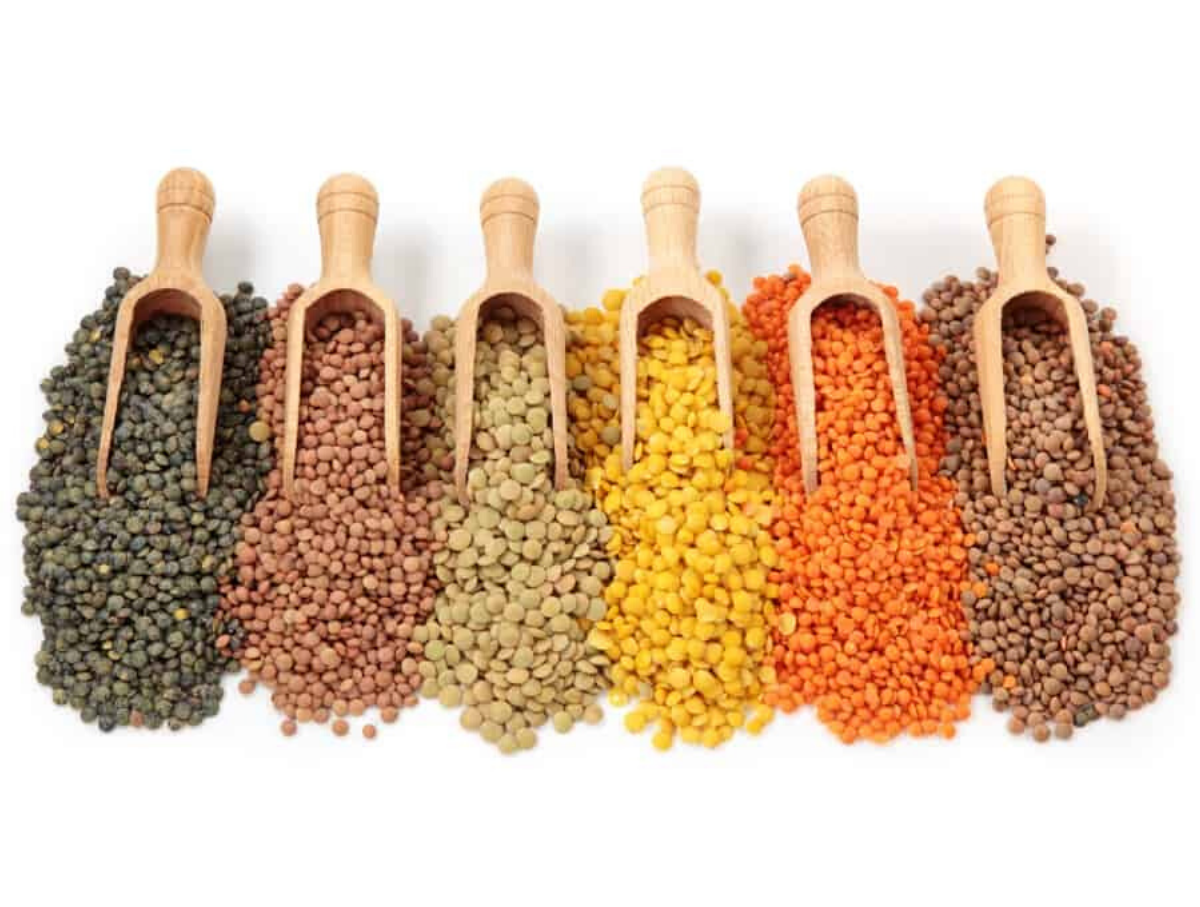 Jump to:
Lentils are one of the best ways to reach your protein and fiber goals for the day, especially if you happen to be vegan or a vegetarian! They are also an amazing superfood that gives you the nutrition you need and can be made into a variety of ways. Let's dig in a bit deeper and learn what lentils are, different ways to cook them and a few other useful pieces of information!
Jump to:
What Are Lentils?
Lentils are legumes—very much like beans such as kidney beans, chickpeas, pinto beans, and oddly enough, peanuts. The term "lentil" is derived from from the Latin word for "lens," referring to the shape of these little nutritional powerhouses.
Types Of Beans
Legumes come in a wide variety and include fruit that is enclosed inside the pod which includes fresh soybeans, peanuts or peas for example.
Pulses, on the other hand, are completely different in that they are the dried seeds of the legumes such as dried soybeans or kidney beans.
One thing to keep in mind is that all pulses are legumes but all legumes are not pulses.
Last but not least there is Dal, which is usually a pulse cut in half.
While you already know that Lentils are packed full of nutrition, did you know that they are just a miniature version of a legume? This means that they are the same as beans, chickpeas, and soybeans to name a few. They also are the go-to non-meat protein source for many individuals.
Why Cook With Lentils?
Nutritional Powerhouses: Lentils are a great high-fiber and high-protein addition to most diets. 1 cup of cooked lentils contains about 16 gms of fiber and 18 gms of protein and about 90% of RDA of folate.
Fast Cooking: They cook much faster than dried beans. They also do not need to be soaked ahead of time, so they're great for last-minute meals.
Shelf-stable. They last endlessly if properly stored, and can be a pantry-staple that are a great fall back for when you forgot to shop.
Inexpensive. Considering most lentils sell for $1/pound or somewhere in that price range, they are great, inexpensive sources of nutrition for much of the world.
Tasty. This to me, is the main reason to eat them. I have a lot of lentil recipes such as my red lentil soup, lentils and rice in Greek Mujadara, etc.
A little goes a long way. A good rule of thumb is that one cup of dried lentils yields two to two-and-a-half cups of cooked lentils. When you add in the fiber in lentils, which helps you feel fuller longer, it's easy to make a bag of lentils stretch out your grocery budget a bit.
Different Kinds of Lentils
There are actually many types of beans and lentils. However, we are going to go over the five most common types which include brown, red, green, yellow and black lentils.
If you're wondering how to cook lentils, these can be added to many different types of dishes include salads, soups, purees, and stews to name a few.
Brown Lentils (Sabut Masoor)

These are the most common type of lentil in the United States. The color can range from a light brown to an extremely dark brown and have a very mild and earthy flavor. Their shape is barely altered through the cooking process, which makes them good for recipes that cook for a long time. The inside is a very delicious and creamy consistency. They're often used in salads, casseroles and soups, and can also be used in a vegetarian meatloaf.

Red Lentils (Masoor Dal)

If you love red lentil recipes or Indian Dals, soups and other curries, these must be your favorite lentil as they have that type of mushy texture once fully cooked. While they are not always an actual red color and can sometimes be orange or even gold, they are the sweetest and most nutty out of all the lentils. They start out as red, but once cooked, they turn a gorgeous yellow. They can form a thick purée when cooked, making them quite hearty.

Green Lentils

Similar to the lentils mentioned above, the green lentils color also varies in these from a pale green to a greenish-brown color with a semi-shiny look to them. With their firm texture and peppery flavor, they make a nice addition to salads and other side dishes.

Yellow Lentils

These also have a sweet and nutty taste similar to the red lentils which would make sense because these are what red lentils are prior to being hulled and split. They are perfect for any dishes that require thickening such as dips and Indian dal.

Black Lentils (Sabut Urad)

The black lentils are round in shape and small compared to the others. While their exterior appearance may seem worrisome, once you bite into their interior flesh it will spread a light and creamy texture across your taste buds.

Black Beluga Lentils

These are shiny, tiny, and black, and they resemble caviar, which explains their name. They retain their shape when cooked, making them great to add to salads or to rice dishes.

Puy Lentils

Puy lentils are grown central France, called, aptly enough, Le Puy. The soil in this region is volcanic and is said to be instrumental in their flavor. Puy lentils are dark, bluish-slate-green color and have a rich, peppery flavor along with a little bite to them. These along with beluga lentils, are often more expensive than the other varieties. They often do well with sausages, beets and other hearty flavors.
So the next time someone says Lentils, be sure to ask them which type of lentil they're talking about!
Where Can You Buy Lentils?
Lentils can be purchased at almost any grocery or health food store. You can purchase them in bags or sometimes even in bulk bins at a lower price.
The only downfall is that most grocery stores in America will only offer the common lentils mentioned above, unlike in other countries in the middle east, India and Asia where they offer all varieties due to their popularity.
Canned lentils are fairly high in sodium, and typically you only get a limited selection of them, so it's really good to learn how to cook lentils at home.
How To Store Lentils
Sort through the lentils and remove any stones or debris.
Keep in an airtight container in your pantry.
Label the with a date. Although technically they last a long time, I prefer to use them up within a year, as they tend to get much tougher to cook once they get older and drier.
Keep away from heat and moisture.
Can you eat Lentils right out of the bag?
Most definitely not. Lentils and Legumes contain lectin which is a type of protein that can disturb your digestive tract and lead to an extremely uneasy stomach.
However, once you heat lentils, that lectin is broken down into a more digestible element.
If you have already added some lentils into your smoothie to bulk it up a bit, no worries. Since lentils are miniature versions of legumes, they also contain a smaller amount of lectin, so you may just have an uneasy stomach that will be all better in no time.
To avoid this though, be sure to cook them for the appropriate amount of time.
Should I Soak Lentils?
No, you should not be soaking your lentils. While lentils are a part of the legume family, they are much smaller in size meaning they contain a much lower amount of lectin that allows them to surpass soaking and engage in the cooking process whenever ready.
This is, in fact, one of the great advantages of cooking lentils rather than beans. They do not require presoaking, and they cook much faster than beans.
How long do Lentils last after cooking?
Once you have learned how to cook lentils, they can be placed in a nice airtight container and stored inside the refrigerator for up to a week.
If you would really like to prolong their life, you can place them in your freezer for up to three months and use them whenever you have a recipe in mind that you are eager to try.
Cooking Lentils: How to make Lentils in an Instant Pot
Looking to add a little something extra to your vegan wrap, salad or perhaps as a side to your dinner? You can have a side of delicious lentils ready inside of your Instant Pot in as little as 10 minutes, if not less!
Prepare. Wash and drain the lentils.
Water to Lentil Ratio for the Instant pot. For every cup of dry lentils, add 1.5-2 cups of water. Any seasonings, aromatics, spices including salt can be added at this point.
Cooking times. Use the chart below to determine how long to cook.
Resting Times. At the end of the cooking time, allow the pot to rest undisturbed for 10 minutes, and then release all remaining pressure.
This method is my go-to method since the Instant Pot basically does all the work for you and there is very little hands on after you add your ingredients in. Cooking lentils does not get much easier than that!
In the chart below, I've given you Stovetop timings as well just in case you prefer that method. It also lets you see how much time you might be saving by cooking Instant Pot lentils vs. stovetop lentils.
For making lentils on the Stovetop, use about 3 cups of water for each cup of dry lentils. You may also want to add some oil to the water to reduce foaming.
How to Cook Lentils In The Instant Pot (and Stovetop)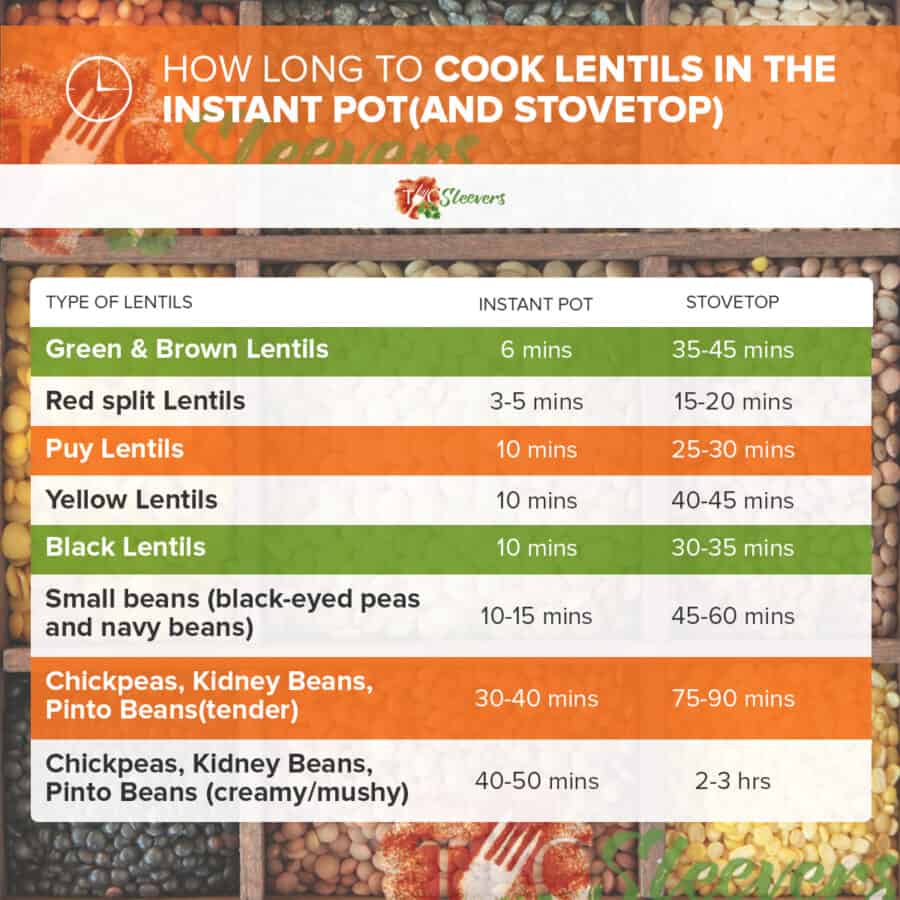 Give Lentils a try
Adding lentils into your recipe creations is one of the best things that you can do. They are inexpensive, extremely versatile and can be stored for long amounts of time for future use. Lentils are full of fiber, protein, and carbohydrates making them the perfect addition to any meal to keep your hunger at bay and you full of energy!
Now that you know how to cook lentils, what do you plan on making first? Make sure to let me know in the comments below! If you love them as much as I do, make sure you share this post with your friends on Facebook and Pin to make them again later.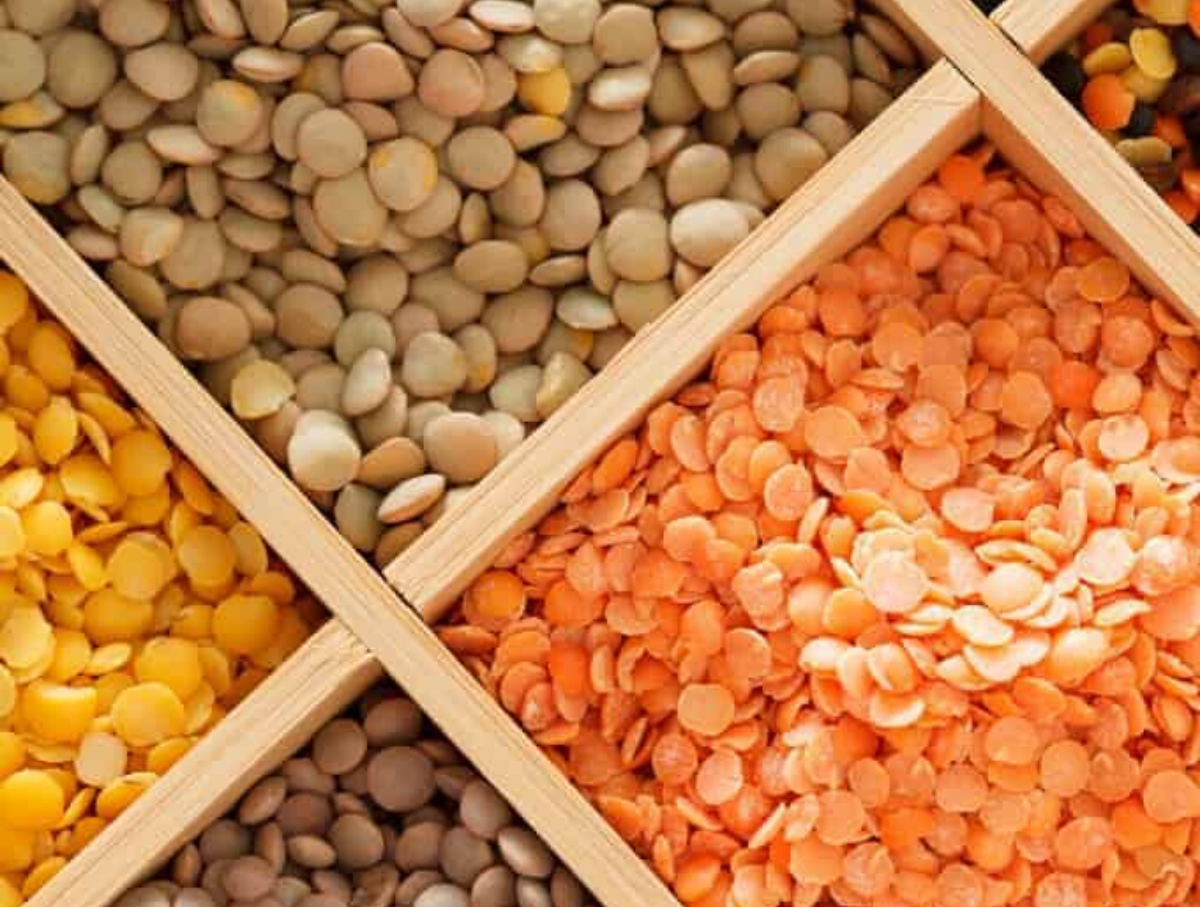 LOOKING FOR DELICIOUS LENTIL RECIPES?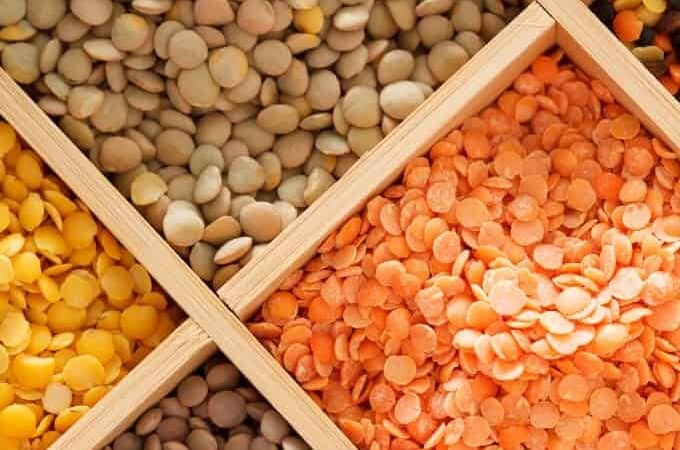 Click on highlighted ingredients or Equipment to see exactly what I use to make this recipe
Ingredients
1

cup

lentils

,

see chart for varieties

1.5

cups

water

1

teaspoon

Kosher Salt
Instructions
Prepare. Wash and drain the lentils.

For every cup of dry lentils, add 1.5-2 cups of water. Any seasonings, aromatics, spices including salt can be added at this point.

Cooking times. Use the chart to determine how long to cook.

At the end of the cooking time, allow the pot to rest undisturbed for 10 minutes, and then release all remaining pressure.
Get support & connect with our community on Facebook!
Nutrition
Calories:
169
kcal
|
Carbohydrates:
29
g
|
Protein:
12
g
|
Fat:
1
g
|
Fiber:
15
g
|
Sugar:
1
g
Tried this recipe?
Follow @twosleevers and Pin it!
Indian Instant Pot, Keto Instant Pot, Instant Pot Fast and Easy, Healthy Instant Pot & Vegetarian Instant Pot.