This Split Pea and Ham Soup is a warm and hearty soup that makes a great simple dinner option! It's a fantastic dish to make for those times that you have leftover ham in the fridge. And best of all, you can make this in your slow cooker or Instant Pot!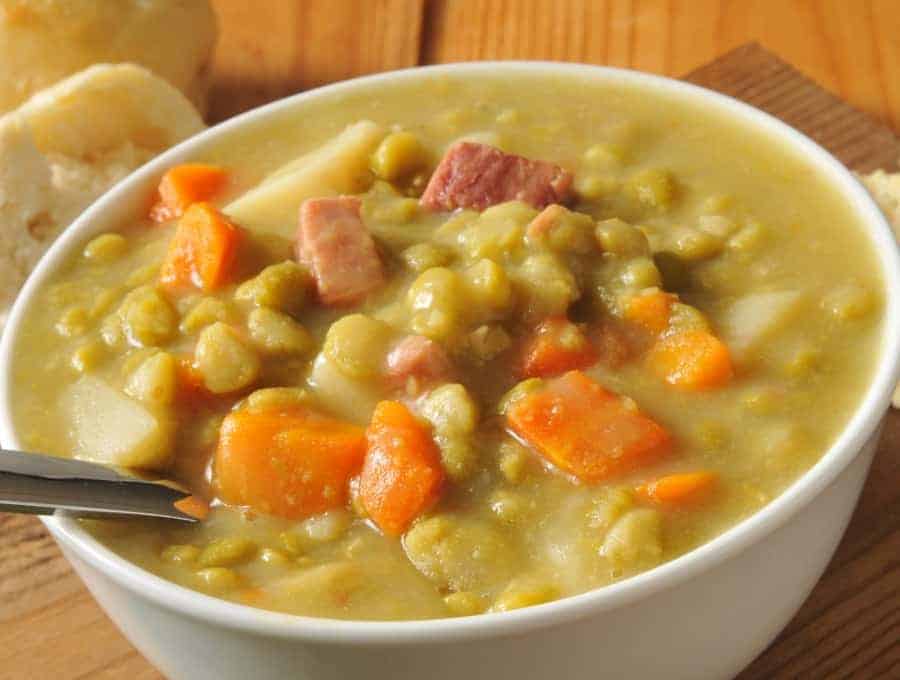 Jump to:
Split Pea Soup with Ham | A Simple and Hearty Soup
This is another one of those "put everything into a pot and cook" recipes that my lazy cook's heart loves. Seriously, nothing beats just throwing all of the ingredients to a meal into one pot, setting it to cook, walking away to do whatever else you need to do only to come back to a delicious, fully prepared meal. This is especially the case with a dish as delicious and simple as this split pea soup with ham recipe.
You know that situation where you're eating cereal and you have milk left over, and so then you put cereal in it, and then you have cereal left over, so you put milk in it and before you know it, you've finished the box of cereal?
Yeah, me neither.
Anyway, I'm having one of those weeks. So I made Sausage and Kale and had Kale left over, so I bought a different type of sausage to make Sausage, Bean, and Kale soup. But that one I wanted some Mirepoix for, and danged if I don't have some Mirepoix left over now. So I decided to make split pea soup with ham.
Good news on the ham is that I bought a package at Costco that wraps individual ham steaks. But of course, even with double the ham, we had some ham leftover (welcome to a household with two sleevers). If this is you, you can use the leftover ham to make Broccoli, Ham, and Cheese Bake.
Do Split Peas Need To Be Soaked Before Cooking?
Though soaking split peas will make them cook faster, it's not necessary with this recipe. Just let your slow cooker or Instant Pot do all the work.
Like I said, I'm a huge fan of simple recipes, so the less steps the better!
Is Split Pea Soup Bad For You?
Yes, split pea soup is actually quite nutrient dense due to the peas themselves. The soup is full of Dietary Fiber, Potassium, Vitamin K, and it has a surprising amount of Protein (which is only made better with the addition of ham in this recipe).
Ingredients You'll Need
For The Soup
Dried split pea
Ham
Mirepoix
For Finishing
How Do You Thicken Split Pea And Ham Soup?
This is a naturally thick soup without much extra effort. The split peas release natural starches that aid in thickening the broth.
If you're still desiring a thicker consistency after the soup is made, there are two different ways you can thicken it naturally.
The first way to thicken this soup is to remove 3/4 of the soup from the pot and use an immersion blender to coarsely chop the contents. Next, you will add the blended ingredients back to the soup for a thicker texture.
Want to skip the immersion blender? The back of a spoon will do just fine in a pinch. Use the back of a wooden spoon to press some of the split peas against the pot. They are soft enough to mash and help thicken this split pea soup.
How Do You Make Split Pea Soup From Scratch?
Add the ingredients exactly how it's listed for the Instant Pot directions.
Add an additional 2 cups of water to the recipe.
Cook on low for 8 hours or until the split peas are cooked.
TIPS AND TRICKS FOR MAKING THIS INSTANT POT SPLIT PEA SOUP
If you're making this split pea soup with ham bone, cook with the bone in. Once the meat is thoroughly cooked, remove the bone, shred the meat and place the meat back in the soup.
If you want to make this recipe with leftover ham, dice about one cup of ham and add to the peas before cooking.
Make a double batch of this Instant Pot Pea Soup so you have plenty left over to freeze and heat up later.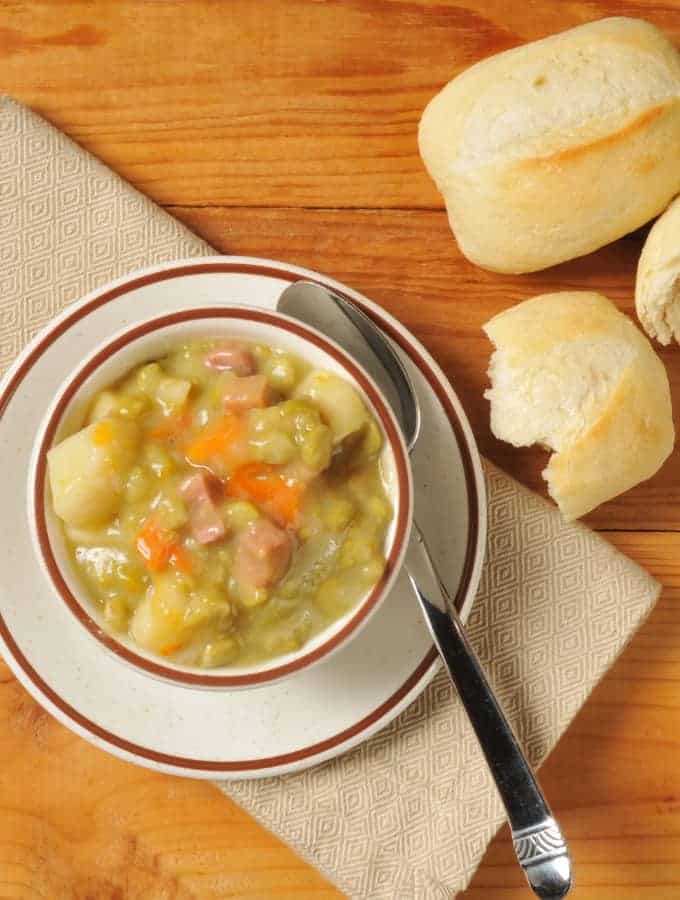 Whether you're looking for an easy dump and cook meal, a way to use up some leftover ingredients from a previous meal, or you're just craving a hot and filling soup, this Instant Pot Split Pea Soup with Ham recipe is sure to do the job. And if you've already enjoyed this delicious soup, let me know in the comments!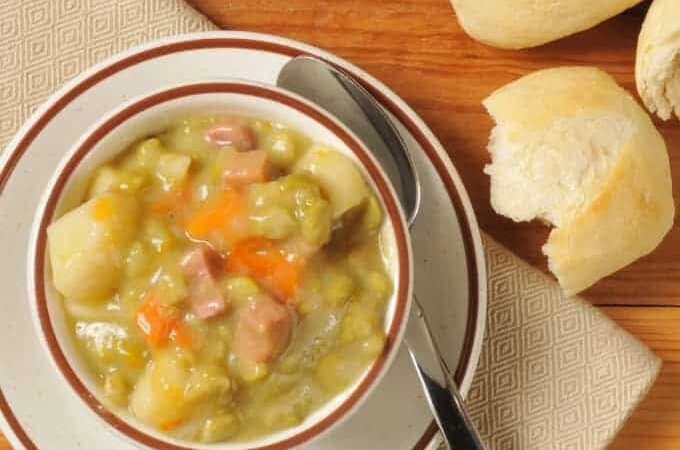 Click on highlighted ingredients or Equipment to see exactly what I use to make this recipe
Ingredients
1

cup

(

197

g

)

dried split pea

2

cups

(

453.59

g

)

Ham

,

diced

2

cup

(

118.29

g

)

Mirepoix

,

(diced onions, celery, and pepper diced)

2

cups

(

500

g

)

Water

2

(

2

) Bay Leaves

1.5

teaspoons

Kosher Salt

1

teaspoon

Ground Black Pepper
Instructions
For the crock pot
Place split peas, ham, Mirepoix, water, bay leaves, salt, and pepper into the slow cooker, and let it cook for 4 hours on high, 8 on low. You may need to add water toward the end.

Open the lid and stir in liquid smoke, apple cider vinegar, and hot sauce, and serve.
For the Instant Pot
Place split peas, ham, Mirepoix, water, bay leaves, salt, and pepper into the Instant Pot. Close the lid and cook on high for 20 minutes.

At the end of the cooking time, allow the pot to release pressure naturally for 10 minutes, and then release all remaining pressure.

Open the lid and stir in liquid smoke, apple cider vinegar, and hot sauce, and serve.
Get support & connect with our community on Facebook!
Nutrition
Calories:
250
kcal
|
Carbohydrates:
25
g
|
Protein:
18
g
|
Fat:
8
g
|
Fiber:
10
g
|
Sugar:
5
g
Tried this recipe?
Follow @twosleevers and Pin it!
Originally Published April 17, 2014
Indian Instant Pot, Keto Instant Pot, Instant Pot Fast and Easy, Healthy Instant Pot & Vegetarian Instant Pot.