As an Amazon Associate, I earn from qualifying purchases. We may also earn money from the companies mentioned in this post.
No need to miss beans on a keto / low carb diet. This Ham and Bean Soup recipe uses a secret, low carb bean that tastes just like the real thing! Don't believe me? Trust me, you'll definitely want to give this delicious soup a try if you're a fan of ham and bean soup and are on a low carb diet. It's so good that even the most discerning of foodies won't know this is a keto recipe!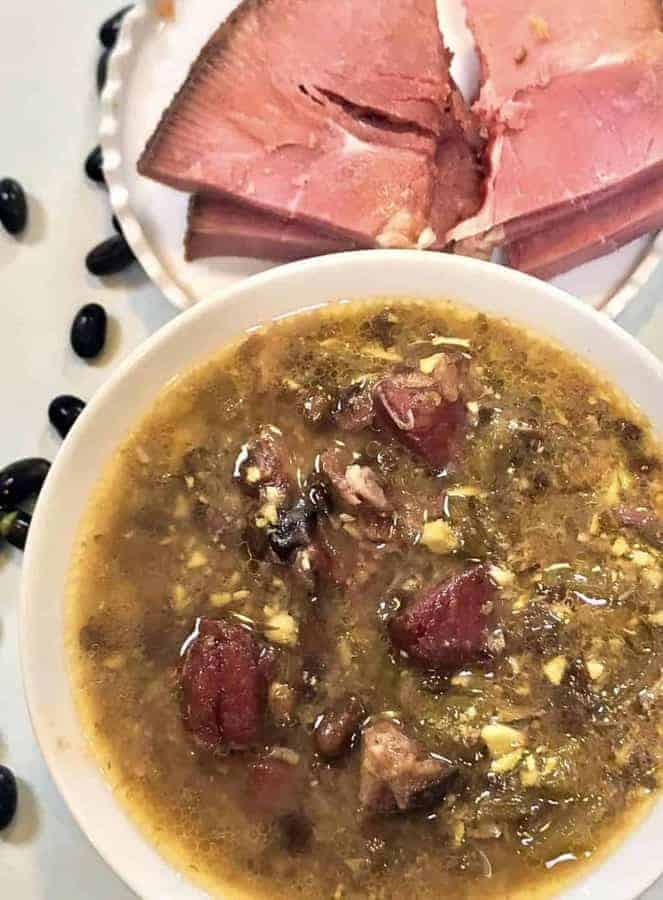 Ham and Bean Soup | Keto Pressure Cooker Recipe
Yes, low carb beans! One of my readers Sharon asked me a while ago to make a dish with low carb beans. An oxymoron if you've ever heard one, right?
Wrong.
Sharon told me about black soybeans and said they were relatively low in carbs. So I looked them up and lo and behold, she was right! They are much lower in carbs than any other beans.
So I decided to buy a bag of dried black soybeans from Amazon and give them a try. This was weeks ago. I really wasn't sure about those beans.
How would they taste? How long to cook them? Would it even work? I just really wasn't sure.

Then I decided I was over-complicating things. If you watch my video on Lots of Lovely Lentils, you'll see I've provided pretty straightforward guidelines on cooking beans, legumes, and lentils. You can also download the slides that go with the Lots of Lovely Lentils video HERE.
I decided to take my own advice and cook the dried black soybeans just as I would any other whole bean. I decided to add a ham bone and some leftover ham, but you can also add smoked ham hocks if you prefer.
Here's a visual of all the ingredients you need for this low carb ham and bean soup.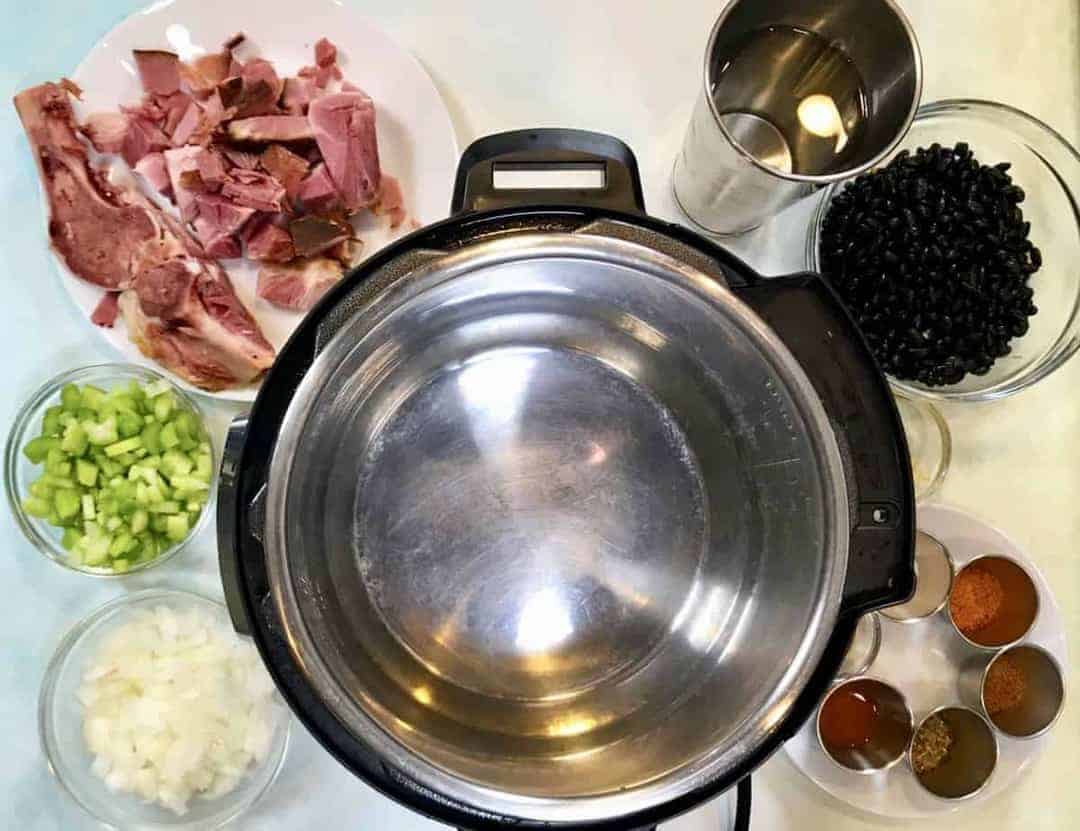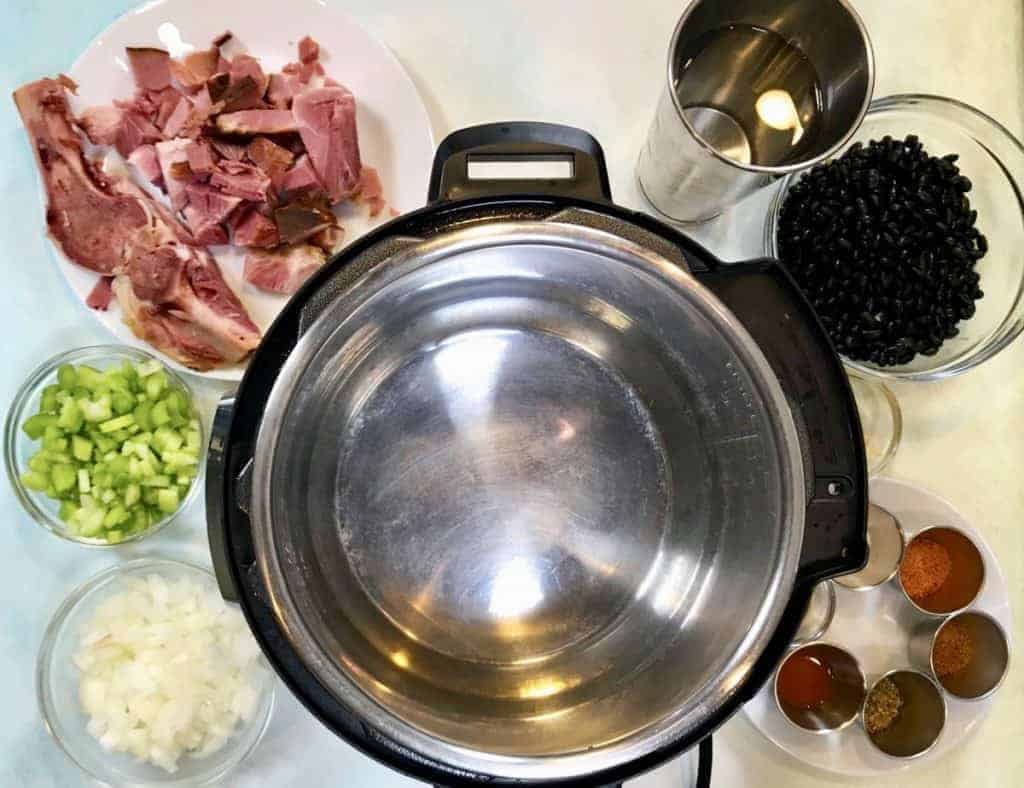 Once you gather them together, it's merely dumping and cooking using the BEAN setting on your Instant Pot or Pressure Cooker.
Looking for more deliciously low carb soup recipes? Check out my Low Carb Cream Of Mushroom Soup! You can make this deliciously savory and keto soup in under 30 minutes in your Instant Pot or pressure cooker!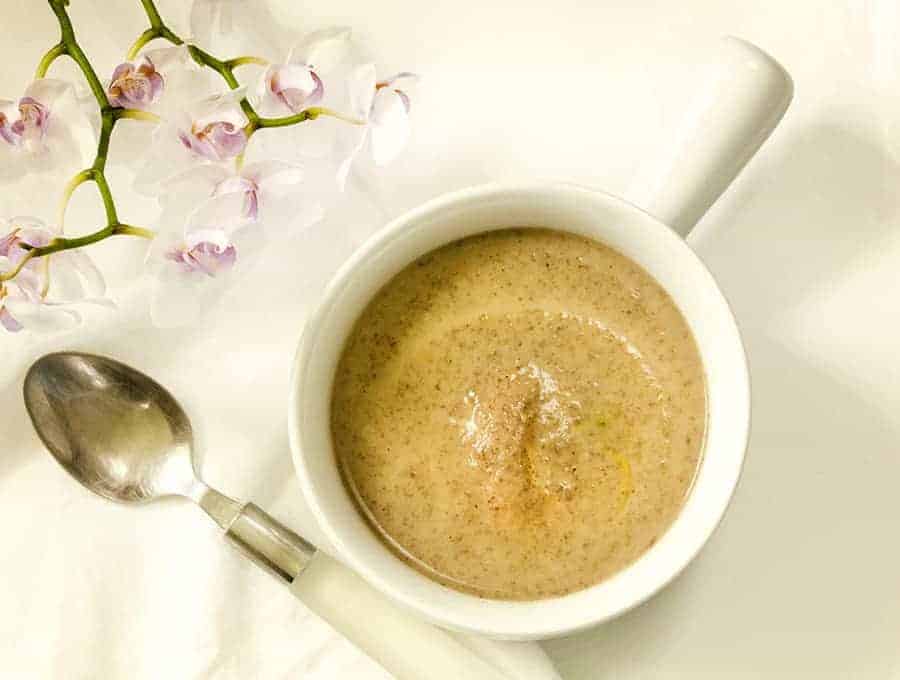 Another fantastic low carb soup option is my Poblano Chicken Soup. It's like a low carb white chicken chili recipe and it's absolutely bursting with flavor!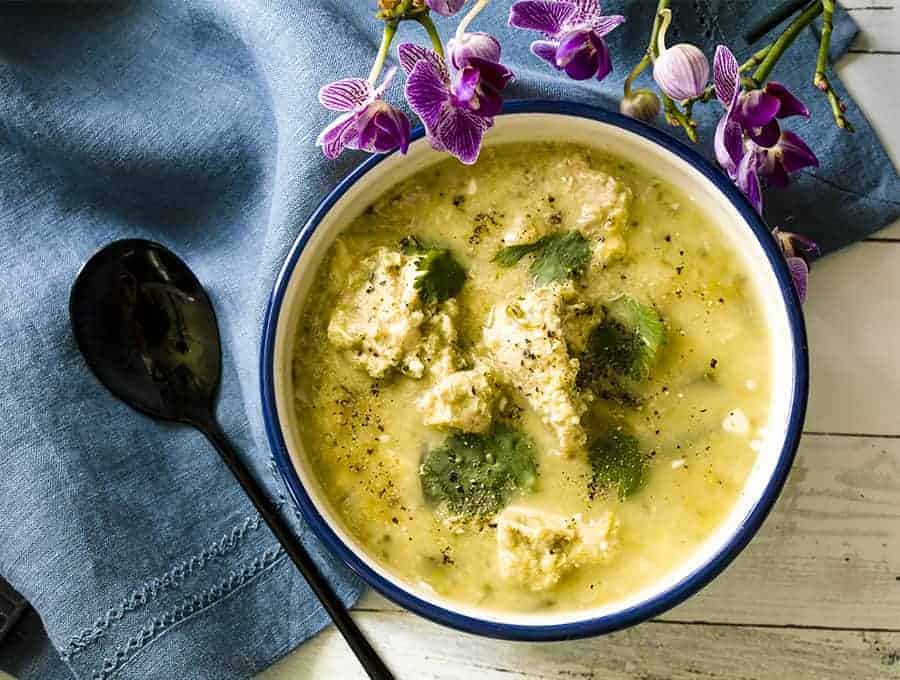 As to how the black soy beans taste? I have to say they taste beautifully creamy and quite nondescript. I think when you eat this Low Carb Ham and Bean Soup, it will taste to you like every other Ham and Bean Soup you've had–well, maybe better because of all the seasonings I used! 😀
But I doubt the soybeans will taste off-putting at all. I quite loved them, as did my husband Roger and my son Alex. And i'm sure you'll love this Ham and Bean Soup as well!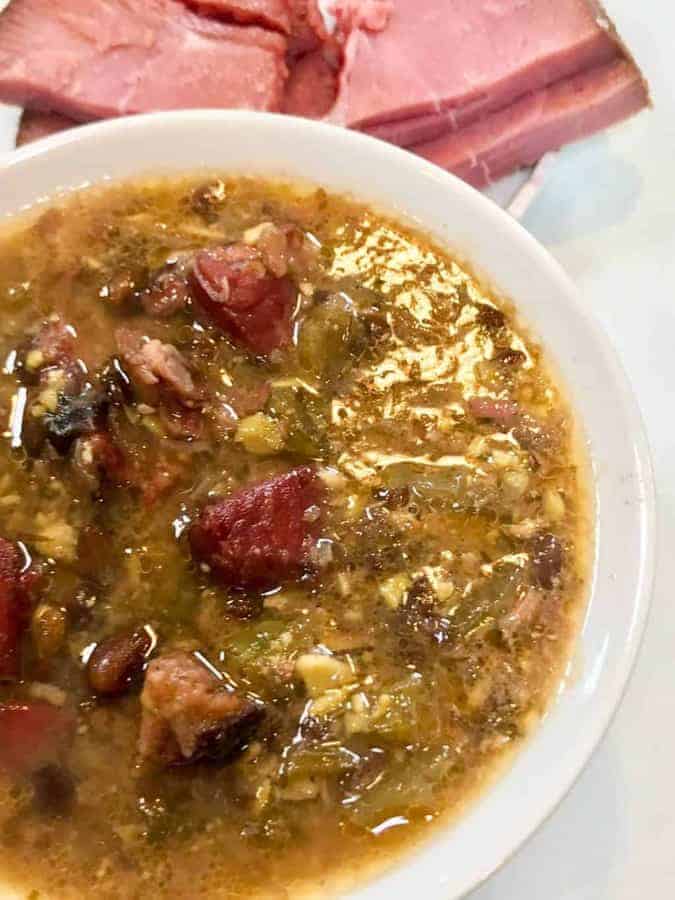 ★

DID YOU MAKE THIS RECIPE? DON'T FORGET TO GIVE IT A STAR RATING BELOW! JUST CLICK ON THE STARS IN THE RECIPE CARD TO RATE.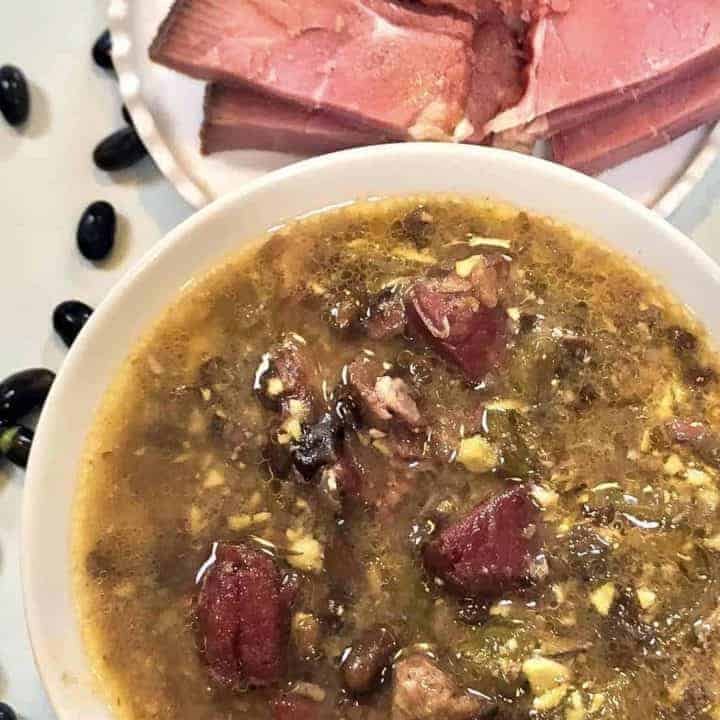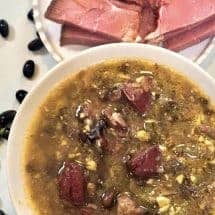 Ham and Bean Soup
No need to miss beans on a keto / low carb diet. This Ham and Bean Soup recipe uses a secret, low carb bean that tastes just like the real thing!
Course:
Main Course, Soup
Dietary Consideration:
High Fat, High Fiber, High Protein, Keto, Low Carb
Cooking Style:
Instant Pot/Pressure Cooker
Ease of Cooking:
Pour and Cook
Recipe Type:
Beans, Legumes, & Lentils, Full Liquids/Soft Foods, Pork, Pressure Cooker, Soup
Instructions
This is a stupid simple recipe with hardly any directions.

Put everything into your Instant pot or Pressure Cooker.

Cook using the BEAN/CHILI setting if you have one, or set at high pressure for 30 minutes. Allow it to release pressure naturally for 10 minutes, and then release all remaining pressure.

Remove the ham bone, allow it to cool and either shred all the meat and put it back into the soup, or feed the cooled bone to your puppy.

Using an immersion blender, roughly purée a little of the soup.

Serve hot with some Hot sauce on the side.
Recipe Notes
If low carb is not an issue for you, you can make this with dried kidney beans or pinto beans or whatever you fancy. This soup is SO flavorful you won't regret it.
Nutrition facts per serving
269kcal | Fat: 14g | Saturated fat: 3g | Carbohydrates: 13g | Fiber: 3g | Sugar: 3g | Protein: 21g
I am not a registered dietician or nutritionist. Nutritional information is provided a courtesy, and can vary depending on the exact ingredients you use.