Tomato Raita is a tangy and spicy salad recipe that comes together in about 10 minutes. Make it ahead of time and cool it down with creamy full fat yogurt perfect for an appetizer.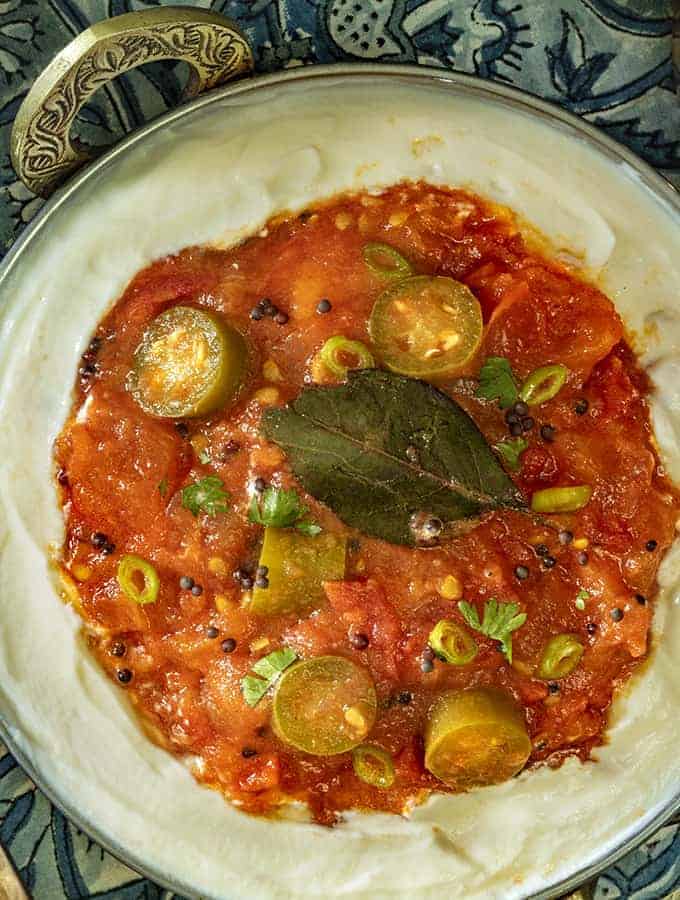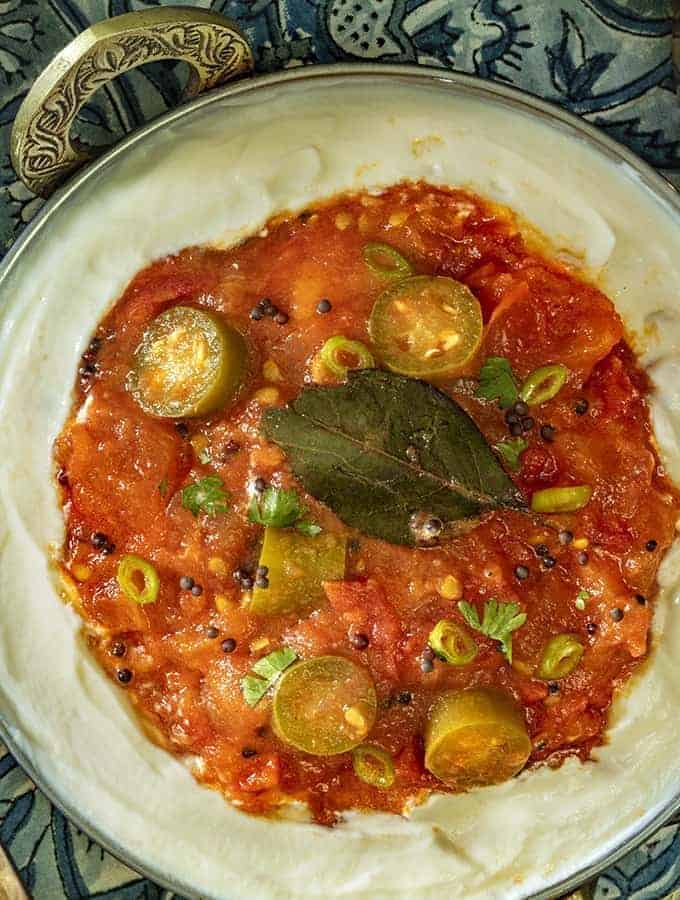 Why You're Going To Love This Raita Recipe
What Is Raita Used For?
Raita can be used in a variety of ways. It is most commonly used for dipping and spreading as an appetizer or a snack.
However, it also works as a great side dish or addition to your next Thali.
What Are The Ingredients Of Raita?
This Tomato Raita recipe has an intense flavor profile. Tangy ripe tomatoes and mustard seeds combined with Spicy Serrano peppers add the heat. Indian spices such as Curry leaves and Asafoetida add a grassy and onion and garlicky flavor.
The yogurt in this recipe adds a lovely creaminess, and also serves to cool down the heat from the serrano pepper.
I've simply served the cooked tomato salad right on top of the yogurt. It's perfect to serve as a side dish during a large dinner with many courses.
What Is The Difference Between Raita and Tzatziki?
If you're unfamiliar with the dishes, you may wonder what could possibly be different about yogurt sauce and raita sauce. Well, there's totally a difference.
The difference is all in the base ingredient. Raita starts with dahi or a thin yogurt. Tzatziki starts with thick Greek yogurt.
What To Serve With Tomato Raita
Typically you would serve Raita with lentils or meat, rice, and a hot vegetable. My delicious Vegetable Thali would be perfect for a full course meal (pictured below).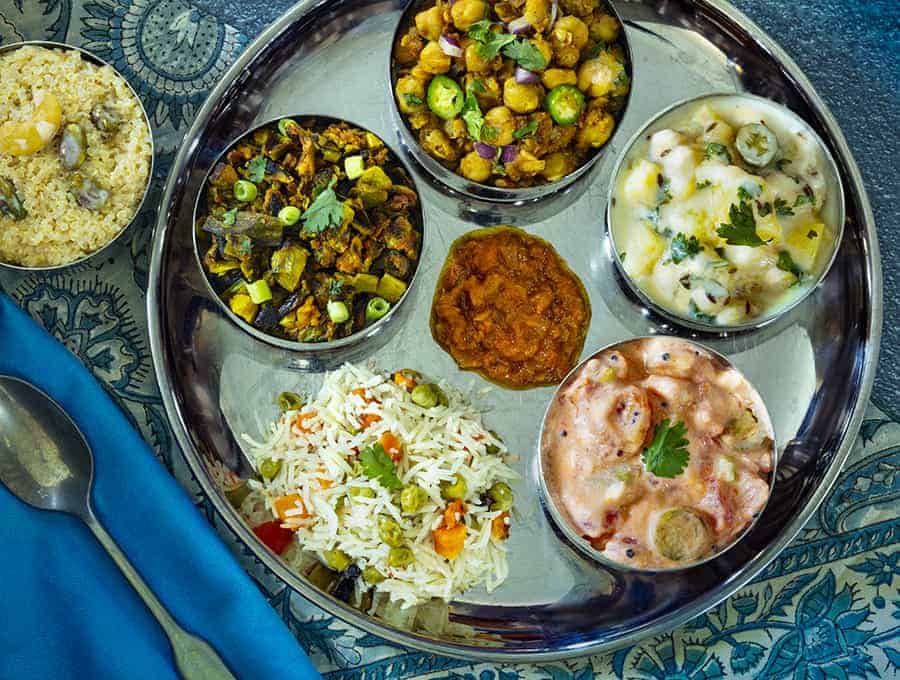 How Do You Make Tomato Raita?
Grab a skillet and heat oil over medium-high heat. Once the oil is ready, add the mustard seeds and chopped Serrano pepper. Cook until the mustard seeds have popped. Then add in the dried curry leaves and Asafoetida.
Add the chopped tomatoes, and cook just until they are slightly softened. You want them to still retain their shape. 
Remove the tomato and spice mixture from the heat, and allow to cool. You will add the full-fat yogurt (not Greek Yogurt!) to the cooled tomatoes. 
Taste the tomatoes before serving. Depending on how ripe they are, you make need to add a splash of fresh lemon juice to add tang to the Raita. 
Dried Curry Leaves For This Tomato Raita
Dried curry leaves are optional in this Indian Salad. Curry leaves have a slightly nutty and grassy flavor and are found in many Indian curry and vegetable recipes. Placing the curry leaves in the hot oil helps to bring out their flavor. 
Curry leaves are rich in antioxidants and Vitamin C. Fresh Curry leaves are more potent in flavor, and will keep in the refrigerator for about a week. Dried Curry Leaves that you can store in your spice cabinet, and will last you much longer.
You can cook and then remove the Curry leaves from your dish if you think your guests will be unsure what to do with them. We typically serve them with the dish and just eat around them.
What is Asafoetida?
Asafoetida is used in savory dishes, often to add more flavor by mimicking the taste of onions and garlic.
It's a staple ingredient in Indian cooking found in a variety of vegetable dishes. The herb alone has a very pungent smell. As it cooks, it mellows in flavor and takes on a more garlicky smell and flavor. It is believed to also help with digestion.
Asafoetida is totally optional if you aren't familiar with it. It really helps to bring home the onion and garlic flavor, so you could add a clove of garlic and half a small onion if you want that flavor without using the actual spice.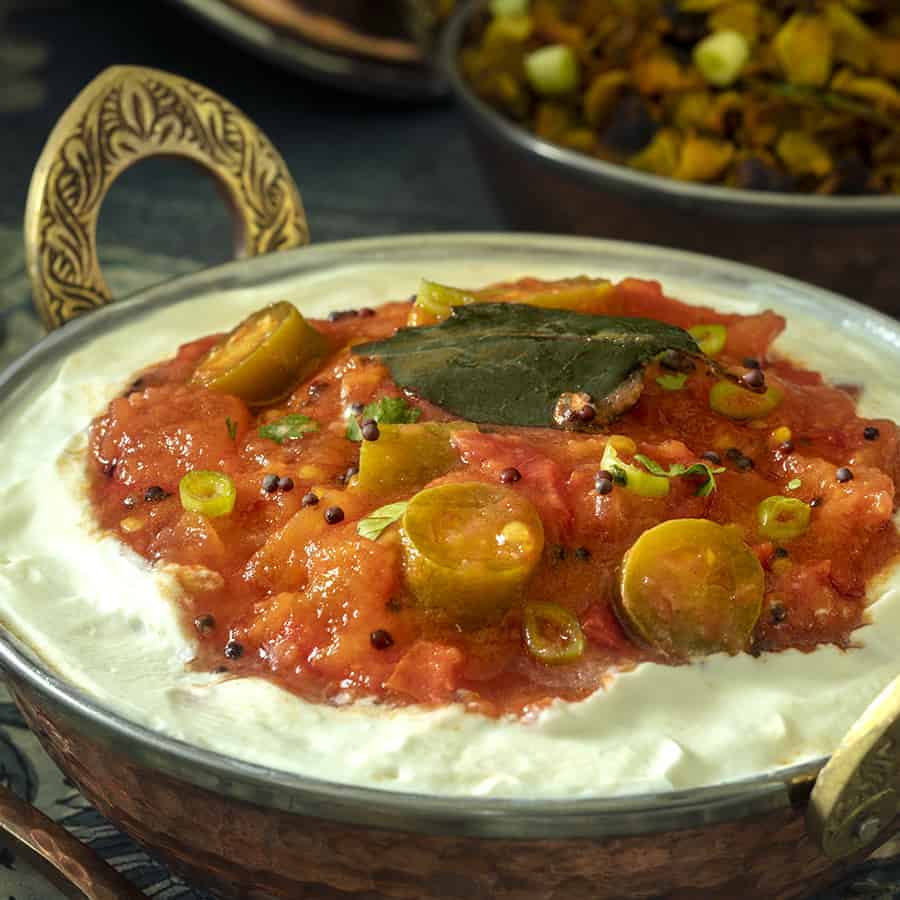 Other Raita Variations
Raita is SO very customizable. Just because this recipe shows how to make tomato raita, doesn't mean it's the best or only way. I also love this made with cucumber diced in with the tomatoes. However, you can make it with spices as simple as:
salt
salt and pepper
cumin and coriander blend
chaat masala
The most popular version of raita served in restaurants is just diced cucumbers, tomatoes, and red onions with a little salt and cilantro.
But most Indians think this is a little bit of a joke since everyone knows that good raita has a LOT more veggies than what they give you.
How Long Does Raita Last In The Fridge
Since this Raita recipe has yogurt as a base, you will need to use it fairly quickly after making it. Yogurt tends to separate after sitting for a long period of time.
I would suggest eating this within three days of making it. If you plan on saving some for later, I would suggest keeping the yogurt and tomato compote topping separate so you can stir the yogurt if it begins to separate before serving again.
Is Raita Good For Health?
Yogurt is great to help aid in digestion. It's also high in protein and low in fats. This Tomato Raita recipe is a great snack to assist a weight-loss journey or for someone that needs to get a little more protein in their diet without a ton of unhealthy fats.
Need More Indian Recipes?
Tips and Tricks to Make This Tomato Raita Recipe
If you don't like so much heat, you can start with half a Serrano pepper and work your way up from there. 
If you want to make this in a hurry and only have canned tomatoes on hand, substitute those. 
I recommend using a Full fat Yogurt, but if you only have Greek Yogurt, put a splash of water in it to thin it out a bit before serving.
Add a spritz of lemon juice to balance the tang of the Greek Yogurt. 
Make it ahead of time! The flavors will intensify as it sits.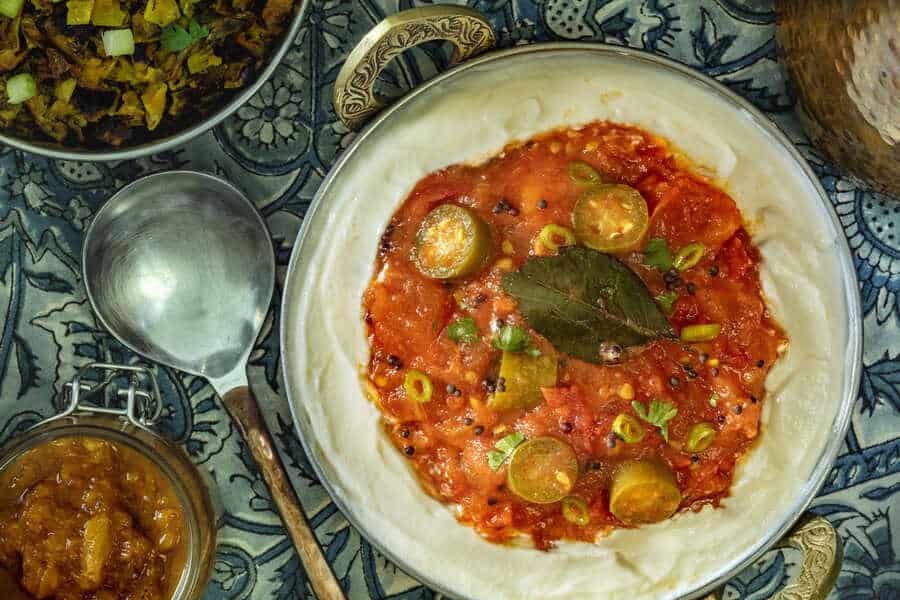 This Tomato Raita recipe makes the perfect appetizer for an Indian dinner or a great dip when you're looking for a break from the norm! Make sure to let me know if you enjoyed it in the comments!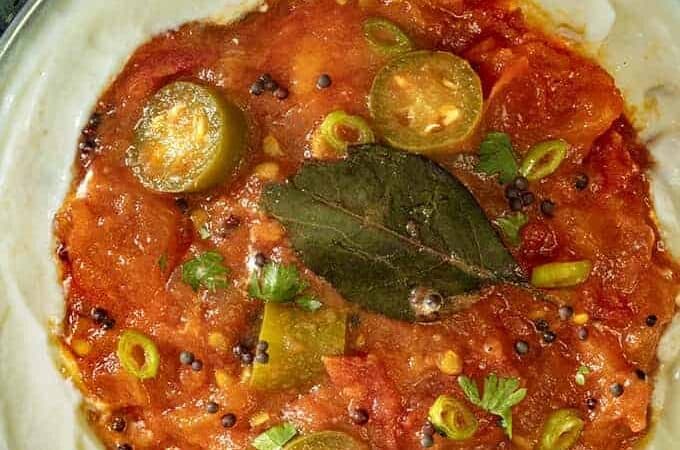 Click on highlighted ingredients or Equipment to see exactly what I use to make this recipe
Instructions
Heat oil in a skillet. To the hot oil, add mustard seeds and chilis. When the mustard seeds have popped, add in chilies, curry leaves, and asafetida if using.

Add tomatoes. Cook until the tomatoes are a little soft but still retain their shape.

Allow them to cool, and then mix with the yogurt right before serving.

If your tomatoes are over ripe and very sweet, add a little tang with the lemon juice.
If you only have Greek yogurt, add a little water to thin it down.
You can also try this with canned tomatoes if that's all you have access to.
This tastes like an Indian version of Rotel 🙂
All the heat in this recipe is from the Serrano, so use as much or as little as you can tolerate or enjoy.
This is a great make ahead salad as the flavors intensify overnight in the fridge. Eat some now, rest later.
You can also serve this as a dip with chips for something a little different.
Get support & connect with our community on Facebook!
Nutrition
Serving:
1
g
|
Calories:
57
kcal
|
Carbohydrates:
5
g
|
Protein:
2
g
|
Fat:
4
g
|
Fiber:
1
g
|
Sugar:
4
g
Tried this recipe?
Follow @twosleevers and Pin it!
Don't forget to check out my other Keto cookbooks.
Keto Instant Pot, Keto Fat Bombs, Sweets, & Treats, and Easy keto in 30 minutes.