Have you ever wanted to learn how to make Chicken Biryani at home? Are you especially curious about how to make chicken biryani in your pressure cooker or Instant Pot? Do you know what biryani is? Read on, and you'll go from novice to expert in no time!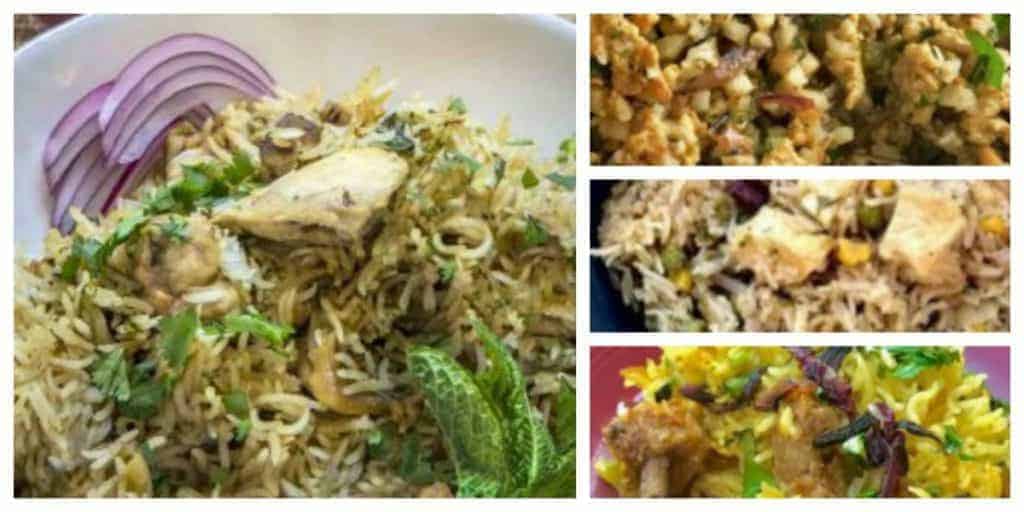 Indian food can have some interesting words that English-speaking Americans may have a hard time pronouncing or understanding. Most of them have very basic meanings, when it comes to food, and are simple to understand.
Chicken Biryani is a common Indian dish, and is one of my favorites! I'm going to teach you how to make chicken biryani at home, starting with the basics.
All but the low carb biryani referenced below show you how to make pressure cooker biryani.
What is Biryani?
Biryani is a popular Indian one-pot dish. It's generally made with rice and some kind of meat (like chicken, lamb etc) that is first cooked on the stove and then transitioned to the oven. It's usually filled with all kinds of wonderful spices like saffron and is flavorful and delicious.
Traditionally there's a lot of preparation and work that goes into the dish, and it's often reserved for special holidays and celebrations because of that. I've made biryani a variety of ways and have figured out recipes that are traditional, low-carb and ones you can make in your pressure cooker.
What's the difference between Biryani and Pilau?
While there are many differences, there are a few things that stand out to me.
First, Biryani is a main dish, whereas Pilau is typically just a side dish.
Biryani contains meat, and sauce and is all mixed together with a variety of spices and seasonings and in general, is an entree, which makes it far different from Pilau. So when you're learning how to make chicken biryani, you will see that in addition to spices and vegetables, cutting up the chicken into bite-size pieces is an important part of this recipe.
Biryani is a heavily seasoned dish and Pilau is only mildly seasoned. While Pilau is a delicious rice dish that's also Indian, it's nothing like Biryani.
Are there regional differences in Biryani recipes?
Yes. There are dozens and dozens of different types of Biryani. The flavors change by region, and each region has its own flair to make it their own. Hyderabadi Biryani is a spicy version of Biryani that is often cooked with lamb. I make a lamb version in my Instant Pot and we love how it turns out!
One of the most popular versions of Biryani is Mughlai Biryani. It's typically cooked with chicken and can be traced back to the Mughal Empire.
Lucknowi Biryani is a milder version of Biryani and is a good place to start for most people.
Kolkata Biryani is a version that has potatoes in addition to meat. This was said to have happened during a time in Kolkata in the 1800's when meat wasn't as readily available, so cooks added potatoes to stretch the meat farther. Now it's common in the region for there to be as much meat and there are potatoes in their Biryani.
How to make Biryani in the Pressure Cooker
So this, in a nutshell, is all about how to make biryani in a pressure cooker, but also about the history and varieties of biryani. I hope this article was helpful!