This Bhindi Masala recipe, or okra with onions and tomatoes, will be the easiest and most authentic tasting Bhindi Masala recipe you will ever make. Make it at home with very little effort.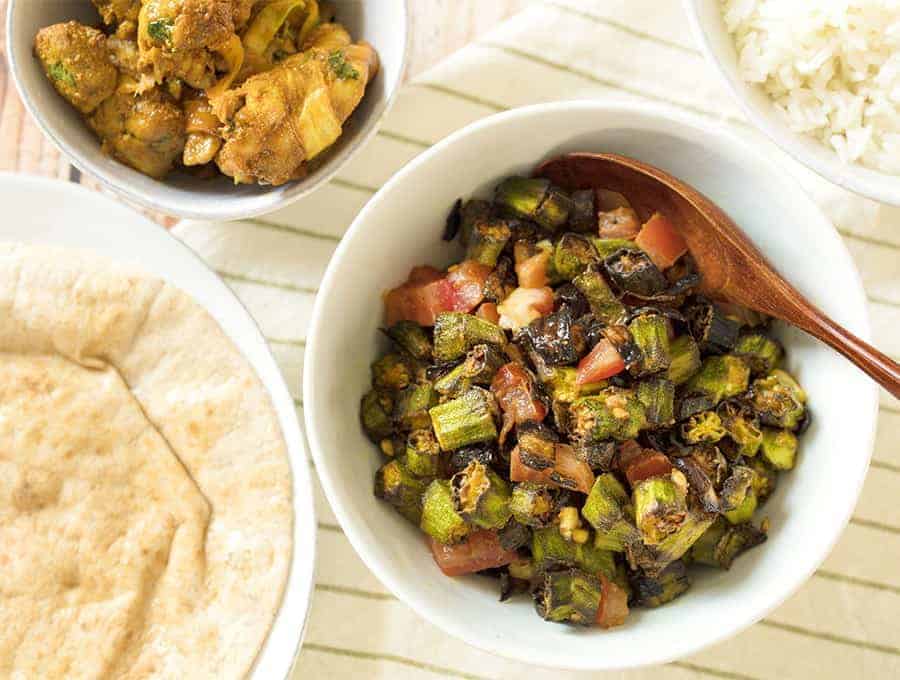 What Makes Bhindi Fry So Good?
What Do We Call Bhindi In English?
If you're unfamiliar with Indian cuisine, you may not be familiar with what Bhindi is. But I promise you it's something you've heard of, and probably even eaten before. It's okra.
In India, you may also hear bhindi or okra referred to as ladyfingers. In America, ladyfingers are little sponge cakes. While both are delicious, they're not even close to the same thing.
If you love okra, you should try out my Mediterranean Okra Tomato stew. I promise it's delicious too.
How Do You Clean Lady Fingers?
Thoroughly rinse the okra under running water. Make sure to dry it completely with a paper towel before cutting it into small pieces for this Indian okra dish.
How Can I Make Bhindi Less Sticky?
The secret for how to cook okra and keep it from becoming sticky and slimy is to cook it on high heat and not really allowing it to braise.
Traditional Bhindi Masala
Traditional methods for cooking Bhindi Masala require a lot of standing and stirring. And then some more stirring. They also require a lot of oil so your okra doesn't burn. This method makes it very hands-off.
Much though I love Bhindi Masala, I rarely make it for these reasons. I don't have the patience to stir for half an hour and my old way of making it also involved multiple steps. First, I'd toast the okra by itself until it was almost cooked.
Then I'd add in the sliced onions and cook those. In went the spices. Then it was time for the tomatoes. Then back went the okra and then...omg I'm exhausted and bored just reciting these steps! That's why I decided to come up with an easier way.
My Efficient Way To Make Indian Sheet Pan Bhindi Sabzi
Yup. I did it all on a sheet pan. In the oven. In almost one step. I have pictures to prove it!
How, you ask me? How did I do this?
Season the okra and onions and spread them out on a sheet pan.
Turn the oven to broil. Put the sheet pan two shelves down so as to not be too close to the broiler and burn before cooking.
The large surface area of the pan and the overhead heat makes the bhindi (okra) cook fast, but not braise.
Add the tomatoes for the last 5-10 minutes of cooking. This gives them time to cook but not create too much liquid for the raw okra to braise in, as the okra is cooked by the time they're added. No sticky slime.
What this means is that as long as you can lay it out in one single layer, there's no reason why it won't work in an air fryer! I tried this in my Nuwave Air Fryer, and it took 20 minutes at 400F so you can try that option as well. The important thing is that the okra has to be in one single layer. No overlapping at all.
Equipment and Ingredients You'll Need To Make this Bhindi Masala Recipe
How Do You Make Bhindi Masala?
Place onions and sliced okra in a bowl
Add all spices and oil
Place onions and sliced okra on a sheet pan.
Broil/Bake for 25 minutes
Add in tomatoes and cook until wilted
How To Cook Bhindi Masala In The Air Fryer
Place onions and sliced okra in a bowl
Add all spices and oil
Place onions and sliced okra in a pan that fits inside of your air fryer.
Air fry the okra and onions at 375F for 20 minutes.
Add in tomatoes and cook until wilted
Part of the way through cooking you will notice that the okra may start to look slimy. Don't panic. Just keep cooking. It will crisp up. It's ok for you to pile the okra up in the air fryer to cook it because it will shrink as it cooks. Stir a few times while cooking so the okra is evenly cooked.
How Do You Keep Bhindi Green When Cooking?
What Do You Serve This Bhindi Masala Recipe With?
Naan
Chappatis
Rice
Enjoy it alone
Want More Indian Dishes?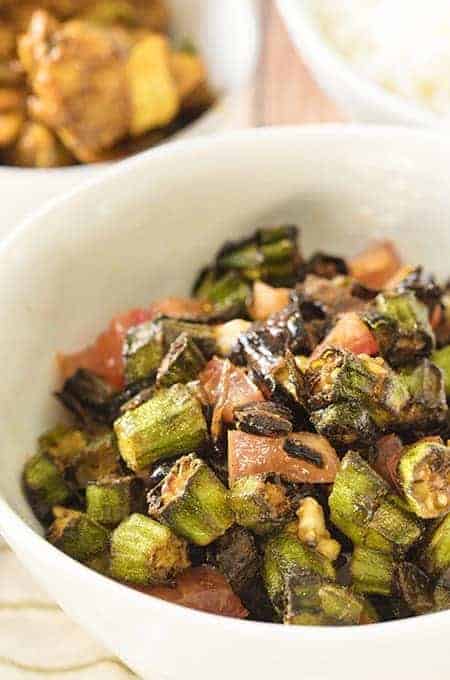 If you want a delicious meal, but don't have time to babysit, you're going to love this Bhindi Masala recipe. If you love it as much as I do, make sure you share the recipe with your friends on Facebook and Pinterest so they can try it too.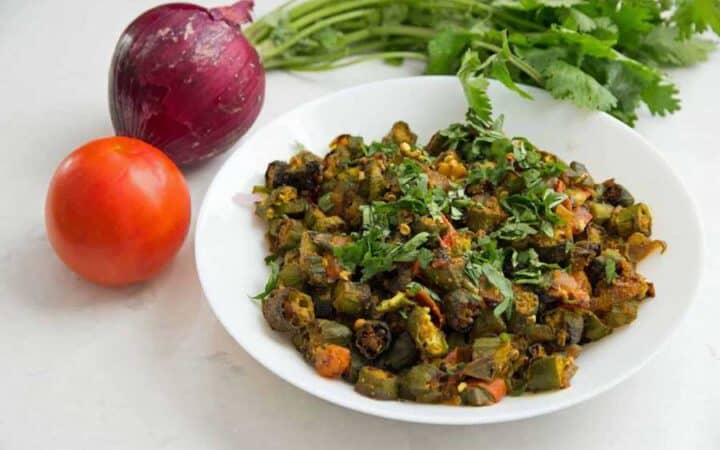 Click on highlighted ingredients or Equipment to see exactly what I use to make this recipe
Instructions
Preheat oven on Broil setting.

Move a shelf to two notches down from the top of the oven so it's not too terribly close to the broiler.

Slice the okra into 1/4 inch chunks and place in a bowl.

Add the rough chopped onion into the bowl.

Pour over the oil and all the spices (Everything except tomatoes and cilantro).

Spread out the spiced vegetables across the baking tray, ensuring as even and flat a layer as possible.

Broil for 15 minutes, stirring once halfway. Don't panic if you see some stickiness to the okra. This will dissipate once it cooks.

As the okra and onions are almost cooked, clear away a space in the middle, and place tomatoes in this space to broil along with the okra and onions.

Once the tomato has wilted and is cooked through, remove the pan from the oven, pour lemon juice, and mix everything together well.

Plate and garnish with cilantro.

Serve with naan, chappatis, or eat plain. I often eat this hot one day, and with yogurt the next day as a cold salad.
Air Fryer Instructions
Place onions and sliced okra in a bowl

Place onions and sliced okra in a single layer on a pan that fits inside of your air fryer

Air fry the okra and onions at 375F for 20 minutes

Add in tomatoes and cook until wilted
Note: This recipe can be made in an air fryer as long as you are able to get the okra to not be piled up too high upon itself. Turn the air fryer to 400F and cook as directed above.
Get support & connect with our community on Facebook!
Nutrition
Calories:
70
kcal
|
Carbohydrates:
6
g
|
Protein:
1
g
|
Fat:
4
g
|
Fiber:
2
g
|
Sugar:
1
g
Tried this recipe?
Follow @twosleevers and Pin it!
And don't forget to check out my air fryer cookbooks! Every day easy air fryer, and Air Fryer Revolution.