Instant Pot Vegetarian Black Eyed Peas recipe with tomato and spinach or Indian Spinach Lobia is easier to make than you think! It's a nutritious vegetarian dish you can make in less than 15 minutes.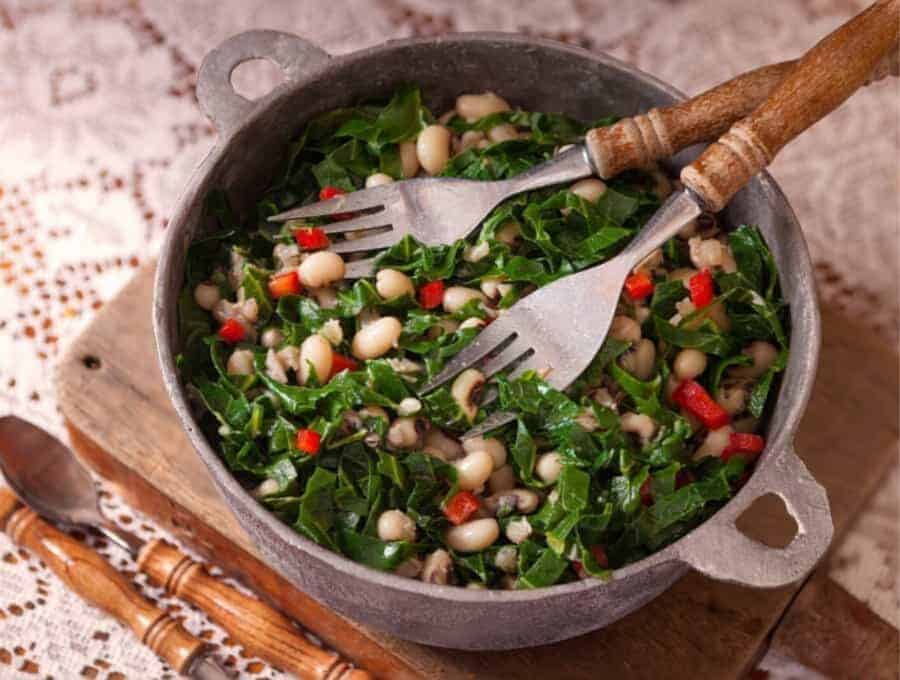 Jump to:
What Makes This Black Eyed Peas Instant Pot Recipe So Good?
Fast. Done in under 30 minutes.
Easy. A simple pour and cook recipe.
Vegetarian. Skip the meat and enjoy this complete meal.
Healthy. Loaded with protein and fiber.
Versatile. Easily replace spinach with collard greens or swiss chard.
What are Vegetarian Black Eyed Peas Indian Style?
This is a recipe that a lot of people refer to as Indian Spinach Lobia, or Lobia Curry. It's a Vegetarian black eyed peas recipe with tomatoes and spinach loaded with warm spices.
How Do You Make These Instant Pot Black Eyed Peas?
Chop. Cut the spinach and tomatoes.
Sauté. Cook the tomato, ginger, and garlic in ghee/oil
Pour. Dump everything else in your Instant Pot, and cook at High Pressure (HP) for 10 minutes.
Natural Pressure Release. (NPR) for 10 minutes.
Serve. Plate and enjoy.
How Do You Cook Dried Black Eyed Peas?
Stovetop. Simmer beans in a pot of water on the stovetop for 30-45 minutes or until they are the desired texture. Drain water and serve or add to a recipe.
Instant Pot. Cook black eyed peas with two cups of water under high pressure in your Instant Pot for 10 minutes. Allow pressure to release naturally. Drain water and serve or add to a recipe.
What Is The Best Way To Cook Black Eyed Peas?
In my opinion, the Instant Pot is the best way to cook them. It is so fast and you can prep the rest of the recipe you plan on adding them to while they cook.
Do Black Eyed Peas Need To Be Soaked?
Soaking the beans decreases the cooking time. If you plan on cooking the beans on the stovetop, you may want to soak the beans in hot water for a few minutes before boiling.
If you're cooking the black eyed peas in your Instant Pot, you can skip this step.
How Should I Season My Black Eyed Peas?
Black eyed peas can be incredibly delicious if they're seasoned correctly or served with the perfect complimenting ingredients. Here are a few of my favorite things to season black eyed peas with:
Salt
Pepper
Garlic
Cajun seasoning
Pork
Greens
Onions
Can Vegans Eat Black Eyed Peas?
Yes! A lot of recipes for black eyed peas will include ham (like my black eyed peas recipe with ham and greens), but this Vegetarian Black Eyed Peas recipe can be made vegan by simply using vegetable oil instead of ghee! That's it!
Are Black Eyed Peas a Vegetable?
Technically black-eyed peas are a legume, like lentils.
While they're a popular food for vegetarians, they're not technically a vegetable.
What Vegetable Goes with Black Eyed Peas?
Collard Greens
Spinach
Swiss Chard
Tomatoes
It's common to include some type of green when cooking black eyed peas, especially in the South. I use spinach and tomatoes in this Vegetarian Black Eyed Peas recipe and love the body the spinach brings and the brightness of the tomatoes.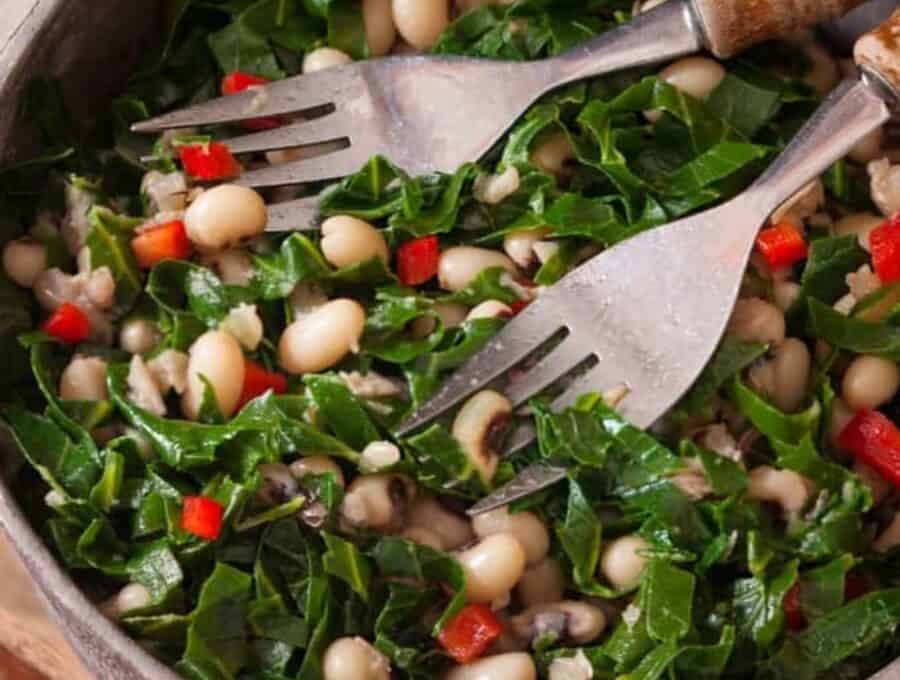 Once you make this Vegetarian Black Eyed Peas recipe in your pressure cooker, you'll never go back to stove top again! It's so quick ad easy and FULL of flavor! If you love it as much as I do make sure to share it with your friends on Facebook and Pin it to make it again soon.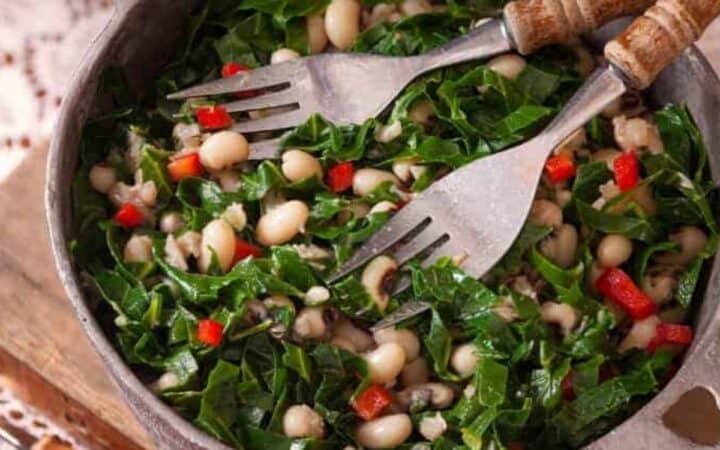 Click on highlighted ingredients or Equipment to see exactly what I use to make this recipe
Instructions
Heat Instant Pot on HIGH on Sauté, and when it's hot add ghee/oil. When the oil is hot, add the mustard and/or cumin seeds. They will begin to sputter like popcorn. Add in the ginger and garlic and sauté for 30 seconds.

Add in the tomato and cook for 1-2 minutes until the tomato is softened.

Add all the spices and mix well.

Add water and beans, and mix.

Place spinach on top, close the pot and set on High Pressure for 10 minutes. Allow 10 minutes of natural pressure release and release any remaining pressure.

Serve with rice, chapattis or naan.
To make this recipe vegan, use vegetable oil instead of ghee.
No need to soak your black eyed peas before pressure cooking.
Get support & connect with our community on Facebook!
Nutrition
Calories:
130
kcal
|
Carbohydrates:
20
g
|
Protein:
8
g
|
Fat:
3
g
|
Fiber:
4
g
|
Sugar:
3
g
Tried this recipe?
Follow @twosleevers and Pin it!
Originally Published June 22, 2019
Indian Instant Pot, Keto Instant Pot, Instant Pot Fast and Easy, Healthy Instant Pot & Vegetarian Instant Pot.